Café Constant's Pop-Up, Augustin and More Paris Food News
"Never say no when a client asks for something, even if it is the moon." — César Ritz
Hungry for all the latest restaurant news in Paris? La rentrée is buzzing. Here's a selection of addresses to whet your appetite in September.
Launching in time for Paris Fashion Week at the end of the month, the bar pays homage to César Ritz, Master of Modern Hospitality, visionary founder of the brand, who was a. Pisces. The 12 cocktails/mocktails are crafted by Bar Manager Romain de Courcy and his equipe. The focal point of the space is a circular bar beneath an impressive brass chandelier. The evening ritual begins at 5:30 pm animated by a cosmic sound and light show projecting stars and constellations onto the ceiling.
Salute your star sign accompanied by tapas to share – or not. Electro DJ sets are by Polo and Pan (Paul Armand-Delille and Alexandre Grynszpan) who have created an exclusive playlist for the Ritz, Paris Bar inviting guests to travel through time and the stars, setting the cosmic scene.
Cocktails/Mocktails (€32)
Tuesday to Saturday – 5.30pm to 12.30am
15 place Vendôme / access also via 38 rue Cambon, 1st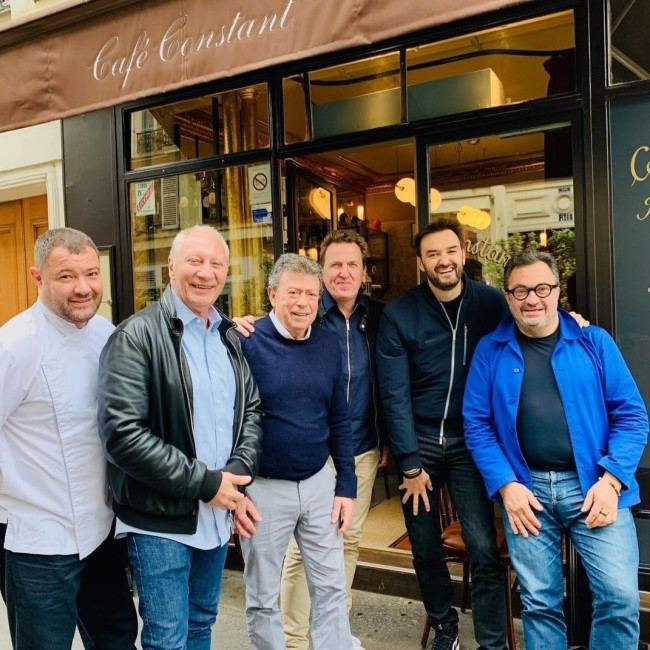 As chef Christian Constant segues into retirement, he's handing over the keys of his convivial rue Saint Dominique addy to Cyril Lignac, a bestie and fellow juror on M6TV's Top Chef series.
Constant, former executive chef at L'Hôtel de Crillon and The Ritz, Paris, went solo in 1996 creating Le Violon d'Ingres for which he won a Michelin star. There followed Café Constant and Les Cocottes de Christian Constant, on rue Saint Dominique, renamed "rue Constant" by the eclectic selection of fans of the eateries.
However, before bidding a fond farewell to the rue du 7ème arrondissement, chef Constant presents a pop-up menu, in collaboration with chefs he's mentored over the years, dubbed the "Generation Constant": Eric Frechon, Yves Camdeborde, Jean-François Piège (his former neighbor on rue Saint-Dominique at Thoumieux), Christophe Felder, Christian Etchebest, Thierry Breton, Jean-François Rouquette, Bertrand Bluy etc. In the Café Constant kitchen, chef Philippe Cadeau and his brigade are enthusiastically prepping the signatures that are emblematic of CC's career to be tasted (without moderation) from September 7th – 25th, 2021.
Why not begin with free range perfect poached eggs rolled in breadcrumbs, truffle butter toasts or herb infused sea spider and crab gélée? Mains include sea bass, crunchy almonds/capers/a lick of lime; and Landes farm pigeon in crapaudine (the back split open thus the bird is flattened), green puy lentils/jus. Mmmm… Match with Château Le Puy 2018. And there are three desserts. Choose between the dark n'handsome chocolate tart; the Soft XXL macaron served with candied fennel ice cream, red fruit juice, and kirsch; or the lemon sablé and baby meringues.
"The key to running a successful kitchen is what I call the '3 F's.' Be Firm, Be Fair, and Be Friendly with your staff, your guests, and yourself," says Christian Constant.
Oui, chef!
Pop-up menu (€65 + boissons) at dinner only, until September 25th.
Café Constant menu also available until September 30th.
139 rue Saint Dominique, 7th
Tel: 01 47 53 73 34
Metro: La Tour Maubourg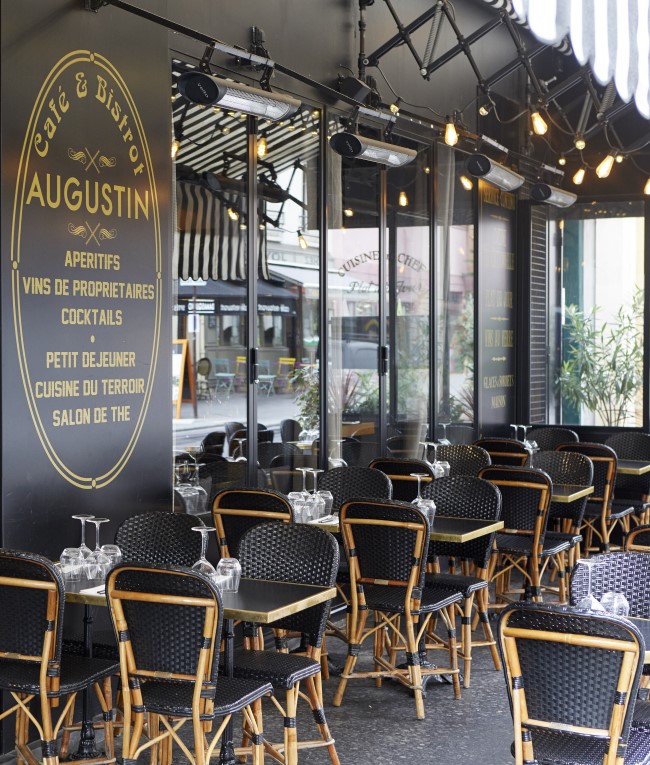 In the heart of this bustling market street in the 14th, you'll love the Maison Guy Martin Collection's new address. Augustin bistro was originally launched in 2014 by Augustin Grisoni, creator of the "La Villa Corse" brand, and recently acquired by Michelin-star chef Guy Martin.
Conviviality is the keyword at this exciting neo bistro which serves traditional French cuisine by chef Vincent Deyres (formerly at Villa Corse). Look for sea bream tartare with citrus fruits, tomato, virgin oil; Apulian Burratina tomato salad; duck foie gras; warm Landais sausage, beetroot purée and golden fondant; roasted crispy skin sea bass, green asparagus, peppercorns, virgin sauce; Cod a la plancha, fava bean stew with shellfish and Serrano ham; Quasi of free range veal flashed in a sautoir, seasonal vegetables; Braised veal kidneys, purple mustard, mashed potatoes; roast "Imperial Touraine" pigeon, vegetables of the moment; organic carnaroli, risotto with scampi/lobster. For dessert, options include Guanaja Grand Cru 70% chocolate cake and raspberry Vacherin.
The centerpiece is the table d'hôtes with suspended copper light fittings designed by Tom Dixon; outside the spacious terrace is a people-watching delight.
Lunch formula €23. Menu x 3 dishes €39. A La Carte Average x 3 dishes €50 + wine.
Bottles from about €37 (Pic St. Loup 2017). Glasses €7 (Bordeaux de Maucaillou).
79 rue Daguerre, 14th
Tel: 01 43 21 92 29
Metro: Montparnasse
Closed on Sunday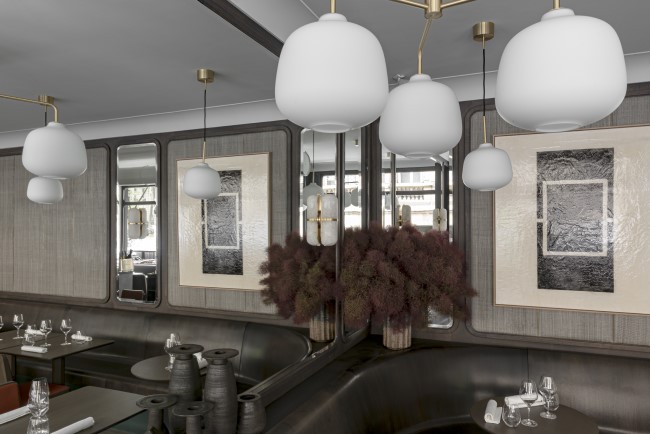 Dinner – in Italian. Here's a new address to add to David Lahner's portfolio of eclectic eateries. You met Lanher at Racines, Racines des Près, Caffè Stern, Vivant Table and Vivant Cellar, Maison Bréguet, La Crèmerie, Bon Saint-Pourçain, Paradis, Anima. Cèna's is Lanher's first post-COVID project (in collab with Laurent Plantier, founder French Food Capital) near Parc Monceau, in what was Le Lloyd's Bar.
In New York Lanher created an outpost of Paris Racines on Chambers Street and dreams of opening in LA. In Paris he wizzes around on a scooter to check up all's well in the kitchens.
In Cèna's kitchen it's Alban Chartron from Lyon, who has L'Epicure, Le Bristol, Paris, La Villa Florentine, Lyon, Le Louis XV, Alain Ducasse, Anne-Sophie Pic, Valence, Hotel de Ville, Crissier on his CV.
The cuisine is creative and simple at the same time, using carefully chosen market ingredients. Tender grilled octopus, confit tomatoes, crispy fried fennel. Roast lamb, sesame chickpeas, masala juice. Rhubarb, hibiscus, rose water, fromage blanc (farmhouse cheese). "The constantly updated menu (4 starters, 4 mains, 4 desserts) changes with the seasons!" says Chartron.
23, rue Treilhard, 8th
Tel: 01 40 74 20 80
Metro: Miromesnil
Average spend €35-€50 + wine (by the glass from (€8)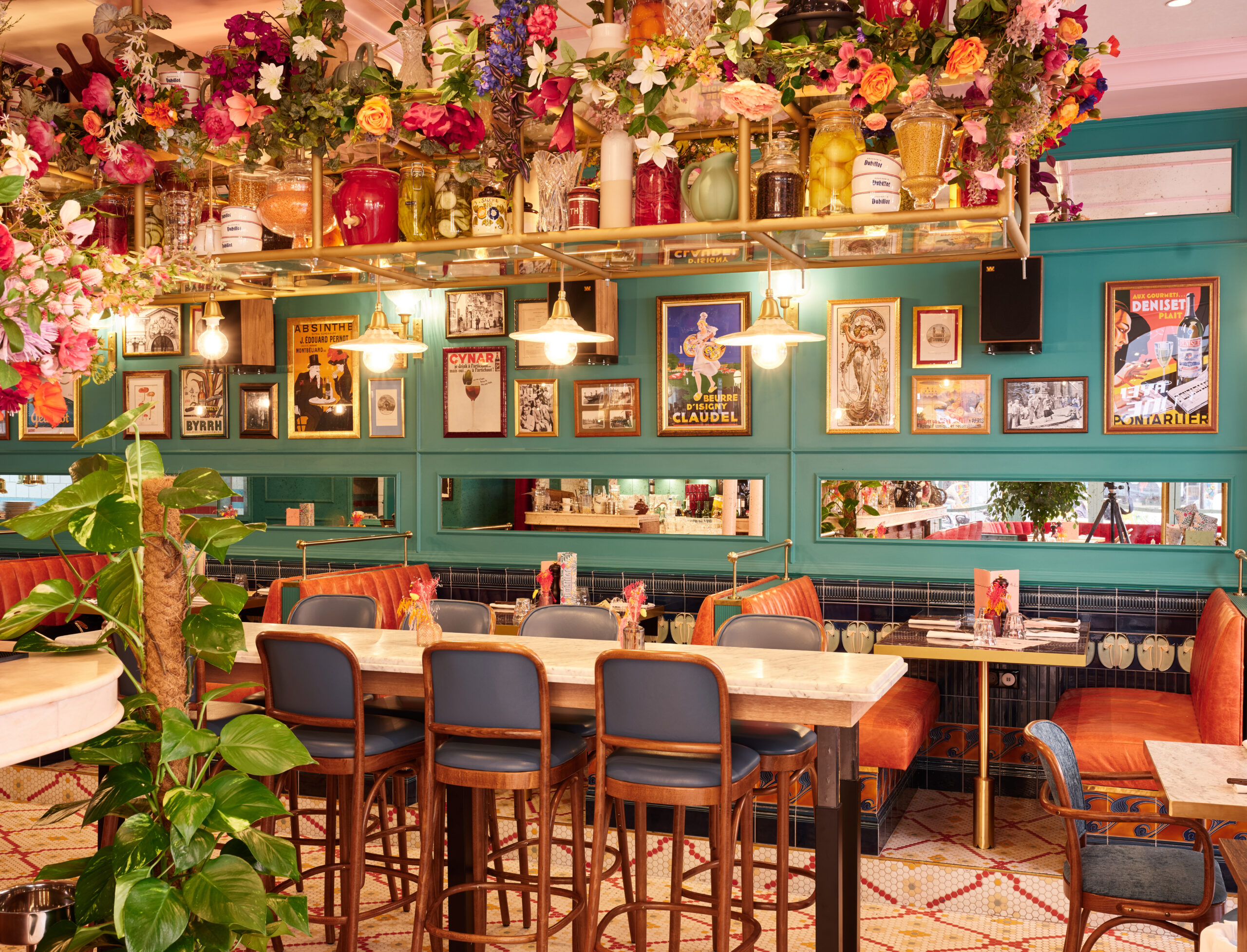 "We don't invent anything – but we do it well."
Following the success of Bellanger Brasserie, Victor & Charly, La Nouvelle Garde founders Victor Dubillot and Charles Perez launch a canteen inspired by artist Alphonse Mucha's Art Nouveau look and Papi Dubillot, Victor's grandpa, Negociant de Vin.
This handsome neo-brasserie struts the brasserie style the French do so perfectly. Order Absinthe (homage to Mucha) at the pink marble bar and admire stunning decor by architect Mark Bithrey B3 Designers and Dorénavant Studio.
With the mission statement "100% French homemade," everything's simmered with amour by chefs Thibaut Darteyre, Basptiste Swygart and their brigade, sourced within a short circuit and/or directly from producers.
A la carte, starters and comfort dishes highlight French culinary heritage with accents on excellent charcuterie offset by plenty to please vegetarians like the Veggie of the Moment (€15). You'll also find Egg Mayo (€2), Fish of the Day (€16), Paté en croute (€14), White truffled jambon (€8), and Truffled sausages (€9).
Add the fragrance of the charcoal barby, the conversation piece of the salle. To try absolutely is the grilled rib of Salers beef (€35/person), well matured, served with gratin dauphinois in a cast iron dish. Or the trencherman shoulder of lamb (€30/person), confit overnight then roasted over the embers, delicious! The Yellow Burgundy chicken is best with flinty white Burgundy Aligoté from Domaine Jean-Marie Bouzereau (€29-glass €6). The "Kick ass Cocktails" are by Jennifer Le Nechet, the World's Best Bartender (2016). Finish with pâtissier Clément Le Cam's Paris Brest XXL.
222 rue Saint-Denis, 2nd
Metro: Strasbourg Saint Denis
Tel: 01 88 61 51 24
Open 7/7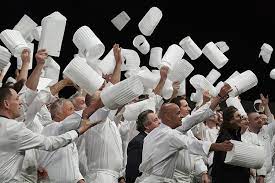 And finally, mark your calendars for the Omnivore Food Festival!Think Food Court, Trucks, Chefs, Young cuisine & F…..g dinners… what's not to like?
September 11th-13th, 2021
Park Floral, Route de la Pyramide, 12th
Want to be inspired by more French foodie experiences and enjoy classic French food, wine and recipes? Head to our sister website, Taste of France, here.
Lead photo credit : The Ritz, Paris Bar x Le Rituel des Astres (C) The Ritz
More in gastronomy, Restaurant reviews, review, Taste of France
---
---