Choucroute is Back! How to Make the Traditional Alsace Dish
"This is what I grew up on in Alsace." –Jean-Georges Vongerichten
In French chou is a term of endearment. Murmur "mon chou" to your loved one, a small child, Clooney, Beyoncé….
Choucroute is a traditional, hearty dish from Alsace, and it's particularly soothing during lockdown no. 2. The French version of sauerkraut, it's cooked with or without various meats and vegetables. The essential ingredient? Fermented cabbage.
Ah! Fermentation! The now-trendy method of preserving food which dates back at least 2,000 years. During the process, beneficial probiotics, or 'live bacteria', are produced. These probiotics give choucroute /sauerkraut its health benefits: a good form of dietary fiber with vitamins C and K, potassium, calcium and phosphorus.
Most of our immune system is in the gut; good choucroute bacteria helps keep the lining of the digestive system healthy. A strong gut lining stops unwanted substances or toxins 'leaking' into the body – causing an immune response. These same bacteria may also support natural antibodies and reduce your risk of infection.
In his iconic 1997 book, The Man Who Ate Everything, über food writer Jeffrey Steingarten admits to "loathing the stuff" until tasting the real thing on the Alsace "choucroute route." Listing the composition he writes that the traditional recipe includes black peppercorns, cloves, garlic, juniper berries, onions, and potatoes – with the addition of bay leaves and generous splashes of Alsace wine.
You don't need special equipment to make choucroute chez vous, although a special pot may make the lacto-fermentation process a little easier.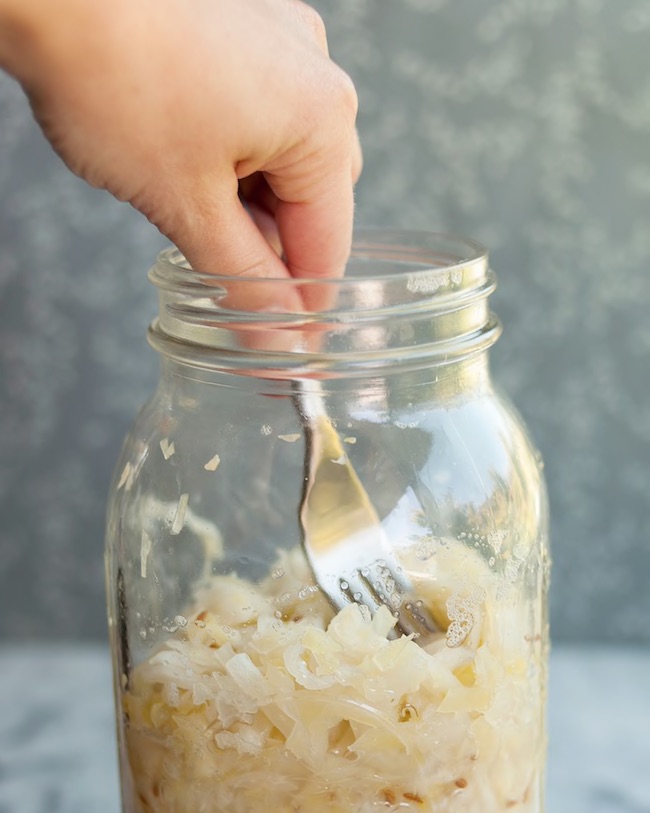 For this no brainer recipe, you'll need one large Ceramix pot (or Kilner jar), heavy weights and a muslin cloth.
Ingredients
1 white cabbage
2 tablespoons of kosher or sea salt
½ teaspoon of caraway seeds
5 Juniper berries
1 whole cabbage leaf.
Trim, core, finely shred the cabbage, mix with the salt in a large bowl. Squeeze the cabbage with your hands, to break up the cellular structure of the cabbage and help it start fermenting faster.
Transfer the cabbage to your pot, jar or bowl – add the spices between the layers of shredded cabbage.
Lay your large cabbage leaf on top of the shredded cabbage – press it down –  tight as you can.
Cover the crock with a piece of muslin, the weight on top. Cover with a lid if you have one – but NOT an airtight lid.
Ferment from three – 10 days, checking progress periodically; maybe add a little salt water to the pot – the cabbage must be submerged under the liquid for the recipe to work.
If scum appears on top, just skim it off….bien sûr.
Once the choucroute has collapsed and is soft, transfer to clean jars and store in a cool place.
Now you have a base for your signature choucroute – so, heat slowly in a saucepan with white wine, add meat, ham, pork, sausages, potatoes or seafood, some people use smoked salmon – a selection of Maille mustards adds the final touch. Match with Alsace Gerwurtztraminer, Reisling, or Pinot Blanc wine. Enjoy !
Can't be bothered or, while waiting for the fermentation? Order these ready-made versions via Amazon.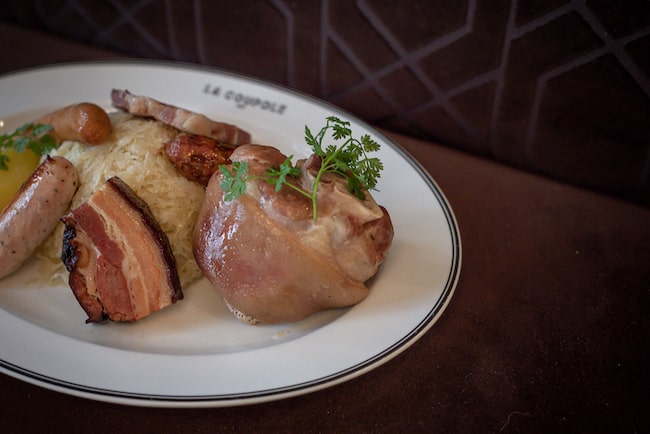 Need to Know:
This typical Alsace dish reached France via the Great Wall of China, courtesy of Attila the Hun.
In Paris, when lockdown ends, our favorite addresses in the capital to taste choucroute are below. Some of them accept orders for delivery and take-out while le confinement is in place.
L'Alsace, 19 avenue des Champs Elysées, 8th
Delivery via Deliveroo /Ubereats
5 choices include the luxurious Choucroute de la Mer: Lobster/cod/salmon/langoustine/haddock (€45)
La Coupole, 102 Boulevard de Montparnasse, 14th
4 different from €21 – including the signature Choucroute La Coupole (€27)
Collect or order via Ubereats
Brasserie Lipp, 151 Boulevard Saint-Germain, 6th
No delivery – No take-away, we'll just have to wait.
Terminus Nord, 23, rue de Dunquerque, 10th
Closed for the time being.
Le Vaudeville, 29 rue Vivienne, 1st,
Closed until 1st December, 2020
La Lorraine, 2, place des Ternes, 8th
Closed for the time being
Onwards. Stay safe.
Want to be inspired by more French foodie experiences and enjoy classic French food, wine and recipes? Head to our sister website, Taste of France, here.
Lead photo credit : Chocroute. Photo © Margaret Kemp
More in cooking at home
---
---