The Paris Cook Club in Normandy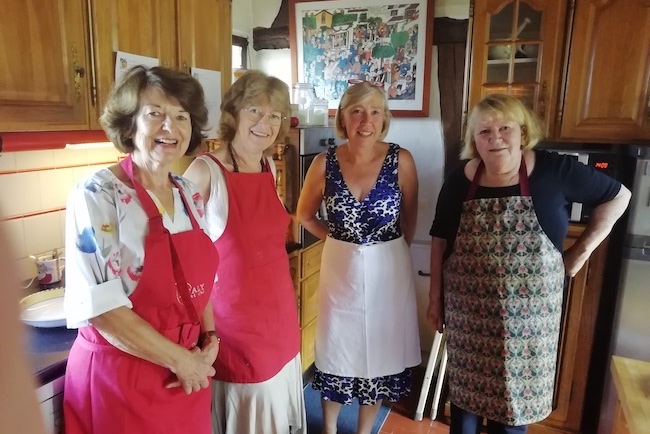 Prior to the virus-induced online existence of the Paris Cook Club, we often gathered in Normandy where we have country houses. Like many Parisians, these abodes – a short drive or train ride from Paris – were for weekend getaways when we were working full-time in the capital. The culinary sessions were our trou Normand, literally a shot of Calvados between courses to help digestion and whet the appetite; the bracing qualities of this apple brandy are said to create a hole (trou) in one's stomach. For the cooks, Normandy provided gastronomic breaks in our larger country kitchens.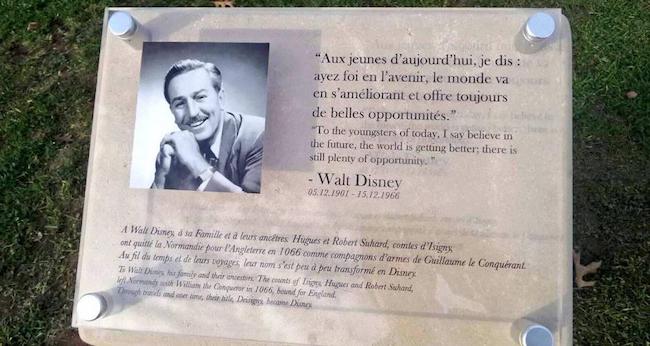 Normandy is the land of butter, cream, and cheese – notably Camembert, Pont-l'Évêque, and Livarot — but alas, no wine. While health conscious, the Paris Cook Club does have some cholesterol-clogging dishes in its Norman repertoire: baked Camembert, Poulet Valée d'Auge (creamy chicken with apples), Omelette à la Mère Poulard (buttery soufflé), and teurgoule (thick rice pudding). The small town of Isigny-sur-Mer is noted for d'Isigny crème fraiche (a type of sour cream) as well as for its eminent descendent Walt Disney. His forebears were titled the Comtes d'Isigny by William the Conqueror in 1066 for their help in subduing England. In 2016 on the 50th anniversary of Walt's death, the Disney Company planted a memorial garden in Isigny with a special site for Mickey.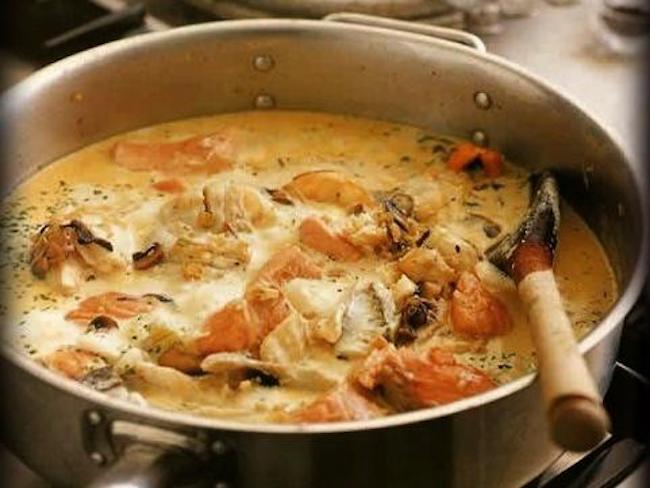 Isigny is also noted for its oysters. The Normandy coast stretches 640 kilometers (400 miles) from Le Tréport to Mont-St-Michel yielding copious seafood and shellfish.  Moules à la crème (mussels in cream) served with frites (French fries) is the most popular seaside dish. Normandy has its own version of bouillabaisse: Marmite Dieppoise or fish stew featuring scallops, prawns, and mussels in a buttery cream sauce – a specialty of Dieppe. These and other fishy delights – oyster sabayon, mussel soup, prawns in curry cream — featured on the Norman menus of the Paris Cook Club.
Giverny, the Norman home of artist Claude Monet, is just 45 minutes west of Paris. Monet himself was a gastronome as described in the film Monet's Palate, introduced by Meryl Streep. The Paris Cook Club recreated a typical lunch he would have eaten in his bright yellow dining room. Stuffed onions were followed by Sole Veron (fish in white wine cream sauce) then Côtelettes Foyot or pork chops baked with a topping of sautéed onions, breadcrumbs, and cheese (a specialty of the Foyot restaurant on rue de Vaugirard in Paris).
Monet repeatedly painted the Cathedral of Rouen, a medieval Seine port city where Joan of Arc was burned at the stake (now marked by a museum). Nearby is the restaurant La Couronne, where Julia Child ate the "the most exciting meal of my life" in 1948: raw oysters followed by sole meunière (whole Dover sole in brown butter sauce) with a bottle of Pouilly-Fumé. Meunière means miller, a reference to the flour used to coat the fish before frying. Here started Julia's love of French cuisine. The Paris Cook Club is faithful to her signature recipes: boeuf bourguignon, fish quenelles in white wine sauce, and cassoulet. As part of a wine pairing menu, we made her vichyssoise (chilled leek and potato bisque) matched to Chardonnay followed by Thai ceviche paired with Riesling, pulled pork with Pinot Noir, and apricot and blue cheese tart with Semillon.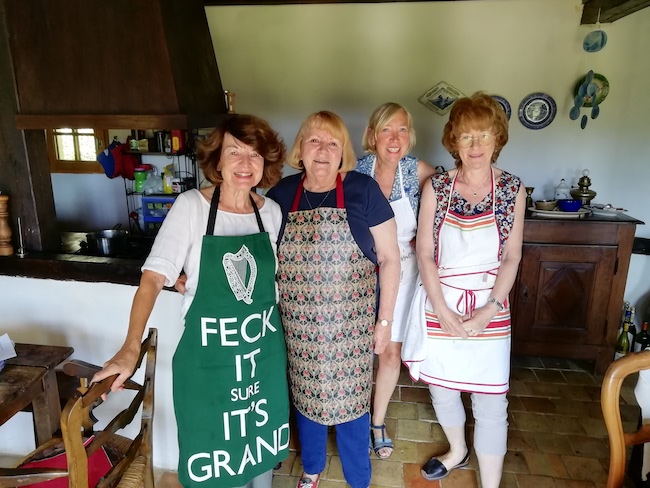 Rouen also hosts the Armada of Tall Ships which parade down the Seine every four or five years. The Paris Cook Club celebrated the 30th anniversary of the Tall Ships in July 2019 with a barbecue of Turkish chicken kebabs, minted lamb skewers, and zucchini and prosciutto brochettes with basil sauce. A bright purple salad of vitelotte potatoes, an ancient French variety, also starred. We waved to the sailors high in the masts from our perch among the chaumières (thatched roof houses) on the banks of the river. We have a rendezvous for the next (post-Covid) Armada in June 2023.
Picnics at the races were an annual outing for the Paris Cook Club. The seaside resort of Deauville has two flower-filled hippodromes – Clairefontaine and Touques – where we made a game of winning enough on the horses to pay for our wine. Picnic tables are conveniently placed next to the betting booths and the track. Our food creations centered on salads (chicken pecan salad) and quiches (Normandy tarte aux poireaux or leek tart). Our wins varied but our biggest killing was wiped out when a cook lost the betting receipt.
In these distanced times, we miss our outings to the colorful Normandy markets where we would improvise dishes from the produce available. A favorite was the market at Le Neubourg made famous by American chef Susan Loomis who offers cooking classes at her home On Rue Tatin in Louviers. A tatin is an upside-down apple tart (named after the Tatin sisters who invented it by accident) but can also be made of potatoes, tomatoes, onions, etc. as in our version with caramelized shallots and cherry tomatoes.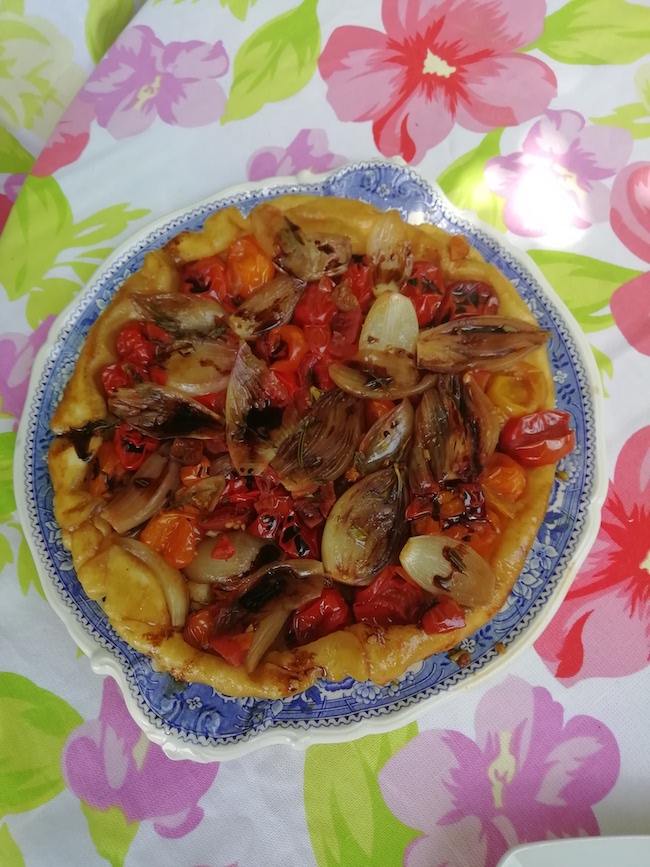 One Sunday we visited a Normandy bio farm for un panier maraicher, a surprise basket of fresh fruit and vegetables. From our mystery mélange, we made a dip of cucumber and mint raita, then tomato panzanella salad, elderberry sauce for duck, and for dessert clafoutis (a French fruit flan dubbed for the verb clafir or "to fill," here with a sweet eggy cream). As the virus numbers surge again in France and a lockdown is once again in place, the Paris Cook Club will continue its virtual sessions while reminiscing about our culinary adventures in Normandy.
Want to be inspired by more French foodie experiences and enjoy classic French food, wine and recipes? Head to our sister website, Taste of France, here.
Lead photo credit : Norman Cooks. Photo © Paris Cook Club
More in French cooking at home, French recipes, recipes
---
---