Flâneries in Paris: Explore the 19th-Century Covered Passages
This is the 12th in a series of walking tours highlighting the sites and stories of diverse districts of Paris. The very name of the Grands Boulevards metro station promises stylish shopping with a soupçon of 19th-century charm and just nearby three of the city's famous covered passages lead into one another. Exactly the place then, to channel my inner flâneuse, wander from one to the next, peruse the window displays and imagine myself back in the mid-19th century, taking refuge from the bustle of the streets outside, safe from rain and mud-spattered streets where horse-drawn carriages clattered past. The entry to the Métro station of Grands Boulevards on Boulevard Montmartre. Photo credit: Paris II by Chabe01/ Wikipedia Commons By 1850, there were well over 100 of these arcades – although there are only about 20 left open to the public today – and they were immediately fashionable. New building techniques, using metal frames to support elegant glass roofs, impressed passers-by who were delighted to find a mix of little shops, restaurants and places of entertainment inside. The leisured classes could shop here, or just browse the ornate window displays, then perhaps have a picture framed, stop off at a salon de thé or watch a puppet show. I wondered what the 21st-century equivalents would be and, starting on the Rue St Marc, went into the southern end of the Passage des Panoramas to find out. Glass roof in the Passage des Panoramas. Photo credit: DiscoA340/ Wikimedia Commons My eye was drawn upwards first, to a jumble of shop signs and old-fashioned lanterns suspended from the sloping glass roof. At least two shops for stamp-collectors were immediately visible, one offering to "buy, sell or give estimates" and I read later that the Passage des Panoramas is one of the best-known places in Paris for those interested in la philatélie. Indeed, a bit further along, there were more stamp shops, as well as a chocolate shop, or ancienne chocolaterie, and an Italian restaurant whose quirky window display included a stuffed fox. One of the little restaurants whose tiny wicker tables spilled out into the walkway offered a set menu whose only choice — braised cheek of beef with mashed potatoes — I could imagine being served in the 19th century and I also came across the Café Zola, a reminder that the author included a scene set here in one of his novels, Nana, published in 1880. Passage des Panoramas. Photo credit: Marian Jones
SUBSCRIBE
ALREADY SUBSCRIBED?
BECOME A BONJOUR PARIS MEMBER

Gain full access to our collection of over 5,000 articles and bring the City of Light into your life. Just 60 USD per year.

Find out why you should become a member here.

Sign in

Fill in your credentials below.
This is the 12th in a series of walking tours highlighting the sites and stories of diverse districts of Paris.
The very name of the Grands Boulevards metro station promises stylish shopping with a soupçon of 19th-century charm and just nearby three of the city's famous covered passages lead into one another. Exactly the place then, to channel my inner flâneuse, wander from one to the next, peruse the window displays and imagine myself back in the mid-19th century, taking refuge from the bustle of the streets outside, safe from rain and mud-spattered streets where horse-drawn carriages clattered past.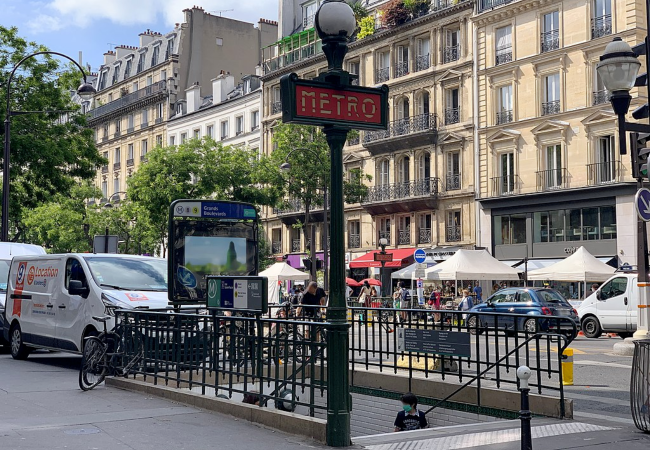 By 1850, there were well over 100 of these arcades – although there are only about 20 left open to the public today – and they were immediately fashionable. New building techniques, using metal frames to support elegant glass roofs, impressed passers-by who were delighted to find a mix of little shops, restaurants and places of entertainment inside. The leisured classes could shop here, or just browse the ornate window displays, then perhaps have a picture framed, stop off at a salon de thé or watch a puppet show. I wondered what the 21st-century equivalents would be and, starting on the Rue St Marc, went into the southern end of the Passage des Panoramas to find out.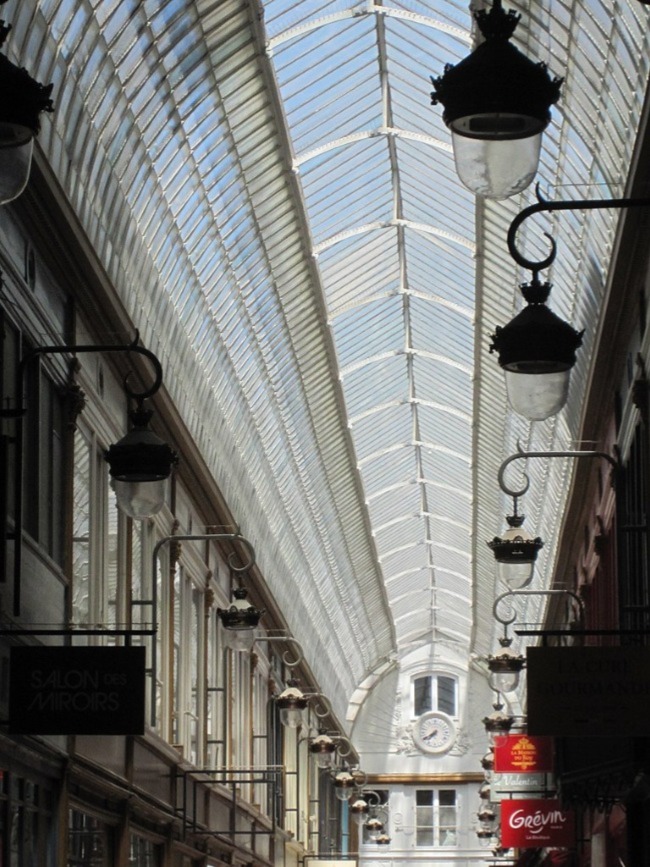 My eye was drawn upwards first, to a jumble of shop signs and old-fashioned lanterns suspended from the sloping glass roof. At least two shops for stamp-collectors were immediately visible, one offering to "buy, sell or give estimates" and I read later that the Passage des Panoramas is one of the best-known places in Paris for those interested in la philatélie. Indeed, a bit further along, there were more stamp shops, as well as a chocolate shop, or ancienne chocolaterie, and an Italian restaurant whose quirky window display included a stuffed fox. One of the little restaurants whose tiny wicker tables spilled out into the walkway offered a set menu whose only choice — braised cheek of beef with mashed potatoes — I could imagine being served in the 19th century and I also came across the Café Zola, a reminder that the author included a scene set here in one of his novels, Nana, published in 1880.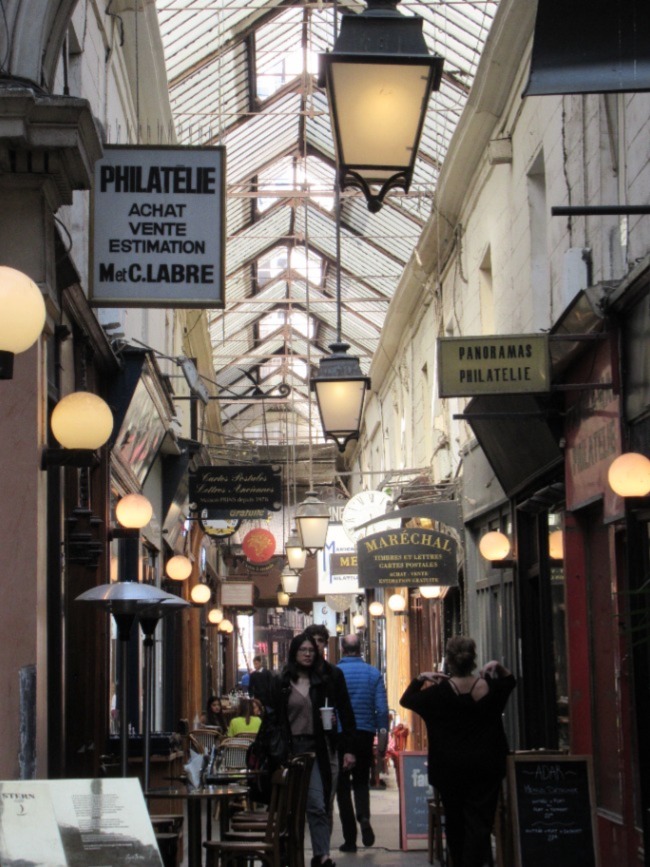 The northern end of the Passage des Panoramas opens onto the Boulevard Montmartre, and directly opposite is the entrance to the Passage Jouffroy, where overhead signs invited me to "Visitez les Galéries" and promised, among other goodies, spécialités from the Auvergne. The stylish interior, with its smart black and white floor tiling, struck me immediately and I discovered later that this passage had set new standards when it was built in 1845. It was the first to use the new metal and glass techniques, and the first to be lit by gas lamps and to benefit from underfloor heating. Its mix of luxury shops — hat-makers, glovers and tailors — made it immediately popular and when the Musée Grévin — a waxworks museum, still there today — opened there in 1882, it drew even bigger crowds.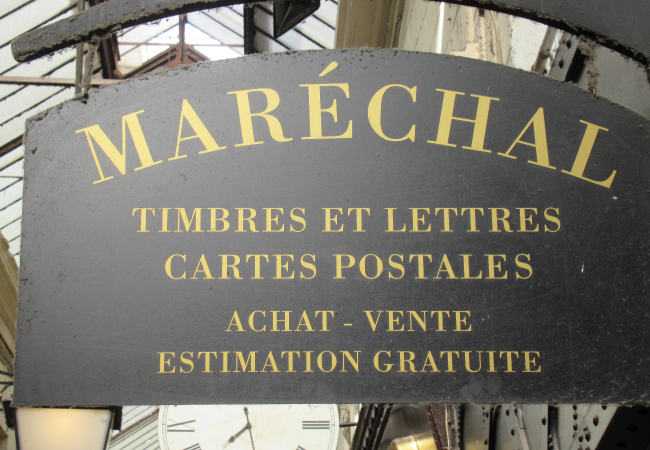 Today, the arcade is a delight to browse. The window display of the sweetshop, La Cure Gourmande, was brimming with exquisitely packaged treats and La Maison du Roy displayed an array of decorative objects from previous centuries, crammed onto a window ledge festooned with red velvet, tiny crystal chandeliers and gold ribbons. All very regal, as befits the Roy (king) in the shop's name. Le Valentin was an enticing place to pause for un thé et une pâtisserie, but my absolute favorite was Pain d'Épice, which means gingerbread, although its wares are not cakes but delightful toys from a bygone era. The window display featured dolls and a toy  mouse relaxing among tiny examples of period furniture, complete with mini tea-sets, a matchbox-sized gramophone player and, on the diminutive mantlepiece, a scaled-down carriage clock and a little marble bust.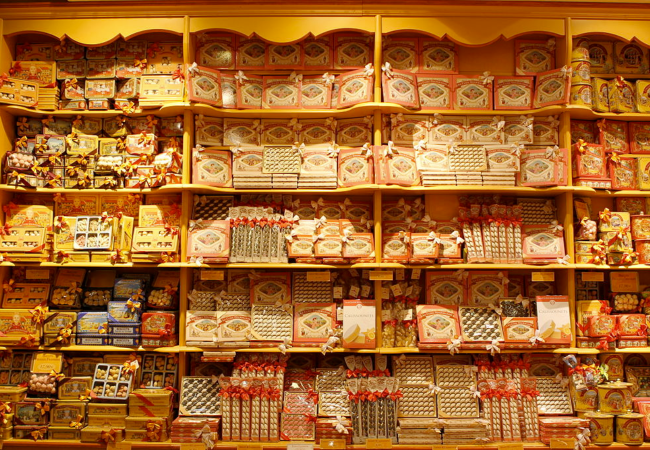 A standout feature of the Passage Jouffroy was the bookshops. Halfway along on the left I saw one which, had it been in London, would have to be described as Dickensian. Shelves along every wall groaned with books, stacks of comics stretched ceiling-wards from the floor, surrounded by piles of overspill, teetering  precariously. Right in the middle sat a small elderly man, surrounded by mounds of paper, reading and seemingly oblivious to the cheerful chaos all about him. Further down the arcade was a much bigger bookshop, La Librairie du Passage, full inside and with enough books left over to display in stands all around the shop front. My eye was drawn to the words "Paris est une photo" printed above a selection of vintage postcards and posters of old Paris. Perfect as a souvenir, of Paris and specifically of the vintage version of the city you find in the passages.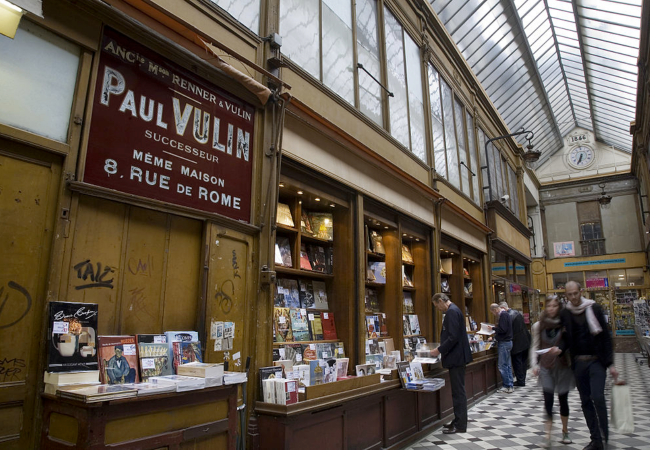 Crossing the Rue de la Grange Batelière took me straight into the Passage Verdeau, which opened in 1846, but where the ramen shop just inside made for a distinctly 21st-century look. Yet many of the shops in this arcade had an antiquarian or arty feel. The Cabinet des Curieux, whose owner, said the sign outside, has a Diplôme de l'École du Louvre, did indeed seem full of curious things: a stuffed bear with a fish in its mouth, an African cloth doll, bookends in the shape of a mythical creature. Amicorum had a window full of prints and drawings and in Sophie Marcellin's shop – Tableaux, Dessins, Curiosités – there was an earnest discussion taking place at an ancient wooden desk just inside the window. Further down, a sign pointed to an upper floor where jewelry could be repaired, "transformed" or "made to order."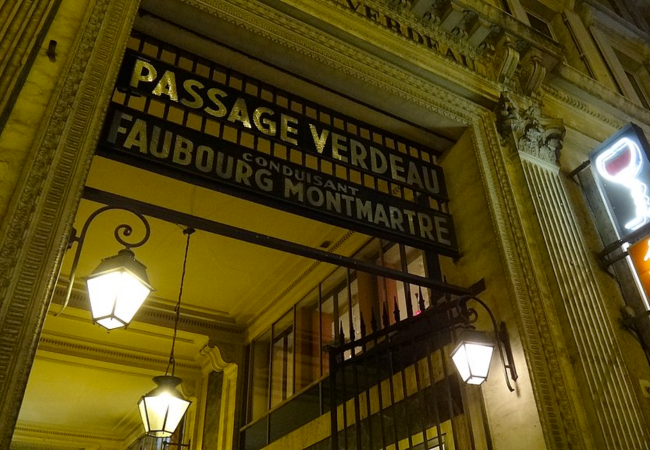 Then there was Le Bonheur des Dames, where a lady sat working at an embroidery frame, completely absorbed, and surrounded on all sides by the products and accoutrements of the sewing trade: framed cross-stich samplers all over the walls, fabrics hanging from the ceilings, baskets and boxes of scissors, needles and packets of thread. The shop's name is the title of a Zola novel, known in English as "Ladies' Pleasure" which is set in a mid-19th century department store and portrays the delight of customers with this new form of shopping against the exacting demands made on those who work there. In fact, it was the advent of fashionable new shops like Le Bon Marché – on which Zola's novel was based – which heralded a downturn for the arcades, compounded when Baron Haussmann cleared away many older streets to make room for the city's wide new boulevards.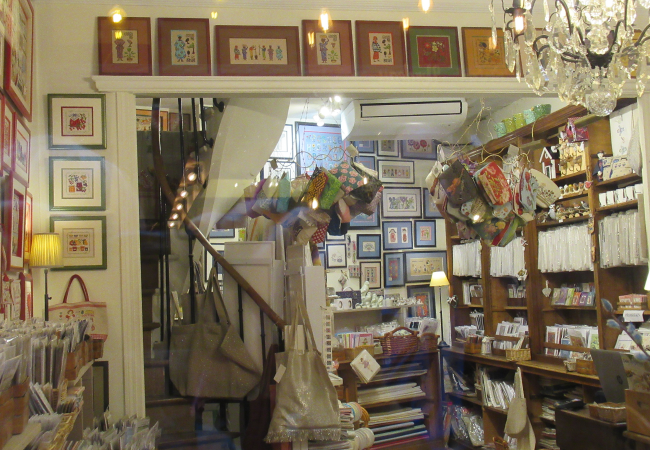 And so here, as in so much of Paris, there are layers of history to unpeel. I imagined the dark little streets of the early 18th century, then the excitement of the new arcades, with their sloping glass roofs and gas-lit lanterns, a refuge for those with time and money to spare, a place where le shopping could be a leisure activity. I imagined other customers a generation or two later, discovering the delights of the new department stores like La Samaritaine and the Galeries Lafayette. That, I knew, led to the decline of les passages, many of which disappeared altogether. How wonderful, then, that in the mid-20th century, a new emphasis on heritage led to the renovation of quite a number of the arcades and so today we can wander through them and find little glimpses of the past.
Passage des Panoramas
11 boulevard Montmartre
Open every day 6 a.m. – midnight
Passage Jouffroy
10-12 Boulevard Montmartre
Open every day 7 a.m. – 9:30 p.m.
Passage Verdeau
6 Rue de la Grange-Batelière
Open Monday to Friday: 7:30 a.m. – 9 p.m. Weekends: 7:30 a.m. – 8:30 p.m.
Lead photo credit : Passage des Panoramas. Photo credit: Bobo Boom/ Wikimedia Commons
More in bookshop, curiosities, Flaneries, Flâneries in Paris, La Cure Gourmande, La Librairie du Passage, la philatélie, Le Bonheur des Dames, Musée Grévin, Paris chocolate shops, passage des panoramas, Passage Jouffroy, Passage Verdeau, Shopping, shopping in Paris, Visitez les Galéries, Zola
---
---
Comments