4th: Marais, Ile St-Louis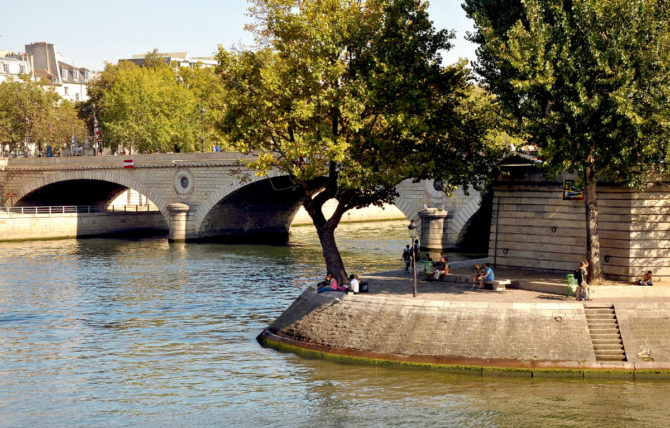 Paris: 4th arrondissement
The 4th arrondissement has many of Paris's must-see jewels and, because of its history as a Jewish neighborhood, contains many shops and cafés open on Sundays, which makes this quartier especially popular with visitors. Linger at the charmingly gorgeous square at Place des Vosges, a former palace. Grab a fresh baguette, your favorite cheese, sliced saucisson, et voila, a Paris picnic on a budget. The 4th is also the heart of the Marais, known for its gay community, the Mariage Frères tea salon, the whimsically designed Centre Pompidou (the modern art museum), the bizarre (and must-eat-a-sandwich-at) Igor Stravinsky Fountain, and some of the cutest little shops you've ever seen.
Two of the busiest streets in the Marais are the rue Vieille du Temple, a main nightlife artery of bars, cafés, and restaurants, and the rue St. Croix de la Bretonnerie, with its eateries, clothing shops, bookstores, and theaters. This famous intersection marks the liveliest gay and lesbian scene in Paris. Rue des Francs Bourgeois is one of the most fashionable shopping streets in the Marais, and one of its longest. Rue des Rosiers and rue Pavée are the crossroads of Paris's world-famous Jewish Quarter.
The 4th is also includes Paris's two islands: île St Louis, where you'll find the scrumptious Berthillon ice cream, and île de la Cité, where you'll find the gothic Notre-Dame de Paris. Other finds: the glorious stained glass inside La Sainte Chapelle; Hotel de Ville (the town hall, or mayor's office; Tour St Jacques; Le Mémorial de la Shoah (The Holocaust Memorial); Maison de Victor Hugo and much more. Paris Tourism 101 requires at least a day in the 4th, and you won't want to miss it!
Lead photo credit : West point of Île Saint-Louis by Wikipedia/Moonik