12th: Bercy and the Bois de Vincennes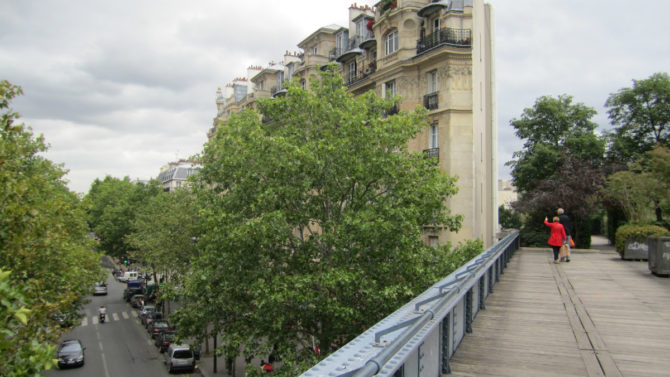 Paris – 12th arrondissement Take a trip into this arrondissement on the futuristic metro line 14 from Madeleine to Bercy. Formerly the site of Paris's wine warehouses, Bercy is home to the gigantic Bercy Arena* (currently under renovation) and a delightful garden stretching eastwards to Bercy Village at the Cour Saint-Émilion metro station. Designed to resemble a country village, this shopping area has a lot of French chain stores, but it's a pleasant shopping experience with lots of outdoor seating for a coffee or lunch break. *The Palais Omnisports, aka Bercy Arena, routinely hosts some of the biggest concerts and sporting events in the city. Inside the Parc de Bercy, there's something for everyone. A section of skateboard ramps, an old-fashioned merry-go-round, a beautiful rose garden, and the Cinémathèque Française- the French cinema museum designed by star architect Frank Gehry. From the Parc de Bercy, you can access the Bibliothèque Nationale (François-Mitterrand) in the 13th arrondissement, by a graceful footbridge over the Seine. One of the loveliest attractions in the 12th arrondissement is the Coulée Verte, or
Promenade Plantée
, which is a walking path atop a former railroad line. This is oft cited as the original "High-Line" as New York City was inspired by Paris's greenway. Access is near the Bastille. When you need a break from the bustling city, head to the Bois de Vincennes, the sprawling park abutting the eastern edge of Paris. This is where many runners and cyclists come for exercise, and the Parc Floral is famed for its summer jazz festival (and the fabulous jungle gyms for kids!)
SUBSCRIBE
ALREADY SUBSCRIBED?
SUBSCRIBE NOW TO SUPPORT BONJOUR PARIS

Support us for just $60 a year

Sign in

Fill in your credentials below.
Paris – 12th arrondissement
Take a trip into this arrondissement on the futuristic metro line 14 from Madeleine to Bercy. Formerly the site of Paris's wine warehouses, Bercy is home to the gigantic Bercy Arena* (currently under renovation) and a delightful garden stretching eastwards to Bercy Village at the Cour Saint-Émilion metro station. Designed to resemble a country village, this shopping area has a lot of French chain stores, but it's a pleasant shopping experience with lots of outdoor seating for a coffee or lunch break.
*The Palais Omnisports, aka Bercy Arena, routinely hosts some of the biggest concerts and sporting events in the city.
Inside the Parc de Bercy, there's something for everyone. A section of skateboard ramps, an old-fashioned merry-go-round, a beautiful rose garden, and the Cinémathèque Française- the French cinema museum designed by star architect Frank Gehry. From the Parc de Bercy, you can access the Bibliothèque Nationale (François-Mitterrand) in the 13th arrondissement, by a graceful footbridge over the Seine.
One of the loveliest attractions in the 12th arrondissement is the Coulée Verte, or Promenade Plantée, which is a walking path atop a former railroad line. This is oft cited as the original "High-Line" as New York City was inspired by Paris's greenway. Access is near the Bastille.
When you need a break from the bustling city, head to the Bois de Vincennes, the sprawling park abutting the eastern edge of Paris. This is where many runners and cyclists come for exercise, and the Parc Floral is famed for its summer jazz festival (and the fabulous jungle gyms for kids!)
Lead photo credit : Promenade Plantée via Wikimedia Commons/ La Citta Vita
---
---