Six Reasons to Visit Paris in January and February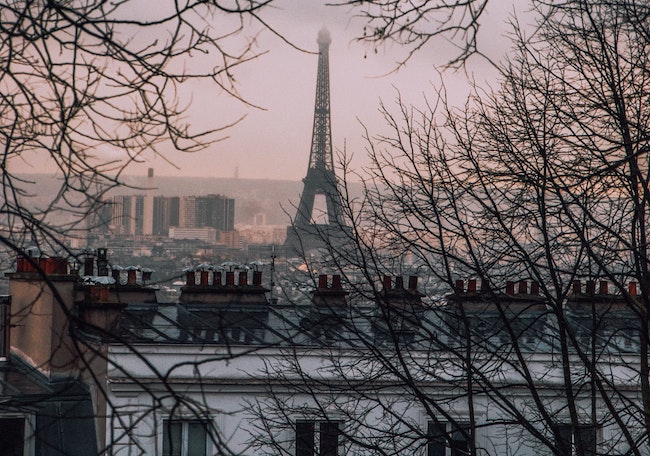 Six Reasons to Come to Paris during January and February
If you ask people what are their favorite months to travel to Paris, more than likely they'll tell you April, May, June, September, and October or during the Christmas holidays. The reality is they're missing a good thing. It's worth taking a chance on the weather in the winter and coming to Paris in January and February. Here are six reasons and, as usual, there are more:
Hotels & Apartments
You'll have substantially more choice if you come to Paris when the weather is supposed to be less than optimal. Prices are lower and, with some apartments, there's some wiggle room when it comes to negotiating what you'll pay. A few landlords will categorically say no, but others are of the persuasion that 90% of something is a whole lot better than 100% of nothing. Please remember to turn down the heat when you leave the premises and turn off the lights. Electricity is expensive and it's only polite to cut those costs unless you're being charged for usage—and then, you'll be sorry.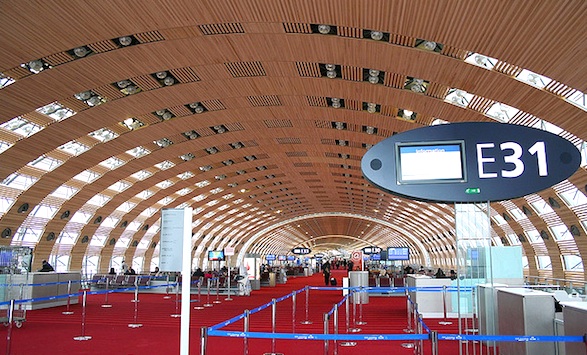 CDG awaits winter travelers. Photo by Serge Gordei
Airfares
There are promotional fares, and planes tend to be less crowded. If you're not flying non-stop, try not to change planes at airports in cities that are known for snow. You've seen pictures of people camping on airport floors waiting for them to reopen. You don't want to be one of them.
If you're redeeming miles for your flight, there are more seats to be had when others stay put at home. There are usually fewer families traveling when school is in session, which means your flight may be quiet. Needless to say, there are no guarantees when boarding a plane even if you fly first class—but at least there's hot and cold running liquor. But come to think of it, many business travelers and road warriors chug-a-lug water since they view flying as transportation, a time to work and sleep so they can deplane and hop into meetings.

Louvre in winter with room to view without mobs. Photo by Ramon Morales.
Museums
Even though the French are passionate culture vultures and frequent museums and exhibitions as an integral part of their lives, the lines are shorter because there are fewer tourists. Don't assume you'll have the Mona Lisa to yourself …but there are a few other paintings in the Louvre.
Even if it's cold and rainy, the interiors of museums are kept warm (not hot) and you'll probably want to check heavy coats. Don't get complacent and assume you'll be able to snag the best seats at the opera or the ballet, because most tickets are sold as a series. Still, you'll have more of a chance of seeing stellar productions when there are fewer tourists competing for them.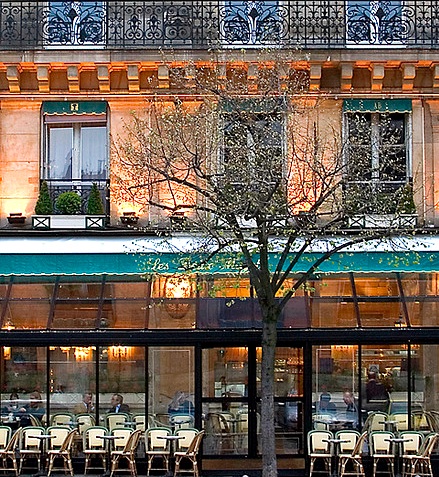 Your choice of tables at Café Deux Magots in February. Photo by Rita Crane Photography.
Restaurants
There are a few where you'll have trouble getting a table no matter the time of year, but those are the minority. In addition, you don't need to reserve as far in advance as you would during the French Open. Many people say French cuisine during winter months is more interesting, which is a matter of taste but worth factoring into the equation. Who really wants to eat cassoulet when the temperatures are soaring? Plus, numerous Parisian restaurants have fireplaces, which adds more than a certain je ne sais quoi.
Another place where it's good to be flexible: There tend to be more cancellations during bad weather since some people come down with colds and don't want to venture out to eat a meal they won't be able to taste and wine they won't be able to sniff. Leave your name with the person in charge of the front of the house and tell them you're willing to come running at the very last minute. Another tactic is to call before lunch or dinner and ask whether or not you can be accommodated.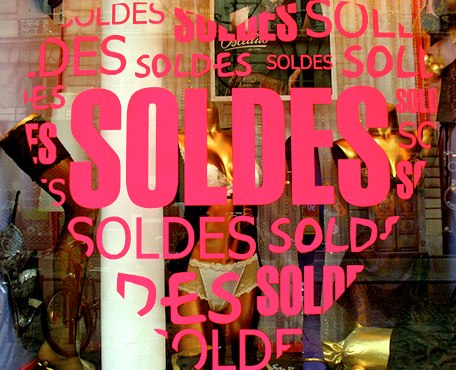 Soldes at nearly every store. Photo by Reel Aesthete.
Sales
The second Wednesday of January is the day the sales begin and last for five weeks. Shoppers are in heaven scoring bargains. Don't tell, but some of the sales don't quite end on the appointed day. If you like a specific boutique, discreetly ask the salesperson if there might be some items left in the back that need liberating. You might be surprised. Lord knows, I've been. And pleasantly.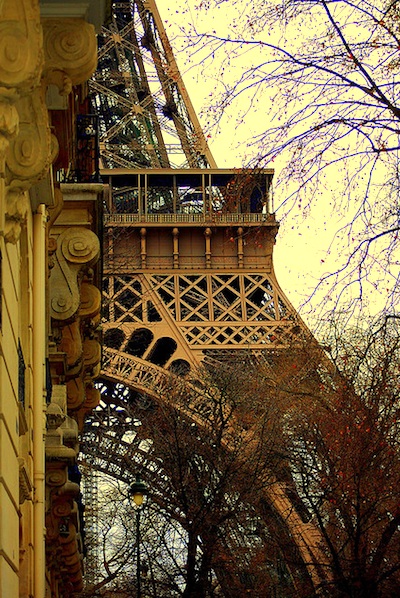 Eiffel Tower in February amber light. Photo by reyfocus.
Feel Less like a Tourist
Don't get me wrong. There's nothing wrong with being a tourist, and if it weren't for them, Paris wouldn't be the thriving city it is. On the other hand, it's nice not to be surrounded by groups of people who are following a leader carrying a flag, fighting for space in a museum or, for that matter, even on a sidewalk. There are some warm weather activities you won't be able to do when the temperature is in the single digits (that's Celsius, not Fahrenheit). No bathing on the Paris Plages or walking around in Bermuda shorts. But, there's so much you'll be able to do that you won't go home feeling cheated.
Just be sure to dress for the weather: Bring a lined raincoat or a heavy coat, but not the type you'd need to wear in New Hampshire. Don't forget waterproof shoes, warm socks, a hat, gloves and a scarf. Most important, pack layers. A thermal undershirt takes up very little room in suitcases and could come in handy. On the other hand, you may be able to sit outside at a café and look up and grab the rays. If it's sunny and chairs are cascading the sidewalk, you'll invariably be surrounded by locals… and gas heaters.
Paris is not cold by the standards of Boston or New York or Chicago—far from it. Please remember, if you're from the northern American cities, the Nordic countries or Alaska, you'll think Paris is downright warm. And you'll be able to look at pictures without having to stand on your tiptoes to see them, to stop in the middle of the sidewalk without getting blind-sided by foaming-at-the-mouth tourists, and sit in a café without a neighbor's elbows making the acquaintance of your ribs. You might leave singing, "Winter in Paris…".
PHOTO CREDITS: Flickr photos published per Creative Commons 3.0 license with photographer credit in captions
Karen Fawcett
---
---
Comments