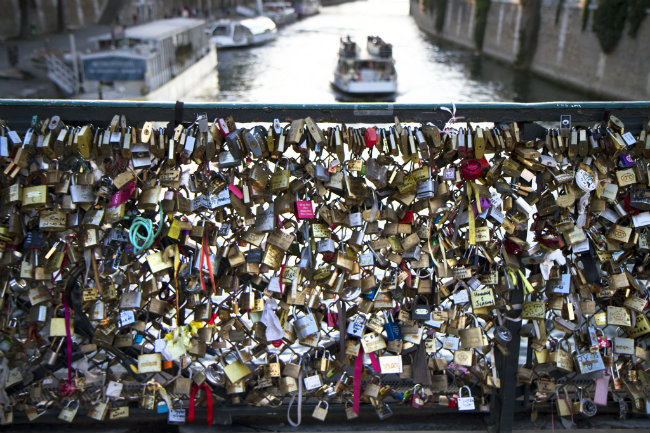 Over the years we've reported on the love locks phenomenon in Paris— a trend that first popped up in 2008 as couples would fashion locks onto the city's picturesque bridges, inscribed with their names, then hurl the keys into the Seine river as a testament to everlasting love. What began as an innocent gesture became a real problem, as the weight of thousands of pounds of metal caused damage to iconic bridges like the Pont des Arts. In fact, a "No Love Locks" campaign was started by two American residents of Paris, and a petition garnered a large number of signatures from locals frustrated by what they saw as an "eyesore."
After the Pont des Arts suffered a collapsed railing in 2015, the city of Paris decided to remove the love locks—a staggering one million of them weighing 45 tons. Now the bridge has glass panels to deter the trend.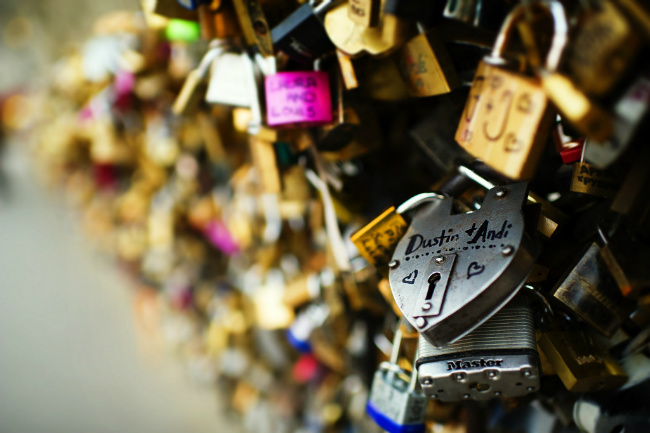 In the latest chapter of the Love Locks story, the Credit Municipal de Paris will soon be auctioning off bunches of the locks, some mounted on cobblestone displays, some hanging from acrylic stands, along with 15 sections of the original Pont des Arts railings. To quote The Telegraph: "Paris aficionados will get the chance to buy into the world's most romantic city when the French capital sells off the "love locks" that have adorned its bridges before officials clamped down on the amorous practice."
As quoted in The Local, auctioneer Mathilde Belcour-Cordelier said, "We selected the locks that seemed the most beautiful, the ones that were colorful, full of fantasy. It's a way to have a small souvenir of Paris."
Price tag? The pieces are expected to go for 150 to 200 euros each. Proceeds will be donated to Solipam, the Salvation Army, and Emmaüs Solidarité—the three organizations helping migrants in the city.
For more information on the May 13 auction, visit the official website.