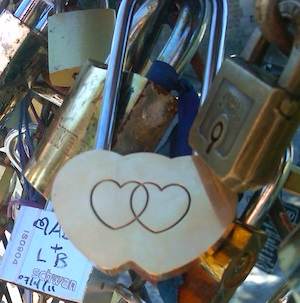 [Editor's note: In early June 2015, the city of Paris decided to remove the love locks from the Pont des Arts because of the damage they were causing the bridge.]
If you thought romance was passé in Paris, all you have to do is look at Paris bridges to see it is being displayed in full force.
The Paris "love locks" are back.
The love padlocks have been a phenomenon in cities as varied as Belgium to Japan.
For those of you who haven't heard of them, here's the story. A couple writes their names on a padlock and locks it onto one of the bridges. They then throw the key into the Seine River as a symbol of their undying love.
As BonjourParis reported last year, the locks on the Pont des Arts near the Louvre were cut off, reportedly by the government. But romance beats politics in Paris and the locks can now be seen on two Paris bridges: Pont des Arts and Pont de l'Archevêché.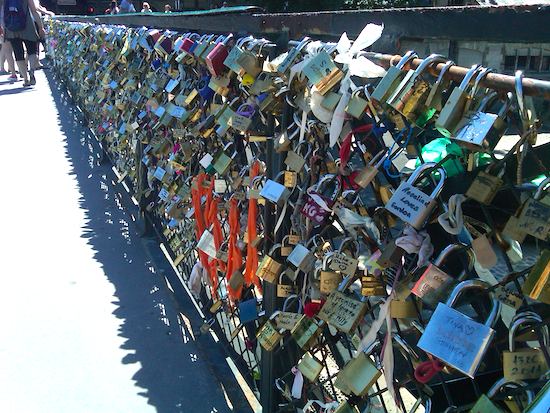 Photo by Erica Hewins.
However, there is a difference on which bridge you pledge your love.
Some say the only way to break the seal of love brought on by this love lock act is to find the key and unlock the padlock. Of course, that is nearly impossible, since the keys lie at the bottom of the river. This reality induces many brokenhearted individuals to return with bolt cutters to try to chop off the padlocks. So, on second thought, maybe it wasn't the government after all.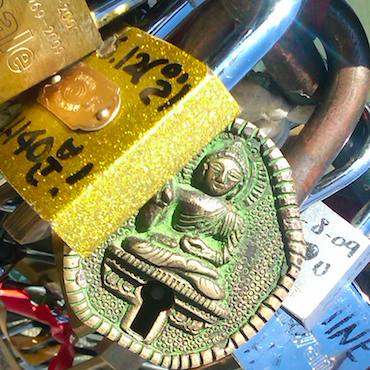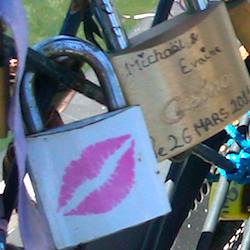 Photo credits: Erica Hewins
A French tour guide was overheard explaining the phenomenon to her enthralled group.
"There are two bridges in Paris with the locks, you must be very careful which bridge you put your lock on because Pont des Arts is for your committed love, while Pont de l'Archevêché is for your lover."
This may explain why Pont de l'Archevêché is completely packed with locks, while Pont des Arts has plenty of room.
Whether you're just admiring the ocean of locks or adding to the collection, these bridges are definitely two spots to stop while in Paris.
Want to know more? Related content:
The Padlocks of Paris: Love Incarcerated by Cara Waterfall
PRACTICAL INFORMATION
In Paris, padlocks may be purchased at BHV on nearby rue de Rivoli.
The big question: Do you need one lock . . . or two?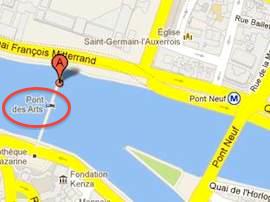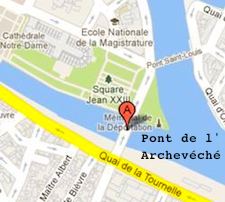 Photo credits: Erica Hewins supplied all photographs in this story.
Erica Hewins is a a fashion major at Syracuse University who spent time in Paris reporting on fashion, arts and lifestyle trends. Please click on her name to read other stories she wrote for BonjourParis.

Subscribe for
FREE

weekly newsletters with subscriber-only content.
BonjourParis has been a leading France travel and French lifestyle site since 1995.
Readers' Favorites: Top 100 Books, imports & more at our Amazon store
We daily update our selections, including the newest available with an Amazon.com pre-release discount of 30% or more. Find them by starting here at the back of the Travel section, then work backwards page by page in sections that interest you.
Click on this banner to link to Amazon.com & your purchases support our site….merci!