The Magic of Christmas in Paris: Terrific Ideas for Kids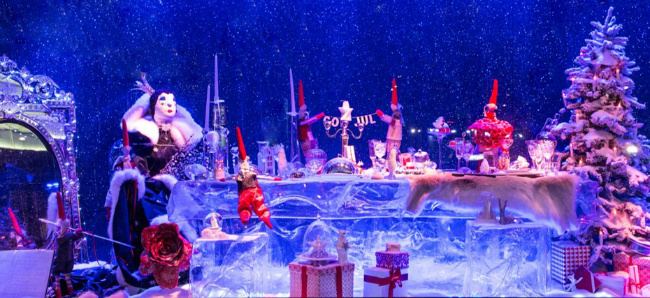 What do you do with kids at Christmas in Paris? Tuning into your festive mode, the City of Light is brimming with choices. From sauntering down any number of Christmas markets (rue Montorgueil on the right bank, rue Cler on the left is our favorite), taking a spin on one of the city's seasonal (and free!) 19th-century carrousels, or just stopping to take in the wonderful holiday lights, where tots are protected from the crowds with their own little wood bridges to see the moving wonders of the grand magasin windows (BHV on the right bank or Le Bon Marché on the left). It's hard to whittle down the choices as Christmas approaches, so we're going to set the parameter to kid-friendly Music and Art, profiling great melodic museums!
MUSIC
Sunset/Sunside, Paris's legendary jazz club, hosts its 10th annual JAZZ & GOÛTER fête les chants de Noël, keeping things light and lovely with Christmas songs with pianist Pierre-Yves Plat hitting the high notes. Located on Paris's jazz strip rue des Lombards, Sunset/Sunside was a pioneer for all of the clubs clustered there in the 1st arrondissement. Every Sunday at high tea-time (4 pm), they have family-friendly performances from Walt Disney to Charlie Parker, Michael Jackson to Nina Simone, and given the venue, include Miles Davis, Serge Gainsbourg, John Coltrane and Ella Fitzgerald. Divided in two sets of 35 minutes each with a break in between for tea and cake, it's perfectly suited for the whole family including the younger siblings, who'll see other toddlers keeping it real! Website: http://www.sunset-sunside.com/2017/12/artiste/2364/4838/
For the older kids (aged six and up), why not head up to Cité de la Musique, where the Philharmonie de Paris put on full-on performances such as Peter and the Wolf or a memorable Cinderella? For some interaction look into their fantastic Ateliers des Enfants program – for those living in Paris, this is year-round. But book ahead, as their seasonal songs and workshops sell out quickly. We're hot for the idea of the workshop telling Christmas stories told with instruments. Website: https://philharmoniedeparis.fr/fr/programmation/ateliers/ateliers-enfants-familles
MUSÉE DES ARTS FORAINS
How would you like to get into a museum that's only open to the public for Christmas?! Talk about exclusive – and in the entirely un-touristy hood of Bercy! The Musée des Arts Forains is again opening its doors to host the Festival du Merveilleux, this year dedicated to the Invisible Musicians – transforming itself into an 8000-square-meter music box! Devoted to fairground arts, this 12th arrondissement museum has various vintage carousels, a hall of mirrors and ancient funfair attractions. Our favorite is a ferris wheel that is powered by the passengers – you have to peddle it to get it up to speed! Tours are in French, but as the displays involve so much interaction it's accessible to everyone, kids and adults alike. A little fantasy land to take you back to your childhood in this Bercy hideaway!
When the kids are done with the magician shows you can brave the cold in the courtyard over some mulled wine outside and may even catch a glimpse of the over-sized Poupette, manned below with several sticks. The museum displays are all from Jean-Paul Favand's private collection which date from the 1850s – 1950s. It's the largest museum in Europe focused on fairground arts and can be viewed by private appointment year-round, apart from its public holiday hours from 26 Dec – 7 January 2018 (adults cost 14€, kids from 2 – 11 years cost 6€) Website: http://arts-forains.com/visite-grand-public
MUSÉE DE QUAI BRANLY
The Musée de Quai Branly is by far the most appropriate place in Paris to host an aerial circus from Guinea. And what pleases kids more than trapeze acts, contortionists, juggling and fantastic choreography? Drumming up their excitement you could use this circus act as a reward for a small geography lesson (on your phone, locate Guinea and its capital Conakry, then pull up Guinea's flag). Perhaps stop off at the museum to set your family loose in the wonderful African mask collection to focus exclusively on Guinean masks – who can draw the best one? With your agenda complete, let the kids relax to see the acrobats of Boulevard Conakry, the Guinean troupe, who form pyramids in the national colors of the tricolored green-yellow-red flag before tumbling into fluid lines to the live rhythm of the Mandingo Orchestra. Led by Kerfalla Bakala Camara, the young Guinean troupe is heir to the legendary Circus Baobab who pulled on the ancient Legend of the Tambourine Monkey. The performance lasts an hour and tickets – which include entry to the museum – range from 15€ – 20€…  Website: https://quaibranly.tickeasy.com/fr-FR/spectacles?famillesParentes=1625632799220300003
Don't miss the Quai Branly's fantastic series of children's workshops (from Native American plumage to an African Mask workshop and an atelier of "theater of shadows").  Targeted to different ages, some ateliers run between Christmas and New Year's.
Having put the finishing touches of the "Festive Feasting" holiday treasure hunt in London's V&A museum, Daisy de Plume turns her nose to Christmas in Paris with her two boys, Storsh and Balthazar, in tow…
Lead photo credit : BHV's shop window along Rue de Rivoli. Photo: BHV
Leave a reply
Your email address will not be published. Required fields are marked *