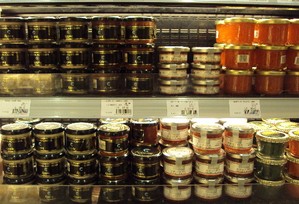 Unless you're a Siberian native, a winter cold spell in Paris can have a discouraging effect on your weekly excursion to the outdoor marché in your neighborhood. Accustomed to milder climates myself, I've found the Grande Epicerie in the legendary Bon Marché to be a very delicious, not to mention a warm and cozy, alternative to trotting through the Parisian snow. In fact, this epicurean paradise situated in the heart of the 7th arrondissement has lured local gourmands, tourists, and curious passerbys into its colorful interior for almost a century.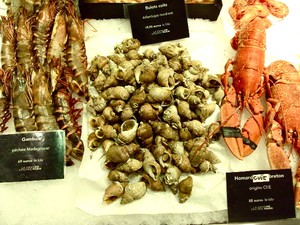 Entering the Grande Epicerie is like falling into the middle of an oversized cornucopia. At least that's how I felt among the many stands boasting—among many, many other things—only the finest selection of fresh fish, bouchées à la reine, and legs of Iberian ham which dominate the west-entrance in an outdoor market style, minus the freezing cold, of course. As I advanced deeper into the market, shelves upon shelves of caviars, confit (de cerise au thym, for example), and other delectable goodies just screamed rive-gauche. I was pleasantly surprised by the expertise of the employees. My visibly overwhelmed impression of the 24 varieties at the olive stand, almost immediately solicited an amiable, middle-aged woman who not only helped me narrow my choice down to 400g of fresh, Manzanilla olives, but also suggested an amazing Merlot to accompany my little treasures.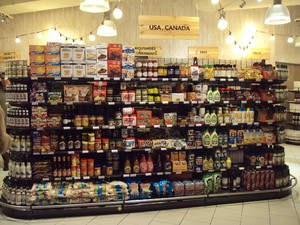 As I meandered through the dairy section, an assortment of tiny, speckled quail eggs caught my eye among their more commonplace cousins. I spent the next ten to fifteen minutes glued to the cheese stand, tasting a number of varieties before the very indulgent fromagier packed up my large, butter wedge of Ossaau Iraty. Next, I made my way past the tea counter, which offered everything from Roiboos to Jasmin tea, toward the international section on the other side. That's when I suddenly stopped short. Of all the unexpected products what did I see: a big, vulgar box of Easy Mac poked out among its refined neighbors. That's right. Not only does the Bon Marché's Grande Epicerie inspire the most sophisticated of culinary minds with its vast selection of specialty goods, this (quite chic) jack-of-all-trades also boasts a collection of everyday groceries and foreign fare from all around the world. This slightly less glamorous find was also accompanied by bags of Pringles and other such treats. This just goes to show that beyond its ostensible pomp and feathers, the Bon Marché has upheld its mission as the world's very first department store established in 1852, to appeal to well, tout le monde.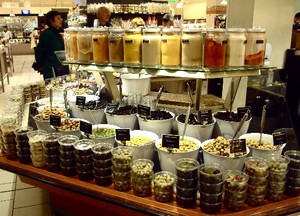 After paying for my purchases which consisted of my heavenly olive and merlot pairing, the carefully chosen slice of Ossau-Iraty, as well as a bag of colorful, sombrero-shaped pasta I just couldn't resist, I headed over to the Grande Epicerie's Café, cutely tucked into a corner at the far end of the food stands. Many natty Parisians, presumably on their lunch breaks, were already enjoying their meals the sleek, canteen style bistro tables reflecting the light of the industrial lamps dangling above. The menu du jour (reasonably priced at 14€) consisted of a Chicken Colombo accompanied by a dessert of one's choice. I found the self-service to be a very appropriate option, as it sped things up considerably. The Colombo was tender and flavorful, although as usual for Franco-ethnic cuisine, somewhat lacking in (the spicy) spices. For desert I devoured a lovely piece of cheesecake, topped with a rather stimulating mango syrup that had been imaginatively served in a syringe. I tend to skip fruit toppings, as they are often too saccharine for my taste, but this time I was very pleased with the tangy counterpart to my rich slice of cheesecake, which incidentally had the perfect, smooth texture I remember from the US.  All in all I was satisfied with the quality of my meal, which lacked any of the fuss one might expect from such an elegant atmosphere.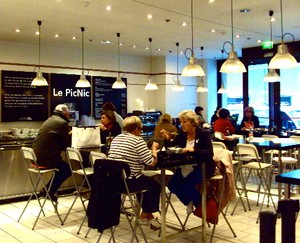 Whether escaping the recent artic weather or just looking for grocery store that will fulfill your culinary dreams—refined and simple alike—the Grande Epicerie of the Bon Marché as well as the adjoining café are absolutely worth a peek.