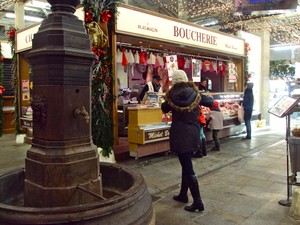 Having lived in Paris for over two years now, I must admit that I discovered the Faubourg Saint-Antoine neighborhood of the 11th and 12th arrondissements surprisingly late. A traditionally plebian neighborhood, Faubourg Saint-Antoine houses an impressive collection of hip bars, charming bistros, as well as an extensive network of covered passages. Already a fan of the quartier, imagine my delight when I heard about the ostensibly charming Marché d'Aligre smack dab in the middle of this oh-so parisien spot.  I decided to brave the frigid temperatures that have invaded the city lately, grabbed a friend, and headed over!
In times past, Faubourg Saint-Antoine housed a flourishing community of Paris' craftsmen and artisans. Notably this former Faubourg, or suburb, of Paris teemed with cabinet makers, iron craftsmen, and paper merchants alike. With the working class spirit still beating on, Faubourg Saint-Antoine has evolved into a rather residential neighborhood showcasing la vrai vie parisienne, or the life of typical Parisians — not the well-to-do ihabitants of the elegant boulevards of the 6th or 16th arrondissements, for example. Largely overlooked by tourists and the chicest breed of Parisians, Faubourg Saint-Antoine is the perfect place to spend a day mingling with ordinary folk, all while getting a glimpse into the quartier's history.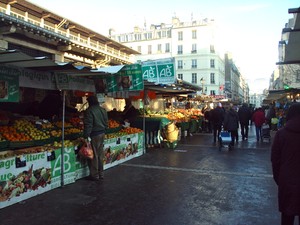 Extending from the Rue de Faubourg Saint Antoine to the Rue de Charonne, lines of colorful stands flank the sides of the Rue d'Aligre six out of seven days every week. I decided to start at the on the more animated end by Rue rozatier. As I sauntered southward, the Merchant's calls buzzed in my ears. A regular at the Marché de la Place Monge, I must admit that I found all the noisy haggling jarring at first. However, after a few minutes of watching a French housewife drive the price of her head of rougette lettuce down by an entire euro, I was so intrigued that I decided to give it a try myself.  Terrible negotiator that I am, oddly enough, I did succeed at purchasing a kilo of redskin potatoes, three carrots, 18 pearl onions, and 500g of mushrooms for only three euros from a friendly, Tunisian merchant across the place d'Aligre.
My newfound bargain-hunting skills proved worthless in the covered Marché Beauvau, towering above the scattered stands in the center of the place d'Aligre. The chic atmosphere and comparably higher prices to the stands outside, sharply contradict the market's humble beginnings. Established in 1779, the sturdy yet, cute building originally served a place where merchants, authorized by the nearby Abbaye Saint-Antoine, sold cheap clothing to the faubourg's poor inhabitants.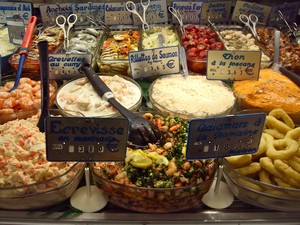 Today, the permanent stands occupying the building boast a large selection of produce, meats, fish, cheese, and various delicacies. The many shelves and windows showcase every sort of mouthwatering French (and oriental!) specialty the heart desires from savory patés and fresh rilletes de saumon to many lovely wines and pastries. What the atmosphere lacked in squabble, it made up for with more composed forms of vendor-client interactions. As I admired the fromager's selection of cheeses, I overheard the butcher's very detailed description to a young girl of how to master her very first boeuf bourgignon. I myself spent a significant amount of my visit in the Grainerie ooh-ing and ahh-ing at the assortment of seeds, gourmet flours, fresh jams, teas, and an impressive selection of rustic candies. The atmosphere as a whole recalled a homespun, perhaps even rural medley of culinary staples of times past.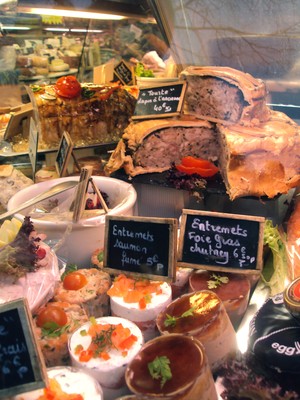 Overall, I did appreciate the spiffier indoor market and its knowledgeable vendors. However, I found the price ranges fit for someone with a more tolerant budget than mine. After the initial shock, I grew to enjoy the loud atmosphere dominating the outdoor stands. Nonetheless, I was surprised to find that among those vendors there was not a single one who seemed to respect the rules of seasonality. Expecting to find the usual winter fare such as potatoes, carrots, squash, celery, apples, even butternut squash, every stand offered tomatoes, pineapples and other out-of-season produce that was likely imported. As someone who values local products and reasonable prices, I'm going to stick to my neighborhood marché in the future—but not to worry Faubourg Saint-Antoine, I'll be back to check out some bistrots and bars very soon!