The Studio of Alberto Giacometti, Recently Opened in Paris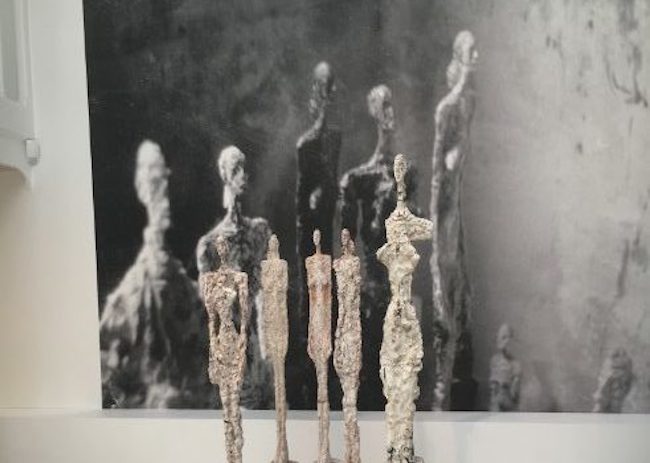 "All the art of the past rises up before me, the art of all ages and all civilizations, everything becomes simultaneous, as if space had replaced time. Memories of works of art blend with affective memories, with my work, with my whole life." This quote by the Swiss-born sculptor Alberto Giacometti could well have been said about the recently opened Giacometti Institute.
Alberto Giacometti is widely acknowledged as having made some of the most important contributions to Surrealist sculpture in the 1930s, but also later, after he changed tack and started creating his haunting stick-figure-like human sculptures, he stayed hugely influential in the art scene. Son of a painter, growing up in artistic and creative circles, he came to Paris to study under Antoine Bourdelle in 1922. He moved into his tiny studio at 46 rue de Hippolyte-Maindron with his brother, muse and model Diego in 1926, and kept this 4.75 x 4.90m studio until he died.
A contemporary and friend of Picasso, Man Ray, Miró, Samuel Beckett, and friend and neighbor of Jean-Paul Sartre and Simone de Beauvoir, he was a regular on the Montparnasse scene, which inspired as well as distracted him. At one time a dedicated member of the Surrealist group, he was evicted from the group when, after a creative crisis, he started producing more realistic and recognizable figures, yet still figures that reflect the perhaps slightly mad genius of Giacometti.
Upon the artist's death in 1966, his widow Annette, whom he had married in 1949, meticulously collected all his belongings– his pencils, tools, art supplies, sculptures, pictures, prints and photos– and even the scribbles he left on the plaster wall of his studio, and put it all in storage. Years later, Catherine Grenier, who today is the director of the Giacometti Foundation, inspected this treasure trove and decided to recreate the studio of Giacometti not in his original studio, which had since been remodeled into an apartment, but close by in a perfect little townhouse.
In this small house, at 5 Rue Victor Schoelcher, a perfect replication of Giacometti's studio welcomes you. This workspace, looking as if he merely stepped out for a moment, together with a film of him working and talking, gives a great insight into the artist. But a few steps upstairs, you can not only admire many of his sculptures, which are haunting, thought-provoking and oddly attractive, but you might also become distracted by the beauty of this townhouse.
Dating back to 1914, the house was originally built for Paul Fallot. He worked as a designer of luxury furniture and Art Deco interior design pieces for the grand department store Bon Marché, and, in keeping with his love for Art Deco, he decorated his home with a mosaic-tiled entrance, stained glass windows and doors, painted friezes, wooden panelling, mosaic floors, and such attention to detail, that I, for one, was ready to move in. Just the library and the little reading nook are perfect. Add a little art, and you have the setting for a perfect morning out.
Institut Giacometti,
5, Rue Victor Schoelcher,
75014 Paris
www.fondation-giacometti.fr/en/
Lead photo credit : Photo: Ulrike Lemmin-Woolfrey
Leave a reply
Your email address will not be published. Required fields are marked *