Signac, the Collector: Now Showing at the Musée d'Orsay
The exhibition "Signac the Collector," at the
Musée d'Orsay
until February 13th, gives a unique view of the art world in Paris from the 1880s to the 1930s. The 150 or so paintings on display all come from the private collection of Paul Signac, the artist, art historian and curator whose commitment to art began at the age of 16 and lasted the whole of his life. The pictures he chose for his own collection form a series of snapshots of this key period, beginning with the new excitements of Impressionism and continuing through to the more radical Pointillism and the work of the Fauvists, or "wild beasts," whose use of vivid, flashing colors and flattened images paved the way for modernism. Paul Signac, "Femmes au puits."
Signac was so moved when he saw
Claude Monet's
work at an exhibition in 1880 that he abandoned his studies at the age of 16 and decided to become a painter. He had already been teaching himself to paint, observing the work of others closely and practicing by making copies of works he admired. At the Fourth Impressionist Exhibition in 1879, this got him into trouble; the artist Gauguin threw him out, saying, "We do not allow copying here, Sir." It was a work by Degas that he wanted to reproduce and so it's interesting to note that early in this exhibition of pieces Signac owned are two Degas pictures of dancers, "Deux danseuses en maillot" (1892) in charcoal and "Danseuse s'habillant," in pastels (undated). Paul Signac's interest in collecting art began in his early 20s when he bought his first painting, Cézanne's "La plaine de Saint-Ouen l'Aumone," of a rural landscape to the northwest of Paris, which has a prominent place in the exhibition. With its outdoor subject, broad brushstrokes and nuanced depiction of light against the trees, landscape, clouds and sky, this painting from 1880 shows Signac's interest in Impressionism. Paul Cézanne, "La plaine de Saint-Ouen l'Aumone." Photographed at the exhibition by Marian Jones Other early purchases include several works by Pissarro, such as paintings of paysans (country folk) including "Paysanne Assise," showing a young woman sitting alone to rest, and "Paysans, retour du marché," of a group returning from market. Neither attempts an accurate depiction of the subject, both seek rather to portray an impression of the moment. Camille Pissarro, "Paysans, retour du marché". Photographed at the exhibition by Marian Jones
SUBSCRIBE
ALREADY SUBSCRIBED?
BECOME A BONJOUR PARIS MEMBER

Gain full access to our collection of over 5,000 articles and bring the City of Light into your life. Just 60 USD per year.

Find out why you should become a member here.

Sign in

Fill in your credentials below.
The exhibition "Signac the Collector," at the Musée d'Orsay until February 13th, gives a unique view of the art world in Paris from the 1880s to the 1930s. The 150 or so paintings on display all come from the private collection of Paul Signac, the artist, art historian and curator whose commitment to art began at the age of 16 and lasted the whole of his life. The pictures he chose for his own collection form a series of snapshots of this key period, beginning with the new excitements of Impressionism and continuing through to the more radical Pointillism and the work of the Fauvists, or "wild beasts," whose use of vivid, flashing colors and flattened images paved the way for modernism.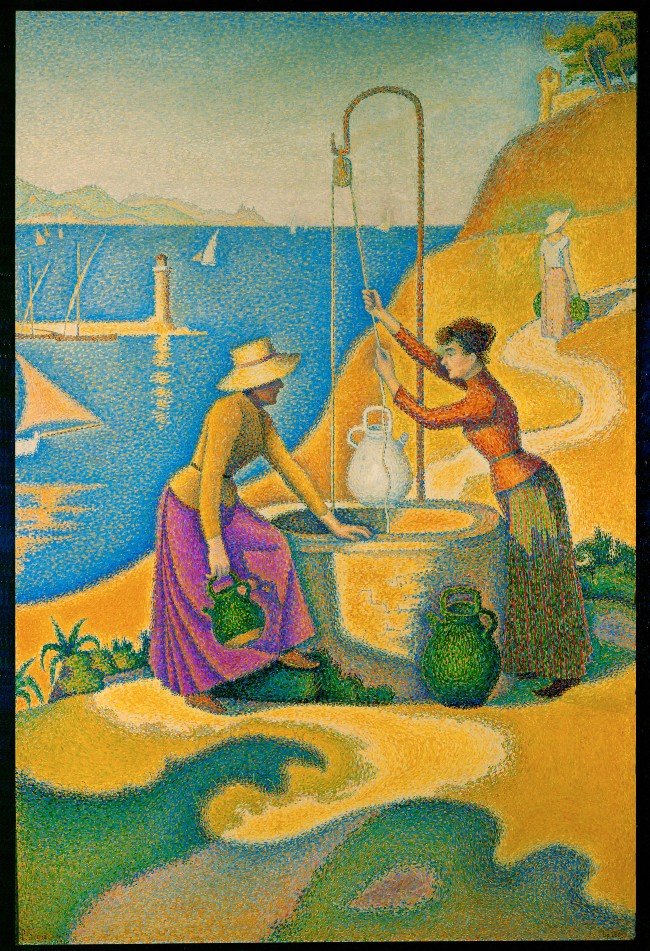 Signac was so moved when he saw Claude Monet's work at an exhibition in 1880 that he abandoned his studies at the age of 16 and decided to become a painter. He had already been teaching himself to paint, observing the work of others closely and practicing by making copies of works he admired. At the Fourth Impressionist Exhibition in 1879, this got him into trouble; the artist Gauguin threw him out, saying, "We do not allow copying here, Sir." It was a work by Degas that he wanted to reproduce and so it's interesting to note that early in this exhibition of pieces Signac owned are two Degas pictures of dancers, "Deux danseuses en maillot" (1892) in charcoal and "Danseuse s'habillant," in pastels (undated).
Paul Signac's interest in collecting art began in his early 20s when he bought his first painting, Cézanne's "La plaine de Saint-Ouen l'Aumone," of a rural landscape to the northwest of Paris, which has a prominent place in the exhibition. With its outdoor subject, broad brushstrokes and nuanced depiction of light against the trees, landscape, clouds and sky, this painting from 1880 shows Signac's interest in Impressionism.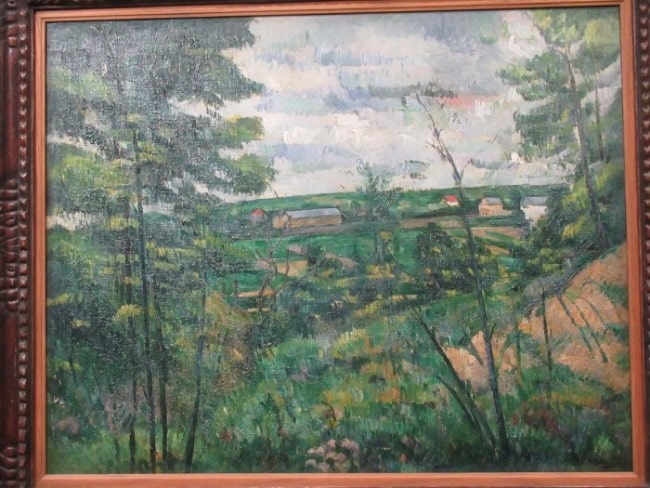 Other early purchases include several works by Pissarro, such as paintings of paysans (country folk) including "Paysanne Assise," showing a young woman sitting alone to rest, and "Paysans, retour du marché," of a group returning from market. Neither attempts an accurate depiction of the subject, both seek rather to portray an impression of the moment.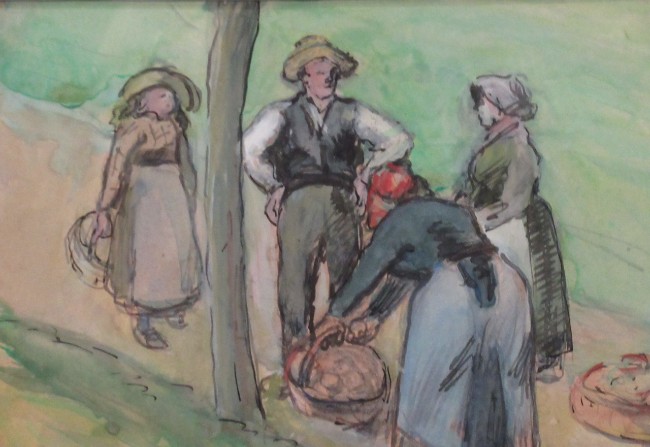 It was Georges Seurat who had the greatest influence on Signac and this is emphasized in the exhibition where some of the 80 works by this artist are displayed on a rotunda. Signac saw Seurat's most famous painting, "Un Dimanche après-midi à l'Ile de la Grande Jatte" at an exhibition in 1886 and was stunned by its technique. The scene, showing Parisians relaxing on the banks of the River Seine, used bright dots of color to build up the scene in a way which was very new. This painting, seen now as a founding work in the later wave of Impressionism known as Neo-Impressionism, inspired Signac profoundly. The painting was not owned by Signac, so is not part of the exhibition, but look out for a study Seurat painted when planning it which is called "La couseuse" and shows one of the figures to be included, a woman sewing.
Seurat died in 1891, aged only 32, and Signac took on the task of compiling a posthumous inventory of his work. This strengthened his admiration for his friend's talent, leading him to play a leading role in Neo-Impressionism and to develop his own technique in that direction, using broader brushstrokes and a more imaginative approach to color. Paintings here which illustrate this include "Femmes au puits" (1892) where the technique is hinted at in the depiction of two women at a well and "Avignon Soir" (1909) where it is fully exploited in a hazy representation of Avignon's huge gothic palace, the Chateau des Papes, in its riverside setting. In 1900 Signac organized an exhibition of Seurat's work, further promoting the artist who became known as a leading Neo-Impressionist and increasing his own reputation as an art historian and curator.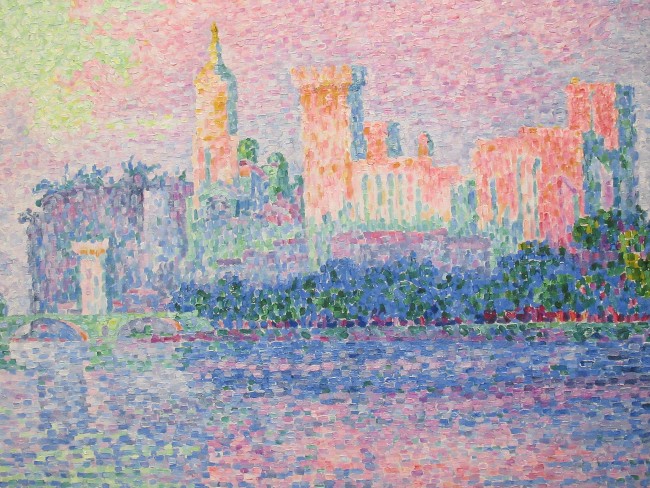 The term "Pointillism" was originally used by critics to ridicule the technique of using tiny dots of pure color which would blend together in the viewer's eye to form an image. But the luminosity of the works found much favor and by the end of the 19th century, a good number of other artists were experimenting with it. They included Signac himself and also his friend Henri-Edmond Cross, a number of whose works can be seen here in the exhibition. You can trace the development of the latter's work from the early piece, "La ferme" (1892) to the much more daring "Toulon, matinée d'hiver" (1906) and "Rivière de St Clair" (1908), in both of which the images emerge from a blurred riot of bright colors.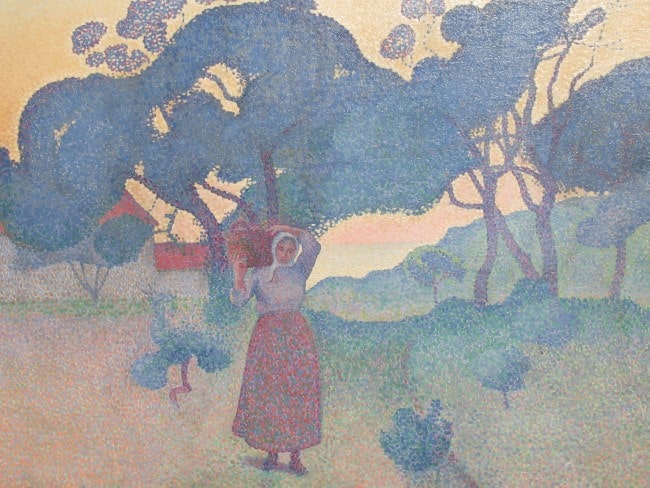 A movement which grew out of Neo-Impressionism in the first few years of the 20th century came to be called Fauvism by critics who saw something "wild" in their bold brushwork, simplified subject matter and strident colors. Signac chose three paintings which he had hung together in his house in St Tropez to illustrate this development and these form the finale of the exhibition. The earliest, "L'Air du soir," (1893-4) is a Neo-Impressionist work by Henri Cross and is known to have inspired a Matisse painting similar in subject matter, but much more Fauvist in style, "Luxe, Calme et volupté" (1904-5). Alongside them, Signac hung Louis Valtat's "Femmes au bord de la mer" (c 1904), termed pre-Fauvist. Two factors here remind us that Signac often selected pieces which were meaningful to him: the subject matter of all three is the Mediterranean, much loved by Signac, and the three painters were all part of his circle of friends.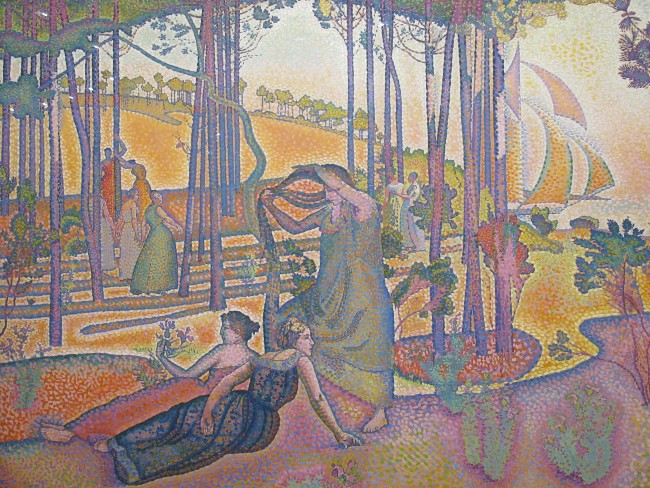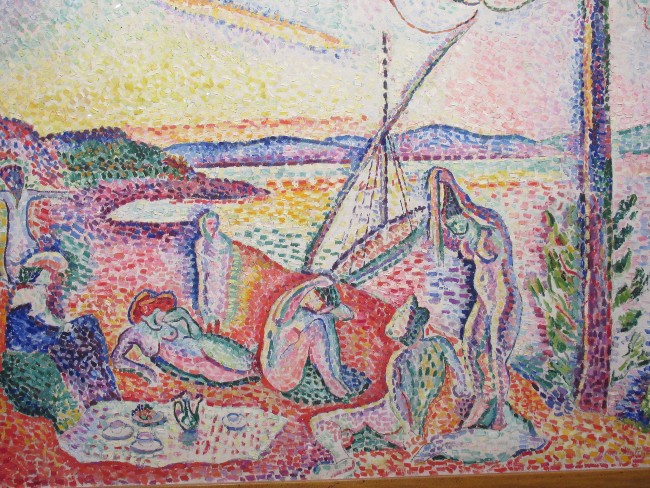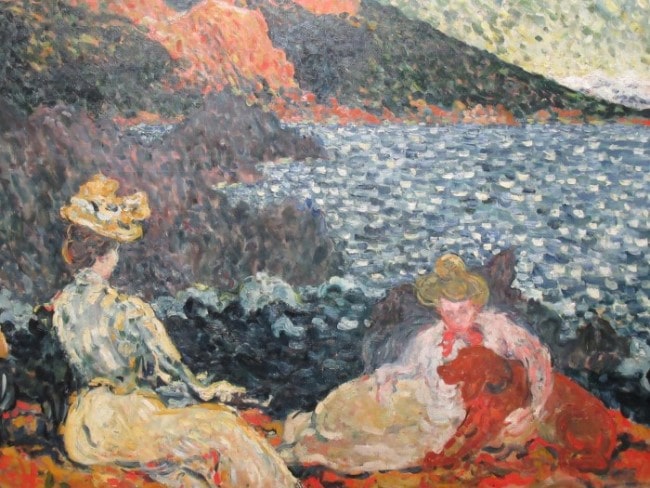 The exhibition hints at all aspects of Paul Signac's various roles in the Parisian art scene over the 50 years of his involvement. In his later years Signac bought fewer paintings because the expense of financing two households, one for his wife and one for his mistress, left him little spare money. But he continued to champion artists in many different ways, notably as president of the Salon des Indépendants, which had initially been set up by independent artists rejected by the establishment. He also curated many exhibitions and played a leading role in saving Delacroix's house from demolition and seeing it turned into a museum.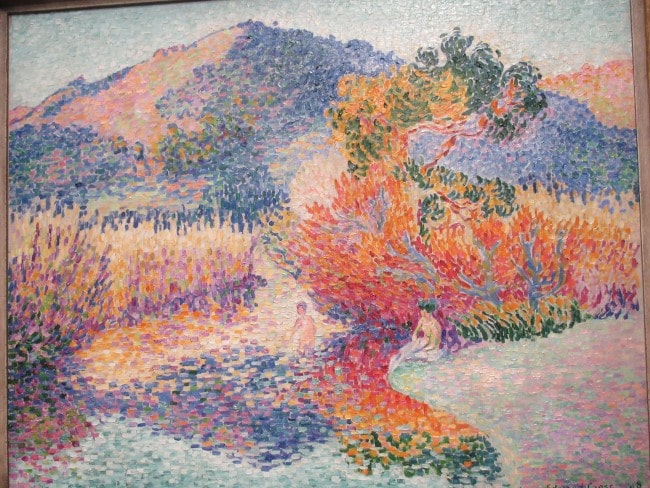 Two paintings not yet mentioned are key to understanding Paul Signac. The exhibition leaflet emphasizes "his constant eagerness to engage with the work of younger generations" and Kees van Dongen's work, "Modjesko," which is used on the exhibition's promotional material, illustrates this. This 1908 painting of a Romanian transvestite soprano, described as post-Fauvist, was shocking, its flamboyant subject depicted in bright colors, hand on breast and bright red lips open in song. Yet Signac, always keen on the new and the different, chose it for his collection. And secondly, there is a portrait of Signac himself, "En mer," painted by Théo Van Rysselberghe in 1896, and gifted to him after the two men had been on a sailing trip together off St Tropez. For Signac, this was a souvenir of a day out with a friend. For us, it is in both its style and its subject matter, a reminder of Paul Signac himself and a key work at the heart of this fascinating exhibition.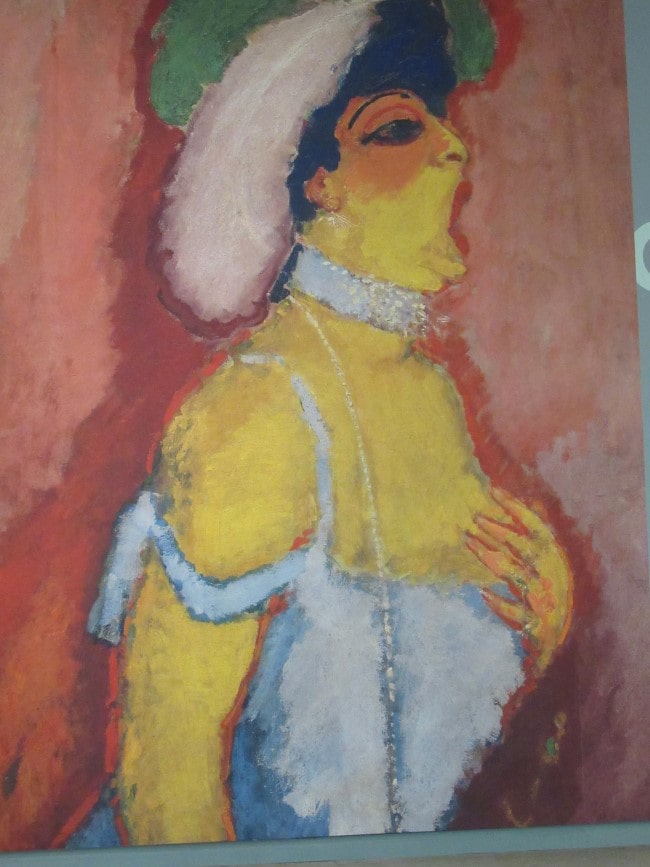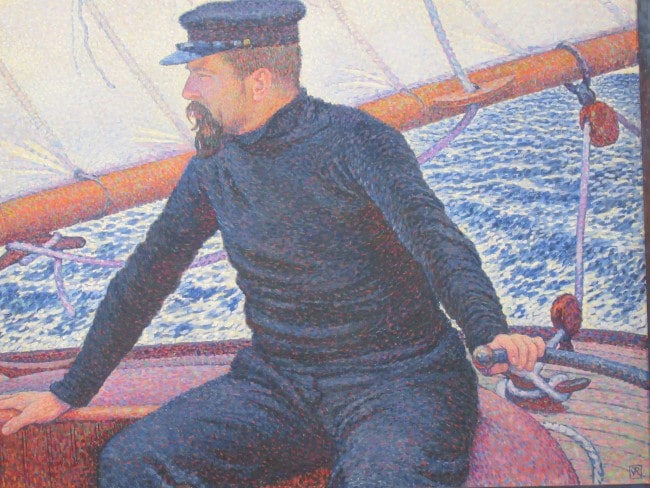 "Signac, Collectionneur" will be at the Musée d'Orsay until February 13th, 2022.
Opening times: Tuesday to Sunday, 9:30 am-6 pm. Late opening on Thursdays until 9:45 pm.
Full-price ticket is €16. The price is €13 for under 18s and EU citizens under 26.
Purchase your tickets online here: https://billetterie.musee-orsay.fr/en-GB/home
Click here for an introduction to the exhibition from the Musée d'Orsay website
Lead photo credit : Paris Musee d'Orsay. Credit © Flickr, Herbert Frank
More in Art, art exhibitions, Musée d'Orsay, Paris art
---
---