The Dancers of the Moulin Rouge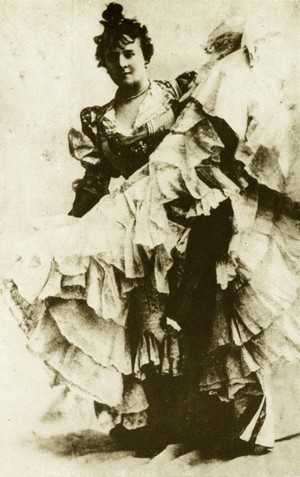 When considering the Moulin Rouge's historical legacy, several names spring easily to mind. La Gouloue, or Louise Weber, is one, and Jane Avril is another – both captured in the posters Henri Toulouse-Lautrec produced for the cabaret. But who were these two very different women, and why have their names remained so firmly embedded in French cultural consciousness ever since they danced at the Moulin Rouge? Louise Weber Louise came from the very humblest of beginnings before hitting the big time at the Moulin Rouge. Hers is a tragic and well-known story. It is believed that she was from Jewish stock, born in Alsace but later to move to the Clichy area of Paris, where her love of dance and performance became evident. Working alongside her mother as a child in a laundry, Louise would dress up in customers' clothes, and parade around, fantasising that she was a fine lady. As she got older she would sneak out at night wearing the beautiful dresses, drawn to the warmth and excitement of dance-halls.  She quickly became known for her cheekiness and provocative dancing in these venues. The male customers found her entrancing. She revealed just enough of her embroidered knickers as she swirled past their tables to keep their gaze fixed in hopeful anticipation of more. She high-kicked and whooped and got everyone on the dance floor. She rapidly became a sensation. Oler and Zidler Make A Move Louise Weber became a regular fixture at the Élysée Montmartre dance-hall, and secured a huge audience there. It was this pulling power that Moulin Rouge proprietors, Messrs Oler and Zidler, spotted and decided to poach. Before long theyhad their golden goose, and Louise was installed at the Moulin Rouge as the new draw. The Élysée must have been spitting feathers with fury. The takeover was hugely successful and the cabaret, with Louise as the headline act, became the place to see and be seen. Audiences flocked to see her dance, particularly the male patrons whose drinks Weber would steal as she danced past. Her high kicks could knock a man's hat off and it was a trick she repeated over and over. La Gouloue ('The Glutton') became her nickname, due to her opportunistic drink stealing, and a legend was born. Adored and painted by Lautrec she knew great fame, but the confidence this instilled in her led to her downfall. Demise By 1895 Louise felt she was sufficiently successful to move on from the Moulin Rouge and strike out on her own. It was a decision that would haunt her. Investing the money she had earned into a fairground act, for which Lautrec kindly painted the backdrops, she opened for business. It was a disaster. Without the warmth and atmosphere of the cabaret customers drifted away. She sunk into a deep depression, and alcohol became her main solace. Jane Avril Short of a top dancer, the proprietors cast around for some fresh talent, alighting on a totally different character in the shape of Jane Avril. Born Jeanne Beaudon she was everything Louise Weber was not. Elegant, slightly aloof, angular and dignified, she enchanted the Moulin Rouge customers in a totally different way. Lautrec was captivated, and found in Jane Avril a kindred spirit. Like him she had experienced much hardship in her life, being shunted around as a child and experiencing brutal abuse from her own mother, which caused her to become a homeless runaway at just 13. She was admitted to Salpêtrière Hospital, as much to protect her from her mother's attacks as for treatment. But there she was diagnosed with the movement disorder Sydenham's Chorea – known then as 'St Vitus' Dance.' It was only when she attended a patient and staff ball at the hospital that she declared herself 'cured.' She recalls the incident in her book Mes Mémoires*: "One evening that I have never forgotten, a grand holiday, followed by a masked ball, was given in a pavilion of Doctor Voisin. Many future big shots of the medical profession were in attendance. I was disguised as Descente de la Courtille – in a costume furnished by Mlle Jeanne Charcot…I was ashamed to be so carried away by an instinct which, up to that moment, I had never suspected to be in me…Alas, I was cured!" The jerky movements that her Sydenham's Chorea caused became part of her distinctive dancing style. It contrasted with her elegant and slightly distant demeanour, making her an unusual and compelling performer. She joined the Moulin Rouge in 1889 and quickly won the hearts of the audience. Highly intelligent, but always holding something of herself back, she became a favourite with the brightest and best of the artists who frequented the dancehall. Picasso painted her, and Toulouse-Lautrec's famous posters captured her powerful presence. Where Louise gave, Jane held back. She was the perfect opposite to Weber, leaving all to the imagination, but stimulating it just as expertly. Sad Endings Both Louise Weber and Jane Avril achieved immortality through the paintings that showed them at the height of their careers, and many of their friends remained loyal.  But by the end of their lives they had precious little to show for their fame. Louise eked out a living as best she could, but had become a severe alcoholic. Years later she returned to the Moulin Rouge, but only to sell matches and cigarettes to the customers queuing outside, none of whom recognised her. She died destitute in 1929. Jane Avril married but was betrayed and made miserable by her philandering husband, the German artist Maurice Biais. Following his death in 1926 she lived in poverty and died at the age of 75. Jane Avril is buried in Père Lachaise Cemetery. Louise Weber is buried in Cimetière de Montmartre. If you go to find their graves, as often as not you will see flowers have been…
SUBSCRIBE
ALREADY SUBSCRIBED?
BECOME A BONJOUR PARIS MEMBER

Gain full access to our collection of over 5,000 articles and bring the City of Light into your life. Just 60 USD per year.

Find out why you should become a member here.

Sign in

Fill in your credentials below.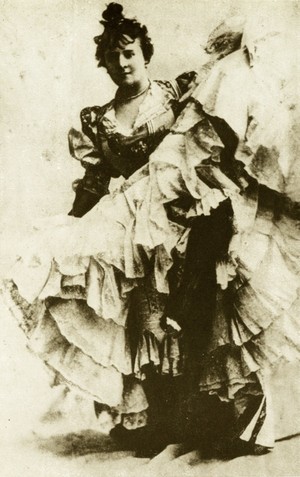 When considering the Moulin Rouge's historical legacy, several names spring easily to mind. La Gouloue, or Louise Weber, is one, and Jane Avril is another – both captured in the posters Henri Toulouse-Lautrec produced for the cabaret. But who were these two very different women, and why have their names remained so firmly embedded in French cultural consciousness ever since they danced at the Moulin Rouge?
Louise Weber
Louise came from the very humblest of beginnings before hitting the big time at the Moulin Rouge. Hers is a tragic and well-known story. It is believed that she was from Jewish stock, born in Alsace but later to move to the Clichy area of Paris, where her love of dance and performance became evident. Working alongside her mother as a child in a laundry, Louise would dress up in customers' clothes, and parade around, fantasising that she was a fine lady. As she got older she would sneak out at night wearing the beautiful dresses, drawn to the warmth and excitement of dance-halls.  She quickly became known for her cheekiness and provocative dancing in these venues. The male customers found her entrancing. She revealed just enough of her embroidered knickers as she swirled past their tables to keep their gaze fixed in hopeful anticipation of more. She high-kicked and whooped and got everyone on the dance floor. She rapidly became a sensation.
Oler and Zidler Make A Move
Louise Weber became a regular fixture at the Élysée Montmartre dance-hall, and secured a huge audience there. It was this pulling power that Moulin Rouge proprietors, Messrs Oler and Zidler, spotted and decided to poach. Before long they
had their golden goose, and Louise was installed at the Moulin Rouge as the new draw. The Élysée must have been spitting feathers with fury. The takeover was hugely successful and the cabaret, with Louise as the headline act, became the place to see and be seen. Audiences flocked to see her dance, particularly the male patrons whose drinks Weber would steal as she danced past. Her high kicks could knock a man's hat off and it was a trick she repeated over and over. La Gouloue ('The Glutton') became her nickname, due to her opportunistic drink stealing, and a legend was born. Adored and painted by Lautrec she knew great fame, but the confidence this instilled in her led to her downfall.
Demise
By 1895 Louise felt she was sufficiently successful to move on from the Moulin Rouge and strike out on her own. It was a decision that would haunt her. Investing the money she had earned into a fairground act, for which Lautrec kindly painted the backdrops, she opened for business. It was a disaster. Without the warmth and atmosphere of the cabaret customers drifted away. She sunk into a deep depression, and alcohol became her main solace.
Jane Avril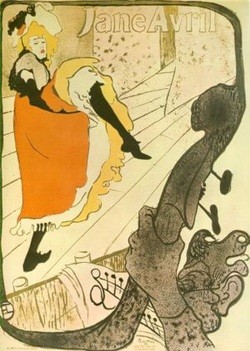 Short of a top dancer, the proprietors cast around for some fresh talent, alighting on a totally different character in the shape of Jane Avril. Born Jeanne Beaudon she was everything Louise Weber was not. Elegant, slightly aloof, angular and dignified, she enchanted the Moulin Rouge customers in a totally different way. Lautrec was captivated, and found in Jane Avril a kindred spirit. Like him she had experienced much hardship in her life, being shunted around as a child and experiencing brutal abuse from her own mother, which caused her to become a homeless runaway at just 13. She was admitted to Salpêtrière Hospital, as much to protect her from her mother's attacks as for treatment. But there she was diagnosed with the movement disorder Sydenham's Chorea – known then as 'St Vitus' Dance.' It was only when she attended a patient and staff ball at the hospital that she declared herself 'cured.' She recalls the incident in her book Mes Mémoires*:
"One evening that I have never forgotten, a grand holiday, followed by a masked ball, was given in a pavilion of Doctor Voisin. Many future big shots of the medical profession were in attendance. I was disguised as Descente de la Courtille – in a costume furnished by Mlle Jeanne Charcot…I was ashamed to be so carried away by an instinct which, up to that moment, I had never suspected to be in me…Alas, I was cured!"
The jerky movements that her Sydenham's Chorea caused became part of her distinctive dancing style. It contrasted with her elegant and slightly distant demeanour, making her an unusual and compelling performer. She joined the Moulin Rouge in 1889 and quickly won the hearts of the audience. Highly intelligent, but always holding something of herself back, she became a favourite with the brightest and best of the artists who frequented the dancehall. Picasso painted her, and Toulouse-Lautrec's famous posters captured her powerful presence. Where Louise gave, Jane held back. She was the perfect opposite to Weber, leaving all to the imagination, but stimulating it just as expertly.
Sad Endings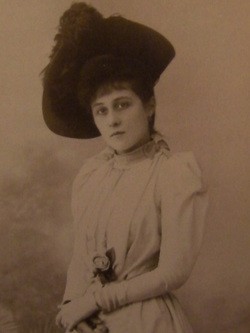 Both Louise Weber and Jane Avril achieved immortality through the paintings that showed them at the height of their careers, and many of their friends remained loyal.  But by the end of their lives they had precious little to show for their fame. Louise eked out a living as best she could, but had become a severe alcoholic. Years later she returned to the Moulin Rouge, but only to sell matches and cigarettes to the customers queuing outside, none of whom recognised her. She died destitute in 1929. Jane Avril married but was betrayed and made miserable by her philandering husband, the German artist Maurice Biais. Following his death in 1926 she lived in poverty and died at the age of 75.
Jane Avril is buried in Père Lachaise Cemetery. Louise Weber is buried in Cimetière de Montmartre. If you go to find their graves, as often as not you will see flowers have been left for them. Place your own, if only in your imagination, and remember the greatest and best-loved dancers Paris produced during the Belle Époque, embodying the glamour, movement, energy and creativity that typified the age.
Footnotes
To see short snippets of Louise Weber in later life, outside her fairground booth, and other clips of the Moulin Rouge go to the Paris by Plaque You Tube channel here.
*Quoted from Mes Mémoires by Jane Avril, Phebus (2005). Translation from Hysteria Behind the Scenes: Jane Avril at the Salpêtrière, Journal of the History of Neurosciences, 8: 1, 35 – 42, Bonduelle, Michel and Gelfand, Toby (1999) http://www.tandfonline.com/doi/abs/10.1076/jhin.8.1.35.1778
Anna Meakin is the author of Paris by Plaque – Montmartre Vol 1 (The Complete Guide to the Historic Plaques of Paris) and she is now writing her next book about the Left Bank. Please click her name to read more about her and her past stories about historic Paris of the past published by BonjourParis. Paris by Plaque is available at her website, the Museum of Montmartre and here at our Amazon.com Boutique.

Subscribe for
FREE

weekly newsletters.
BonjourParis has been a leading France travel and French lifestyle site since 1995.
Readers' Favorites: Top 100 Books, imports & more at our Amazon store
We update our daily selections, including the newest available with an Amazon.com pre-release discount of 30% or more. Find them by starting here at the back of the Travel section, then work backwards page by page in sections that interest you.
Current favorites, including bestselling Roger&Gallet unisex fragrance Extra Vieielle Jean-Marie Farina….please click on an image for details.
Click on this banner to link to Amazon.com & your purchases support our site….merci!
More in Art, dance, French artists, French history, moulin rouge, Moulin Rouge Paris, Paris history, Toulouse-Lautrec
---
---