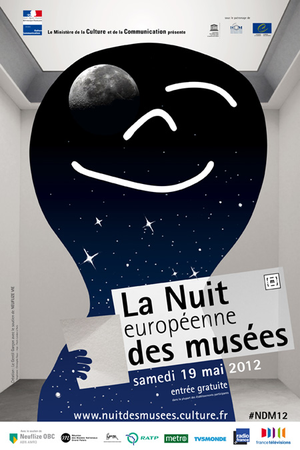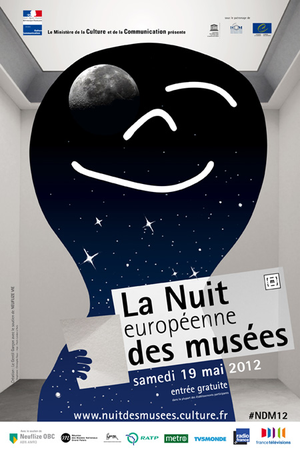 Paris may be known as the City of Light, but it's also a City of Museums.  With a gallery on every corner from the Louvre to the Museum of Romantic Life a visitor (and even a resident!) could spend months in Paris without ever running out of exhibits to visit. But what if you could see you favourite art works, the masterpieces and the museums in a whole new way? On 19 May an annual extravaganza will be taking place all over Europe that will allow you to do just that – The European Night of Museums.
Museums and galleries all over Europe will be throwing open their doors from 6pm until midnight to celebrate a night of art, culture and excitement. With light installations, hundreds of special events and a whole new spin on the art you know (and the art you don't!) this really is an unmissable event. And to really put the icing on the cake admission to all museums and galleries is absolutely free.
Created by the French Ministry of Culture and Communication in 2005 the European Night of Museums involves more than 4,000 institutions participating across forty different countries. Now that's co-ordination! Considering this phenomenal event was dreamt up in France it's no wonder Paris has so much to offer on this one very special evening. Below is a selection of just a few galleries, museums and events that you could enjoy on May 19.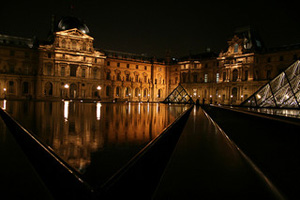 The Louvre
Well, it wouldn't be Paris without it would it? The magnificent Louvre will be leading the charge on May 19, with free admission to its main collection.  The current Exhibition 'Saint Anne, the Ultimate Masterpiece of Leonardo da Vinci' will also be free to enter between 6pm and 9pm. This exhibition brings together a wealth of sketches, studies and preparatory work to show da Vinci's artistic journey in creating the Virgin and Child with Saint Anne.
Metro:  Palais Royal Musée du Louvre
The House of Victor Hugo
If you haven't seen The Place des Vosges you already have a big reason to visit The House of Victor Hugo. Arguably the most beautiful square in Paris, Place des Vosges lies in the fashionable Marais district of the city. Victor Hugo was thirty when he moved into Number 6 in 1832 and remained there for 16 years with his wife, Adele. Visit the rooms where Hugo wrote most of Les Miserables and enjoy the array of books, drawings, souvenirs and books which document Hugo's life.
From 8.30 – 10pm on 19 May The House of Victor Hugo will resound to the words of famous literary figures contemporary with Hugo including Michel Foucault, Perrine Giselin, Albert Camus and of course Victor Hugo himself, delivered by students of the Municipal Conservatory Francois Poulenc.
Metro: St Paul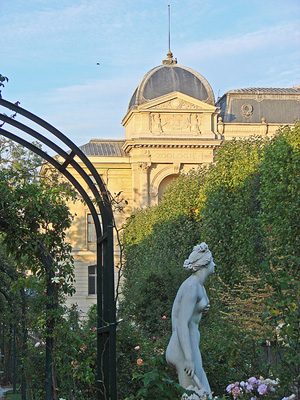 The Natural History Museum
This incredible museum began its long life as the Paris Royal Botanical Garden in 1635 and is located in Jardin des Plates. With a Gallery of Paleontology (dinosaurs, giants birds and insencts) and Hall of Evolution, the museum will fascinate and entertain children and adults alike, so this might be a great choice for families wanting to experience a real Night at the Museum.
The Natural History Museum in Paris is running a special evening in the Great Gallery of Evolution between 7pm and 1am on the 19 May. Entry is free and offers a unique opportunity to enjoy the magnificent zoological collection. Last entry is at midnight.
Metro: Place Monge
The Rodin Museum
Located in the grounds of Hôtel Biron on rue de Varenne, The Rodin Museum was founded in 1916. The French sculptor was himself a tenant of the Mansion and chose the site personally. Author of world-famous sculpture such as The Kiss and The Thinker, Rodin donated his entire collection to the French state on the proviso that the building and grounds be transformed into a gallery and museum.
The beautiful garden will be open throughout the European night of Museums, offering an amazing opportunity to see the sculptures of Rodin uniquely lit for the event. There will also be video installations in the garden and in the auditorium at the Museum throughout the evening.
Metro: Varenne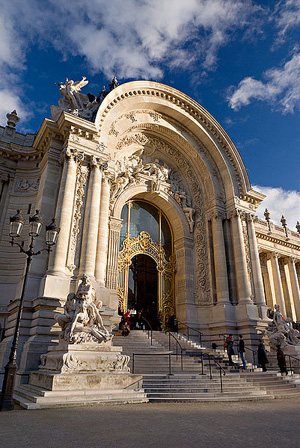 The Petit Palais
Located just opposite The Grand Palace (Le Grand Palais), this beautiful museum was built for the Universal Exhibition in 1900 and is now home to the Museum of Fine Arts. Built around a peaceful garden and courtyard the gallery itself offers a stunning array of paintings, drawings, objects and sculpture by artists such as Rembrandt, Ingres, Delacroix, Monet and Cezanne to name but a few.
Le Petit Palais will be offering a wealth of activity for your Night at the Museum for both adults and children, including a craft workshop between 6.30 and 10pm, instant photograph slideshows, storytelling and performances. Click here for a full list of Le Petit Palace's events.
And this is only the tip of the iceberg! To search the programme of events and galleries, click here and prepare to be spoilt for choice. There are over 170 events listed in Paris alone including film screenings, lectures, talks and workshops – the list of Paris events is just here.  You can also explore what's happening in other countries on the night, see pictures from previous events and read more about the Night of Museums. The website can be translated into various languages in the top right-hand corner of the site.
By waiving admission fees and creating an exciting array of events throughout the evening Paris is actively encouraging people to get involved in the cultural life of the city in a whole new way. As this is the 8th year of the festival, I think we can safely assume it's working.
To recap….The European Night of Museums is happening in Paris on the 19 May from 6pm until midnight. Entry is free. Bear in mind that the most popular galleries and museums will be at their busiest between 6-8pm, so plan your evening accordingly to miss the crowds. Then, enjoy!!
Louvre photo by MicroFabri (Own work) [CC BY 2.0)], via Flickr
Natural History Museum photo by Dalbera (Own work) [CC BY 2.0)], via Flickr
Petit Palais photo by D3vnull (Own work) [CC-BY-SA-3.0], via Wikimedia Commons

Subscribe for
FREE

weekly newsletters.
BonjourParis has been a leading France travel and French lifestyle site since 1995.
Readers' Favorites: Top 100 Books, imports & more at our Amazon store
We update our daily selections, including the newest available with an Amazon.com pre-release discount of 30% or more. Find them by starting here at the back of the Travel section, then work backwards page by page in sections that interest you.
Current favorites, including bestselling Roger&Gallet unisex fragrance Extra Vieielle Jean-Marie Farina….please click on an image for details.
Click on this banner to link to Amazon.com & your purchases support our site….merci!
Leave a reply
Your email address will not be published. Required fields are marked *