The Carousel of French Art and Design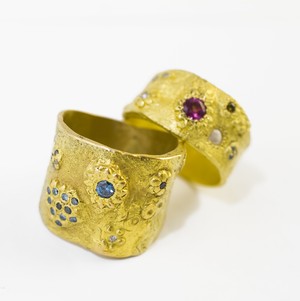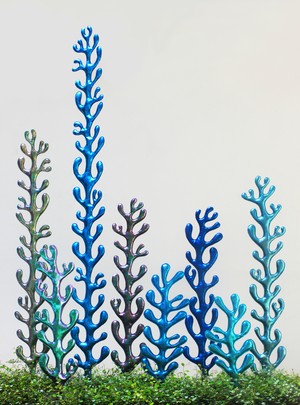 Some interesting artists recently came together in Louvre to present their creations in the fields of fashion, decor, arts, design and accessories. To be more specific, Le Carrousel des Métiers d'Art played host to 350 exhibitors, which makes this Biennial the largest exhibition dedicated to crafts and creation in France.
While walking through this diversity of fashion accessories, jewelry, furniture, lighting, glass, ceramics, and sculptures, the first thing that really caught my eye was some kind of slimy looking colorful jewelry. It wasn't actually slimy, but the plastic of which it was made was processed in a special way that made it look like some little creatures from the ocean. The designers of Molusk explained that diverse techniques such as silk-screening, using a multitude of colors and patterns as well as metallic gilding, allow the plastic to "metamorphose" into stylish designs. The jewelry adapts to the body and as plastic is also very light, you have the feeling you are not wearing anything at all.  Quite clever!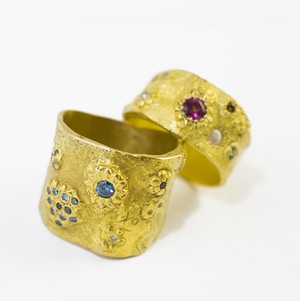 But that wasn't the only jewelry that I had to check out. On the stand close by, rings and necklaces with a specific ethnic touch were displayed. I wanted to know what the story behind them was and Esther Assouline, the designer, told me that she comes from Morocco and tries to imprint the past and the tracks of her culture into her designs. "My aim is to create jewelry with a soul and history. I use chasing techniques to give substance to it and I like the contrast, the stamp of the past on contemporary jewelry," she explained. She works intuitively and spontaneously. Her jewelry is made out of pure gold, 22 or 18 carat with precious stones that bring more life into the creations. So quite a contrast to the youthful plastic creatures from the ocean.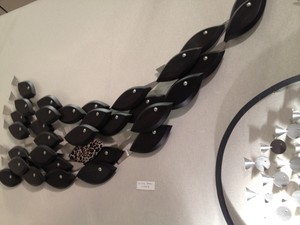 While checking out the Deco Design area with approximately 70 exhibitors, some fish shaped sculptures caught my attention. These were the creations of Guillemette Legros who wants to "give a second life to forgotten objects." Transforming different objects and materials and putting them in place is the secret to her designs. A plank from a barrel can become a bird, a gimlet morphs into the sword of a sword fish, a hook turns into the beak of a pelican and a saucer into the eye of an ethnic mask.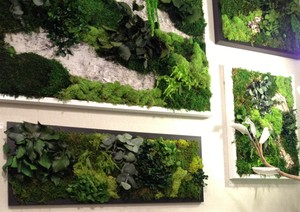 I got some nice home décor ideas when I came across the "green paintings" of Decors Nature. They are a small company specializing in floral decoration and plant planning of indoor or outdoor spaces.  What they presented at the Biennale were painting-like framed plants. Sounds weird? Yes it was a bit. "The aim is to bring nature into your home," they explained. Lovely idea that sounds so simple, but how do you water a "painting"? The maintenance shouldn't be so difficult, they said, but of course a bit of effort is needed to keep your place green and special.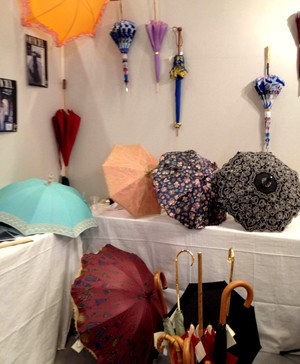 Ever heard of an umbrella designer? No? Me neither, until I checked out the umbrella and sunshades stand and met Anne-Marie Gaspar. She took over the family business back in the seventies and since then she designs and crafts umbrella and sunshades by hand. She carefully picks the fabrics and colors, usually she uses pastel colored silk. She also designs umbrella knobs and shafts, using ebony, gold plated handles and even Swarovski crystals.
What I didn't realize, but didn't have a hard time believing, is that she is kind of famous in France. She is responsible for supplying to some very prestigious haute couture fashion houses such as Chanel, Louis Vitton, Dior, Hermes… She also works closely with theaters, circuses, music and film producers. The sunshades in the film "Marie Antoinette" are her creations for instance. But she doesn't just design umbrellas and sunshades, she also restores them. "I try to keep the yesteryear's spirit alive," she explains.
Leave a reply
Your email address will not be published. Required fields are marked *