9 Quirky Museums in Paris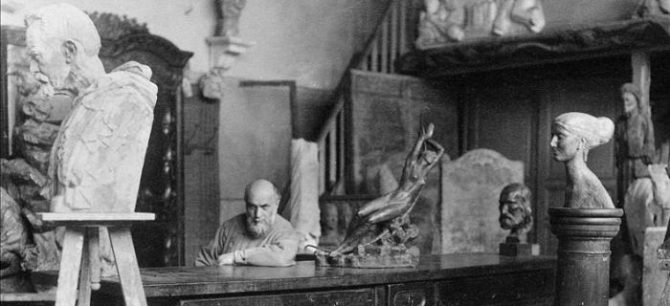 Paris is home to some of the most important museums in the world–the Louvre, the Musee d'Orsay, the Grand Palais. But it also counts some quirky gems that reveal the lesser-known sides of the city.
Musée de la chasse et de la nature
The wild and wonderful is on display at this eclectic bestiary in the Marais. The Museum of Hunting and Nature promotes responsible hunting, wildlife preservation and environmental awareness through an intriguing collection of arms, paintings, sculptures, photography, furniture and some seriously stunning works of taxidermy. A 2007 renovation brought this aging museum back to life: the juxtaposition of contemporary art exhibits with collections amassed over two centuries makes for one of the most thought-provoking museum experiences in Paris.
62 Rue des Archives, 75003, Tel: 01 53 01 92 40
Discover a bit of the "Romantic Life" preserved in this small museum at the end of a cobblestone path in the 9th arrondissement. Originally the home and studio of Dutch portraitist Ary Scheffer, the building, along with its garden, greenhouse and artist studios, now celebrates Scheffer and his contemporaries, with a floor reserved for George Sand. In his day, Scheffer was known to gather the biggest names in art and culture, including Delacroix, Chopin and Rossini, as well Tourgenev and Dickens, in his celebrated salons. Be sure to pay a visit to the garden.
16 Rue Chaptal, 75009, Tel: 01 55 31 95 67
Walk into the Maison Bourdelle and you might think the master himself just stepped out for a stroll in the garden. And that's just what he intended. Antoine Bourdelle, a student of Rodin, bequeathed his house and over 900 sculptures, 100 paintings and 1,500 drawings to his wife and daughter upon his death, with instructions that it should be turned into a museum. It has grown over the years, but the light-filled studio and quiet interior garden populated with bronze sculptures feel as intimate as ever.
16-18 rue Antoine Bourdelle, 75015, Tel: 01 49 54 73 73
One of Paris' most enchanting museums is located in a former wine hall in the Bercy district. Jean-Paul Favand's private collection of carnival attractions popular from 1850 to 1950 includes such wonders as a manège vélocipédique, a pedal-pushing merry-go-round powered by the riders themselves, and the game La course au café in which a line of wooden waiters race to be the first to "serve" a glass of wine. Because of the museum's interactive nature, visits are guided and by reservation only.
53 Avenue des Terroirs de France, 75012, Tel: 01 43 40 16 22
Musée de la Magie and Musée des Automates
If you've ever wondered what's in the 16th century cellars of the Marquis de Sade's home in the Marais, you may be surprised to find this collection of magic artifacts, optical illusions and fun house mirrors. The price of admission includes a magic show; for more whimsy, head next door to the Musée des Automates (Wind-Up Toy Museum).
11 Rue Saint-Paul, 75004, Tel: 01 42 72 13 26
An unsettling number of anatomical anomalies are on display in locations around Paris. But the Musee Dupuytren may be the most troubling of them all. Roughly 6000 objects–wax models, skeletons in various states of completeness, bottled specimens, photographs, paintings, etchings and drawings– are crowded into this small, fluorescent-lit room dedicated to the study of anatomical pathology. The oldest specimens date to the 18th century when the museum was founded.
15 Rue de l'École de Médecine, 75006
Three thousand years of perfume history and know-how are on display at the Fragonard Parfumeur's Perfume Museum. Housed in a sumptuous 18th-century house near Opera, the museum highlights the expertise of glassblowers and other craftsmen vital to the creation of perfume. Fragonard is one of the oldest perfumeries in Grasse, the world capital of perfume. If you fall under the spell during the visit, the onsite boutique carries Fragonard's full line of scents.
 9 Rue Scribe, 75009, Tel: 01 47 42 04 56
The tragic story of the Camondo family makes a visit to this museum all the more poignant: Comte Moïse de Camando was a banker and passionate collector during the Belle Epoque period. He intended to leave his mansion and collection of 18th-century French furniture and artwork to his son, Nissim, but World War I broke out and Nissim was killed on the front. Following his tragic loss, Moïse left the house and its furnishings to the Musee des Arts Decoratifs in memory of his son. This perfectly preserved vestige of aristocratic life in the Belle Epoque is sadly all that remains of the Camando family; the line ended when Moïse's daughter, son-in-law and their children were killed in the Nazi camps.
63 Rue de Monceau, 75008, Tel: 01 53 89 06 50
Technically a gallery, 12 rue Chabanais used to be the most opulent brothel of Belle Epoque Paris. Today, Au Bonheur du Paris owner Nicole Canet collects, displays and sells a titillating selection of erotic drawings, photographs and other lurid artwork. The back room houses a blush-worthy collection of brothel artifacts, while regular exhibits highlight contemporary artists and erotic themes.
11 Rue Chabanais, 75002, Tel: 01 42 96 58 64
Museum of vampires and legendary creatures
Historian Jacques Sirgent turned his passion for vampirism, esotericism and the occult into one of Paris' most eccentric museums. Located in Les Lilas, this cabinet of dark curiosities is the result of Sirgent's decades of personal research. Settle into a red velvet couch with a Bathory or Lilith cocktail in hand as Sirgent leads you through his macabre history of Paris.
14 rue Jules David, Paris, 93260. Open upon reservation: [email protected]
Lead photo credit : Musée Bourdelle
Leave a reply
Your email address will not be published. Required fields are marked *
Comments