The Man Who Could Walk Through Walls: In Paris, Nothing is Weird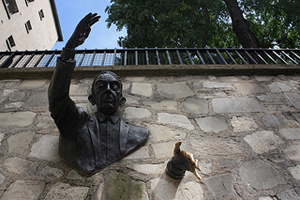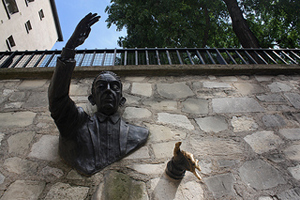 The Montmartre district of Paris is rife with dozens of wonders, some large and well known, others small and hidden away. While everyone knows about the big attractions along the main boulevards and at the top of the hill—such as the Sacre Coeur church, the Moulin Rouge, and the Chat Noir—there are many gems of Parisian culture to be found in the random streets and paths that run everywhere in between.
I learned about most of them through my brief employment as a guide leading daily tours through Montmartre. As all tour guides learn, customers are the most interested in anything that provides both a good photo opportunity and a good story. The Man Who Could Walk Through Walls never failed to fulfill both requirements.
Located in a little plaza off of Rue Norvins—which is just east of Sacre Coeur—this strange statue portrays the leg, hand, and upper torso of a man who seems to be emerging from a stone wall. Based on the story "Le Passe-Muraille" ("The Walker Through Walls) by the renowned French writer Marcel Ayme (who was buried in Montmartre's Saint-Vincent Cemetery), I have seen this out-of-the-way oddity inspire my tour-goers to strike a variety of poses, from shaking its hand, to perching on its shoulders, to giving it a kiss. (A word of warning: germaphobes should not kiss anything in Paris, especially Parisians.)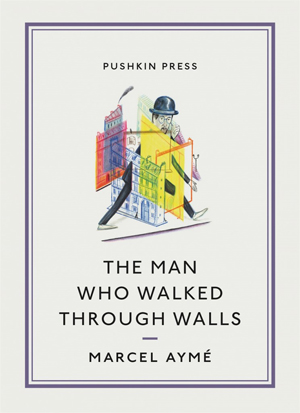 The inspiration for the statue, one Monsieur Dutilleul, is a man who learns some way or another that he has the strange power to walk through walls. Dutilleul is alarmed by this, and goes to his doctor seeking a cure. The doc prescribes him two pills; one to be taken on the spot, and a second that must be taken within the year. So Dutilleul takes the first pill, then hides away the second in his desk drawer. Eventually Dutilleul begins to find uses for his power, such as toying with his boss' mind, thievery, and making a move on a woman with whom he has become enchanted. After making plans to spend the night with said woman, Dutilleul is struck by a severe headache. He digs through his desk in search of an aspirin, and, of course, accidently swallows the aforementioned second pill.
Later that night he goes to meet with the woman at her residence on Rue Lepic (which is the next street over from where the statue stands on Rue Norvins). After their encounter, he experiences a bit of trouble passing through her bedroom wall, but doesn't become overly alarmed. Moments later, however, he attempts to pass through her garden wall and becomes trapped forever.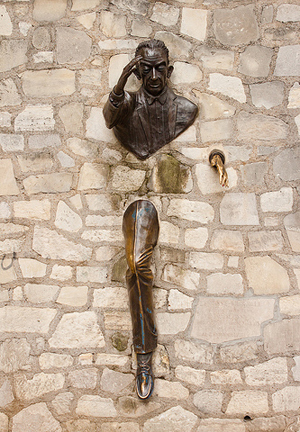 It is a strange tale without much of a moral or lesson to be garnered (be sure to properly label medications?), but Paris is a strange place, hence the statue and many of the other attractions to be found throughout the city. Near The Man Who Could Walk Through Walls stands another rather odd statue depicting the bust of the singer Dalida, who was born in Egypt but lived the majority of her life in France before committing suicide in 1987. Up the hill a little further is a museum to one of the grand heroes of weird, Salvador Dali.
But we need strange places in this strange world, and Paris ranks among the strangest.  Perhaps we need places like Paris and bizarre statues like The Man Who Could Walk Through Walls in order to remind us that life is full of mystery. Without mystery there could be no romance, and there is no shortage of romance in Paris.
photo 1 by istolethetv [CC BY 2.0], via Flickr
photo 2 by Fil.Al [CC BY 2.0], via Flickr
Leave a reply
Your email address will not be published. Required fields are marked *