La Première Fois: Celebrating 23, A Paris Memory by Theo Gittens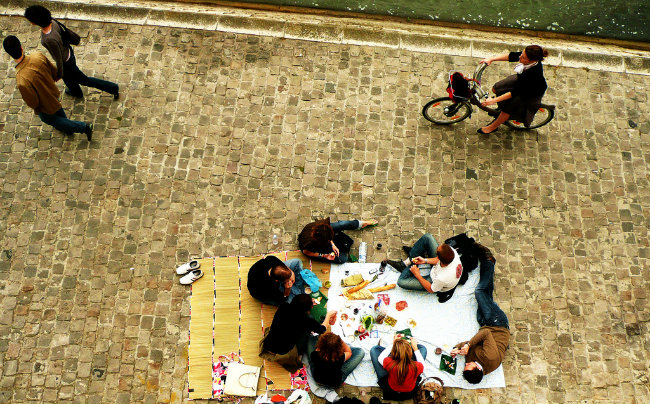 The Bonjour Paris editorial team requested reader submissions with memories from first trips to Paris. We were overwhelmed with wonderful responses, which we are publishing in a special series. (Read other installments here.) Below, BP contributor Theo Gittens shares details of his 23rd birthday, and his first time in Paris.
On the morning of the 17th of August, 2015 I woke up in a small field just north of Amiens with a fine film of dew on my face and the Arch Bishop of all hangovers. The night before I had erroneously pitched my one man coffin-tent east of the bush chosen to conceal my view from local farmers, and it was now providing zero let-up from the fast rising sun. I wasn't surprised to find myself outside my tent, as the sweltering summer nights invariably resulted in the weigh up between suffering inside the sealed fabric, like a packet of boil-in-the-bag rice, or crawling outside with my roll mat, to enjoy slightly cooler temperatures but biblical hordes of mosquitos.
I rolled over and knocked my head against something cold and familiar. It was a bottle of beer (familiar), with a note sellotaped to the front of it (less familiar). It read: "Had to leave to catch train back to England, good luck with the hangover. Happy Birthday."
"23 years old and still waking up in fields," I thought, looking around for some non-alcoholic liquid and my phone. Three new messages popped up as I squinted suspiciously at the cracked little screen. First message: "Happy Birthday, hope u ok, is the hotel nice? Mumxx."  Second message: "Happy B-day Grizzly Adams, mum thinks you are in a hotel ha ha." Third message: "Bon anniversaire! Come to Paris, don't be a party pooper (?). From your new French friends!"
I packed up my kit into two satisfyingly small panniers on the back of my bike and headed for the Amiens train station roughly ten kilometers away.
By noon I was in Paris, still surfing on the nervous energy that comes with acting on a spontaneous decision. On the train I had listened to the whole of Remain in Light by Talking Heads, imagining as I often (and peculiarly) do that I was performing these songs at their Stop Making Sense concert in New York with an identical twin; dancing in perfect synchronicity with erratic, stabbing moves. I made a mental note to Google the Freudian meaning behind this kind of benign reverie when I got home, as I cycled pointedly from Gare de Nord to the center of Paris. Where is the center of Paris? I wondered, the Eiffel Tower? I had five hours to kill before my newly-found friends (at a tiny music festival in some woods north of Amiens, hence my awaking in a field thereabouts) got off work. So I made my way to the Eiffel Tower— the only thing I knew for sure was in Paris.
Needless to say, as a lone visitor completely new to the city with dwindling battery and limited network allowance my first five hours in Paris were mediocre at best and at worst extremely frustrating. I wasn't allowed inside any of the usual sights with my panniers; and couldn't bring myself to chain them unobserved with my bike. At 4 o'clock I had a laughably bad meal on the banks of the Seine; a 15 euro pizza in a tourist trap made up to look like an authentic Parisian bistro. It took no Sherlock to see through this disguise, given they served Pizza and macaroni cheese, but I was hungry and I was sure I had more to look forward to later.
When I finally met up with my French friends there was a moment of slight awkwardness. Firstly, we were all pretty drunk when we had first met, and in the light of day there was some difficulty actually recognizing each other in a crowded Paris square, let alone in remembering names. Secondly I had forgotten that they spoke no English whatsoever, and realized their message must've been written with the aid of Google translate. Evidently my French was improved greatly with a few beers, because they actually seemed to know a fair bit about me and where I was cycling. But we soon got over this and headed to what they assured me was one of the coolest bars in Paris. Or supacool, as they like to say.

The Bottle Shop on Rue Trousseau in the 11th arrondissement didn't disappoint, with a clientele of fellow ruffians, many of whom were sleeping in the Auberge Internationale des Jeunes across the road. Here we drank refreshing bière pression followed by shots of what tasted like tequila marguerita, though with a hint of rosemary, and sang along to Queens of the Stone Age with heavy French accents. I'm not sure why I was putting on a French accent now that I think of it. It must've been the rosemary.
Next we headed down the road, to the Mecanique Ondulatoire Bar, to which my friends ordered pizzas from a tiny family-run restaurant one of their friends worked. It was new to me that you could order food from another place to bring to a busy bar, but I guess knowing the right people means a lot in Paris. When they arrived a candle was jammed in to the middle of the first pizza, lit with an overzealous cigarette lighter which left the box singed. We opened them hastily and they all sang bon anniversaire to me. Another awkward moment arose when they reached the verse when you sing the person's name, as the group had swelled significantly by this point and most of the new-comers were probably wondering who the hell I was, but I didn't mind. It beat sitting in my tent again with dour old Hemingway and a can of beans.
The next morning I awoke on a sofa with yet another note greeting me, though this time in French. After a few moment's bleary-eyed code breaking I figured it said my two friends had gone to work, and that I should stay until they got back. But I felt a little uneasy staying alone in their apartment, so I packed up and left a slightly over-dramatic note about having to hit the road, and how thankful I was. I picked up my bike and cycled to the Gare de Lyon, to catch a train for the peaceful forests of Fontainebleau as was originally planned, before my birthday got in the way.
A day later I got another message. It read: "We are having a house party in Paris tonight. You must come!" I looked around at the serene yet dull woodland I was cooking my noodles in, my tent looming ominously over my shoulder with the prospect of another night's uncomfortable sleep. 'Why not?' I thought.
Lead photo credit : Picnic by the Seine. Photo: Gideon/ Flickr
Leave a reply
Your email address will not be published. Required fields are marked *