Paris is for Dog Lovers: The Ultimate Guide to Dog Friendly Paris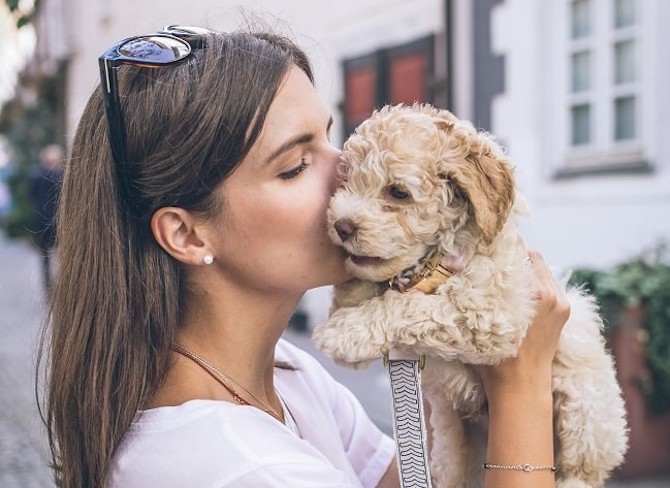 There are over 300,000 dogs in Paris. With a central population of 2.1 million, the math says that's one dog for every seven Parisians. Parisians cherish their dogs as much as their time off, so dogs accompany their owners to places the rest of the world reserves for humans only: restaurants, shops, and public transport. Everywhere the Parisian goes, the dog goes too… well, almost.
Why are Paris bistros and businesses more relaxed about allowing entry to dogs? Typically Parisian pups are cooped up for the day in small apartments with no garden access. Therefore owners bring their well-behaved dogs along on their errands to shops, offices, and salons.
Ironically, dogs are forbidden from a majority of the city's parks and green spaces – perhaps part of the reason they are accepted just about everywhere else. Happily, the list of where you can't take your canine companion is miles shorter than where you can.
As you people-watch in Paris, look out for the pooches too. Dogs that you will see in the capital are French bulldogs or bouledogues like Colette's Toby Chien, labs, Yorkies, Shelties, King Charles spaniels, scruffy terriers, Jack Russells, pugs, dachshunds and the ever popular poodle.
Restaurants
Most Paris restaurants will allow dogs on their premises. It's in the best interests of restaurants to accommodate your clean, good natured dog, because if they don't, the café next door will be willing to seat you both. Non-dog places are always clearly marked, so check signs that say "Chiens Interdits" or politely ask if dogs are allowed – les chiens sont-ils autorisés ici? Or May I bring my dog in? – Puis-je amener mon chien à l'intérieur? Fast food restaurants don't allow dogs inside. McDo won't accept your McDog, but you can sit outside. That's not what Paris is all about. With the thousand of sidewalk cafes, like Café de Flore, Les Deux Magots and Le Select on offer, you can tuck your dogs under your street-side table and you will be fine. Cafés with sidewalk seating almost always allow dogs so you don't have to ask if you can sit outside
Here's a short list of dog-friendly eateries – some are quite surprising.
Le Moulin de la Galette. Dogs are welcome at one of the favorite haunts of Renoir and the Impressionists.
Every Sunday L'Esprit du 12éme hosts a dog and owner brunch between 12:30pm and 3pm. At this chic destination near Bercy Village, you and your dog can meet other likeminded dog lovers à table. Lunch prices start around 50 euros.
Angelina Tea room on rue de Rivoli, where your intrepid dog can watch you scale a Mont Blanc.
Xavier Denamur, owner of Les Cafeine chain of restaurants, (Cafeine, Les Philosophes, Au Petit Fer à Cheval, L'Etoile Manquante, La Chaise au Plafond, and bookshop café La Belle Hortense), states: "We have always accepted dogs in my establishments, both small and large. My collaborators are always very caring with the best friends of our customers by providing a small bowl of water and if necessary on the instruction of the master by recovering leftovers for doggies."
The Big Mamma Group – East Mamma, Pink Mamma, Ober Mamma– whimsically state that cute babies and dogs are welcome in all their restaurants.
Loulou Friendly Diner on Boulevard Saint-Germain accepts friendly dogs in their restaurant.
Pavillon des Canaux states that they do indeed "welcome our furry little friends with open arms." They have a café/work space there called the Coffice. Having a dog at your side is meant to increase your productivity.
Le Grande Vefour is a droolingly beautiful Michelin-starred restaurant on the Palais Royal Gardens that allows dogs.
Au Chien Qui Fume. A chic brasserie in Les Halles since 1740 has less-than chic, but amusing, paintings of anthropomorphic dogs on every wall.
Bel'Vil' Café in the 19th arrondissement has a mascot cat and they say "Oui, Bien sur" to your dog too. Dogs as big as retrievers have nestled under their tables. 
Les Petites Ecuries group of restaurants will accommodate your petite friend.
La Palette – "of course we accept dogs." How civilized.
Herve Duplessis from Mamie Gateau assures: "Yes, absolutely, we accept dogs and give them a bowl of water. My favorite is Hector, a Jack Russell who always tries to lead his master to Mamie Gâteaux, because he had the imprudence to give him one, one day, and he has fond memories of it."
And try Le Bouledogue Brasserie. Naturally, "Animaux bienvenus"
No Barking!  – Hotels
About 800 Paris hotels are known to be pet-friendly and range from the palatial to the less pricey. Secure written confirmation from your selected hotel, just in case. If there is an extra charge it will be around €20- 30 per night. 
Some over-the-top hotels will go over-the-top for your dog too; for instance, the butlers at the pet-friendly Hôtel de Crillon will welcome your dog and accompany them for walks, but charges of at least €50 will apply.
The Peninsula Paris welcomes well-behaved pets. According to the hotel, "dogs stay for no extra fee, and receive a bed and a personalized blanket, as well as a special welcome basket full of dog food, water, a toy and a name tag."
Le Meurice is another pet-friendly luxury hotel which understands the importance of your pet and goes to great lengths to welcome them properly. Alexandra Chlopek, Press Manager for the hotel, lists the special attention Le Meurice will lavish on your traveling companion. "Your dog will be greeted with a personalized name tag and an embroidered carpet with your dog's name. A dog cart is available. On request their grooms will walk your dog in the Tuileries."
Agathe Canivet at the Four Seasons George V confirms that their property is pet friendly. One pet under seven kilos is allowed for no additional fee. Pets are assigned to their rooms and can go to the lobby, but they are not allowed in the food area. Personalized dog beds, bowls, treats, and bottled water are provided.
The Mandarin Oriental has a mascot called Archie Le Woof, and when other lucky dogs come to stay, they're greeted with a letter from Archie, a small doily bearing their name, and a gluten-free bone made by the head pastry chef. 
If you find these too much, you can still search "pets allowed" on most hotel search engines to find a wide variety of pet-friendly hotels. Properties such as Ibis, Novotel, and Libertel accommodate dogs. 
Here are some less pricey, yet still chic and trendy, dog friendly destinations by arrondissement.
9. Hotel De Seze.
10. Le Robinet d'Or.
11. Le General Hotel.
12. Hotel L'Interlude.
13. Mercure Paris Place d'Italie.
14. Niepce Paris Hotel.
15. Residence Quintinie Square
16. Hotel Auteuil Tour Eiffel.
17. Le Tsuba Hotel.
18. Kube Hotel.
19. Hotel Crimee.
20. Hotel Scarlett.
No "Parking" – Parks
Until January 2019 dogs were allowed into only 77 of the 490 green spaces in Paris. Just 16 percent! Considering the high number of dogs per capita and the fact that the majority of Parisian dog owners live in apartments with no outside access, this seemed unfair for a city that's dog friendly in so many other ways. New rules came into effect January 2019 as part of a wider scheme to make the city's parks more welcoming. But there are still plenty of restrictions. In a direct quote, Perrine Boiton, Press Officer for the City of Paris, says, "Indeed, the new regulations for parks and gardens allow dogs kept on a leash in gardens without children's play areas and in certain parks marked as such. In these sites, their presence and their circulation are authorized in the alleys, and prohibited on the lawns and in the flower beds."
Boiton also recommends this web link which includes a comprehensive list of where dogs are allowed.
Parisian authorities feel strongly about not picking up after your pup's poop, and the charge is supposedly €450 if you fail to do so. People seem to complain about the lack of pooping and scooping in Paris, but honestly I have never seen a single deposit. Perhaps this is because of the hard-working street cleaners who open up the floodgates most mornings.
Supermarkets
Bakeries and supermarkets in Paris are cracking down on dog policies. Many won't allow dogs, even on a leash. Legally, because of the proximity to fresh food, dogs aren't allowed in the open-air markets, grocery stores and boutique food shops. Check for the "no dogs" sign.
Dog Friendly Boutiques
Some department stores like FNAC, Monoprix and Darty will allow small dogs to be carried in hand if you politely ask the guard at the entrance. Le BHV facing the Hotel de Ville even has a chic pet annex, "La Niche by BHV", guarded by large orange pet statues on Rue de la Verrerie. Dogs are allowed in, but they must be kept on a leash or in a bag.
Transportation
All public transportation in Paris is pet-friendly, but attention must be paid. All dogs can ride the Metro and buses if your dog fits inside a carrier bag or sits on your lap. If your dog is bigger, you will need to pay a child's fare and keep it on a leash. 
All dogs can ride the RER (trains running between Paris and suburbs) if they're in a carrier basket or bag, or on a leash and muzzled. Bag-sized dogs ride free, leashed dogs require a children's ticket.
The carrier bag rule applies for SNCF trains outside of Paris, except the dog must also weigh less than 6kg (13.2 lbs). The fare for a little dog is €7. Otherwise your dog has to be on a lead, muzzled, and pay half the price of a regular ticket. For more information, visit the SNCF website.
A similar basket test applies for Air France flights – your dog must weigh less than 8kg (17.5 lbs) to travel in the airplane's cabin.
Dogs, with the exception of guide dogs, are not allowed on the Eurostar with foot passengers.
Batobus, the hop-on-hop-off service along the Seine, allows dogs onboard with a leash and muzzle. Small dogs may be kept in a bag. The rest of the Seine sightseeing service is hit and miss, so please research ahead of time. Dogs are allowed on some sightseeing tours but not dinner tours, and some not at all. The Seine's original Bateau Mouche will only allow guide dogs. Rosa Bonheur sur Seine treats dogs royally. You can get a quay-side view of the Seine from this popular barge-restaurant.
Another way to sightsee with your four-legged friend is from double-decker bus. This is a good, open-air alternative to seeing Paris with your dog, as they whip you around to every famous attraction in the city. Companies like Big Bus or L'Open Tour have pet-friendly buses.
It's up to the individual cab driver if they'll let you ride with your pet. The last resort is a dog taxi. An agency called Taxi Dog specializes in transporting pets around Paris. Another firm is Taxi-Canine.
And now for the bad news…
Dogs are not allowed in museums. No, not ever. Not even in a dog carrier. Although the Louvre imposes this rule, dogs are welcome in its affiliate restaurant Café Marly. There are exceptions for service dogs. The Eiffel Tower and the Arc de Triomphe accommodate service dogs, but strictly ban other dogs.
Dogs are not allowed in the Montparnasse Cemetery. The policy for Père-Lachaise remains the same: "I inform you that entry to the cemetery is prohibited for anyone accompanied by a dog, even on a leash or carried in a bag, except for those requiring officially recognized assistance. Furthermore, the introduction of any other animal is prohibited."
All pets entering France must be microchipped and vaccinated. Like it or not, not all dog breeds are allowed in France. The following dogs cannot be brought into France and those residents owning attack and defense dogs or a mix of such breeds have to abide by special rules. Catégorie 1 includes Mastiffs, Pit-bulls, and Boerbulls. Catégorie 2 consists of Staffordshire Terriers, Rottweilers, American Staffordshire Terriers, and Tosa breeds.
Paris is a "moveable feast" for dog and owner. It's a thrill to see dogs enjoying Paris too.
Love Paris as much as we do? Get some more Paris inspiration by following our Instagram page. 
More in dogs in Paris, pet-friendly hotels, pet-friendly Paris, travel with pets
---
---
Comments