20th: Belleville, Père-Lachaise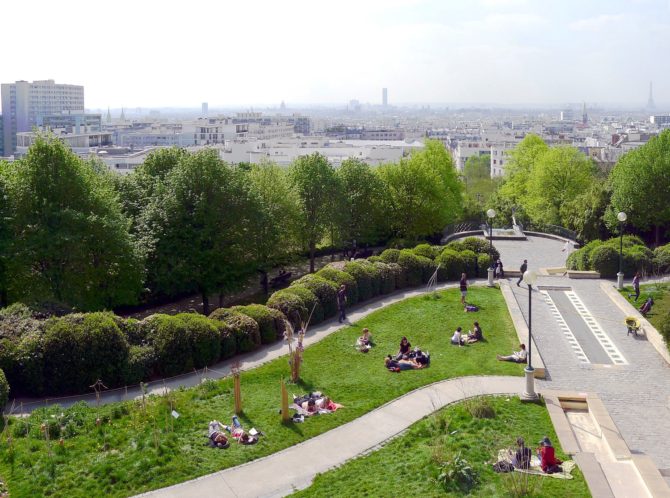 Paris – 20th Arrondissement
The 20th Arrondissement is the newest quartier in Paris. Originally a rural area, it slowly turned into part of the city landscape, developing its own unique neighborhoods: Belleville, Ménilmontant Charonne, Père-Lachaise, and Saint-Fargeau. Visit this quarter and find a mix of ethnic and traditional restaurants, old-time wine bars and funky cocktail bars plus shops and studios tucked into alleys with cobblestone paths.
Belleville is one of the most popular, up-and-coming neighborhoods for the younger set. This is also a good neighborhood to rent an apartment or book a hotel room because it's more affordable than the city center.
Some say Belleville Park is the best place to snap skyline photos of the Eiffel Tower and Paris sunsets. Another major site is the Cimetière du Père-Lachaise. In fact, the city's largest, most prestigious cemetery is also one of the top sites in Paris. Those in-the-know spend days lazing in the cemetery with a good book, a picnic, an afternoon walk, or just to sunbathe; tourists come to seek out celebrities of long ago.
History of the cemetery:
Napoleon Bonaparte appointed the then-famous architect Alexandre Brongniart (of the palace of the Bourse) to turn it into a "garden for the dead" in the style of an English park. As romantic as the cemetery seems, most of the dead here were buried in mass graves, as the majority of burials were done this way. One had to be of quite some nobility to have an individual grave. It is here where rock fanatics can visit Jim Morrison's grave; for the classical music afficiandos, there is Frederic Chopin's grave; and for those who love romance, the tombs of Heloise and Abelard await. Just a few of the other celebrities to find their final resting place here: Molière, La Fontaine, Edith Piaf, Simone Signoret, Yves Montand, and Oscar Wilde.
Photo credit : Parc de Belleville via Wikipedia/Mbzt