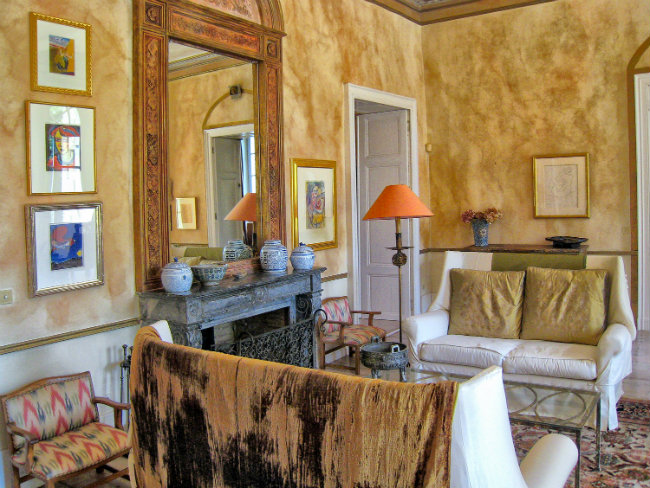 The charm of Parisian interior design is as romantic as it is chic and as skillfully mixed as it is casual. The French are imbued with a deep sense of history and have created an eclectic style over many centuries that combines different eras effortlessly; classic and contemporary, from Louis XIV to Philippe Starck. If you are intimidated by French design you needn't be. Here are six simple guidelines you can follow to achieve that je ne sais quoi, undefinable, style.
First, while each room of a house or apartment needs to be looked at as a separate space, they need to have an inherent compatibility or what I like to call beautiful bones, the basic blank canvas of architectural elements: shutters, window frames, doors, hardware, fireplace surrounds, mirrors and moldings. These can be viewed in museums, books, photographs, paintings, films and first-hand during Les Journées du Patrimone weekend, Parisian Heritage Days, when all châteaux are open to the public for free.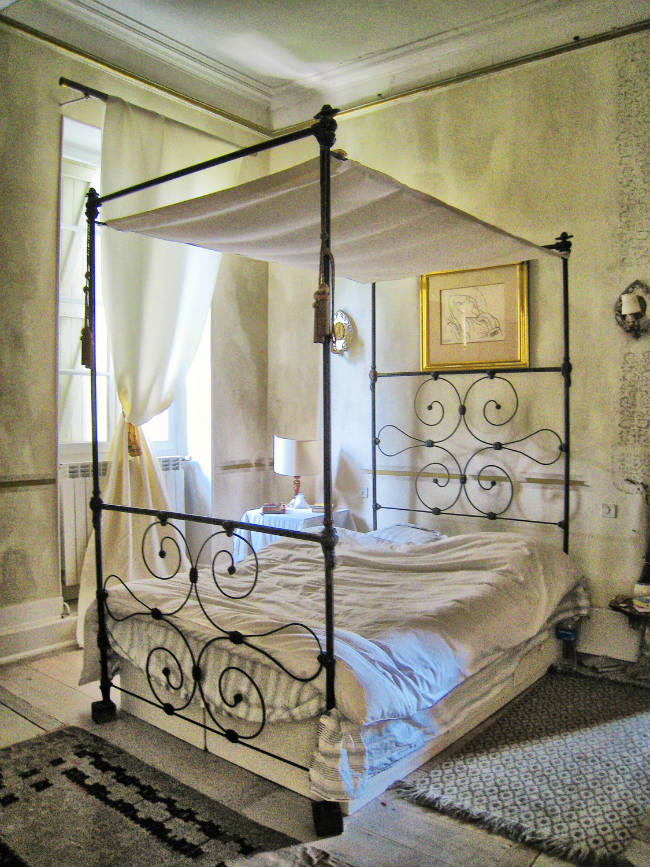 Second, a neutral color palette will not only tie the elements of a room together, it will also set a mood. Old postcards whose images of artfully distressed peeling paint and fading colors evokes quintessential French design. Parisian interior designers use variations of the same subdued color with bold accents from the opposite side of its place on a color wheel. Decorative paint finishes which evoke a feeling of time-worn and weathered surfaces are also used and easily available in most paint stores. There is even a black wax which when thinned emphasizes rather than hides imperfections and creates an aged look to walls and furniture.
If you're feeling bold there's nothing a coat of gilding, the application of gold leaf or gold paint, won't brighten.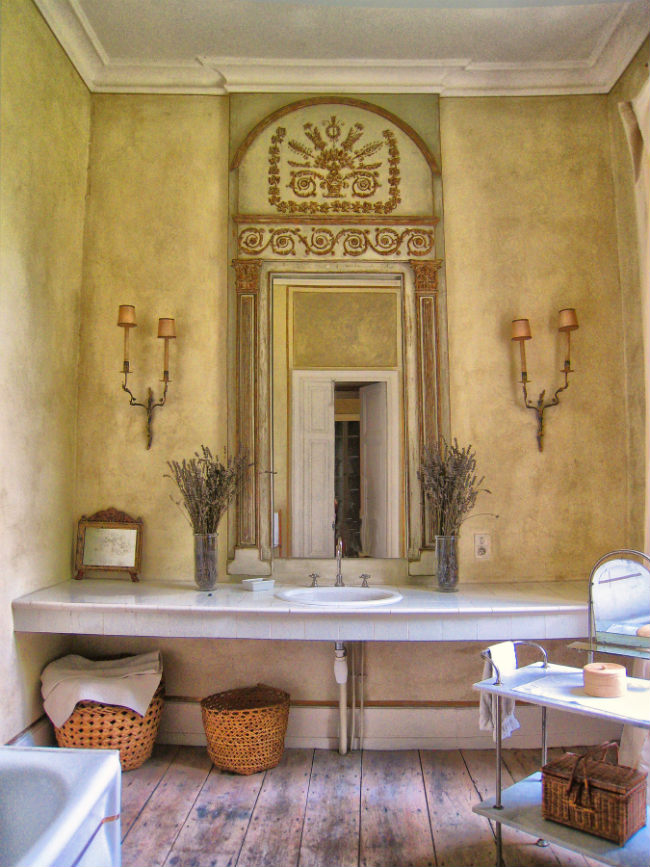 Third, it's important to add an authentic note to any room by investing in at least one piece of good furniture. An antique armoire, free standing closet, or fauteuil, armchair, add contrasting flavor to any space. The French don't care about everything matching. By mixing something old with something new, a rough yet refined look is produced. The French have a flair for things that are as beautiful as they are useful.
Fourth, the use of textiles is important when pulling your Parisian look together. The French use textiles liberally. Old boutis, handmade quilts, are used for bedcovers, throws, table covers and curtains as well as rugs which make a room appear layered and cozy. Toile de Jouy, the figurative, monochromatically dyed fabric which is the most recognizable French fabric, is used for bed linens, drapery and even stretched on wooden wall battens and used for wall coverings. It instantly evokes the charm of old France as do vintage mattress ticking stripes of cream and indigo, woad, or cornflower blue and red or rose madder and gray. White linen draped over a four-poster bed or used as drapery also adds a seductive atmosphere creating shadows of tranquility in any room.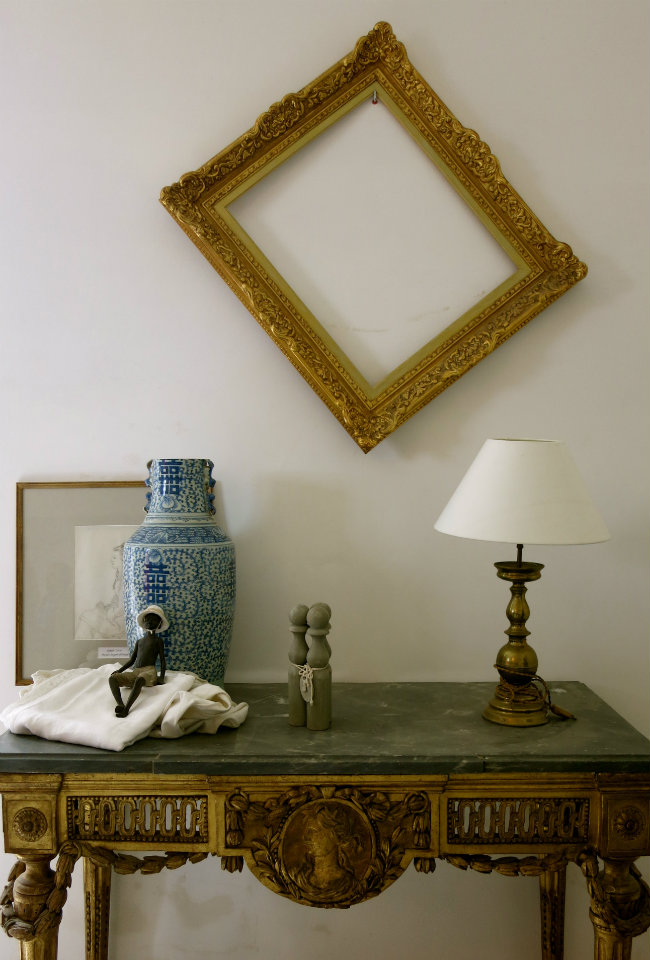 The fifth most important feature to any French interior is lighting. The French do not over-light their interior spaces. They prefer indirect, ambient light from chandeliers, wall sconces, candelabra and candles. Harsh, bright light shows furnishings and people at a disadvantage. No matter how splendid your interior design is, if your lighting is wrong it will ruin the space you've created.
And finally, no Parisian room would be finished, including the bathroom, unless it was layered with objets d'art and objets trouvés; objects of art and found objects, including memorabilia, souvenirs, paintings, sculptures, books, ceramics and tableware.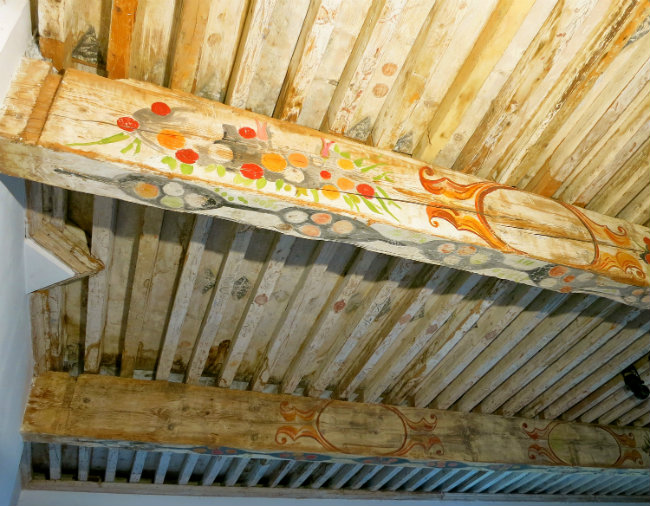 You don't have to be living in Paris to achieve a Parisian look to your home, apartment or even your workplace, nor do you have to be wealthy. You just have to follow these simple tips to create a quintessentially French interior design.
Helpful terminology:
Friperie – Usually sells only antique bed and table linens.
Marché aux Puces – Flea market.
Vide-Grenier – Empty attic market.
Brocante – Secondhand store.
Antiquités – Antiques.
Marché aux Puces de St. Ouen/Clignancourt: Covers seven hectares, has 3,000 traders and up to 180,000 visitors each weekend. The Marché aux Puces de St-Ouen is generally thought to be the biggest flea market in the world.
Les Puces de Montreuil: Less charming than St-Ouen, Montreuil's flea market is where Parisians look for antiques, mostly because it's off the beaten tourist track. You can still get a bargain and find the occasional treasure.
Marché aux Puces de Porte de Vanves: Smaller than Saint-Ouen, the market at Vanves is appreciated for its more manageable size. This weekend market is spread out over two avenues.