Karl Lagerfeld's Choupette: The Richest Cat in the World?
This year's exclusive New York Met Gala, Karl Lagerfeld: A Line of Beauty, was held on May 1 in tribute to the late, supremely talented designer, Karl Lagerfeld and his beloved and supremely pampered cat, Choupette.
From Paris, Choupette sent her regrets for not attending the grand event, explaining she was opting to stay "peacefully and cozy at home." Her head could not have failed to be turned, however, when she saw the footage the next morning on the news and in the newspapers of those models and artists who had paid homage in their stunning cat costumes. American actor Jared Leto went full Choupette in a giant white cat costume, complete with whiskers, bright blue eyes and plush paws. The costume – made in secrecy so stringent, it needed an NDA- took four intense weeks to produce. Leto only emerging from the costume (complete with cooling fans) later in the evening – to the delight of the audience.
View this post on Instagram
Lil Nas X, the American rapper, was covered from head to toe in crystals with beaded whiskers and elongated sparkling fingernails, and not much else except a Dior thong and silver platform boots. The aptly named rapper Doja Cat, not to be outdone, applied prosthetics to make her face appear more cat-like below the pointed ears of her hooded Oscar de la Renta sparkling gown. Other models, such as Gigi Hadid, were more circumspect, using eyeliner to elongate their eyes into a feline uplift.
Whether Choupette was quite so impressed by the Pet Gala held in New York a few weeks later, is not known. Pet fashion designer Anthony Rubio dressed a dozen rescue dogs in replica outfits of those worn by some of Hollywood's greatest stars at the Met Gala. One suspects, though, that Kimba the chihuahua, modeling Jared Leto's Choupette costume with loosely attached Choupette head, would have made her hackles rise and fur bristle with righteous indignation.
But Choupette might be above petty grievances.
View this post on Instagram
When Karl Lagerfeld died in 2019, he left his beloved cat a cool $1.5 million. Choupette — a blue eyed, white Birman beauty — probably doesn't even need the money. Her modeling work, personal appearances and endorsements — the latest being a "Choupette" cat carrier — have estimated to have earned her a very healthy 3 million euros. And Choupette didn't even belong to Lagerfeld at first.
In 2011, it was Baptiste Giabiconi — Lagerfeld's favorite model and the rumored main beneficiary of his will — who left Choupette with Lagerfeld when he went on vacation for two weeks. Lagerfeld fell in love and told Giabiconi on his return that Choupette was now his. Lagerfeld's generosity and extravagance were legendary; employees, whom Lagerfeld considered "family," were given houses and flights and cars. His favorite American model before Giabiconi, Brad Kroenig, became part of Lagerfeld's "family." Lagerfeld became godfather to his two small sons who appeared on the catwalk with him – as did Choupette, of course.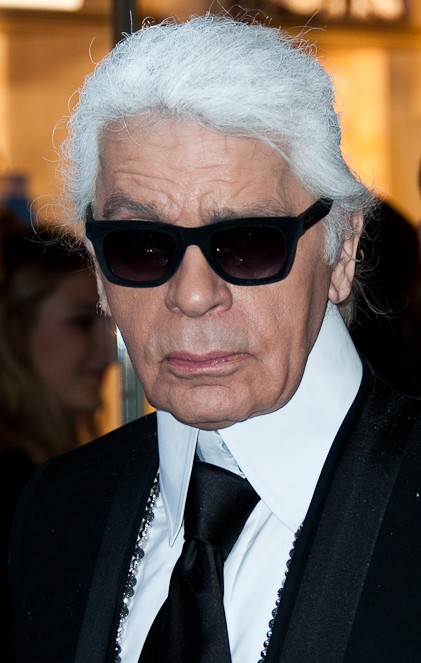 But it is probably true that Lagerfeld loved Choupette more than anything else in the world. He credited her with helping to make him "a nicer person." In a 2015 interview with The Cut, Lagerfeld called Choupette, "the center of the world, an inspiration for elegance."
He also confessed that it helped that "she couldn't talk."
For a man as fastidious as Lagerfeld, he insisted that Choupette dine with him. Sitting opposite him across the table, Choupette ate dishes prepared by renowned chefs and served in Goyard dishes. Japanese-style beef and chicken gelée with asparagus were favored meals. While maids looked after entertaining Choupette, grooming her and giving manicures, Lagerfeld determined to make her famous. Ashley Tschudin became her Instagram director and she soon acquired more than 150,000 followers. (It helped that Choupette had her own iPad, of course.) The 2014 book Choupette: The Private Life of a High Flying Fashion Cat was filled with photos of Choupette, complete with her lifestyle, diet, and fashion tips.
View this post on Instagram
In the recent BBC2 documentary, The Mysterious Mr. Lagerfeld, not all of Lagerfeld's friends were quite so enamored with Choupette, some going as far as calling her mean. Her agent, Lucas Bérullier, simply calls her a diva, who, if she does not like the look of the assignment, refuses to be amenable and the booking is canceled.
Françoise Caçote, Choupette's nanny while Lagerfeld was alive, was left Choupette to look after in Lagerfeld's will. Haughty, immaculate, imperious and independent, Choupette (not Francoise) has the run of Caçote's apartment in Paris, with her sleeping cocoon and swaying hammock to rest in between lucrative deals and appointments. (The Japanese are especially keen on her merchandise; the Germans use her in car adverts.) Choupette plays with ribbons and naturally, Chanel paper bags.
She is more than accustomed to private jets. On her 11th birthday in 2022, Choupette celebrated on a private jet in Le Bourget airport surrounded by champagne, balloons and gifts. Choupette, remembering her manners, thanked everyone on her Instagram page with photos of the event.
In last month's issue of Vogue magazine, Choupette appears in the arms of Naomi Campbell on a Parisian bridge. Campbell wears black; Choupette, as ever, in white. (In fact, the cat has appeared on several Vogue covers with the likes of Linda Evangelista and Gisele Bündchen.) Kim Kardashian shared a bed with Choupette while visiting Paris before the Met Gala. Kardashian was dressed in a Lagerfeld black shiny trench coat. Whether this was at the behest of Choupette, is not reported.
It is perhaps extremely fortunate that Choupette is financially independent and will be for the foreseeable future – after all, how much caviar can one cat eat?- because Karl Lagerfeld's will proved to be a minefield of secrecy and complexity. Lagerfeld's lawyer, Céline Degoulet, believes the will, an estimated $200 million fortune, could take up to 10 years to settle. French tax laws are notoriously labyrinthine. Lagerfeld held property in Monaco as well as France, complicating further the inheritance. (In an effort to avoid swingeing French taxes, Lagerfeld had much earlier bought a beautiful villa, La Virigie, on the cliffs in Monte Carlo, only to find it was in fact across the border in French territory. He lost the villa and a huge amount of money to the French tax authorities.)
Only Degoulet knows the exact details of the will and the percentages left to his friends – and of course Choupette. Degoulet is, of course, keeping schtum… There is, unfortunately, a far bigger problem for the beneficiaries.
As soon as Lagerfeld died, his accountant of 30 years, the 87-year-old Lucien Frydlender, disappeared to Switzerland. Representatives of Frydlender have stated that he "can't answer any questions because of ill health." One of the main purported beneficiaries, Lagerfeld's long-term bodyguard and personal assistant, Sebastien Jondeau, is spitting feathers about Frylender's vanishing act.
Only Choupette, blissfully unaware of the drama surrounding her, seems to be purrfectly happy.
Lead photo credit : Karl Lagerfeld in 2011. Photo credit: OFFICIAL LEWEB PHOTOS/ Flickr
More in cats, cats in Paris, Chanel, Choupette, Karl Lagerfeld, pets
---
---
Comments