The multi-Michelin star superchef, who honed his craft chez Troisgros, Roanne, then replaced the late Bernard Loiseau at La Barrièrre de Clichy.  Restaurant Guy Savoy, Paris, followed, and then his prêt a porter Paris eateries : Le Chiberta, Atelier Mâitre Albert Rôtisserie and Les Bouquinistes. In the meantime Savoy was dubbed with La Légion d'Honneur and created an identikit Guy Savoy at Ceasar's Palace, Las Vegas. L'Huitrade, his oyster concept bistro, just opened near the Arc de Triomphe. « Cuisine is the art of instantly turning produce suffused with history, into happiness », he says.
Where were you born ?
In Nevers, I grew up in Bourgoin-Jallieu, near Lyon, where my mother ran the local café.
A favourite landmark in Paris ?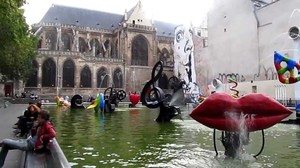 The Stravinsky Fountain (or Fontaine des Automates) with sixteen mechanical sculptures designed by Jean Tinguely and Niki de Saint Phalle. The fountains take their inspiration from the adjacent Pompidou Centre and the major works of Stravinsky, the fountains represent the key of G, love and death, ragtime, and various animals.
If you could share a coffee or a bottle of wine with a Parisien, past or present, who would it be ?
Alberto Giacometti
Favourite lunch place in Paris ?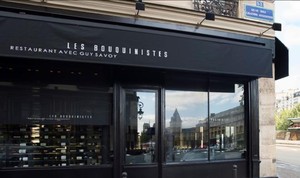 Les Bouquinistes, Quai des Augustins
Best address for coffee and drinks in Paris ?
All the cafés that have a terrace from Montmartre to Saint-Germain-des-Pres
Where do you buy your clothes ?
Kiton, 29 rue Marbeuf
Where do you stock up with groceries ?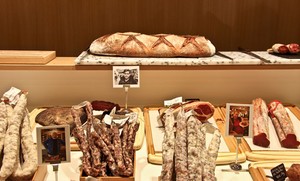 Papa Sapiens, 7 rue Bayen, 17th. They just opened a left-bank épicerie on rue Bourgogne at No.32.  In both boutiques each product is pinned with a portrait of the artisan, producer or breeder. I find exclusive Iberian ham Bellota Patanegra ByDehesa, nicknamed the « Hermes » of Iberian products.  I also like La Grand Epicerie at Bon Marché.
Your favourite quartier ?
The 6th. There's a bit of everything here, from Paris' main art gallery scene via green spaces and the Luxembourg Gardens cafes, the kebab joints around Place St. Michel, and there's some of the finest restaurants in the world (Maître Albert) the 6th has it all. Though, if you stay in the 6th perhaps you risk not seeing much else of Paris!
The most amusing thing to do in Paris ?
Flaner !
The one thing a Parisien should have ?
Curiosity !
3 words to live by ?
Life is Beautiful !
Something that really annoys you ?
People who wear backpacks on public transport.
Something you'd like to change in the world ?
That no one is hungry.
Favourite Book ?
Le Petit Prince by Antoine de Saint-Exupéry
Favourite Film ?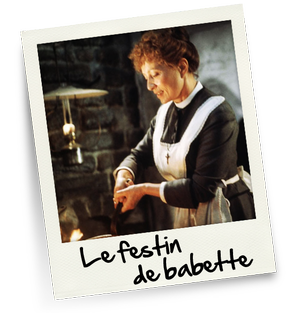 Les TonTons Flinguers & Le Festin de Babette
Favourite city apart from Paris ?
London, NYC, Istanbul
The most « touristy » thing you've done in Paris
Had my portrait sketched on Place du Tertre, near the Sacre Cœur and round the corner to where Picasso and Utrillo once lived and painted.
You have guests, where do you take them ?
Chez moi !
An event that you look forward to with impatience, in or out of the city ?
It has to be Le Grand Pardon de la Saint Pierre, Sète, that takes place the first weekend of July, it honours the fishermen and brings tears to my eyes.
You have 25€ left. What will you spend it on ?

A cigar, because it will last a long time !
Lead photo credit : Guy Savoy
Leave a reply
Your email address will not be published. Required fields are marked *