Pierre-Joseph Redouté: The Raphael of Botanica
It was in June of 1840, the month of roses, when Pierre-Joseph Redouté died suddenly at the age of eighty. His coffin was laid to rest in
Père Lachaise Cemetery
in Paris with a wreath of roses and lilies, the two flowers he loved the most. Although he never met  a flower he didn't like, the rose and the lily were the perfect epitaph by which he was remembered. He is still considered the greatest botanical painter of all time. Pierre-Joseph Redouté was born in 1759 in the village of St. Hubert, in the province of Liége, a part of the Ardennes that then belonged to the Duchy of Luxembourg and now belongs to Belgium. He was the grandson, son and brother of painters, hence it was almost inevitable that he would follow in their footsteps, leaving home at the age of thirteen. He spent the next 10 years living a precarious life painting interior decorations, portraits and religious commissions. He traveled across Flanders and the Low Countries studying the works of the master Flemish and Dutch botanical painters Jan van Huysum, Rachel Ruysch and Jan Davidsz de Heem. At the age of 23 Redouté arrived in Paris where he spent the rest of his life, joining his eldest brother, Antoine-Ferdinand, who was a stage designer for the Théâtre des Italiens. ​​He was fortunate to begin living in Paris at the very end of the Age of Enlightenment, when the city was a mecca for science and culture. When he wasn't working at the theatre he frequently drew in the Jardin du Roi, now the
Jardin des Plantes
. It was there he caught the eye of Charles-Louis L'Héritier de Brutelle who encouraged him to produce botanical studies, offering him free access to his botanical library and plant collection. A noted French aristocrat, the Superintendent of Parisian Waters and Forests, a biologist and plant collector, L'Héritier became Redouté's instructor, teaching him to dissect flowers and portray their specific characteristics precisely. L'​Héritier was so impressed with his new student he commissioned him to illustrate two books on botany. As a result Redouté created more than 50 drawings which were included in L'Heritier's Stirpes Novae, New Plants, and Sertum Anglicum, An English Garland.  L'Héritier generously recommended Redouté to Gérard van Spaendonck, the miniature and flower painter to King Louis XVI. Together with other artists, van Spaendonck produced drawings and paintings for the famous Vélins du Roi, Royal Collection of Paintings on Vellum, archival drawings and paintings of all the specimens brought to the Jardins du Roi, containing nearly 7,000 gouaches and watercolors on vellum representing flowers, plants and animals. Spaendonck recruited Redouté as a pupil and staff painter, and he subsequently contributed over 500 paintings to the ongoing Vélins project. Spaendonck taught him a special watercolor technique that produced flower paintings on vellum with an unusually bright translucency. By his own account, his student's work was finer than his own. In 1787 Redouté and L'Héritier left France to study plants at the Royal Botanic Gardens at Kew, near London, returning the following year. While at Kew, Redouté collaborated with the greatest botanists of the day and participated in nearly 50 publications depicting both the familiar flowers of the French court and rare plants from places as distant as Japan, America, South Africa, and Australia. Redouté produced over 2,100 published plates depicting over 1,800 different species, many never rendered before. L'Héritier also introduced Redouté to members of the court at
Versailles
, following which Marie Antoinette became one of his patrons. She appointed him her personal court painter. Even though encounters with the royal family were few, one biography cites a famous incidence when Redouté was asked to visit the royal family in prison during the Revolution. They wanted him to capture the beautiful moment of a rare cactus in bloom. With skill and savvy, Redouté survived the political turbulence of the French Revolution and the ensuing Reign of Terror. During the 1790s, Redouté gained international recognition as one of the most popular flower painters in the world. His renderings of plants remain as fresh now as when he first painted them. He was recognized as a celebrity with a fashionable clientele, a private apartment in the Louvre, a country residence outside of Paris and a salary of 18,000 francs ($200,000) a year. He perfected the color stipple engraving technique, which he had learned during his stay in London and first applied it in his illustrations for L'Héritier's publication of Augustin Pyramus de Candolle's work, Plantes Graasses Succulents. It was Redouté's first major botanical work featuring only color-printed plates, and his last publishing collaboration with L'Hériter. In 1798 the Empress
Josephine Bonaparte
, the first wife of Emperor Napoléon Bonaparte, became his patron and appointed him to paint the flowers of the garden at Château de Malmaison. She was resolute in filling her gardens with the finest specimens of nature as well as having their essence preserved on paper. Malmaison, purchased by Josephine, together with the Tuileries, were the French government's headquarters from 1800 to 1802. That same year Redouté published 500 plates of exquisite lilies in his book Liliacées. In 1819 his paintings were exhibited at the
Louvre
. In 1824 his most famous work, Les Roses, was published. It was said that each delivery of the finished color copperplates was received with a storm of enthusiasm. It was these two works which distinguished Redouté as a true artist and not merely an illustrator. Between 1802 and 1816, eight folio volumes were printed, each dedicated to Empress Josephine. After Joséphine's death, Redouté was appointed a Master of Draughtsmanship…
SUBSCRIBE
ALREADY SUBSCRIBED?
BECOME A BONJOUR PARIS MEMBER

Gain full access to our collection of over 5,000 articles and bring the City of Light into your life. Just 60 USD per year.

Find out why you should become a member here.

Sign in

Fill in your credentials below.
It was in June of 1840, the month of roses, when Pierre-Joseph Redouté died suddenly at the age of eighty. His coffin was laid to rest in Père Lachaise Cemetery in Paris with a wreath of roses and lilies, the two flowers he loved the most. Although he never met  a flower he didn't like, the rose and the lily were the perfect epitaph by which he was remembered. He is still considered the greatest botanical painter of all time.
Pierre-Joseph Redouté was born in 1759 in the village of St. Hubert, in the province of Liége, a part of the Ardennes that then belonged to the Duchy of Luxembourg and now belongs to Belgium. He was the grandson, son and brother of painters, hence it was almost inevitable that he would follow in their footsteps, leaving home at the age of thirteen. He spent the next 10 years living a precarious life painting interior decorations, portraits and religious commissions. He traveled across Flanders and the Low Countries studying the works of the master Flemish and Dutch botanical painters Jan van Huysum, Rachel Ruysch and Jan Davidsz de Heem.
At the age of 23 Redouté arrived in Paris where he spent the rest of his life, joining his eldest brother, Antoine-Ferdinand, who was a stage designer for the Théâtre des Italiens. ​​He was fortunate to begin living in Paris at the very end of the Age of Enlightenment, when the city was a mecca for science and culture. When he wasn't working at the theatre he frequently drew in the Jardin du Roi, now the Jardin des Plantes. It was there he caught the eye of Charles-Louis L'Héritier de Brutelle who encouraged him to produce botanical studies, offering him free access to his botanical library and plant collection. A noted French aristocrat, the Superintendent of Parisian Waters and Forests, a biologist and plant collector, L'Héritier became Redouté's instructor, teaching him to dissect flowers and portray their specific characteristics precisely.
L'​Héritier was so impressed with his new student he commissioned him to illustrate two books on botany. As a result Redouté created more than 50 drawings which were included in L'Heritier's Stirpes Novae, New Plants, and Sertum Anglicum, An English Garland.  L'Héritier generously recommended Redouté to Gérard van Spaendonck, the miniature and flower painter to King Louis XVI. Together with other artists, van Spaendonck produced drawings and paintings for the famous Vélins du Roi, Royal Collection of Paintings on Vellum, archival drawings and paintings of all the specimens brought to the Jardins du Roi, containing nearly 7,000 gouaches and watercolors on vellum representing flowers, plants and animals. Spaendonck recruited Redouté as a pupil and staff painter, and he subsequently contributed over 500 paintings to the ongoing Vélins project. Spaendonck taught him a special watercolor technique that produced flower paintings on vellum with an unusually bright translucency. By his own account, his student's work was finer than his own.
In 1787 Redouté and L'Héritier left France to study plants at the Royal Botanic Gardens at Kew, near London, returning the following year. While at Kew, Redouté collaborated with the greatest botanists of the day and participated in nearly 50 publications depicting both the familiar flowers of the French court and rare plants from places as distant as Japan, America, South Africa, and Australia. Redouté produced over 2,100 published plates depicting over 1,800 different species, many never rendered before.
L'Héritier also introduced Redouté to members of the court at Versailles, following which Marie Antoinette became one of his patrons. She appointed him her personal court painter. Even though encounters with the royal family were few, one biography cites a famous incidence when Redouté was asked to visit the royal family in prison during the Revolution. They wanted him to capture the beautiful moment of a rare cactus in bloom. With skill and savvy, Redouté survived the political turbulence of the French Revolution and the ensuing Reign of Terror.
During the 1790s, Redouté gained international recognition as one of the most popular flower painters in the world. His renderings of plants remain as fresh now as when he first painted them. He was recognized as a celebrity with a fashionable clientele, a private apartment in the Louvre, a country residence outside of Paris and a salary of 18,000 francs ($200,000) a year.
He perfected the color stipple engraving technique, which he had learned during his stay in London and first applied it in his illustrations for L'Héritier's publication of Augustin Pyramus de Candolle's work, Plantes Graasses Succulents. It was Redouté's first major botanical work featuring only color-printed plates, and his last publishing collaboration with L'Hériter.
In 1798 the Empress Josephine Bonaparte, the first wife of Emperor Napoléon Bonaparte, became his patron and appointed him to paint the flowers of the garden at Château de Malmaison. She was resolute in filling her gardens with the finest specimens of nature as well as having their essence preserved on paper. Malmaison, purchased by Josephine, together with the Tuileries, were the French government's headquarters from 1800 to 1802.
That same year Redouté published 500 plates of exquisite lilies in his book Liliacées. In 1819 his paintings were exhibited at the Louvre. In 1824 his most famous work, Les Roses, was published. It was said that each delivery of the finished color copperplates was received with a storm of enthusiasm. It was these two works which distinguished Redouté as a true artist and not merely an illustrator. Between 1802 and 1816, eight folio volumes were printed, each dedicated to Empress Josephine.
After Joséphine's death, Redouté was appointed a Master of Draughtsmanship for the National Museum of Natural History. He became a Chevalier of the Legion of Honor in 1825. Between 1827 and 1833 Choices of Beautiful Flowers and Fruits, was printed. By then Redouté had become a master engraver of such singularity that he was able to apply all of his colors at once on one single copper plate. Folio editions of this masterwork were published each year for seven following years. In 1834 he was awarded the prestigious Order of Leopold of Belgium for his artistic contributions.
Eva Mannering, who wrote the introduction to the 1954 publication of Pierre-Joseph Redouté's Roses remarked, "The conditions which made possible a work like this exist no longer, nor do the roses themselves as they are illustrated in this book… They are reminders of a more leisurely age, pleasing and delighting us in their colorful abundance. For by giving us one rose, he has given us at the same time, all the roses of all summer days."
Museum of Romantics- APRIL 25th – SEPTEMBER 24th 2017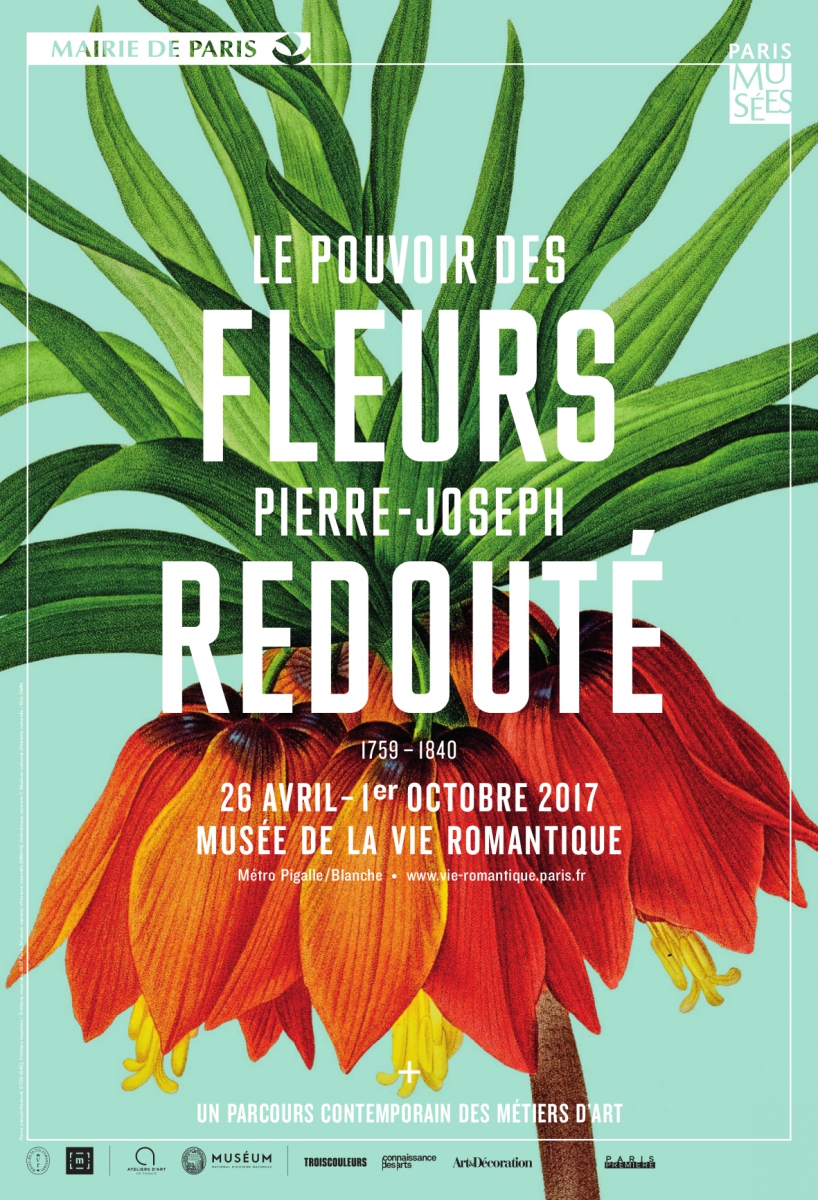 For the first time in France, the Museum of Romantics and the Museum of Natural History are displaying a compendium of Redouté's rare watercolors that reveal the subtlety of the finest brushwork. This presentation will be placed in the permanent collections and is co-organized with the Ateliers d'Art de France.
CURATORS : Catherine de Bourgoing, Garden Historian; Jérôme Farigoule, Director of the Museum of Romantics; Sophie Eloy, Deputy Director of the Museum of Romantics.
---
---
Comments