In the Paris Footsteps of Julia Child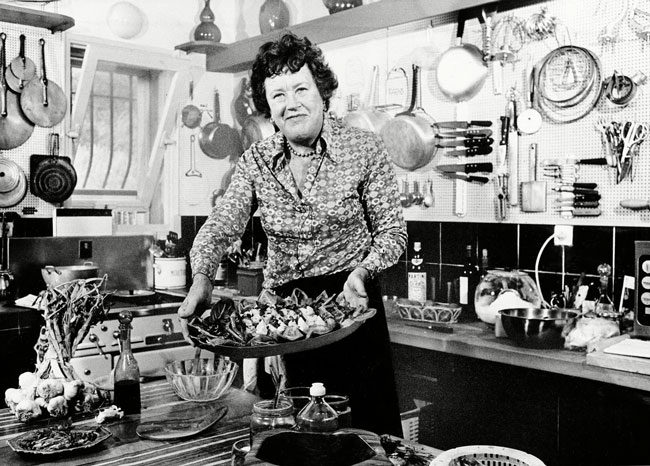 Julia Child, the exuberant home cook with a charming curiosity about the food of her adopted home, opened up new epicurean paths for Anglophones around the world. She lived in Paris for four years from 1948-1952. For Julia, the City of Light wasn't "lite," it was full-on, full-fat, unconcerned with waistbands and budgets. She reveled in the food and friendships Paris had to offer. With her husband Paul at her side and size-12s on her feet, Julia unraveled the snail of Paris arrondissements. Restaurants topped her list, but she found useful addresses and hidden corners too. Sometimes the duo darkened surprising doorways as they stayed up till dawn. Some of her favorite haunts still remain open, more than 70 years later. By the time Julia Child arrived in Paris, she was suffering the pleasant shock of a culture different from her middle-of-the-road American one. The French were not "dark and dirty" as her father had foretold; conversely French women were not "icky-picky" or dainty, and the men didn't archly twirl their moustaches. She had experienced the distinct character of each town they passed through between Le Havre and Paris and by the time they arrived at the
Hotel Pont-Royal
in
Saint-Germain-des-Prés
, Julia was already a little in love with France. Hôtel Pont Royal, 7 Rue de Montalembert in the 7th. © Norio Nakayama, Wikimedia Commons From her hotel at 7 rue Montalembert in the 7th arrondissement, she "wandered the city, got lost and found herself again." Her husband Paul on the other hand was very familiar with the city and took Julia on their first Paris Saturday to
Les Deux Magots
where the two ordered a café-complet. Les Deux Magots, photo by Robyn Lee/ Public domain They then wended their way across the Seine, through the Tuileries and up to
Sacré-Coeur
to take in the full effect of the whole city. All the way up and all the way down again to the restaurant called Michaud at 29 rue des Saints-Pères. Using the red Michelin guide as their handbook, they decided that what suited them best were meals at a medium quality and expense which were rated by two-crossed forks. Michaud was a two-forker which turned into their favorite place for a time. It is now
Le Comptoir des Saints-Pères
, where Rue Jacob turns into Rue de l'Université.
SUBSCRIBE
ALREADY SUBSCRIBED?
BECOME A BONJOUR PARIS MEMBER

Gain full access to our collection of over 5,000 articles and bring the City of Light into your life. Just 60 USD per year.

Find out why you should become a member here.

Sign in

Fill in your credentials below.
Julia Child, the exuberant home cook with a charming curiosity about the food of her adopted home, opened up new epicurean paths for Anglophones around the world. She lived in Paris for four years from 1948-1952. For Julia, the City of Light wasn't "lite," it was full-on, full-fat, unconcerned with waistbands and budgets. She reveled in the food and friendships Paris had to offer.
With her husband Paul at her side and size-12s on her feet, Julia unraveled the snail of Paris arrondissements. Restaurants topped her list, but she found useful addresses and hidden corners too. Sometimes the duo darkened surprising doorways as they stayed up till dawn. Some of her favorite haunts still remain open, more than 70 years later.
By the time Julia Child arrived in Paris, she was suffering the pleasant shock of a culture different from her middle-of-the-road American one. The French were not "dark and dirty" as her father had foretold; conversely French women were not "icky-picky" or dainty, and the men didn't archly twirl their moustaches. She had experienced the distinct character of each town they passed through between Le Havre and Paris and by the time they arrived at the Hotel Pont-Royal in Saint-Germain-des-Prés, Julia was already a little in love with France.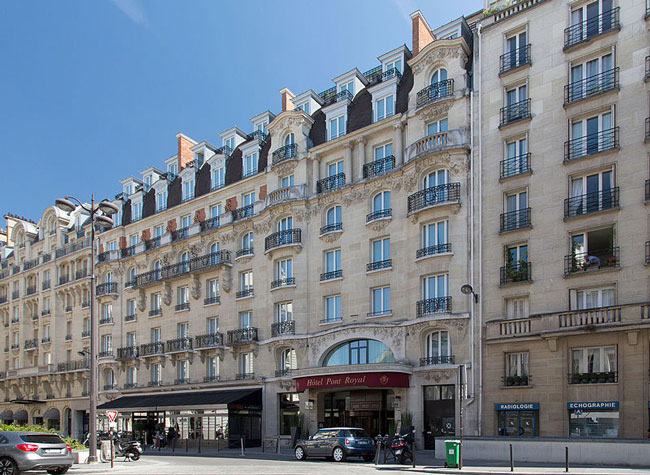 From her hotel at 7 rue Montalembert in the 7th arrondissement, she "wandered the city, got lost and found herself again." Her husband Paul on the other hand was very familiar with the city and took Julia on their first Paris Saturday to Les Deux Magots where the two ordered a café-complet.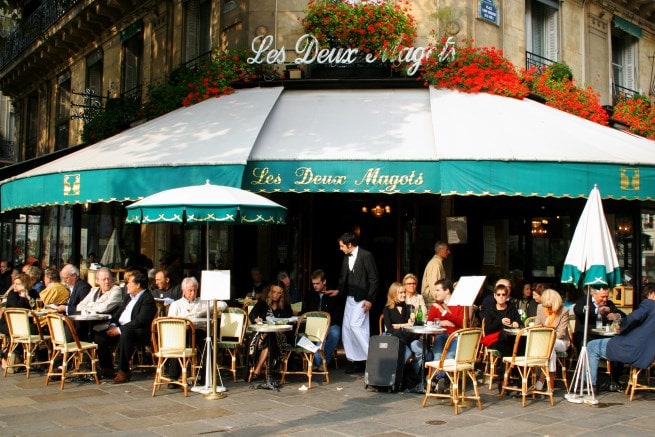 They then wended their way across the Seine, through the Tuileries and up to Sacré-Coeur to take in the full effect of the whole city. All the way up and all the way down again to the restaurant called Michaud at 29 rue des Saints-Pères. Using the red Michelin guide as their handbook, they decided that what suited them best were meals at a medium quality and expense which were rated by two-crossed forks. Michaud was a two-forker which turned into their favorite place for a time. It is now Le Comptoir des Saints-Pères, where Rue Jacob turns into Rue de l'Université.
Rue de l'Université would figure prominently in Julia's French adventure. After a month at the Hotel Pont-Royal, Julia and Paul rented 81 rue de l'Université, their cold and quirky apartment. Nicknamed the Roo de Loo, or simply 81, they had the top two floors of a classic grey Parisian building. Behind the grand front door was a small interior courtyard and a cage elevator which opened onto a large dark salon on the second floor. Cold and damp as "Lazarus's tomb," the walls were covered in so many plates and plaques that it looked like the inside of a "freshly sliced plum-cake."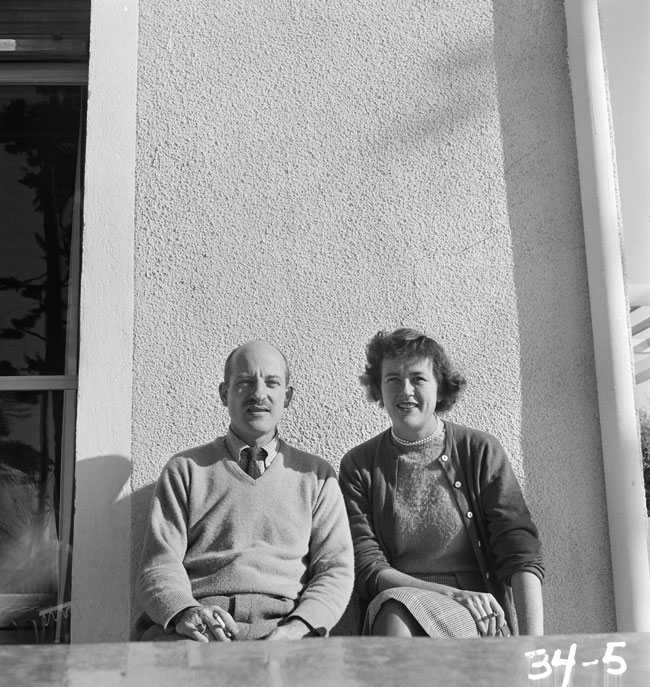 The kitchen was on the third floor (fourth in North America) and was connected to the salon by a temperamental dumb-waiter. The large, airy, less- than-adequate kitchen came with a monstrous, coal-guzzling stove. At Le Bazar de l'Hotel de Ville aka BHV, Julia bought the necessities to make her kitchen livable, including a frying pan, casseroles and a new stove for $90. Here Julia would try out all her recipes on her willing husband who took the good with the bad. It's the kitchen at Roo de Loo where Julia operated her intimate L'École des Trois Gourmandes with her friends Simca and Louisette and it's here that the idea of a cookbook, Mastering the Art of French Cooking, came into fruition.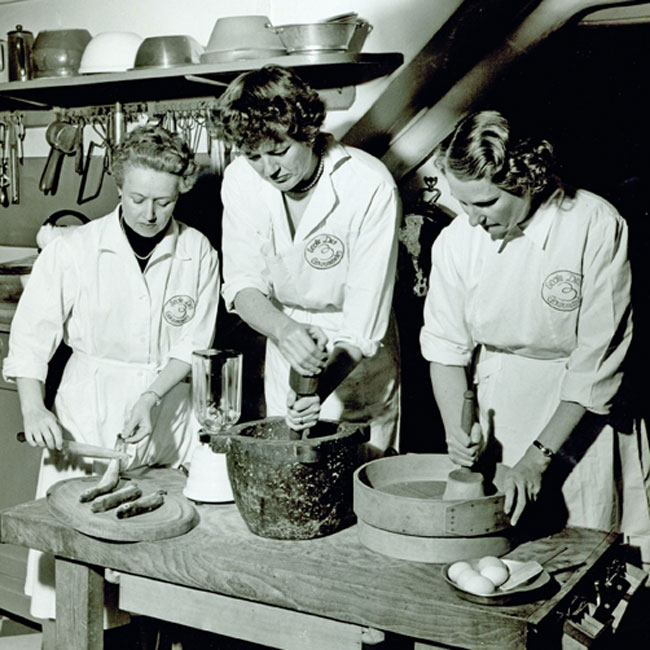 Shopping in Paris was a life-changing experience for Julia. She bought daily supplies around the corner from 81 at the neighborhood market place on rue Bourgogne. Her favorite vendor there was Marie de Quatre Saisons who had the freshest produce. Boasting mushrooms, turnips, and zucchini, she told Julia how to pick a good potato from a bad one and schooled Julia on shallots – upon arriving in France, Julia had needed to ask what the small onions were. At a popular, yet tiny, crèmerie found on the Place du Palais Bourbon there was a queue of customers anticipating cheese cut from wheels or sweet churned butter waiting to be carved. Neither Madame nor the creamery remains, however there are lovely flower shops, brasseries, cafes and salons de thé to soak up – Café des Ministères, the Casa Germain and le Bourbon – all in the shadow of the Palais Bourbon and the National Assembly of France.
Julia found Paris wonderfully walkable. She readily hiked from the Place de la Concorde to the top of Montmartre in half an hour. But she took the wide strides of a 6'2" woman! Forty-five minutes is more like it. She carried with her a pocket map book called Paris Par Arrondissement and would intentionally wander off the beaten path.
When she and Paul explored the city they made a point of trying every kind of cuisine "from fancy to hole-in-the-wall." One of the restaurants they discovered together was La Truite, a cozy place off the Faubourg Saint-Honoré, behind the American embassy which Julia said specialized in "really chickeny-chicken."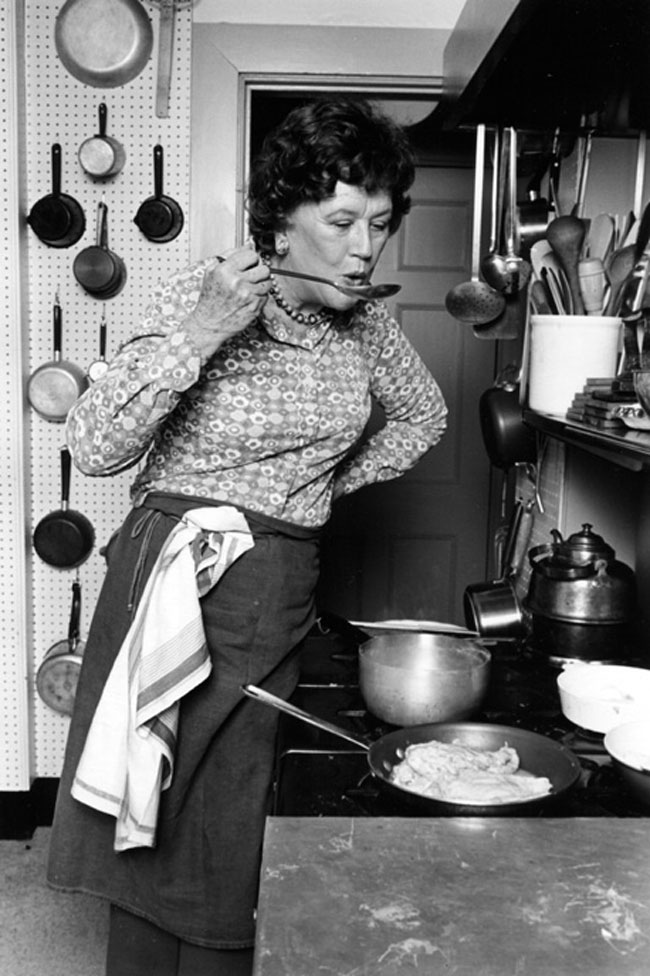 She peeked in the windows of Le Grande Véfour, a famous old Parisian staple of a restaurant in the park of the Palais Royal and the pair was welcomed. The gracious and beautiful restaurant had been in operation since 1784. One day the writer Colette, a Palais-Royal resident, passed the couple on the way to her special banquette. Colette avoided everyone's eyes, but checked out what was on everyone's plate. Julia and Paul revisited Le Grand Véfour once a month. The restaurant remains.
In the fall of 1949 Julia enrolled at the École Cordon Bleu, mistakenly signing up for the year-long certificate instead of the six-week intensive course she had originally hoped for. Back in those days its address was 129 rue Faubourg Sainte-Honoré.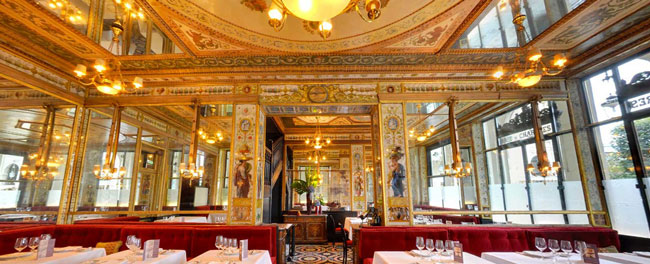 With her teacher Chef Bugnard and the 11 G.I.s she was lumped in with, they'd head to Les Halles, the famous marketplace, for provisions for upcoming classes. Chef Bugnard also introduced Julia to Monsieur Dehillerin, the proprietor of a cornucopia of a store with "an infinite number of wondrous gadgets" for the kitchen. We know that the open-air Les Halles with its brimming fruit and vegetable baskets is long gone but the 200-year-old Dehillerin exists today at 18 et 20 rue Coquillière. So does the Marché aux Puces, the sprawling market at the north edge of town where Julia bought the largest mortar and pestle she had ever come across.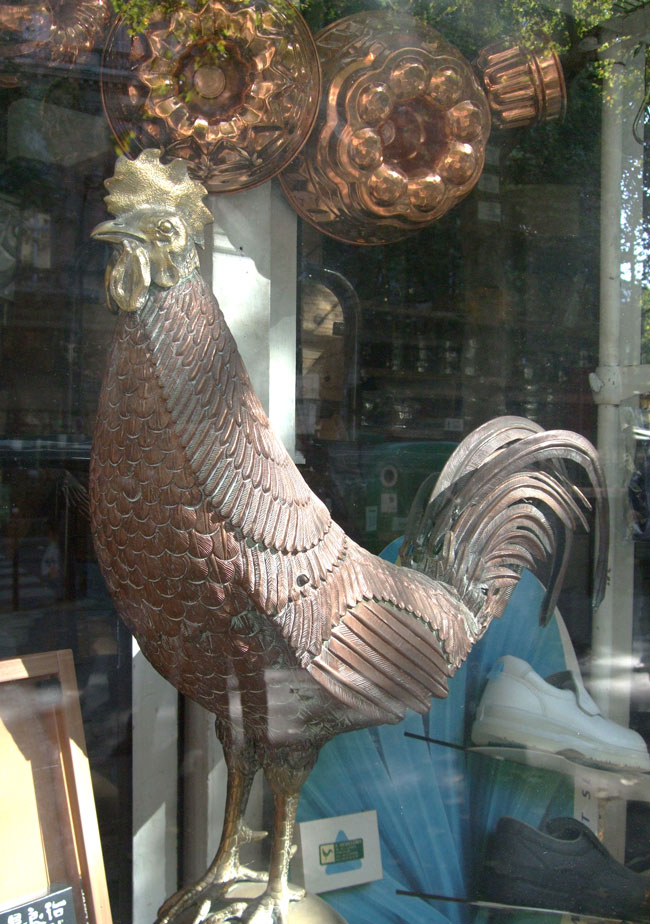 Alas, Julia's favorite olive-oilery has recently closed. Once at 23 rue de Rivoli, the shop established in 1822 almost made it to its 200th birthday.
Also gone is Chez la Mère Michel at 5 rue Rennequin. It was a small restaurant, big on flavor, where  with great success Julia learned to make beurre blanc. It's since been replaced by a curry resto.
Restaurants des Artistes on rue Lepic is unfortunately gone. Its head chef was Pierre Mangelatte, a chef Julia knew from Le Cordon Bleu. On November 7, 1950 Paul and Julia celebrated their second anniversary at Restaurant des Artistes. Located near the top of the hill toward Sacré-Cœur, Les Artistes was a small, neat place with no more than 10 tables but stashed away in its cave were 50,000 bottles of wine. Gone it may be but rue Lepic is always worth a stroll with its proximity to Le Moulin de la Galette and Amélie's Les Deux Moulins.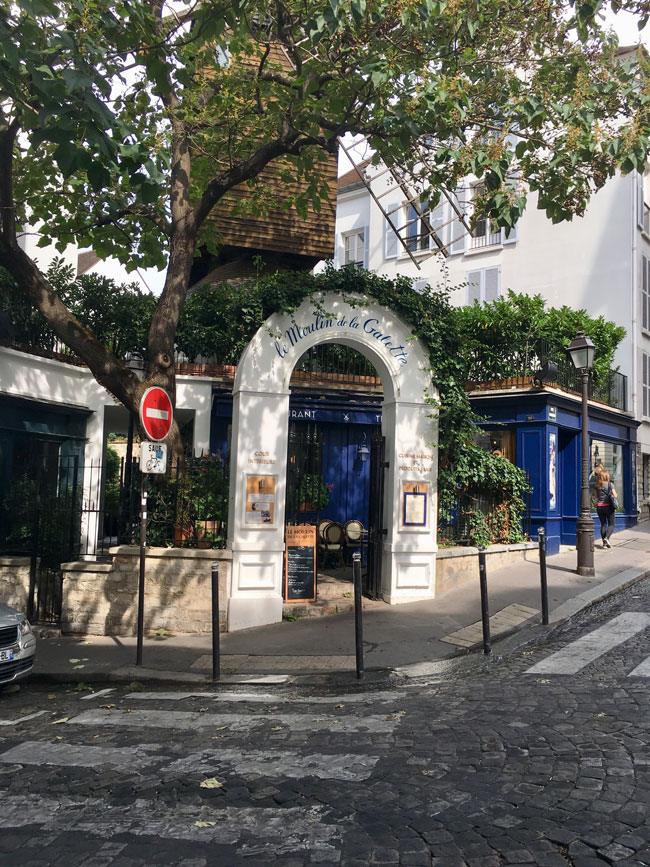 In 1952 the duo hit the town, visiting the Tour Argent with their friends from their old OSS days. The excellent restaurant was so expensive in the aftermath of World War II that every guest was American. Later that evening they drove up to the Place du Tertre in their monstrously big car – that must have been fun. They wedged themselves into some stools at the back of the Montmartre landmark Lapine Agile. Despite the boogie-woogie and old French folk songs their brandied cherries never made it to their table.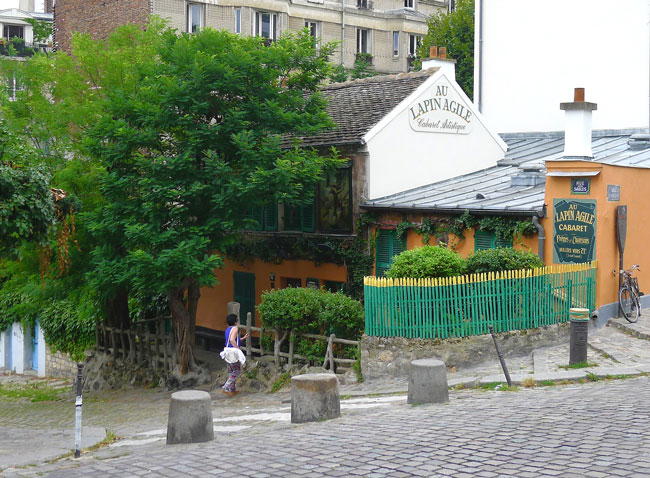 In style, they pulled an all-nighter with their friends, making their way down to 1 Place Pigalle and stopping into Les Naturistes where the club's near-naked performers, despite their well-placed rhinestone triangles, gave a lacklustre show. They crossed to the Left Bank and enjoyed themselves at a jolly club. At 3 a.m. they retraced their steps back to the 1st arrondissement and wandered around Les Halles, admiring the barrel-chested men preparing for the morning market. At dawn they found themselves at Au Pied du Cochon – a brasserie where they had more wine, and slurped bowls of onion soup and restorative cups of coffee. At 5:15 a.m. they straggled home. After all these year Au Pied du Cochon is still open 24 hours a day at 6 rue Coquillère.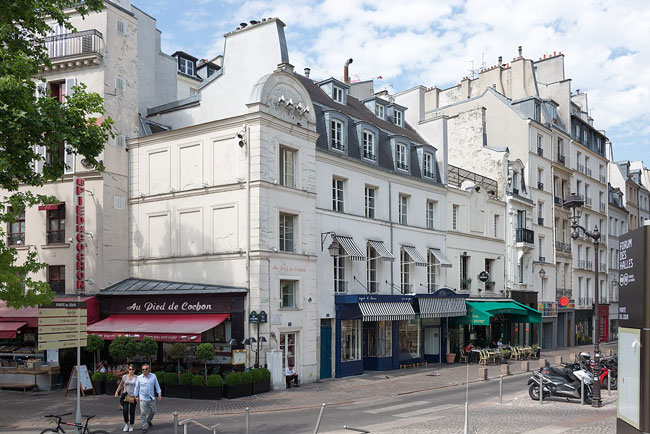 For Julia's 40th birthday, they celebrated at Lapérouse. The gorgeous Belle Époque restaurant is found at 51, Quai des Grands Augustins. This 18th-century establishment was the first restaurant to be awarded three Michelin stars back in 1933. It's been updated since then but this corner location simply drips with charm.
After four years in Paris, the duo of Julia and Paul Child left Paris for a new French adventure. Their home base would now be Marseille, but they would often return to Paris for new adventures in eating. Julia's foray into "cookery-bookery," Mastering the Art of French Cooking, would finally be published in 1961. She was the "French Chef" on American public television throughout the years 1963-73. She and Paul had a house called La Pitchoune in the Provençal village of Placassier that they visited yearly until 1992. La Pitchoune is now a B&B.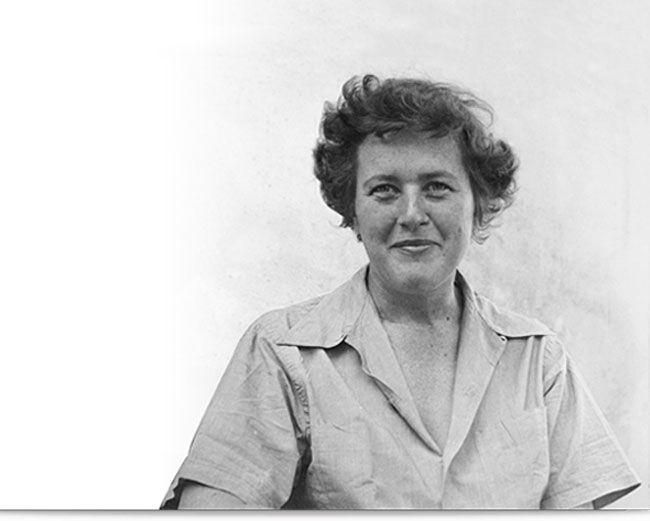 Lead photo credit : Julia Child in her kitchen in Provence
More in Julia Child
---
---
Comments