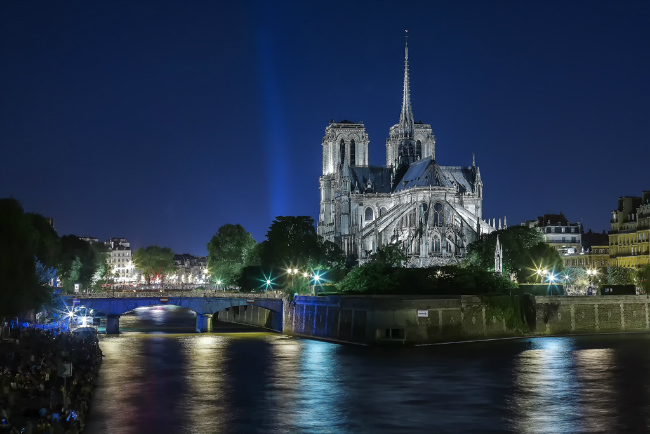 A contemporary of Georges-Eugène Haussmann and Charles Garnier, Eugène Emmanuel Viollet-le-Duc was a 19th-century Gothic Revival architect, designer, architectural historian, theorist and painter, famous for his enthusiastically creative restorations of not only iconographic Parisian monuments, but monuments all over France and a few in bordering countries. Before Viollet-le-Duc there were no gargoyles pondering the depth and breath of the Seine, nor was Carcassonne, the fortified medieval hilltop Cité in the Languedoc region of southern France, so breathtakingly majestic. If not for his incomparable oeuvre what we consider some of the most interesting and beautiful places worth seeing would have been lost to neglect, vandalism and time.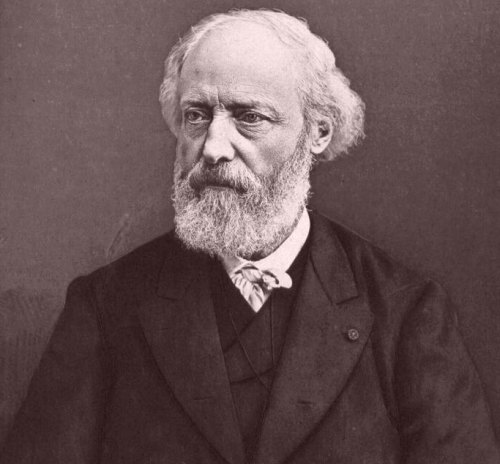 Born in Paris in January,1814, Viollet-le-Duc's early years were influenced by his home life. His parents were well-connected art connoisseurs. His father, Emmanuel-Louis, was curator of King Louis-Philippe's royal residences while his mother, Eugènie, hosted a famous Friday night salon attended by the likes of Stendhal and literary critic Sainte-Beuve. His uncle, the painter and scholar Etienne Delécluze, was entrusted with his early education. By the time Viollet-le-Duc was in his teens, he was rebellious, philosophically liberal, and artistically inclined. His formative years were influenced by people who wrote and talked about art and architecture, and who built or preserved important buildings in Paris.
From an early age Viollet-le-Duc exhibited a talent for drawing, often sketching well-executed tableaux at the palaces of the King. At age 16 he graduated from the Collège de Bourbon, following which he began an internship at the architecture offices of a neighbor, Jean-Jacques-Marie Huvé. While working for Huvé he decided his future profession would be that of an architect. Upon completion of the internship he was given a job in the architecture offices of Achille Leclère, another friend of the family. Favoring practical experience, he traveled extensively in Italy and France. In the former he was able to see first-hand the Greek temples, Roman ruins and Renaissance churches and palaces in Rome, Florence and Venice. In France he visited many medieval Romanesque and Gothic sites of architectural importance. It was from this time spent traveling that he refined his interest in architecture, his passion for restoration, and his romantic vision of the Middle Ages.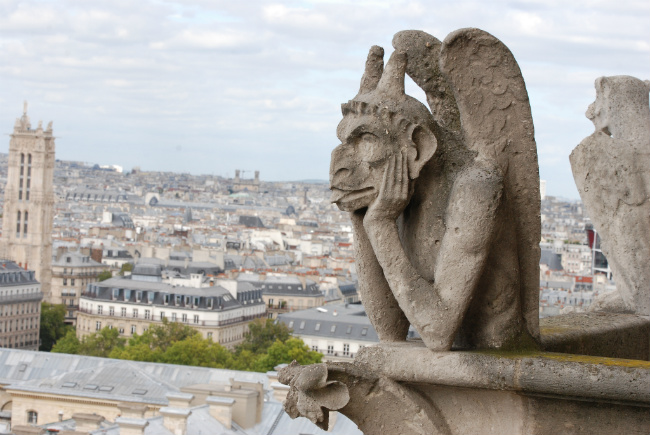 In 1835 he married and took a job teaching as a professor of composition and ornamentation at the École de Dessin in Paris. This was followed, in 1838, with a job at the Conseil des Bâtiments Civils which controlled all of the construction and renovations of buildings belonging to the state. In 1840, at age 26, he won a commission to restore La Madeleine Basilica in Vézeley. Based upon his exemplary work at Vézelay, Prosper Mérimée, the first Inspector General of Historic Monuments and another family friend, invited Viollet-le-Duc to join him on official visits to historic sites that were damaged during the French Revolution. Impressed by his keen intelligence and historical imagination, Mérimée appointed Viollet-le-Duc as the second inspector for the restoration of Sainte Chapelle. A few weeks after his 30th birthday, he and a colleague, Jean-Baptiste Lassus, won the coveted commission to restore the Gothic cathedral of Notre Dame de Paris.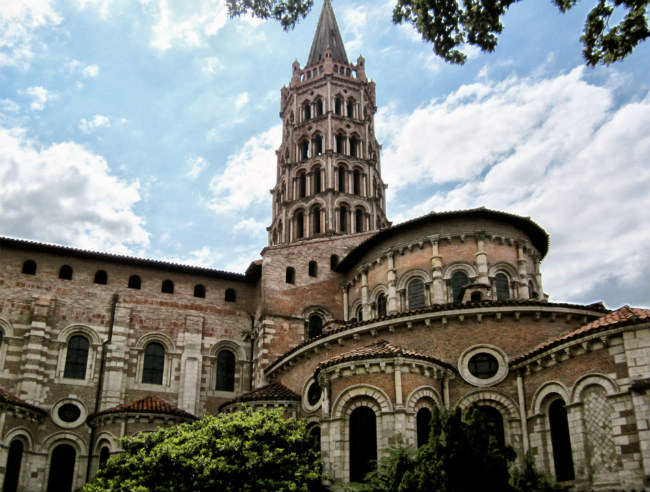 Completely focused now, Viollet-le-Duc added an astonishing list of accomplishments to what would become a remarkable career. Some of his most noted restorations are Mont Saint Michel, Amiens Cathedral, Reims Cathedral, Hotel de Cluny, Cathedral of St. Denis in Paris and St. Sernin in Toulouse, Chateaux Roquetaillade, Pierrefonds and Vincennes, the cities of Avignon and Carcassonne, the latter which had been reduced to an open-air quarry by then. He also designed the internal structure for the Statue of Liberty, which was completed after his death.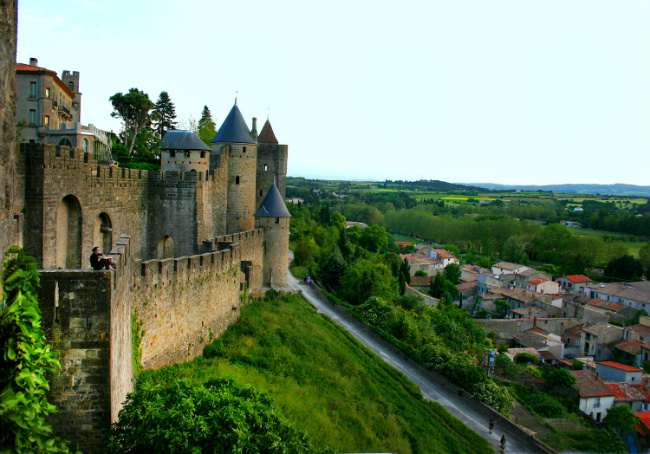 During his lifetime, Viollec-le-Duc also wrote and drew constantly. Not only was he interested in Romanesque, Renaissance and Gothic architecture, but he also appreciated the design of contemporary furniture, jewelry, clothing, musical instruments and armaments, as well as Greek, Mexican and Russian art. His own paintings are housed in many of his renovated buildings and the École des Beaux Arts in Paris. He evolved an eclectic sensibility rarely encountered in one human being, becoming one of the most important medievalists, historiographers and theorists of architecture to this day.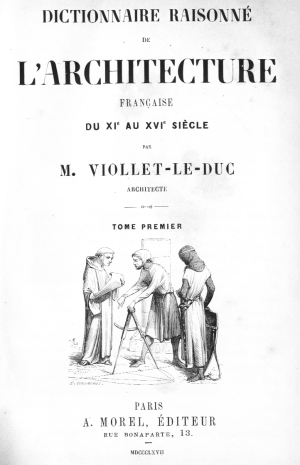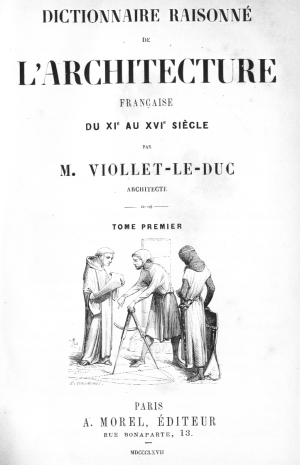 All of Viollet-le-Duc's literary works were published in his lifetime. His 10-volume Dictionary of French Architecture (covering the 11th-16th centuries) was unprecedented.  Though his ideas may seem commonplace today, they were revolutionary in his time. "…To restore an edifice is not just to maintain it, repair it or rebuild it," he wrote, "…but, to reestablish it in a complete state that may never have existed before at a particular moment in history." Contrary to the prevailing attitudes during his lifetime, he felt the exterior appearance of a building should reflect its interior structure, and he influenced not only the Art Nouveau movement from the time of Hector Guimard to Antoni Gaudi, but also the seminal American architects, Louis Sullivan and Frank Lloyd Wright. And as if his life weren't full enough, he was active in the military, helping to defend Paris during the Franco-Prussian War. His research for his historical fiction, History of a Fortress, was so meticulous that his defensive strategies were subsequently used in the fortification of Verdun during WWI and the Maginot Line in WWII. Posthumously, Viollet-le-Duc's likeness (with the addition of an architectural square) replaced that of St. Thomas, one of the 12 bronze apostles that adorn the roof of Notre Dame.
Praise aside, Viollet-le-Duc had his detractors. Auguste Rodin regarded his work tasteless, while John Ruskin thought he was destroying the past by replacing it with inauthentic window dressing. But, make no mistake, Viollet-le-Duc's vision and wisdom have withstood the test of time and have anchored our images of France into the collective unconscious.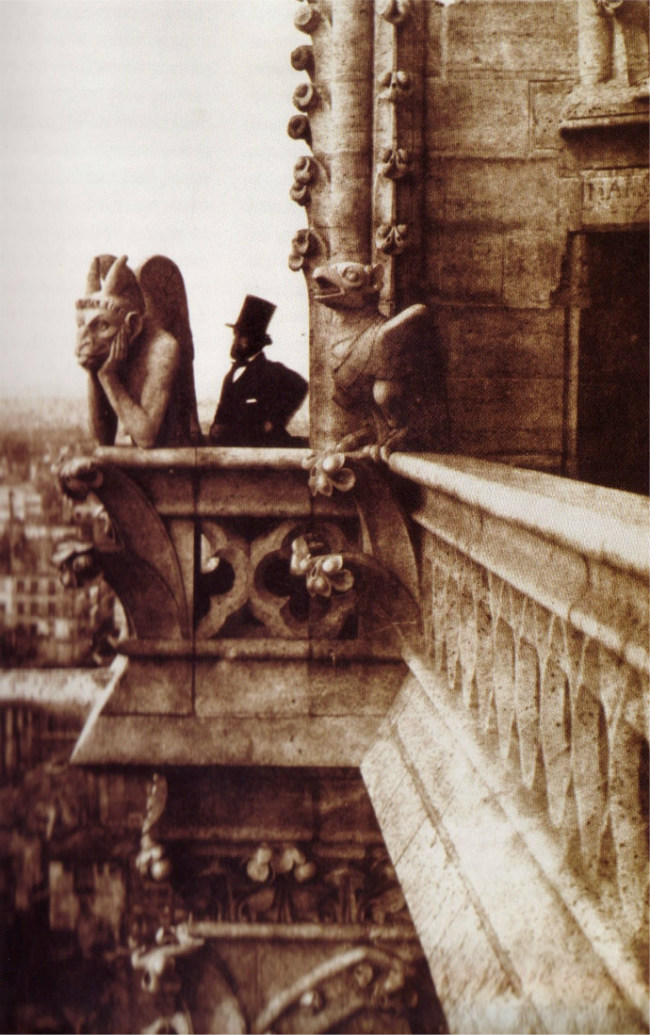 Photo credits: Notre Dame by Henry Marion/Flickr; Notre Dame gargoyle by Tammy Lo/Flickr