Celebrating 400 Years of Molière
Celebrating the 400th anniversary of the birth of Molière has been a major focus in Paris throughout 2022. The playwright's legacy is huge in Paris, where he spent the most successful years of his career, and all over France too. His plays are performed to sell-out audiences and people pepper their sentences with references to the characters he created. He is the French equivalent of Shakespeare and the French language is often referred to as "la langue de Molière." Molière and the poet Goudouli, Édouard Debat-Ponsan, 1907, Public Domain And yet, not all that much is known about him. His birthdate can only be estimated and is assumed to be a few days before the date of his baptism at Saint-Eustache church, listed in the parish records as January 15th, 1622. The houses he lived in have long disappeared, he left no personal papers and the only one of his four children who survived into adulthood lost the manuscripts of his plays. A chair he is known to have used during his last performance on stage can still be seen at the Comédie Française, but that's about it. However, this doesn't mean you can't find traces of Molière – or Jean-Baptiste Poquelin as he was actually called – in Paris today. You just need to know where to look. Comédie Française © Marian Jones Molière began life in the
Les Halles district
of Paris, where two houses have plaques claiming to be his birthplace. Historians agree that the correct site is 96, Rue St Honoré (although the house now there dates from much later), and think that the plaque at 31, Rue du Pont Neuf was probably put up by someone keen to profit from a connection to Molière! The Rue St Honoré address is where the family lived and where, on the ground floor, Moliere's father established his business as a chief upholsterer to King Louis XIII. Molière would have crossed the river to reach his school, the Collège Jésuite de Clermont, on a site which today houses the elite school, the Lycée Louis-Le-Grand, just a few minutes' walk from the Sorbonne and the Panthéon. Lycée Louis-le-Grand, rue Saint-Jacques, Celette, Wikimedia Commons
SUBSCRIBE
ALREADY SUBSCRIBED?
BECOME A BONJOUR PARIS MEMBER

Gain full access to our collection of over 5,000 articles and bring the City of Light into your life. Just 60 USD per year.

Find out why you should become a member here.

Sign in

Fill in your credentials below.
Celebrating the 400th anniversary of the birth of Molière has been a major focus in Paris throughout 2022. The playwright's legacy is huge in Paris, where he spent the most successful years of his career, and all over France too. His plays are performed to sell-out audiences and people pepper their sentences with references to the characters he created. He is the French equivalent of Shakespeare and the French language is often referred to as "la langue de Molière."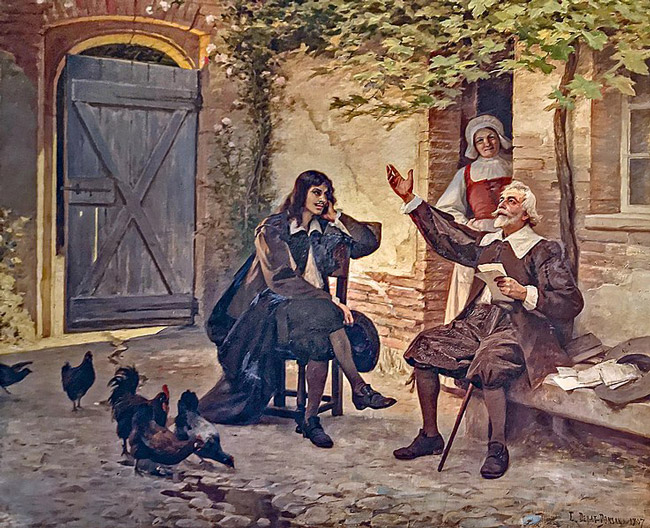 And yet, not all that much is known about him. His birthdate can only be estimated and is assumed to be a few days before the date of his baptism at Saint-Eustache church, listed in the parish records as January 15th, 1622. The houses he lived in have long disappeared, he left no personal papers and the only one of his four children who survived into adulthood lost the manuscripts of his plays. A chair he is known to have used during his last performance on stage can still be seen at the Comédie Française, but that's about it. However, this doesn't mean you can't find traces of Molière – or Jean-Baptiste Poquelin as he was actually called – in Paris today. You just need to know where to look.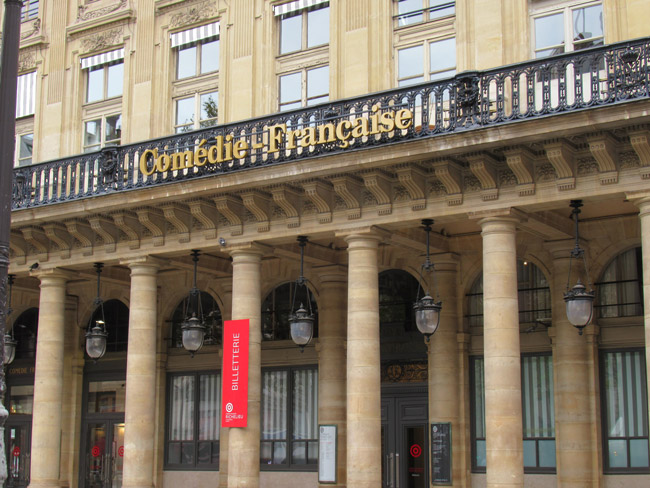 Molière began life in the Les Halles district of Paris, where two houses have plaques claiming to be his birthplace. Historians agree that the correct site is 96, Rue St Honoré (although the house now there dates from much later), and think that the plaque at 31, Rue du Pont Neuf was probably put up by someone keen to profit from a connection to Molière! The Rue St Honoré address is where the family lived and where, on the ground floor, Moliere's father established his business as a chief upholsterer to King Louis XIII. Molière would have crossed the river to reach his school, the Collège Jésuite de Clermont, on a site which today houses the elite school, the Lycée Louis-Le-Grand, just a few minutes' walk from the Sorbonne and the Panthéon.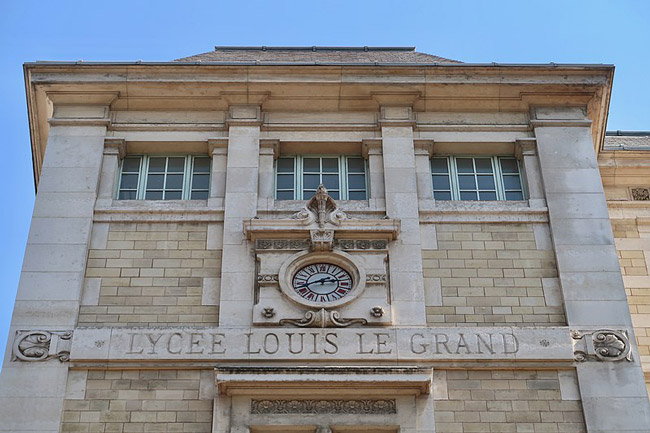 The young Molière was determined, despite his father's objections, to work in the theater and launched his first theater troupe, l'Illustre Théâtre, at the age of 21. However, their performances in a little theater on the corner of Rue de Seine and Rue Mazarine, very close to the Pont des Arts, were short-lived because the company fell into debt. Eventually, Molière was imprisoned in the Grand Châtelet, a court and prison building which stood on today's Place du Châtelet, until his long-suffering father paid his debts to secure his release. Chastened, Molière took to the provinces, forming a new acting company, Le Troupe de Molière, and spending the next 13 years touring, honing his craft and building up his reputation.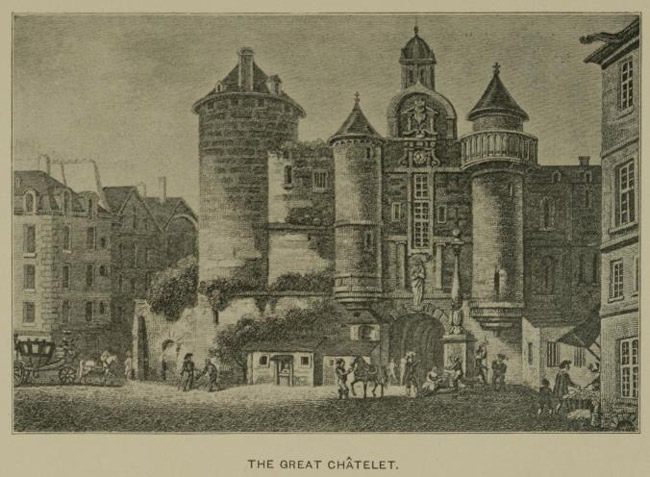 By the late 1650s, he was back in Paris and his company was finding favor in royal circles, first pleasing Philippe d'Orléans, the king's brother, and then Louis XIV himself. Before long they were performing regularly at the Théâtre du Palais Royal, entertaining the king with a mixture of plays, musical interludes and ballets. Molière became the king's favorite playwright and actor, even being asked to be godfather to his son (yet another Louis!) and soon the court and all of Paris was talking about him. If you visit the Palais Royal today, perhaps you can imagine Molière and his actors slipping across the gardens or along the arcades at each side. There is still a Théâtre Palais Royal, rebuilt in the 19th century on the original site on Rue Montpensier and although its current program does not include Molière, its website has a section of anecdotes about him in honor of the anniversary.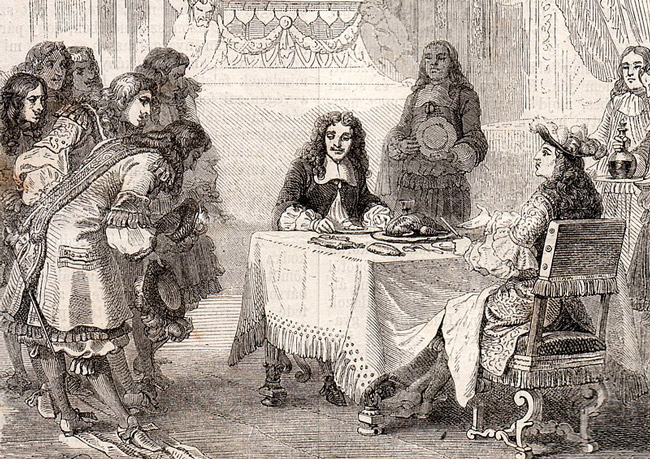 The building most closely associated with Molière is the Comédie Française, the best-known theater in Paris, which is just next door to the Palais Royal. In fact, it was founded seven years after Molière's death by merging two acting companies, one of which was his. What has now become the longest-running theater company in the world keeps its close ties to France's best-known playwright, having performed his works every year since its opening and running a special program of his best-known plays in this anniversary year. A marble portrait is fixed to the building's wall and the Molière Fountain, on the corner of Rue Molière and Rue Richelieu, is nearby.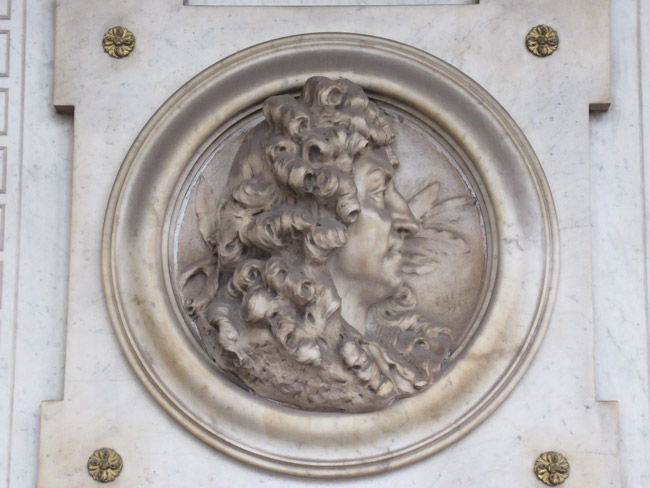 However, Molière's real legacy is the body of work he has left behind and its continued presence in French society: on the school curriculum, in the well-known characters he devised and in the language people still enjoy quoting. A favorite among the vast array of comic characters he created is Tartuffe, the religious hypocrite who cons a wealthy aristocrat out of his money while also flirting simultaneously with his wife and daughter. The play is subtitled l'Imposteur, so the audience knows the truth from the outset and the fun is in admiring Tartuffe's audacious scheming and in ridiculing his victim's gullibility. Another favorite is l'Avare, called The Miser in English, in which an elderly scrooge figure tries to marry his daughter to a rich old man, refusing to allow her to marry the man she loves, the penniless Valère. A complicated plot and a web of subplots follow and the audience is taken on a romping farce with an underlying message about the relative values of wealth and true love.
Molière's love of ridiculing human foibles is just as relevant today as it was 400 years ago and his mastery of a whole range of comedic effects never fails to entertain. Wordplay and verbal jokes abound, the characters are exaggerated, but always rooted in familiar "types" – the hypocrite, the miser, the scheming husband or wife – and there is visual comedy aplenty: characters race in and out of doors, hide in corners and eavesdrop from behind screens while fully in view of the audience. In his own time, Molière drew criticism from certain quarters such as the church, but his fast-moving plots delighted his audiences and today's theater-goers are no less enthusiastic.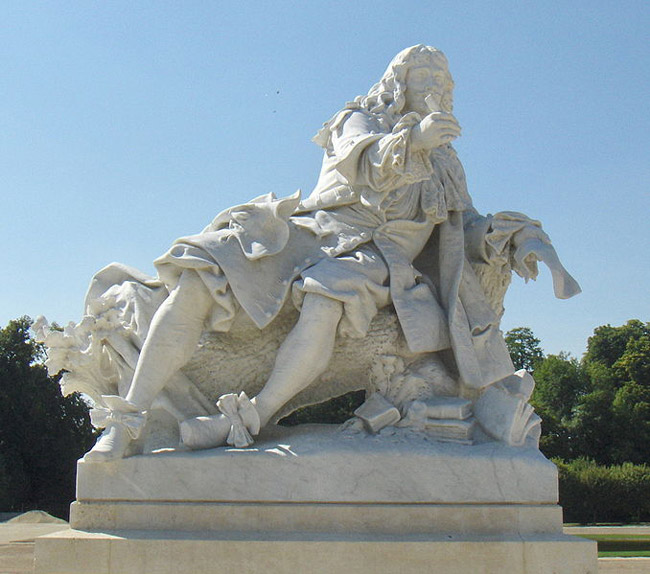 There is a sad twist involved with one of his other most popular pieces, Le Malade Imaginaire, which uses the story of a hypochondriac, Argan, to mock the medical quacks of the day who exploited people's fear of illness and death in order to make large sums of money. The play opened on February 10th, 1673, with Molière playing the title role and it was hugely well received. But during the fourth performance a few days later, Molière, who was unwell with bronchitis, took a turn for the worse. He managed to finish the performance, but was then hurried home to number 40, Rue de Richelieu, where he died later that night. He was 51.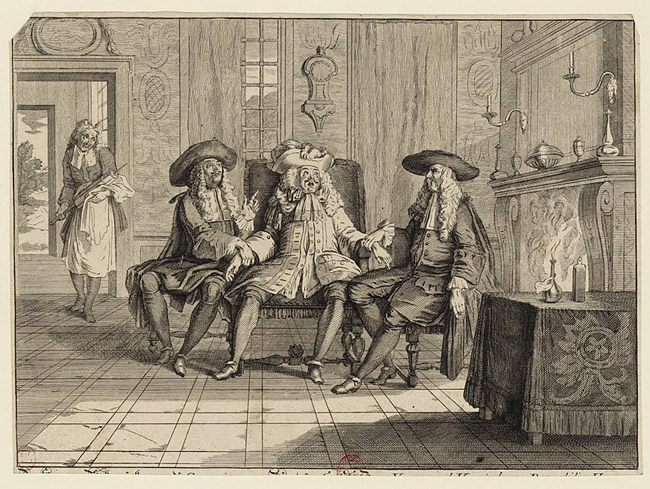 Because Molière was an actor, deemed an unreputable profession, and had refused to sign a letter of renunciation, he was initially denied a church funeral or Christian burial. His wife protested, but it took the intervention of the Archbishop of Paris to arrive at a compromise: a priest would be fetched and Molière would be buried under cover of darkness, at St Eustache. His coffin was eventually transferred to the Père Lachaise Cemetery in the 20th arrondissement, where you can visit his grave today.
In fact, some cast doubt on this, arguing that a number of bodies were moved at the same time and that it is uncertain whether his remains are really where the authorities of the day said they were. There is certainly an element of mystery surrounding Molière, but this does not diminish his influence. As one of the many pieces published in the French press for his anniversary this year concludes, certain things may remain unexplained but "his genius is just as evident today as it was 400 years ago."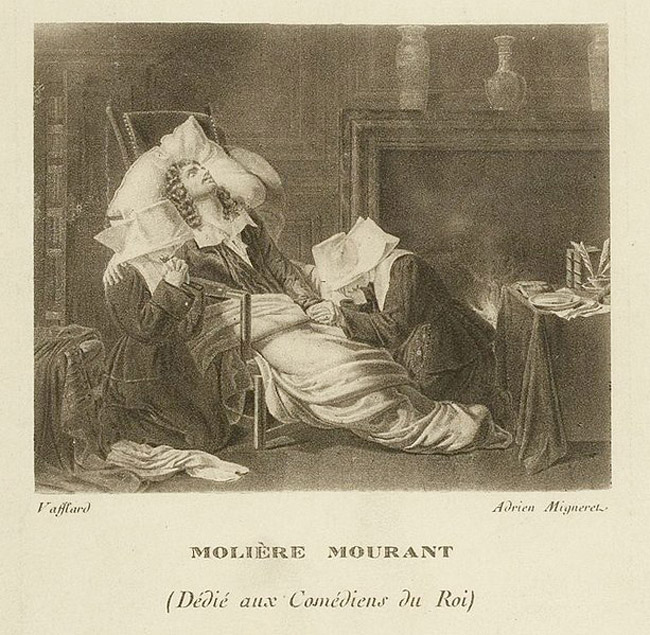 Further Information
Many of Moliere's best-known plays are available in English. Any of the following can be highly recommended.
Tartuffe
The Miser
The Hypochondriac (sometimes called The Imaginary Invalid)
The Bourgeois Gentleman
The School for Wives
Lead photo credit : Portrait of Molière, 1500-1800, Austrian National Library, Public Domain
More in 400 years of Molière, Molière, Playwright
---
---