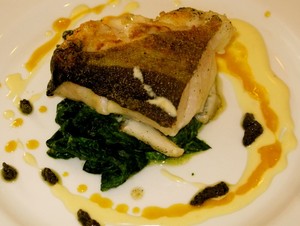 Foodie-treasures pop up frequently all over Paris. Sleuthing them out is a grand game. Here's one that is quite worthy of the short trip on the #21 bus from central Paris out to the lovely Parc Montsouris or on the RER out to the Cité Universitaire stop.  Xin Jin Lou.  Yes, this is a Chinese traiteur and restaurant. It is also the source of astonishingly good, charitably priced French cuisine.  Don't be put off by the exterior, enter, and request the French menu. Prepare to be surprised and delighted.
This place is quite remarkable for Paris. Perhaps a spot with this mixing of styles would not raise eyebrows in New York or in London, but in Paris this is unusual.  Chef Wang Gilly is a twenty-something chef who, following culinary school, worked alongside uber-chef Pierre Gagnaire for four fruitful years.  He learned the Michelin-starred style of cooking conscientiously and well. He has a deep affinity for Gagnaire's splendid incorporation of things vegetal into beautiful, flavorful food.  The storyline continues.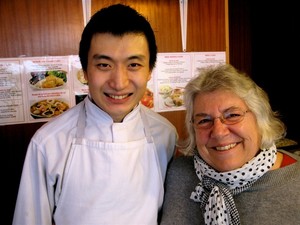 The young chef strikes out on his own and brings that three-star culinary discipline and his love of clear, clean flavors to his parents' Chinese traiteur restaurant where he has quite happily taken over a corner of the kitchen to craft gorgeous meals of gourmet quality at café prices.  Working by himself, this chef turns out creative, delicious French food. His mom and dad serve and staff the Chinese-food side of the small restaurant.  Another chef handles the preparation of the Chinese dishes, which by the way look quite good too.
Xin Xin Lou is, sans doubt a destination for adventurous foodies. Not everyone who loves a good meal would want to sit, cheek by jowl, in a Chinese traiteur enjoying  French food right alongside a neighbor dining on fried rice or steamed dumplings.  Tablecloths, no cutlery of course, but of the study variety, practical wineglasses, no fresh flowers.  But the food is reason enough to come to Xin Jin Lou.
At lunch the seasonal French menu is 19.80euro for three courses. Lunch choices are more limited than in the evening with three entrées, three mains, and two or three desserts.  For dinner, the menu expands including dishes such as magret de canard, quasi de veau, sautéed lamb, roasted cod, all with accompaniments.  There are four or five market-fresh starters and six or seven desserts fait maison, and a cheese plate.
Our first lunch at this delightful place was so good we went back again to try other dishes, and that with only four days to hit our favorite bistros in Paris!  A standout entrée was a dish that included a silky piece of tofu, lightly coated with panko crumbs, and sautéed til crispy. Served with a runny fresh poached egg and slices of confit of fig and fresh fava beans, the dish was deceptively simple but sublime.  One starter we would return almost daily for was a soup crafted from a purée of bib lettuce with tiny dice of chorizo and smoked haddock.  Fabulous.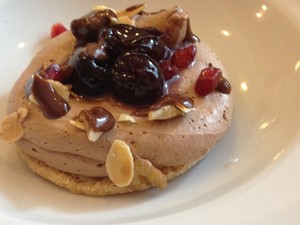 Lunch plates included a grilled whole dourade served over a flavorful sauté of spinach. Perfect.  Grilled rib eye steaks with a red-wine reduction with a hint of star anise in the sauce was served alongside a buttery purée, and a mix of Asian and European veggies including baby bok choi, red onions and sweet slices of white turnip.  Desserts included a sable with a mango, pomegranate and berry mélange and a chocolate mousse on a spicy buttery biscuit with dark cherries.
The chef's father and mother who own the traiteur/restaurant are justly proud of their talented son. As lunch wound down, the dad, who speaks very little English, brought his iPad to our table to share images of his son working alongside Chef Gagnaire. His enthusiasm and pride was sweetly contagious.
The French Menu at night is 29.95 Euro for three courses and again, is a stunning bargain for the quality of the food served.  Wines are reasonable and serviceable, a decent Bordeaux, a Beaujolais or a Rhone in half or full bottles. Following the meal, a very nice quality pot of green tea served as the perfect end-note.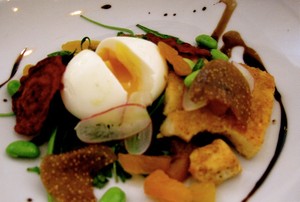 Xin Jin Lou is currently one of those ephemeral places where you can catch a talent in transition from working as a member of a finely tuned équipe in a three-star Michelin shrine to striking out on his own, developing his own signature and perhaps, eventually, his own place.  Your (very good) bread may not arrive promptly and your water glass may not be refilled instantly if things are busy, but the food is absolutely well worth the short bus or metro ride out to this corner  of Paris.  And, the chance to encourage and support a rising talent is a gem in its on right.
Once the word is out it probably will be tough to get a table so go and enjoy.
How to find Xin Jin Lou: RER to Cité Universitaire. Or take the #21 bus to Parc Montsouris.  Tel.: 01 53 80 27 89 or 06 95 19 41 98.   Open Monday, Tuesday, Thursday and Friday for lunch and dinner, Wednesday for lunch only, Saturday for dinner only. Closed Sunday.
Sally Peabody is a Paris Specialist who advised independent travelers on great sojourns in Paris, and elsewhere in France. She also leads small-scale culinary and cultural tours in and around Paris, the Pays Basque, Lyon and the Loire Valley. Further afield, she advises and leads tours in Turkey and Andalucia.