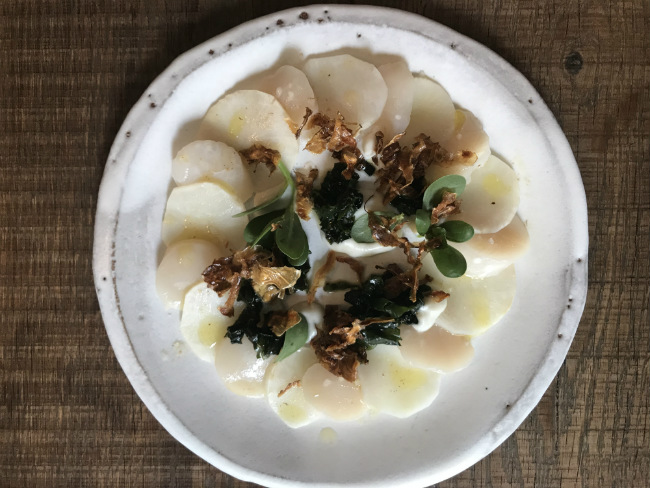 New Year's Resolution: I'm on the "seafood" diet, when I see food I eat it!
Charles Compagnon recently handed over the keys of L'Office to his friend Charles Nikitits, who, after several years at the Royal Monceau, then La Maison de la Truffe – between Paris and Bangkok – decided to fulfill his dream.
Charles Nikitits, a charming and welcoming host, continues the hip n' healthy theme of L'Office; his family's Normandy vegetable garden provide the flowers, fruits, vegetables and fragrant fresh herbs.
In the kitchen, young talent Charley Breuvart trained at Ferrandi and began his career at Park Hyatt, Paris, with Jean-François Rouquette and chez L'Atelier Rodier in the 9th. His favorite product? "Fish," which he masters to perfection, and, "I order directly from my Breton fishermen friends."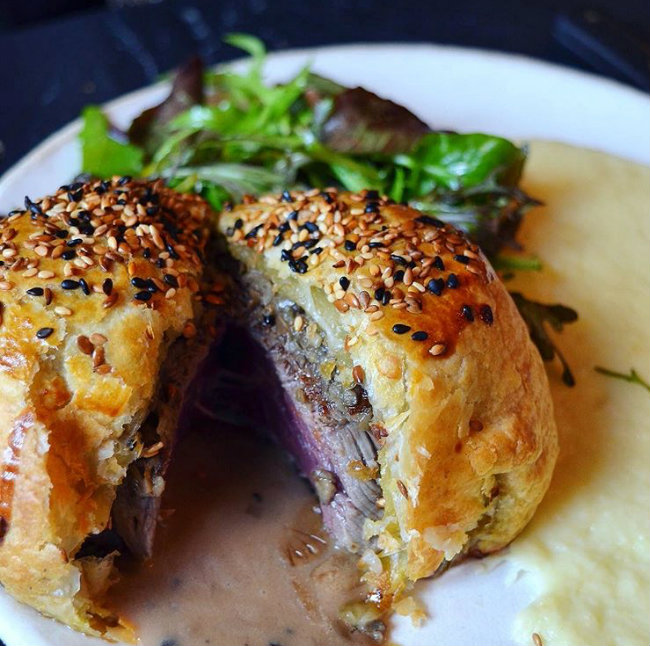 However, carnivores, do consider Charley's superb spin on Beef Wellington served with Mousseline de pomme de terre ratte and Cambodian green Kampot pepper sauce. (Beef Wellington's "the new black" on restaurant menus for 2019; you read it here first!)
Desserts include tangy tart Citron, almonds and white chocolate, and no-gluten cheesecake.
A La Carte only – average spend €47 + wine. All served on wish-list Judith Lasry tableware.
L'Office is a story of meetings and team building. When Charles Nikitits was at Le Royal Monceau he bonded with sommelier Gwilherm de Cerval, now at L'Office, developing organic, natural and biodynamic wines – in synch with the chef's recipes. By the glass priced from €6.50 or try the excellent, flinty, white Baron de Bachen from Michel Guerard's vineyards, Tursan 2014 (€39).
6 rue Richer, 9th. Tel: +33 (0)1 47 70 67 31. Metro: Bonne Nouvelle. Closed Saturday & Sunday.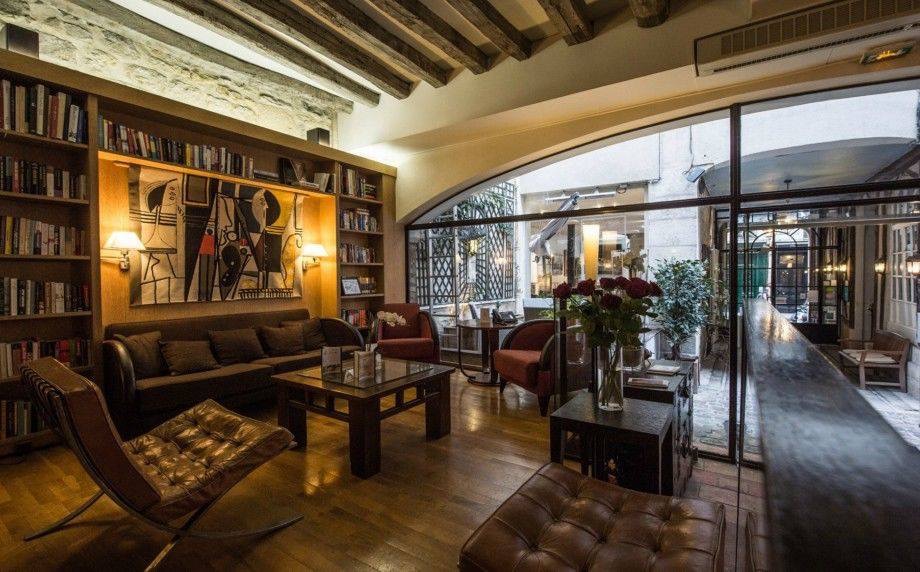 In 1634 King Louis XIII commissioned the construction of the "real/royal tennis" court on Ile Saint Louis. His Majesty was a keen player of the French ball-and-court game — the indoor precursor of tennis.
Matches were played here until 1747 and the space subsequently became offices until, 200 years later, the historic building caught the eye of architect Guy Prachet who decided to build a hotel while keeping the character of the vast timbered Jeu de Paume hall – listed as a "Monument Historique."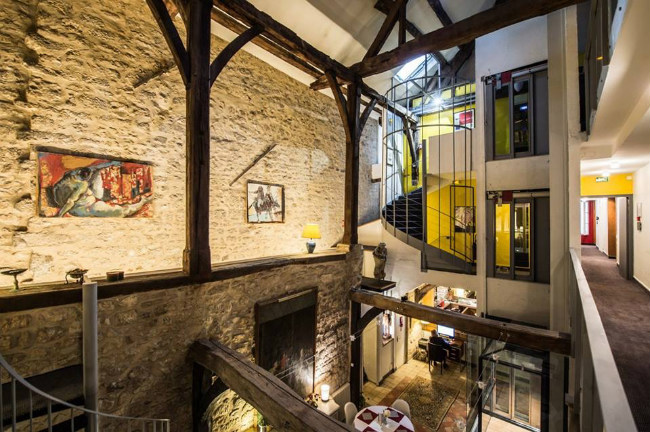 Celebrating 30 years, the boutique hotel was recently renovated. There are 28 rooms, 2 suites, a wellness center, and, for warmer days, a shady Mediterranean style garden for drinks before dinner at, say, the nearby La Tour d'Argent (1582), La Rotisserie d'Argent, or Mavrommatis (see below).
54 Rue Saint-Louis en l'Île, 4th. Tel: +33 (0)1 43 26 14 18
M: Pont Marie – RER B + C Saint Michel, Notre Dame. Doubles from €240-€450, breakfast buffet €18.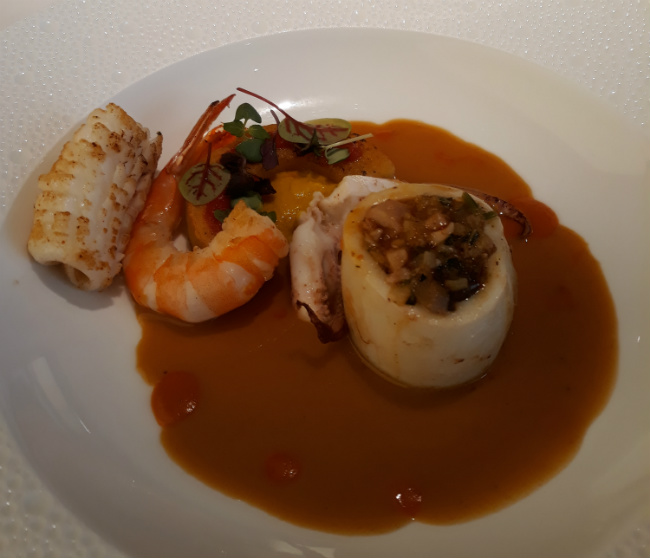 Chef Andreas Mavrommatis has nipped and tucked the décor of this iconic tavern, near Les Arènes de Lutèce, showcasing Mediterranean cuisine that makes you want to reach for the sun cream!
The chef left his Cyprus village in the 1970s to train with the likes of Gaston Lenôtre in Paris. In 1981 he opened a tiny grocery store in the 5th arrondissement and never looked back.
Starters include the signature artichoke, clam and vegetable fricassée "Constantinople style." And gleaming wafer thin scallop carpaccio, garnished with marinated cockles, with smoked Messolonghi boutargue.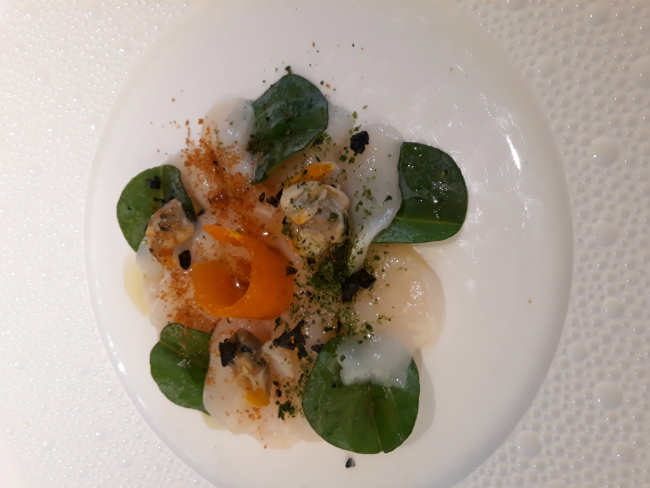 For mains: squid sits on bouillabaisse jus, is stuffed with seafood, crowned with grilled shrimp. Steamed monkfish is paired with plump sea urchins and chickpeas, finished with tahini/cuttlefish ink sauce.
Lozère shoulder of lamb is slow cooked, the saddle roasted with halloumi, escorted by chard dolmadès and Volos olive jus. To finish, some seasonal cheese or Apple Tatin (phyllo pastry) with walnut ice cream.
Sipping a mojito mocktail (€15) and flute of Domaine Marlene Delong champagne (€19/€80) we loved reading our way through the Greek/Cypriot regional wine card. There are some French wines, but, dear reader, when in Mavro-land… The "pinot noir style" AOP Nemea, red cuvée Reserve 2013, Domaine Parsparoussis (€13/€74 bottle) is worth noting.
The ballet of the salle is choreographed by Sébastien Carlier – remember him from Le Bristol, Mini-Palais, and other top addresses.
And, when next in Cyprus check out Mavrommatis at the Four Seasons.
42 rue Daubenton, 5th. Tel: +33 (0)1 43 31 17 17. Metro: Censier-Daubenton. Lunch Thurs-Fri-Sat. Dinner Tuesday-Saturday. Closed Sunday. Lunch formula €45 – Discovery Menu €85 – Signature Menu €115 A La Carte about €60 + wine.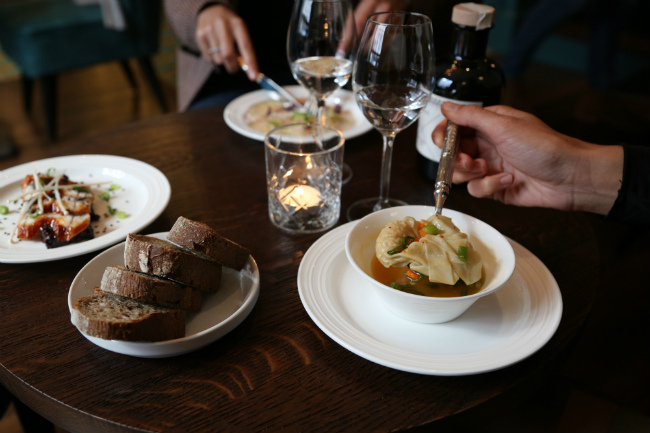 The concept of Bouillon Racine, a Belle Epoque landmark created in 1906, is "to serve food and wine at affordable prices in a convivial atmosphere." Now, at the next-door "Bar du Bouillon Winemaker's Bar," they're sending out, say, excellent taramas from Comptoir du Caviar (€9), Crevette ravioli in a bouillon, ginger, crustaces (€7), Eric Kayser's excellent bread, delicious home-made desserts (Tiramisu, Œuf a la neige), and Maison Pedone ice creams (€3 per boule). Choose from 250 French and Corsican wines (like Clos Canarelli White, €58), mocktails, cocktails, cheering Mulled wine, beers etc.
3 rue Racine, 6th. Tel: +33 (0)1 44 32 15 60. Metro: Odeon/Cluny La Sorbonne. Open 7/7.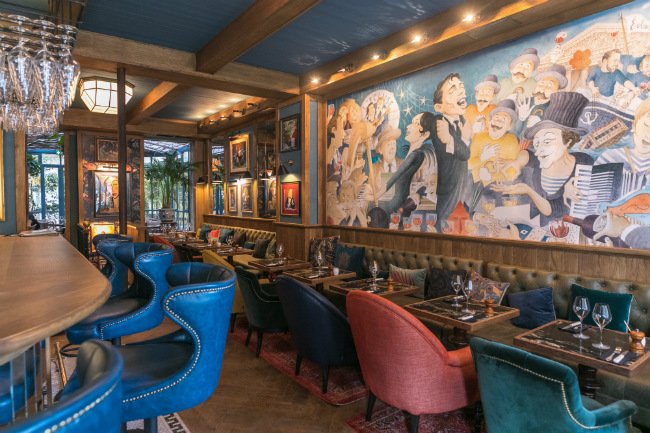 The original, a French cabaret, located in the Latin Quarter, dates from 1951, today owned by luxury brand, Le Groupe Caviar Kaspia.
The atmosphere's "New York speakeasy" meets "Gentleman's Club London" and you're welcome to join. Admire the New Yorker style neo-retro wall painting by Roberto Prual Reavis – a fascinating nod to Ecluse's history. The ivories of the piano have been tickled by the great and the good over the years – as they are each Wednesday night, continuing the tradition.
Accents are on the comprehensive wine list and each month a winemaker is invited to showcase his domaine – matched with appropriate dishes.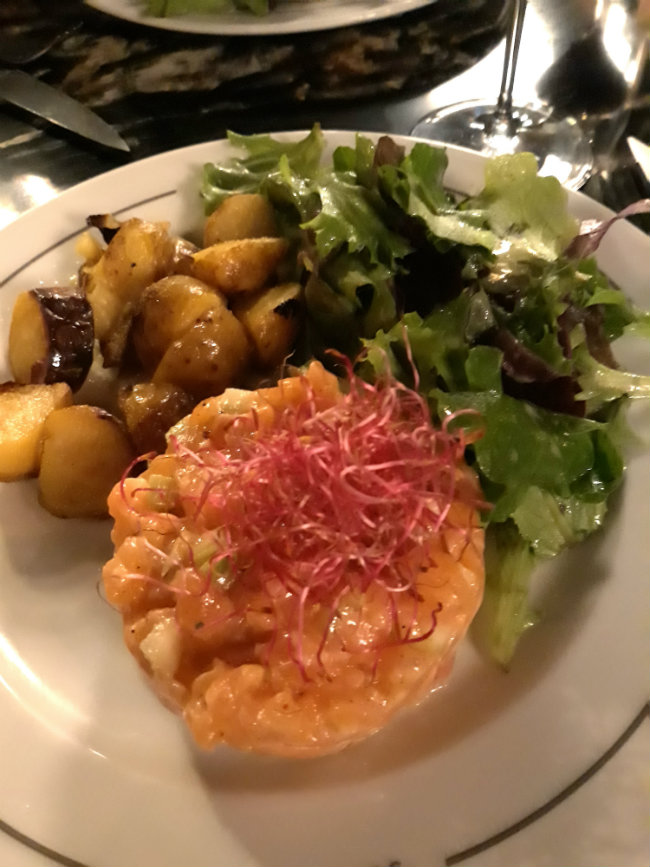 This month, look for Domaine Perinet, a muscular rich red, perfect with La Maison Bellota Bellota hams and the veal tartare Jacques Brel (€21). Or the Georges Brassens, salmon version (€19) with delicious roast grenaille potatoes and perfectly seasoned salad. Avocado toast (€17) with Kaspia smoked salmon is a perfect starter to share (or not!) and mains such as Porcini mushroom tortellini, foie gras are about €19. Follow with cheese or the Périgord walnut tart, vanilla ice cream (€12). Cafe Gourmand dessert means you get to taste all the desserts! (€9).
Need to Know:
Since 2003 the market winds around the glass Ricardo Bofill's designed building on Place du Marché Saint-Honoré. There's fruit and vegetables, bread & pastry, jewelry, bric-a-brac and a great atmosphere. Wednesday 12.30-8.30pm & Saturday 7am-3pm. See you there!
34, place du Marché Saint Honoré, 1st. Tel: +33 (0)1 42 96 10 18. Metro: Tuileries. All day service 12 noon-12am except Monday.
Under the same banner: Ecluse Madeleine, 15 place de la Madeleine, 8th,
Tel: +33 (0)1 42 65 34 69 and Ecluse, François 1er, 64 rue François Premier, 8th, Tel: +33 (0)1 47 20 77 09.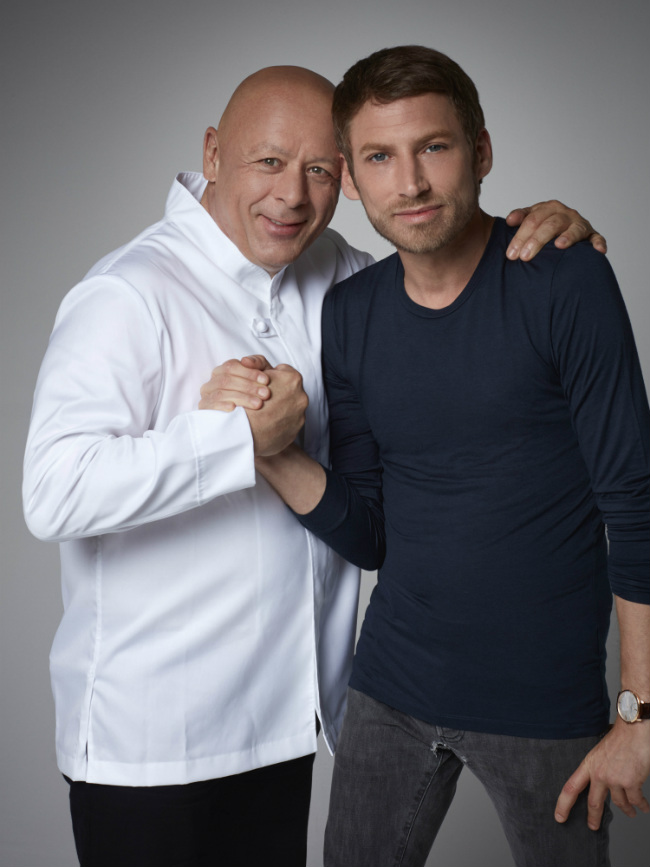 With the mission statement "eat fast, eat healthy" – just off the Champs Elysées –
stylish influencers ** Michelin star chef Thierry Marx and enfant terrible of the design world, Ora Ïto, combine talents with an avant-garde state-of-the-art sustainable streetfood style concept eatery showcasing delicious "fast" food.
Cooked by Thierry Marx – Designed by Ora Ïto.
1bis rue Jean Mermoz, 8th. Tel: +33 (0)1 47 20 92. From Monday-Friday 8am-8pm.
Eat in/Take away.