Valois 1868, Petrossian Right-Bank Boutique, and Eric Frechon's New Book
Le Valois 1868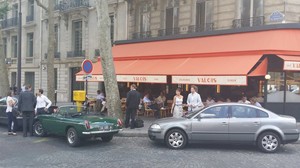 Located on the edge of the lovely Parc Monceau, here's a secret address regulars hesitate to flag; they don't want trouble snagging a table. I'm sharing because at Le Valois 1868, you'll have an authentic moment in one of Paris's oldest brasseries created 146 years ago.
Recently revised and corrected with flair by brothers Bruno & Stéphane Osty, who've taken the best elements of NYC delis (Reuben Sandwich, Hot-Dog Chic, like at Pearle's NYC, Cheeseburger, Cheesecake combined with the chic Frenchy savoir-faire of daily changing Plats du Jour (Parmentier de Joue de Bœuf: Monday), spectacular products such as bread from Jean-Luc Poujauran, displayed like art-work: Jean-Yves Bordier butter, Petrossian salmons, caviar, tarama de caviar, La Maison Bertillon ice-cream, Quatrehomme cheeses etc.
Book ahead, on the terrace in fine weather, at the huge zinc bar, Table 291 on the red banquette. Sip Clos Canarelli Rosé Figari 2012 (50€.50) or Bordeaux Château de Puy 2010 (38€) and don't be mean dears, pass on the address ; give someone else a delicious moment with a Mille-Feuille Géant, Paris-Brest or Baba au Rhum.
1 place Rio de Janeiro, 8th
M: Monceau
T: 01 42 25 03 85
Average Spend 30-50€
Open 7/7 Breakfast/Lunch/Apero/Dinner
Caviar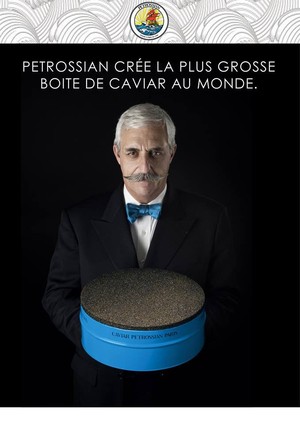 Armen Petrossian, silver haired guru of caviar heads Petrossian. His father Mouchegh and uncle Melkoum first introduced Paris to the magic of caviar in the 1920's assisted by none other than Cesar Ritz.
95 years ago the first Petrossian Paris boutique opened at 18 Boulevard de la Tour Maubourg on the left bank. Now, after rumours circulated for a long time the right-bank boutique is open, in place of Hédiard.
Probably the most complete Russian food store in Paris, Petrossian, Courcelles is just across the road from the onion-domed Russian Orthodox Alexander Nevsky Cathedral, worth a visit at 12 rue Daru.  As well as caviar, salmon, blinis, borscht and pirojki, Petrossian has its own label vodkas (cherry, pepper and lemon), Russian caramels, vodka-flavored sweets and tea. Russian objects like painted eggs and dolls are also on sale. The decor, with its luxurious light fittings, is exceptionally chic
Petrossian Rive Drôite,
106 boulevard de Courcelles, 17th
M : Ternes
T : 01 47 66 16 16
Shut Sunday
Lazare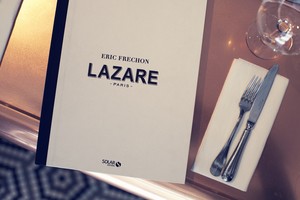 Celebrating the first anniversary of LAZARE on September 9, Eric Frechon unveiled his latest livre with a loving look back at the philosophy behind the concept, taking the reader through an average "life in the day of" via 60 signature recipes. Remember when you first heard about Lazare, "who wants to eat in a train station?" was the first reaction. Now they're practically selling spots at the chic Karine Lewkowicz designed neo-brasserie on E-Bay! Who knew?
"Lazare vous invite à un retour aux sources, un retour à l'essential" says Frechon.
"More than a cookbook, Lazare features anecdotes, stories, rich discoveries. Beau photos of Lazare by Valerie Lhomme : Yummy recipes snapped by Valery Guedes, styled by Berengere Abraham, written with love by chef Frechon, who adds, « I'll hand you the keys to Lazare, it's up to you to open the door!"
Lazare by Eric Frechon
39€
But:
I'd rather make reservations than his recipes!
Lazare Paris,
Brasserie de l'Année, PUDLO PARIS 2014
Parvis de la Gare Saint-Lazare,
Rue Intérieure, 8th
M: Saint-Lazare,
T: 01 44 90 80 80
Open 7/7 from 7.32 – midnight +
Photo credit : Le Valois 1868
Leave a reply
Your email address will not be published. Required fields are marked *