Summer Restaurant News: Chic, Fresh and Zero Waste in Paris
"Paris is a party," observed Ernest Hemingway. We say: especially in July. The 109th Tour de France finishes on the Avenue des Champs Elysées on Sunday, July 24. The weather's perfect for Seine River cruises, jogging around the Tuileries Gardens, Jardin des Plantes and the heavenly Jardin de Sculptures at the Rodin Museum. You've worked up an appetite, now here are some super spots to people watch and get high on the finest French food and wine (with moderation, obvs!)
Owned by Guy Savoy, the elegant, Michelin-starred restaurant located on a side street off the Champs-Elysées is handy for the Cartier boutique (with clients queuing patiently outside today!) and the Arc de Triomphe (sadly, no longer wrapped).
The chic, winebottle-centric space designed by Jean-Michel Wilmotte is punctuated with vibrant works of art, animated by an awardwinning front of house team led by director Thierry Belin. The atmosphere's warm and the diversity of the various lounges are perfect for discreet captains of industry, business lunches, themed dinners, dîners a deux, cocktail parties. If the mural by Fabrice Hybert could talk…it may confirm Brad Pitt/Inès de la Fressange/Charles Leclerc/Bob Dylan in the corner.
Le Tout Paris's Instagramming about chef Irwin Durand and his bright cuisine, using the best possible ingredients, bien sûr, with a technique that's as light as a July morning at 5 a.m.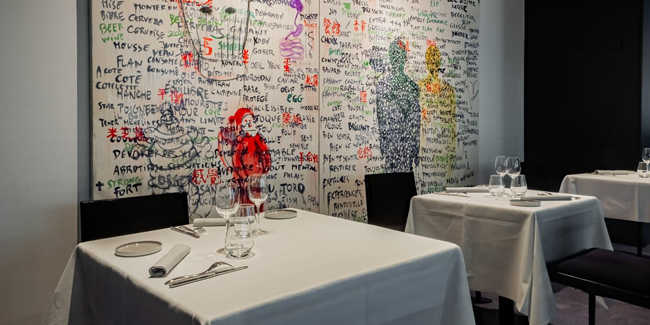 Amusing amuses arrive almost before you're seated. Begin with Pommes de Terre topped with Rova Imperial Madagascar caviar, oyster tartare, parsley oil (€58) or Tomates anciennes, pine nuts, basil (€39), served along with a choice of warm house breads. Follow with, say, roast St Pierre (John Dory) served with leeks, algues, and sarrasin (€64). Mop up the sauce with sarrasin/buckwheat bread). Pair it with a glass of Mâcon-Bussieres Les Clos 2017, with oaky notes, by Joseph Drouin (€16). Or choose the saddle of lamb with herb stuffed vegetables (€56), paired with red Saint-Aubin Les Ecluens, 2017 (€18).
There is a delicious selection of cheeses by Marie (MOF) Quatrehomme (€24), such as Comté, Langres, Banon de Provence, Chaource, Bleu de Vercor. Desserts include the exquisite sweetcorn, tarragon, apple confit, parfait glacée dessert (€23) and Millot 70% chocolate with black garlic ice cream (€23).
As I compliment the chef, he looks pleased. "I just cook dishes I like to eat," he shrugs modestly.
Further information
Menu Caviar €220
Tasting Menu €135 + wine pairing €65
Or A La Carte about €118 + wine
3, rue Arsene Houssaye, 8th
Metro: Charles de Gaulle – Etoile
Tel: +33 (0)1 53 53 42 00
Laurent Lapaire's cantine chic continues to evolve. Recently Brazilian Cheffe Rebecca Lockwood took over the kitchen and curates "zero waste" menus that reflect her impressive international parcours.
Expect dramatic presentations and unusual flavors in synch with wonderful wine pairings by cheffe sommelière Rosanna Ponge. "Rebecca cooks, shares, and weaves experiences as rich as they are unexpected," says Laurent Lapaire.
I dub the elegant and knowledgable Lapaire a "chef-maker" when I first met him when he was Directeur du Salle chez Alain Passard. Fourteen years ago he created the unique concept that is L'Agape and a multitude of culinary wizards have composed and played the piano in his sleek Michelin star kitchen near the leafy Parc Monceau:
Bertrand Grébaut (Septime)
Guillaume Bracaval (Michel Troisgros)
Yohan Lemonnier (L'Initial, Caen now sold)
Gaëtan Gentil (PRaiRiaL, Lyon)
Toshitaka Omiya (L'Alliance, Paris)
sommelier Guillaume Muller (Garance)
Mathieu Sagardoytho (Fil du Zinc, Chablis)
David Toutain (Restaurant David Toutain, Paris)
Benoit Dumas.
Madonna, having tasted Ms Lockwood's dishes at Comporta (the Hamptons of Portugal), asked her to become her private chef, which proved to be "a fabulous year in Lisbon and London."
In the airy Agapé space, dotted with sculptures, murals and delightful designer crockery, we toasted the new team with aromatic 100% Chardonnay Cremant du Jura, Brût Nature, Domaine Morel. For lunch there were green, crunchy Provence asparagus, lard fumé, infusion of Brazilian coffee Matas de Minas and pain brulé. Smoked courgette ravioli, with its flower, Pêre Fabre goat cheese, feta, pesto, basil, persil. Brittany sea-bass, salicorne, pak choï, passion fruit, tempura of consoude (comfrey), beurre blanc. Lamb Manech Fête Noire, white asparagus from Champagne, Medjool dates, Alsace saffron. Cheese Comté d'Exception Monsieur Antony and Chocolat Grand Cru Itakya et Macaé, Ivoire – artichokes and mushrooms.
Sublime! Definitely worth the detour.
Further information
Open Monday-Friday Lunch & Dinner
Menu Carte Blanche €155 – €225
Menu Agapé Amazonie €116 – €169
Déjeuner Estival €54 – €79 with wine pairings
51 rue Jouffrey d'Abbans, 17th
Metro: Wagram (line3)
Tel: +33 (0)1 42 27 20 18
The shady néobistrot terrace of Maison de Radio France is a fun address, serving seriously good and simple food. Chef Thierry Bassard sends out freshly pressed juices and smoothies (Kéfiz, Carrot, Jungle Mix) and wines by the glass along with sourdough bread by Jean-Luc Poujauran. I enjoyed the sea bream ceviche, boosted with lemon and spring onions, sprinkled with roasted buckwheat seeds (€18). Another winner is the beef carpaccio served with buffala mozza, parmesan, artichokes, dried tomatoes, a haystack of roquette, pommes grenaille (€21). Followed by the cheesecake with mango sorbet.
Seen on the next table: a giga-carpaccio of octopus,  quinoa salad, avocado, red onions, pomegranate and hazelnuts (€18). Saumon gravlax, herb salad, plump new potatoes (€25). Red fruit Pavlova (€13). Rhubarbe compôte, sablé Breton, Bulgare yogurt ice cream (€11).
Fantastic service! The team look happy to be chez Radio France. On the menu note that "La Maison n'accepte plus les faux billets – Loi du 8 Juillet, 2017!"
Plat du Jour (€16). Sunday Brunch €40. Live DJ sets from Thursday – Saturday evening from 7 p.m.. See you there!
Further information
116 avenue du President Kennedy, 16th
Metro: Ranelagh (Line 9)
Tel: +33 (0)1 47 20 00 29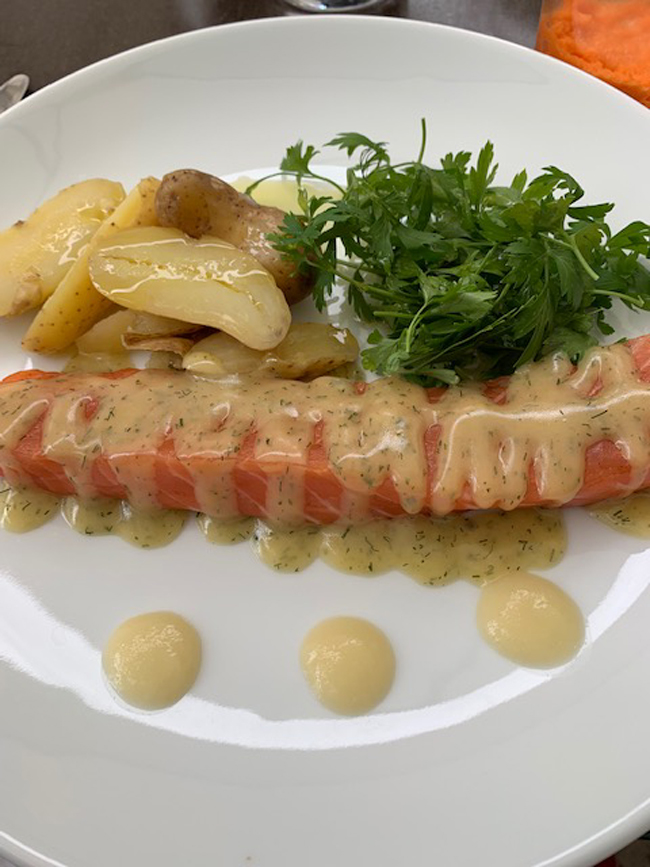 The Bar Long at Le Royal Monceau 
Doctor Olivier Courtin-Clarins and Quentin Testart, the executive chef of the Bar Long, suggest "an ode to peas and the vegetable garden" for a chic n' cool summer lunch.
The delicious and original pea tart (with almond notes) is flavored with pod pesto and Swiss mint – a rustic and fresh variety of mint grown in France – tangy with lemon, a nod to the iconic Eau Extraordinaire by Clarins. Add goat curd with sweet notes and a salad of pea sprouts. Salt is replaced by the saline and smoky notes of haddock slipped into the seasoning. "It's all about tastes and textures," says Doctor Courtin-Clarins. "And using every bit of the nutrient-rich peas, so there's zero waste."
The palate-tingling, lemon-ginger Pavlova dessert, by pastry chef Quentin Lechat, sweetened with blond vergeoise (light brown sugar) is decorated with lemon sorbet and lemon gel with al dente candied lemon and fresh ginger.
The Summer Wellbeing Menu by Dr. Olivier Courtin-Clarins is available every day from from 12 noon – 6 p.m. (Detox juice, Main, Dessert – €72)
Further information
Bar Long, Royal Monceau, Raffles, Paris
37 avenue Hoche, 8th
Metro: Etoile
Tel: +33 (0)1 42 99 88 00
Lead photo credit : Menu bien-être Clarins - Summer 2022 @Roméo Balancourt
More in Agapé Paris, Fresh Ingredients, July Restaurants, Le Chiberta, Le Royal Monceau, restaurant news, Zero Waste Food, Zero Waste Menu
---
---