October Restaurant and Food News in Paris
Un plat peut être grand, mais un plat + un vin peut être sublime ! 
–Jean-François Piege – Le Grand Restaurant.
Need to Know
Dear Readers: At the time of writing there are new restrictions in the face of the surging number of COVID-19 cases. Paris and the inner suburbs are maximum alert zones, and a new curfew will go into effect on Saturday, October 17. (It applies from 9 pm- 6 am in nine major metropolises in France.) In response, many restaurants are already adapting the hours of their meal services, for earlier dinners. And of course lunch remains a wonderful option! To help curb the spread of the virus, restaurants have already instituted strict hygiene measures, along with "track and trace" procedures. Here are some of our recommendations this month. Let's support these businesses!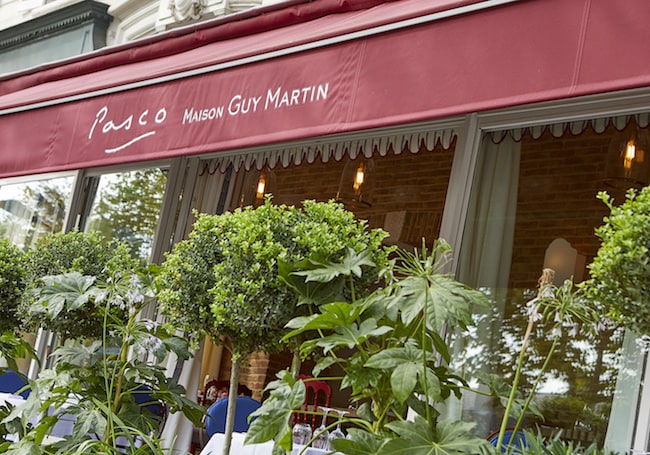 Fascinated by the soul of this 'hood, the double Michelin star Grand Véfour chef presents the first of the "Guy Martin Collection." His concept takes successful existing eateries adding his signature to the menu. "This will make my cuisine accessible to a wider clientele," he explains. The chic decor is by Katherina Marx, featuring exposed stone, bright red Napoleon chairs, blown-glass chandeliers and antique objects sourced by the chef. The market-driven cuisine is produced by a young brigade trained in Véfour's kitchens. The dishes reflect the classics — with cutting edge culinary attitude. Pasco's menu echos GM's principles and precision. Share Tarama & Sardines with a Cocktail Pasco (€9), continue with Shrimp and mango ravioli, lemongrass. Then maybe try the Osso Bucco, Aubergine Millefeuille, or Filet of Bœuf Rossini. Sip Les Fiefs de Lagrange Saint-Julien AOC (€53) then dive into the "Pasco" Profiterole/ Piedmont hazelnuts. A fabulous value, lunch is from €26 and the dinner menus from €39-€59. Watch this space for future GMC addys. You're going to love them.
74 Boulevard de la Tour Maubourg, 7th
Tel: 01 44 18 33 26
Terrace available
Closed Sunday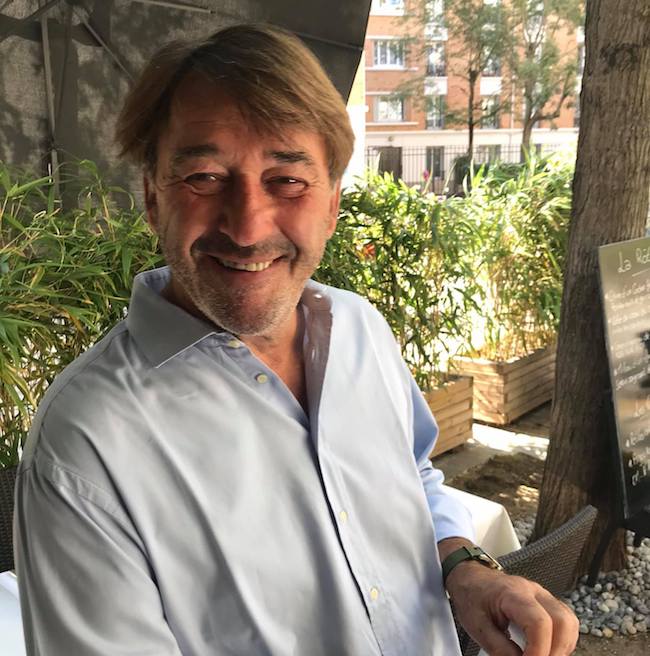 This is an interesting move from iconic superchef Jean Pierre Vigato (recently at Apicius, 8th). Together with with Romain Dubuisson, he's creating a new style cuisine – "a revival in the kitchen!" Of the bromance Dubuisson (ex-Apicius, Yves Camdeborde, Lily de Neuilly etc.) comments: "We're planning to make the casseroles sing to the rhythm of the seasons." With decor by architect Alexandre Diner, the duo transformed the former A&M restaurant of Japanese chef Tsukasa Fukuyama – who worked with Vigato at Apicius and Le Divellec! "Here, we'll create a restaurant in our image, a place that showcases our culinary ideas,"  they explain. "A new love story begins … love of cooking, love of beautiful products love of clients love of conviviality, generous love." See you there !
136 Boulevard Murat, 16th
Tel: 01 45 27 39 60
Metro: Porte de Saint Cloud,
Average spend €50-€65
Superb terrace available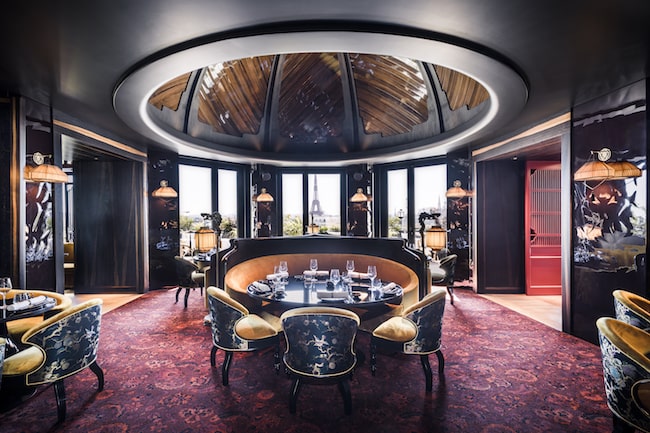 Perfect penthouse/terrace attitude from serial restaurateur Laurent de Gourcuff and Paris Society. Located on top of 52 Avenue Champs-Élysées, with panoramic views over the city. The impressive décor's an Asian tribute by Eve Von Romberg and Charlotte Besson-Oberlin with beautiful fabrics and varnished wooden panels. Discover the savoir-faire of chefs Julien Chicoisne and Roland Puse, accompanied by Aurélien Fleury's interesting herb cocktails while the resident sushi master prepares sensational sashimi, California rolls, and tataki… There's also a menu combining gyozas, wood-fired yakitori, hamachi carpaccio with avocado and dashi miso, shabu-shabu style shrimp etc. And, to finish? Yann Couvreur's pâtisserie.
But what does MUN mean? "Adorable" in Hindi! I'll go with that!
52, avenue des Champs Elysées, 8th
Above Galeries Lafayette
Tel: 01 40 70 57 05
Metro: Champs Elysées Clemenceau,
Open 7/7
"For this project I've taken inspiration from travels in Peru, Japan and China. Today I'd like it if we could voyage together," suggests Sebbag. In collaboration with Moma Group, here's self-taught talent Sebbag's next adventure, after Créatures pop-up, on the rooftop at Galeries Lafayette. Read: cuisine as theater.
Tortuga takes is name from the Antilles island, a bastion of 17th century pirates. The restaurant is the result of a collaboration of three passionate personalities: Sebbag for the kitchen, Franklin Azzi for the architecture and "ornamentalist" Pierre Marie for the decoration.
Fish in all shapes, forms and sizes takes the leading role here. To share (or not) consider: Peruvian style finely cut dried seabass, taboulé of apricots and almonds, Greek yogurt, twists of lemon and hibiscus. Black cod & shitake marinés, white miso, rôtis on black rice, a touch of tarragon. Mediterranean tuna tartare, a crunch of hazlenuts. Salmon, marinated, grilled matched with sharp apple tartar. Seabream carpaccio, cilantro and Sichuan pepper. Deconstructed pear and hibiscus tart. Chocolate cake.
Here there's a welcoming contemporary pavilion, whose minimal steel structure is the backdrop to a unique setting – an exciting dialogue between art, food and architecture. Rum, whiskey, gin, tequila cocktails/mocktails by Thomas Fradon make sure that, on a clear day, you can see Tortuga!
Up on the roof – Galeries Lafayette Haussmann
25, rue de la Chaussée d'Antin, 9th
Tel: 01 84 25 10 09
Metro: Chausee d'Antin
Average spend from about €38 + liquids
Open 7/7 from 11am to 1am
Terrace
Chef David Bizet (formerly at Le Taillevent) helms this iconic brasserie on the rooftop of The Peninsula Hotel, awarded one star by the Michelin Guide in 2020. (Read our separate review here.)
It was created in homage to the spirit of adventure of the two French aviation pioneers: Charles Nungesser and François Coli, the first aviators to attempt a nonstop Atlantic crossing. Outside the restaurant, there's a replica of their original bi-plane, with a wingspan of 11 meters. It's suspended, dramatically, as if in flight, towards the Eiffel Tower.
At lunch "La Table de L'Oiseau Blanc" eat a la carte or from menus at €75-€95. Dinner – 6-plate tasting menu €185 or a la carte.
19, Avenue Kléber, 16th
Tel: 01 58 12 28 88
Metro: Kleber
Open 7/7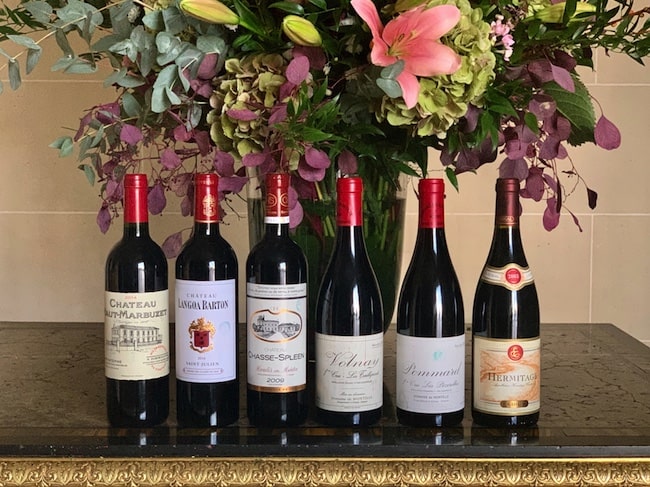 The Caviste de la Tour d'Argent
Every month there's a chance to buy a carefully curated selection of divine wines from the cellars of this iconic maison. Excellent prices go from 19€ for Saint Nicolas de Bourgueil – Malgagne Amirault 2013 to the Volnay 1er cru Taillepieds 2003 €135 and quel prestige. "Yes," you'll say opening the Chasse Spleen 2009 (€47), "a little treasure I found at the Tour d'Argent." Its deep purple color is accompanied by "notes of graphite, blackcurrants, sweet spice, a hint of Chinese black tea." October's offers are available until midnight on the 30th. Delivery is free within France from €150 and if you're overseas email [email protected]
Lead photo credit : Photo © Pasco Guy Martin
More in Eating in Paris, food
---
---