Dining in Paris at L'Oiseau Blanc
Where better to dine under the helm of Michelin-starred chef David Bizet than at the iconic Peninsula Paris? L'Oiseau Blanc was awarded its own Michelin star in January 2020, and Bizet had been awarded two stars this year at Le Taillevent, where he worked until recently.
With the majestic Eiffel Tower looming grand in the distance, every table– from the formal dining room to the more casual terrace– offers an invitation into refined elegance. When the highly acclaimed Bizet was appointed Executive Chef in June, it crystallized The Peninsula Paris as a top culinary address in the City of Light.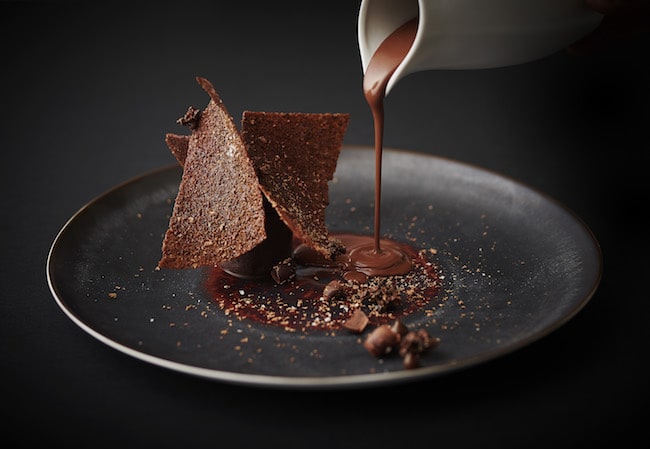 With origins in Normandy, Chef Bizet plays homage to his familial land by cooking with local, seasonal ingredients. This respect for nature's bounty combined with his knack for creating gastronomic masterpieces has gained him two Michelin stars. (He nabbed his first one in 2017 while helming L'Orangerie at the Four Seasons Hotel George V.) How does 42-year-old Chef Bizet feel about his new prestigious role at The Peninsula Paris? "The opportunity to offer such a wide variety of cuisines in such distinctive outlets – from the French gastronomy of L'Oiseau Blanc to the refined Cantonese cuisine of LiLi and the globally inspired recipes of the Lobby – is a wonderful challenge," says the 42-year-old Chef Bizet. "I am greatly looking forward to exploring all these gastronomic traditions at The Peninsula Paris."
Savory menu selections inspired by the sea include blue lobster paired with swiss chard and roasted pistachio, charred mackerel served with imperial caviar and picklegrass in a scallion soy sauce, and John Dory poached in buttermilk flavored with licorice in a seashell marnière sauce. A touch of smoked pie roe added to the latter furthers Chef Bizet's inventiveness. Turning towards the land, the succulent Aveyron lamb shoulder roasted with seaweed and harissa proves a signature dish, and for good reason. On the sweet side, the famed chocolate cake with Piedmont hazelnut and Madong chocolate sorbet can only be enhanced with a side of sparkle by Madame Eiffel.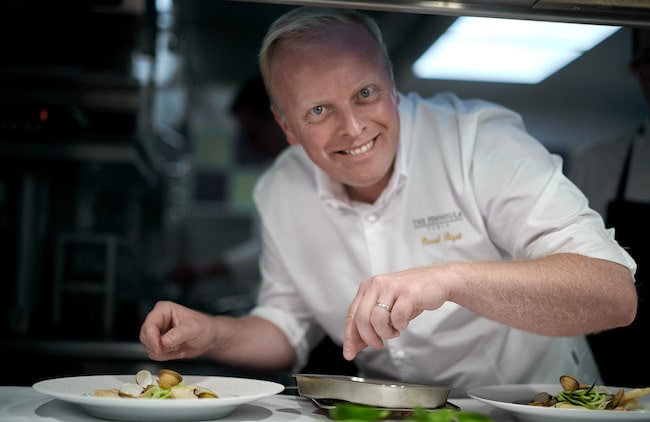 Unable to decide between Bizet's seasonal creative concoctions, the five-course tasting menu paired with wines recommended by the in-house sommelier is certain to satisfy every palate. Allow the chef to take you on a sensory journey from this privileged Paris perch. You'll be in good company with a replica of the first aircraft to attempt a Trans-Atlantic non-stop crossing — suspended just outside. It is this White Bird, with a bird's eye view of Paris, that lends its historic name to this unparalleled address.
Peninsula Paris, 19 Avenue Kléber, 75116
Open Daily: 12 noon – 2.30 pm and 7 pm – 10.30 pm.
Tel +33(0)158122888
Guests will be welcomed in accordance with the safety and hygiene measures related to the current health situation.
Want to be inspired by more French foodie experiences and enjoy classic French food, wine and recipes? Head to our sister website, Taste of France, here.
Lead photo credit : L'Oiseau Blanc Restaurant. Photo courtesy of L'Oiseau Blanc
More in chefs, palace hotels, restaurant news
---
---