L'Oiseau Blanc : Pierre Gagnaire News : Atelier Renault : Shangri-la's Art Tea Time : Michelin NYC 10th Anniversary Edition & Gâteaux Thoumieux's Buche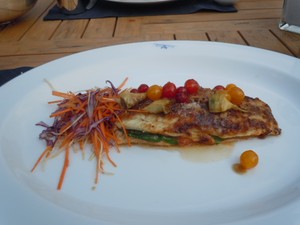 L'Oiseau Blanc « bistronomique » eatery is located on the sixth-floor of the recently opened Peninsula Hotel ; if you just flew in you'll feel as if you never disembarked ! Decor showcases marvellous memorabilia recalling the two pilots of the French bi-plane that disappeared en route to New York, from Paris Le Bourget, in 1927. So order an Aviation or Take-Off Cocktail and it's up, up and away.
Chef Sidney Redel (ex-Pierre Gagnaire, Paris & Courchevel) suggests starters of: Brittany langoustine, pan-sealed in salty butter with peach, avocado and white mushrooms: Veal sweetbreads, kidneys, "Fregola Sarda" pasta, artichoke "velouté" : Pink berry marinated Isigny salmon, a dab of mustard, rhubarb relish, radish and celery: match with New Zealand "Sauvignon Blanc", Marlborough Valley Kim Crawford 2012 (45€).
Signature mains include: Turbot braised with bay leaves, leeks, turnip, pork, lentils:  Lozère lamb, black garlic, rocket salad. Red Morgon "Côte du Puy" 2012 (30€).
Finish with L"Envol, chocolate cream, hazelnut shortbread biscuit, "compote" and raspberry sorbet dessert, based on Charles Nungesser and François Coli's lost aircraft, a copy of which sits on the terrace with the Eiffel Tower as backdrop.
Quite unique.
The Peninsula,
Avenue Kleber, 8th
M : Kleber
Valet Parking
T : 01 58 12 67 30
Oscar Bravo Menu at lunch 55-63€ + boissons
Average spend A La Carte 65€ + boissons
Pierre Gagnaire @ Fouquet's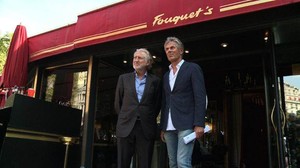 Fouquet's, the destination brasserie, since 1899, is evolving via the innovative culinary collaboration of Pierre Gagnaire and Dominique Desseigne CEO of Lucien Barrière Hôtels & Casinos.
« We met in Deauville and the chef and I talked brasseries, and, with his memories of favourite « zincs » in his past, we brain-stormed the idea of Gagnaire, famous for his avant-garde molecular cuisine, to revise and correct our traditional eatery in his style », the NBF's explained during a conference de presse at Fouquet's, Champs Elysées.
"Our partnership is a mutual desire to promote gastronomy « Made in France » generous,  genuine, respect for our culinary tradition », said Pierre Gagnaire.
The first menu developed with chef Gagnaire  (11 restaurants 13 Michelin stars)  launched at Fouquet's Hotel Majestic Barrière, Cannes, September 24. Fouquet's Cannes and Paris (expect Merlan Colbert : Tartare de Bœuf PG : Fennel salad, matcha tea : Baba au rhum, fennel, Granny Smith apple), Marrakech, Toulouse  follow.
« Each Fouquet's will have a unique menu to match the region, you can't serve Bœuf Bourguignon in Cannes », grinned Gagnaire. « C'est tout bête, mais bien fait » he added.
99 Avenue Champs-Elysées, 8th
M : George V
T : 01 40 69 60 50
Open 7/7
Connaissez vous L'Atelier Renault ? A universe of animation.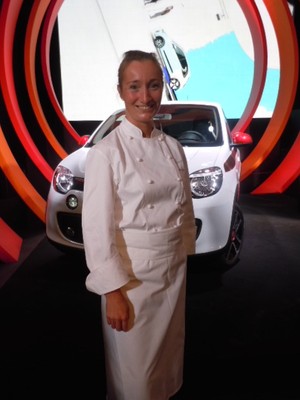 100 Years on Les Champs Elysées, quel histoire. L'Atelier Renault perfect for a unique dining experience fusing food and motor racing culture. Worth the detour to watch the races screened on XXL TV's.
The bar, first-floor restaurant and Studio Twingo, exhibition space showing off the newest Renaults, means the family can browse, soak up the history of Louis Renault's magnificent machines from the first automobile, in which he climbed rue Lepic, Montmartre, via motor-racing glory, to the development of the latest Twingo, a jewel of a road-car, here's where the focus is on cars, sports, technology, culture and  cute contemporary Renault memorabilia which make great gifts.
Now read, cuisine and cars. Virginie Basselot Michelin-star chef at The Saint-James, Paris creates a menu, "to match the colourful Twingo. "I love cars", she says, "although in Paris it's difficult to own one, parking's a big problem, but if Renault offer me a Twingo to do my marketing, I'll be very happy!"
Virginie, just back from Bali, with new inspiration and ideas and, whose dream car is an Aston Martin (don't tell the petrolheads at Renault!) says her new menu's  available on the first floor Café, overlooking the Champs Elysées, until January. It will change according to the seasons, inspired by the bright fresh delicious colors of the Twingo.
L'Atelier Renault Café,
53 avenue des Champs Elysées, 8th
M : Franklin D Roosevelt
Lunch & Dinner Average spend 30€ + boissons.
Sunday Race Party Brunch (animation for kids of all ages)
12-4pm 24-26€
Open 7/7
Art & Tea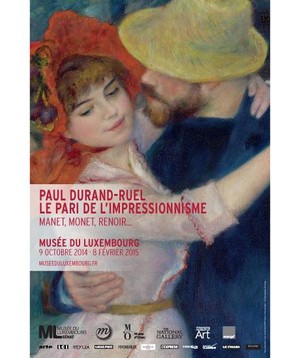 Following the success of "Art Tea Time" celebrating Braque and Josephine, Shangri-La Hotel's pastry chef, François Perret, is inspired by Musée Luxembourg's present exhibition: Paul Durand-Ruel: Le Pari de l'Impressionisme : Manet – Monet – Renoir".  Durand-Ruel (1831-1922) was arguably, the greatest art dealer of the nineteenth century.  
Great patissier of century 21, pastry man Perret, presents homage to the Impressionist movement with an extraordinary, edible, pot of paint, chocolate base, dark chocolate ganache, creamy cassis, almonds, and eatable chocolate brush.
Served under restaurant Bauhinia's magnificent glass dome every Wednesday through February 2015, from 15.30-17.30 the formula 49 € includes fab François Perret's Tea Time and priority tickets to the exhibition. See you there!
La Bauhinia,
10 Avenue d'Iena, 16th
M: Iena
T: 01 53 67 19 98
10th Michelin Guide NYC 2015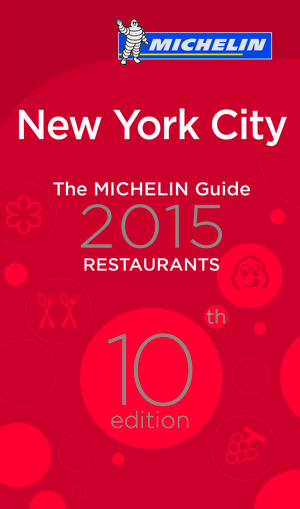 The 2015 edition, featuring 874 addresses, downgrades Daniel Boulud's eponymous eatery to 2 **.
Three restaurants go from one to two **: Blanca, Brooklyn, Chef Carlo Mirachi : At Nordic inspired Aquavit, note chef Emma Bengtsson, NYC's first woman chef!
Up to ** stars, Ichimura is a very special Japanese eatery where chef Eiji Ichimura astonishes with wild sushi and sashimi dishes.
In the one-star category, 17 new, two in Queens: Casa Enrique, Mexican serving (are you sitting down?) the best mole in town!  Plus the French-Canadian influenced M. Wells Steakhouse,
There's a number of new starred restaurants, including Delaware and Hudson's all American locavore menu; Chef Polo Dobkin at Meadowsweet : Pok Pok Ny features product-driven Northern Thai cuisine; Take Root showcases home cooking: La Vara, a creative take on tapas with Sephardic and Moorish influences : Luksus at Tørst, showcases a tasting menu of Scandi-style snacks; and Buzzy O'Keefe and Chef Brad Steelman's The River Café,
Michelin say: "This year our inspectors embrace 60 different cuisines in the guide, reflecting New York's rich history of cultural diversity".
With beautiful photos:
Michelin Guide New York City 2015: 874 addresses + Bib Gourmand
Sex & the Citadelle: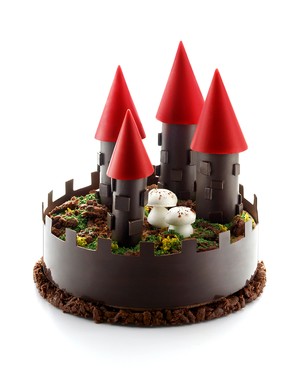 Jean-François Piege and Ludovic Chaussard present La Buche Citadelle, combining textures and flavors to awaken your inner child. Layers of cocoa streusel, smooth creamy chocolate, topped with soft baba and vanilla panna cotta. Take me to the tower !
Limited Edition For 8: 85€
Gateaux Thoumieux,
58 rue Saint-Dominique, 7th
Email
T: 01 45 51 12 12
Leave a reply
Your email address will not be published. Required fields are marked *