An Insider's View – The Garden of Marinette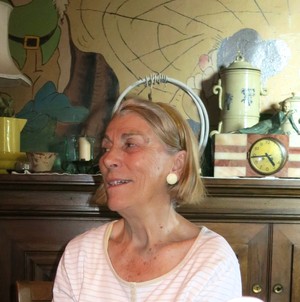 Marinette Arramon-Berdot, an elegant woman of a certain age, lives in an old auberge in the village of Parleboscq, a small commune in the Landes department of the Aquitaine region of France.  She is well known among the locals as an extraordinary naturopath who has devoted her life to healing.  I was first introduced to her by a friend who has known her for years and admires her gifts for curing what ails the body, mind and spirit.
Naturopaths believe that poor diet, stress and environmental pollution play a significant role in the deterioration of health.  Using alternative methods of diagnoses, naturopaths often recommend changes in lifestyle and proactive patient involvement.  Naturopathy principals were first used by the Hippocratic School of Medicine circa 400 b.c. The Greek philosopher, Hippocrates, believed in viewing the whole person in an effort to find a natural – found in nature – cure for a disease, whether it be physical or emotional.  He also believed that treatments, whatever they may be, should not cause another condition and prevention was paramount to well being. It is this philosophy that Marinette lives by.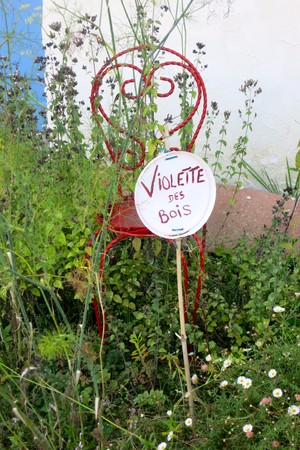 While practicing dentistry, Marinette became increasingly ill.  She went from one doctor to another, each offering her another opinion along with a bag full of antibiotics. She became too emotionally depressed to practice and increasingly incapacitated.  A close friend suggested she see a renowned Swiss naturopath who was visiting from Aix-en-Provence, as a last resort.  He diagnosed her illness as stemming from very poor, intestinal digestion.  With a combination of homeopathic and Chinese medicines, the naturopath slowly began to cure her.  He changed her diet – she no longer was allowed to eat wheat or have caffeinated drinks.  She lost weight and slowly began to feel better.  She was so impressed she quit dentistry and moved to Aix-en-Provence to study with him.  After three years she set up her own practice.  He changed her life.
For more than twenty years, Marinette has been a practicing naturopath.  The old auberge she lives in is surrounded by pesticide free, organic garden.  She cleans her own water naturally by filtering her ponds with a variety of grasses.
She uses the biodynamic method of gardening to grow almost all of her own food and cooks using old country recipes.  I have been suffering with allergies for more years than I care to think about and each year they seem to get worse.  The woman who introduced me to Marinette said Marinette would do whatever she could to help me and she has.  Slowly, but surely, I am getting better.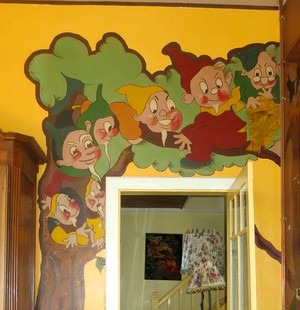 The first time I went to her house, where she practices, I was immediately taken by the cadence of her booming voice as she greeted me in what used to be the cafe of the auberge.  The walls of the cafe, her living room, are covered with oversized paintings of Snow White and the Seven Dwarfs, a favorite story of the previous auberge owners. There are family treasures everywhere, hidden behind stacks of papers, alternative medical journals and books.  Her office, in what used to be the hair salon, is surrounded by floor to ceiling book shelves, also stacked with healing magazines and references in what seemed a haphazard way, but Marinette knows where every last piece of information resides.  I spent 2 hours with her the first time and almost 3 hours with her the second time.  She didn't charge me, but asked that I write this article about her, hoping to encourage more people towards naturopathy and a healthier way of living.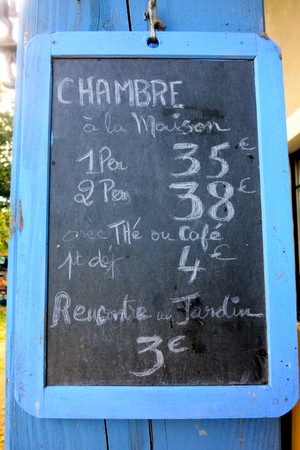 A self proclaimed, holistic bon vivant, Marinette leads nature walks and takes people on tours of her property.  She will talk to and teach anyone who cares to listen.  She rents rooms at her home, chambres à la maison, at a very reasonable price.  The first Thursday of every month, from March to September, she has meetings and picnic, pique-niques, at her house and offers plant exchanges of heirloom seeds from species she cultivates and she will advise you about planting a garden of health, jardinière de santé, garden of health. I've rarely met anyone with so much positive energy. Marinette Arramon-Berdot is a force of nature. It's healing just to be around her.
For a consultation or to rent a room you can contact Marinette at 33-(0)5-58-44-91-01.
Leave a reply
Your email address will not be published. Required fields are marked *