How to Use Herbes de Provence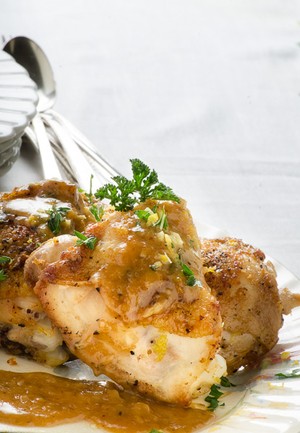 How to Use Herbes de Provence
Add an unmistakably French angle to your cooking with this wonderfully fragrant herb blend.
As its name suggests, herbes de Provence hails from the South of France; the fragrant blend gathers up herbs that grow in abundance in Provence.
While the dominant flavors are usually thyme and rosemary, the blend usually includes other herbs, such as fennel, bay leaf, chervil, savory, basil, and marjoram. These days, lavender often makes its way into the mix, even though it's not historically part of the blend.
Fresh versus Dried Herbes de Provence?
Sure, if you live in Provence where these herbs grow abundantly, you can pluck them fresh and chop them together for the blend. Yet dried herbes de Provence blends are more common, and make their way into cooking throughout France. In fact, because the hallmark of these herbs is their piney, perfumey aroma, the dried versions—which can be very aromatic indeed—work plenty of magic in recipes. Just be sure not to get overly enthusiastic: They can overpower a dish if used in abundance.
Generally, you'll need to use more of the fresh herb blend than you would the dried herb blend, as drying the herbs concentrates their flavors. For every 1 teaspoon dried herbes de Provence, use 2 teaspoons fresh.
How to Use Herbes de Provence
Herbes de Provence is classic in Provencal cooking—enjoy it in recipes for ratatouille, tapenade, stuffed vegetables, and beef daube.
To experiment with your own recipes, try the following ideas:
• Combine with olive oil and brush over chicken or fish before grilling or roasting.
• Use instead of Italian herbs in your next pizza or pasta sauce.
• Toss root vegetables with herbes de Provence and olive oil before roasting.
Also try it in my recipe, below.
Braised Chicken with Garlic, Lemon, and Herbes de Provence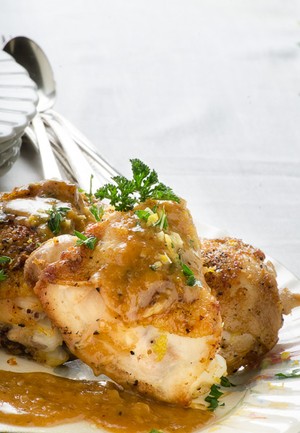 Don't shy away from all that garlic! As it braises, it mellows, becoming rich and sweet. When mashed, it also helps thicken the sauce. This recipe is from my e-cookbook, The Braiser Cookbook: Irresistible Recipes Created Just for Your Braiser.
1          3-1/2- to 4-pound chicken, cut up (or use 2-1/2 to 3-pounds chicken pieces)
Salt and freshly ground black pepper to taste
1          tablespoon unsalted butter
1          tablespoon extra-virgin olive oil
2          head garlic, cloves separated and peeled (about 20 cloves)
2          teaspoons dried herbes de Provence, crushed
1/2      cup dry white wine
1/2      cup low-sodium chicken broth
1          tablespoon fresh lemon juice
2          tablespoons butter
1          tablespoon fresh snipped parsley
1          tablespoon freshly grated lemon peel
1.  Preheat the oven to 350°F. Season chicken with salt and pepper. Heat the butter and olive oil in a 3-1/2-quart braiser or deep, ovengoing skillet with a lid over medium-high heat; add the chicken and cook, turning often, about 10 to 15 minutes or until brown on all sides. Transfer chicken to a plate and drain off all but 1 tablespoon fat from pan.
2. Reduce the heat to medium. Add the garlic cloves and cook, stirring, until they're starting to color (but not brown), about 2 minutes. Add the herbes de Provence, white wine and chicken broth to the pan; bring to a boiling, scraping up the browned bits in the bottom of the pan.
3. Return chicken to braiser, skin side up. Cover the braiser, slide it into the oven, and bake for 20 minutes. Baste the chicken with the pan juices. Bake, uncovered until the chicken is tender and no longer pink (170°F for breasts, 180°F for thighs and drumsticks), 20 to 30 minutes more.
4. Remove chicken to a serving platter; cover with aluminum foil to keep warm. Set the braiser over medium-high heat. If it looks like there's less than 1/2 cup pan juices in the pan, add enough additional wine to equal about 1/2 cup. Bring the pan juices to a boil while using a fork to mash the garlic cloves, whisking the pulp into the liquid as you work. Add the lemon juice. Whisk in the butter, 1 tablespoon at a time, until incorporated.
5. Divide chicken among four serving plates and top each serving with some of the sauce. Sprinkle the parsley and lemon peel over all.
Photo credits:
Herbes de Provence photo by emmrichard via Flickr.
Recipe photo by Richard Swearinger.
Wini Moranville is the author of The Bonne Femme Cookbook: Simple, Splendid Food That French Women Cook Every Day, and the co-author of The Braiser Cookbook. Follow Wini on Facebook at Chez Bonne Femme.
More in French recipes, Herbes de Provence, herbs, recipe
---
---
Comments