Crêpes with Apples and Caramel Sauce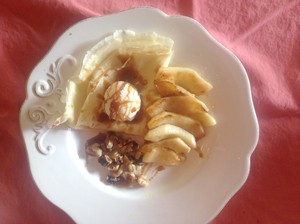 Every cook should have a signature dessert—something you can pull of with ease and aplomb. My signature dessert is crêpes, In fact, I like to think that my good friends, as they approach my door for a dinner gathering, are secretly hoping that crêpes will be on the menu.
I love serving crêpes, for so many reasons. First of all, it's surprising how few people make them; equally surprising is how easy they are, considering how they never fail to make diners feel like they've been treated to something really special. Best of all, you can make them in advance—I'll tell you how.
If you've never made crêpes, try my recipe, below. But first, a few FAQs:
Q: Do I need a special crêpe pan to make crêpes?
A: Heavens no! If you cook at all, you probably have a nonstick skillet that will work. It's best to have one with flared sides to make flipping easy. The base of the pan should be 6 or 7 inches. If it's larger, just use more batter (keeping in mind you'll make fewer crêpes). If it's smaller, use less batter (keeping in mind you'll make more crêpes.
I use the T-fal Nonstick 10.25-inch skillet, which has about a 7 1/2-inch base. It's perfect.
Q: Can I make crêpes in advance?
Yes! Cool crêpes individually on plates. Once they are cooled, you can stack them—they truly will not stick together if they're cooled.
You can leave them at room temperature for up to 2 hours; use as needed. I like to reheat them individually in a pan (about 30 seconds) before serving them.
If you're not going to use the crêpes within 2 hours of making, then place them in the refrigerator, loosely covered with plastic wrap.  Heat them individually in the crêpe pan before serving.
Q. Should I fold crêpes or should I roll them?
If you're serving crêpes as a dessert, fold each one in half, then in half again to make a wedge. Top with your ingredients.
For savory crêpes, place about 1/4 cup of the filling (such as creamed ham or chicken) in the bottom third of a flat crêpe, then roll it up. Place it on a serving plate, seam-side down.
Q: What can I do with leftover crêpes?
Keep them in the refrigerator for a few days, loosely covered. Reheat them in a pan, sprinkle with butter and sugar and dot with butter and serve for an after-school/tea-time treat.  Or, serve them again as dessert. No one will mind these leftovers!
Master Recipe for Crêpes
Makes 12 (6-inch) crêpes.
3/4    cup 2 percent or whole milk
1/2    cup water
2       large eggs
1       cup all-purpose flour
3       tablespoons unsalted butter, melted, plus additional melted butter for the pan
Pinch of salt
1. Place the milk, water, eggs, flour, melted butter, and salt in a blender in the order given. Pulse until blended, scraping down the sides of the blender container once. Refrigerate the batter for at least 1 hour and up to 48 hours. (This allows the bubbles to settle out so the crêpes are less likely to tear dur­ing cooking.)
2. If the batter has separated during refrigeration, stir it gen­tly to blend. Because each crêpe needs to cool individually on a plate, set four plates (at least 7 inches in diameter) on a countertop, ready and waiting to receive the just-made crêpes.
3. Brush the bottom of a 6- to 7-inch nonstick skillet with melted butter to coat it lightly. Heat over medium-high heat. Remove the pan from the heat and pour a scant 1/4 cup batter into the hot pan, quickly swirling the pan to coat the bottom with batter. Return the pan to the heat and cook until the crêpe is lightly browned on the bottom and loosened from the pan, about 30 seconds. Using a thin pancake turner or heatproof spatula, flip the crêpe and cook for about 30 sec­onds more.
4. Slide crêpe out of the pan and onto one of the plates. Repeat with the remaining batter, buttering the pan only if necessary. (Reduce the heat to medium if the crêpes start to brown too quickly.) Once you've made 4 crêpes, you can start stacking the cooled crêpes, freeing up a plate for stack­ing the next one hot out of the pan.
5. For savory crêpes place about 1/4 cup of the filling in the bottom third of a flat crêpe, then roll it up. Place the crêpe on a plate seam side down. For dessert crêpes, fold each crêpe in half and then in half again to form a wedge, then top the wedge with the featured ingredient.
How to Make Crêpes with Sautéed Apples and Caramel Sauce: Prepare crêpes as directed; set aside. Peel and core 3 baking apples; cut each into 12 wedges. In a large skillet, melt 3 tablespoons butter over medium heat. Add the apples and cook, turning as needed, until the apples are lightly brown and tender, about 10 minutes.  To serve, reheat 6 crêpes; fold each crêpe in half, then in half again to create a wedge-shaped piece. Spoon some of the sautéed apples aside the crêpe; top the crepe with ice cream or whipped cream and, if desired, chopped nuts. Drizzle with a high-quality purchased caramel sauce (look for one with butter and/or cream in the ingredient listing). Makes 6 servings.
More in crepe, French recipes, recipe
---
---