Les Bûches de Noël: Best Christmas Yule Logs 2022
Tiens! It's bûche o'clock again. La bûche de Noël tradition dates back to medieval times. A symbolic wooden log, perhaps from a fruit tree, would ensure a successful harvest in the year to come. It was placed in the hearth, the epicenter of every family's activity, and various ingredients depending on regional beliefs – such as salt, wine, or holy water – were sprinkled on the log before lighting it on the fire. (For example, sprinkling wine was another way to guarantee a bountiful grape harvest.) The tradition of this "emotional banquet" continues; today these yule logs are works of art created by top pastry chefs – and also you and I. Have a go on the Le Cordon Bleu website.
Here's our pick of some of the tastiest yule logs in Paris this year.
Ritz pastry wizard François Perret (awarded "best restaurant pastry chef in the world" 2019 by Grand Tables du Monde) revives Proustian childhood memories with a "joyeuse farandole de gourmandise." Perret whips up his own special spécoloos, adds praline and macadamia, then folds in light vanilla whipped cream. It's Christmas, so there's hints of cinnamon, cardamon, ginger – a touch of muscat. Perret has even concocted a Boisson Patisserie Spécoloos.
Order on the website (€150 for eight people) and pick up at 38, rue Cambon in the 1st.
And, make sure to taste La Bûche Petit Biscuit at Le Comptoir (€18 per slice) with a flute of champagne at Bar Vendôme, Ritz, Paris (€24 per slice). For Le Comptoir Perret proposes "La Bûche Forêt Noir," a multilayered taste sensation – everything you need to make a festive sparkle. With vanilla mousse chantilly, studded with plump griotte/morello cherries, it's a feast for the eye and the palate. For six people, the price is €95 and for 10, the price is €150. When you collect your order, try an irresistible slice (€16).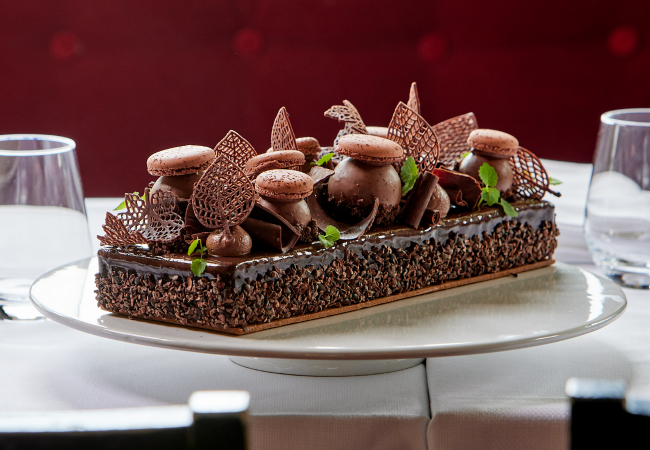 Guy Martin
For his 2022 end-of-year celebrations, Chef Guy Martin designs two sublime Yule logs: Le Grand Véfour (Wood Mushroom) and Restaurant Pasco (Le Mont Blanc)
For the Grand Vefour, he mixes cep mushrooms, chocolate mousse and dark chocolate. "My Christmas dessert is delicately balanced between passion and chocolate sweetness,  made with love, passion fruit jelly, dark chocolate ganache, passion fruit mousse, ceps chocolate mousse and glitter chocolate," explains Guy Martin.
For six, the price is €88 per log.
For Restaurant Pasco, the Mont-Blanc Log (for six) combines (love) chestnut cream, vanilla and chocolate candied chestnuts, vanilla chantilly, vanilla syrup and milk chocolate glaze. Price €64.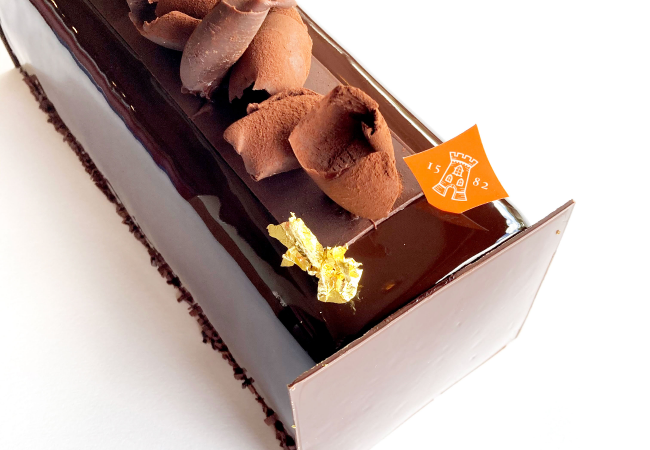 The restaurant is closed for a major transformation until the beginning of March 2023. But the Epicerie, Bakery and Rôtisserie are serving the very best quality food, wine and even a delicious büche: coconut dacquoise, exotic mango passion fruit cream, mango passion fruit compote, topped with an ultra-light vanilla mousse and covered with an exotic icing and a few Tour d'Argent decorative souvenirs (€45).
A sparkling collection of logs, an ode to the capital, where art and architecture meet pastry, bringing together two sumptuous taste universes. From the line drawing of the contours of a monument, to the finesse of a street lamp. Salut l'artist!
Pierre Hermé's magical collection celebrates the talent of Baron Haussmann, offering everyone the time to dream. With this incredible haute-pâtisserie collection for Christmas, the  emotional magic of Paris is deliciously alive. From €48.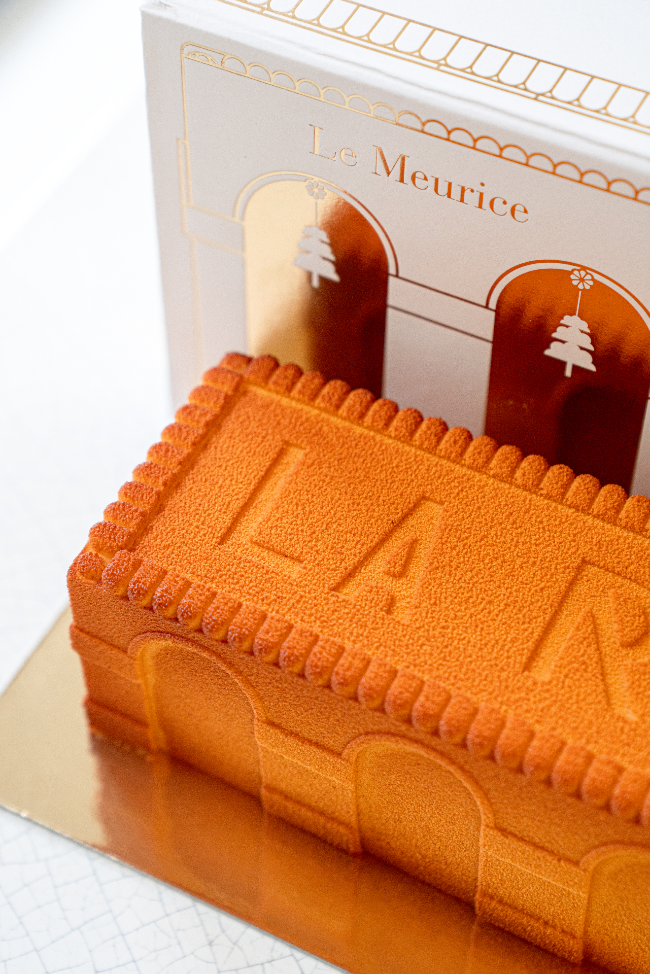 The yule log called "La Rivoli" is an ode to the emblematic arcades of the rue leading to Le Meurice and celebrates hazelnuts, the signature flavor of pastry master Cédric Grolet. The crunchy, fleur de sel, hazelnut praline blends harmoniously with creamy vanilla caramel and hazelnut biscuit, enhanced with a smooth hazelnut praline from Le Manufacture Alain Ducasse. For the final touch, a creamy mousse infused with hazelnut milk coats this dessert "that will revive your sweetest childhood memories," promises Grolet. "La Rivoli" Yule log (€130 – serves eight) can be reserved on the website and picked up from Wednesday, December 14th to Sunday, December 25th, 2022.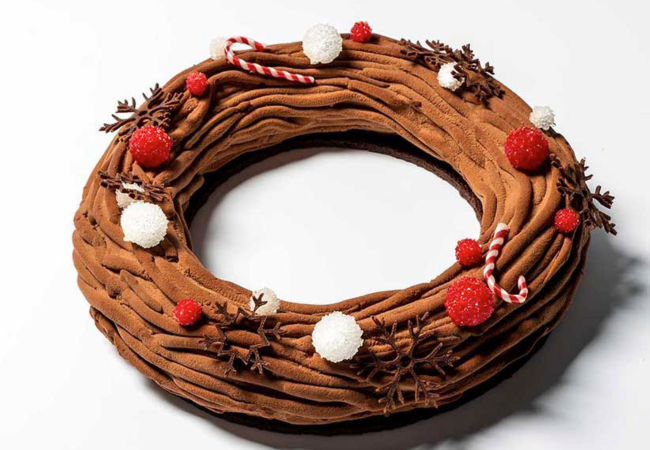 Awarded twice best Pastry Chef(fe) of the year before her 30th birthday, the talented Nina Metayer has worked at Le Meurice with Yannick Alleno, Le Raphaël, Le Grand Restaurant with JF Piege, Café Pouchkine etc. She describes this year's Yule log: "My collection, baked in our Parisian pastry lab, evokes the magic of childhood Christmases. My signature bûche this year is cocoa shortbread, chocolate almond brownie, vanilla brownie with a vanilla praline heart. There's a very limited edition of 180 crowns!" The price is €69. Home delivery or "click and collect" in Paris and inner suburbs. "In addition to digital patisserie for your pre-orders, we're thrilled to welcome you to Printemps du Goût, Boulevard Haussmann and at the new Halles Biltoki, Issy-les Moulineaux. "Merry fêtes to you all!" Love from Nina and the Delicateam xxx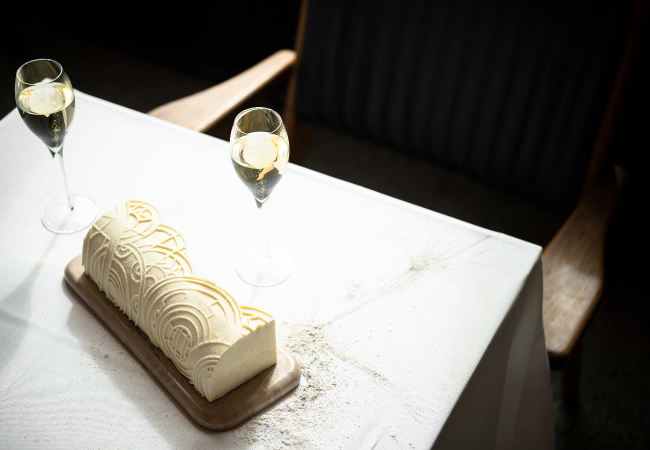 Pastry cheffe Louise Riot presents her first yule log for the Molitor. (The legendary swimming pool complex is now home to a hotel and spa in the 16th.) Inspired by her Martinican mother and Breton father, Louise borrows the richness of the two cultures,  combining all the exotic flavors in her creations. The design recalls the emblematic moldings of a 1930s brasserie and the Molitor's heritage including the famous portholes. The log is vanilla mousse, vanilla cashew nut praline with citron confit, atop a base made of hazelnut butter and crispy cashew nut biscuit.
The log for six-eight people costs €69. Pre-order on the website. Available for collection on December 23-24th.
13, rue Nungesser et Coli, 16th T : 01 56 07 08 50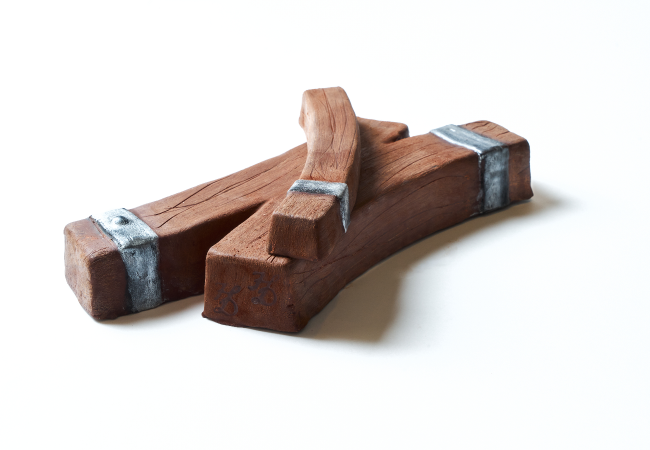 "I love Christmas traditions. For me the flavors of a yule log must respect seasonal products and flavors while evoking tradition: chocolate, chestnuts, candied fruit," says Darroze. "I treasure the marvelous memories of my childhood, the Yule log that was on the pastry cart of the family restaurant." Gluten-free, limited edition. In Paris, order and collect from Marsan at 4 rue d'Assas in the 6th.
To book your order, go onto the website between December 1 and 19,  collect from Tuesday December 20.
Also available at Joia restaurant at 39 rue des Jeunes in the 2nd.
The price of €115 euros for six-eight people generously includes a 20cl bottle of Armagnac from Maison Francis Darroze.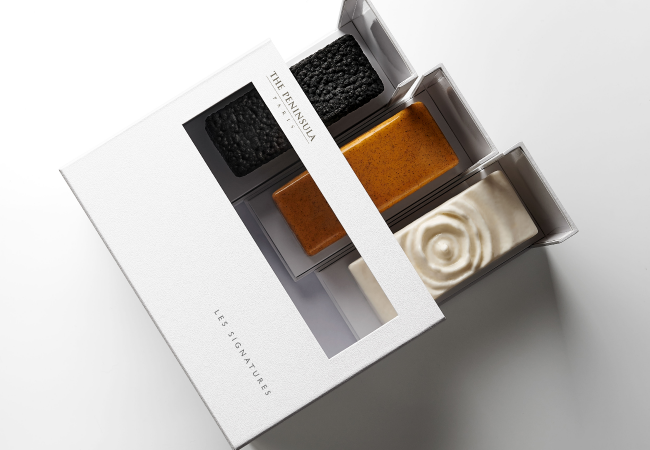 Yoghurt-fennel and vanilla-tobacco are among the the audacious combinations imagined by The Peninsula's pastry cheffe Anne Coruble. She's reinvented the signature desserts of L'Oiseau Blanc restaurant in the form of three yule logs.
The first log revisits one of Anne's yoghurt, blackcurrant and fennel desserts. A mountain of yogurt cream, combined with fresh fennel and candied lemon on blackcurrant compote and fir bud vinegar, brought together with soft lemon biscuit, pine on a raw milk crisp. The second log is composed of grilled vanilla and tobacco mousse, soft muscovado, rapadura and tobacco biscuit, creamy vanilla caviar on liquorice molasses and candied lemon as well as a creamy vanilla, on crunchy vanilla and black cardamom.
Completing the trio: concentrated raw milk cream, black truffle with a heart of praline, roasted hazelnut (cazette) and truffle, hazelnut biscuit, coated with creamy black truffle and cazette on a crunchy smoked black truffle. This log will also be available as a dessert at L'Oiseau Blanc, throughout December. Yum!
These Bûches Signatures – each priced at €115 – serve 12 and are available from Monday 19 December, 2022. Order 72 hours ahead and collect at Le Peninsula.
Tel: 01 58 12 28 88
[email protected].
19, Avenue Kleber, 16th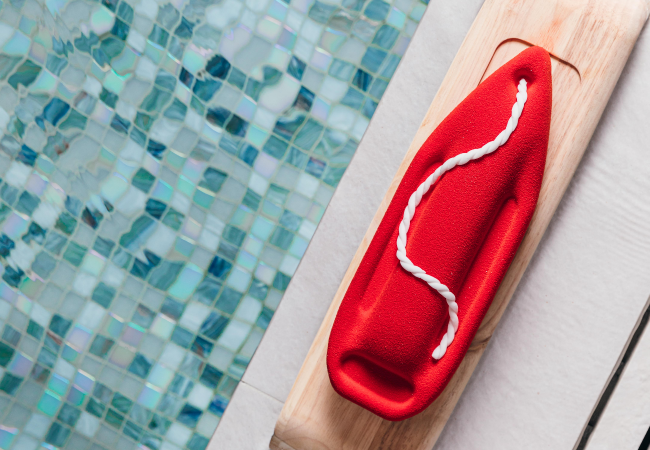 The "Alert at Malibûche"- imagined as a red life buoy- was inspired by Baywatch. It's the creation of Chef Nicolas Pastot of Montecito, the Californian style restaurant at the Kimpton St Honoré Paris. This unique and fun yule log takes you on a journey with Mitch Buchannon and his team of sexy lifeguards in red. Pastot's sweet creation delights with its visual and taste originality. The interior consists of a crunchy chocolate bar with praline and roasted dried fruit, light and airy cheesecake mousse and pecan nut biscuit. A one-of-a-kind dessert that transports you straight to Malibu for a year's end with your feet buried in the sand, under the California sun. Don't forget the sunscreen, darling!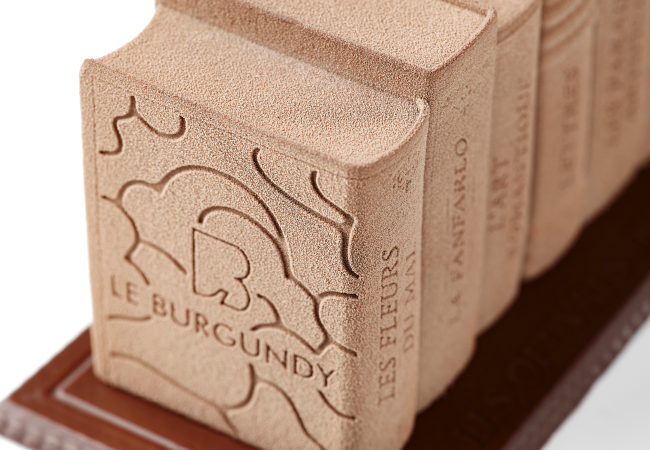 Pastry Chef Pierre-Jean Quinonero, Meilleur Apprentice of France (MAF) 2014 and French Dessert Champion 2022, is inspired by this historic address where the poet's manuscripts were auctioned following his death (1821-1867) and perpetuates the poet's Baudelairean myth. Just like a collection of books, the Yule log presents each slice like that of a book, on which the titles of the great classics of the poet are inscribed.
The log unveils under a layer of crunchy chocolate, soft biscuit (with gluten-free chestnut flour) cocoa nibs, gianduja and hazelnut praline. At its heart, a grapefruit and yuzu confit enhances the sweetness of creamy chocolate and black cardamom. Baudelaire would definitely approve! "One cannot think well, love well, sleep well, if one has not dined well."
Available from December 17th at Le Burgundy
6-8 rue Duphot, 8th
Tel: 01 42 60 3412
Lead photo credit : courtesy of Guy Martin
More in buche de Noel, Christmas, Christmas in Paris, Paris pastry, patisserie, yule log
---
---