Jean Imbert: A Star Is Born
"Cooking is 25% visual, 25% flavor, 50% story-telling." -Jean Imbert
It was a sad start to 2021 for Jean Imbert. The chef lost his beloved grandmother, Nicole, aka "Mamie," who taught him and bestowed the art of cooking to the point that he named his restaurant "Mamie."
The winner of Top Chef 2012 posted a tribute to Mamie on his Instagram account, admitting, "since yesterday, I've cried like a baby, remembering every memory, every Christmas at your house, every Sunday lunch. I know I became a top chef thanks to you."
Born on July 18, 1981 in L'Haÿ-les-Roses (Val-de-Marne), Imbert says there were no pro cooks in the family; his parents ran a successful bookbinding and printing business.
Bored at college, he decided to take an internship at the late Jean-Pierre Crouzil's now shuttered Michelin 2-star restaurant in Plancoët, Brittany, which, as well as Mamie's influence, was a turning point and decided his future.
In 1999, achieving a series S baccalaureate, he went to the Paul Bocuse Institute, Lyon and subsequently worked internships with Michel Rostang, Paris, then Strasbourg with Antoine Westermann. Obtaining his diploma in 2001, he  worked for Éric Briffard, then Marc Meneau and, age 22, launched his first restaurant, L'Acajou, located at 35bis rue Jean de la Fontaine in the 16th (which became "Mamie"), attracting a star-studded clientele such as Robert De Niro, Johnny Hallyday, Woodkid, Leïla Bekhti, Gérard Depardieu, Édouard Baer, Alexander Lobrano, Margaret Kemp, etc.
In 2012, he won season 3 of Top Chef, M6 TV's culinary reality TV show. With his hyperactive hip-hop attitude Imbert's one of the show's best-known winners – coming up Season 13 !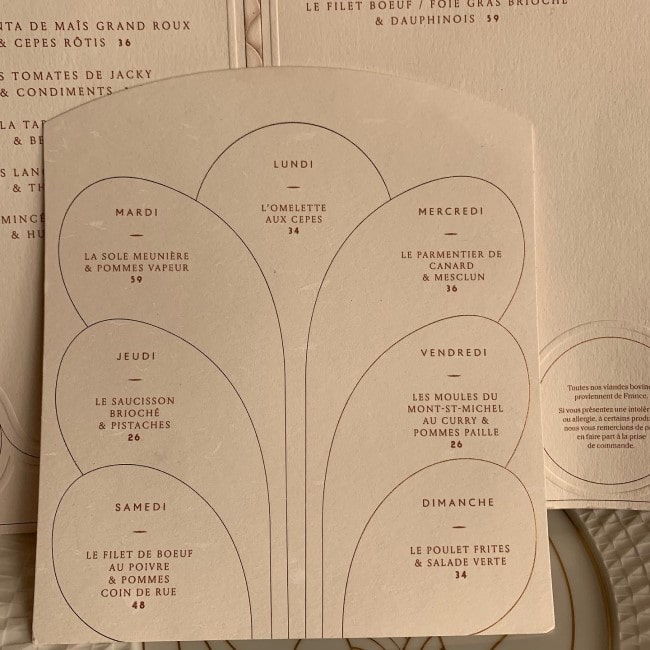 More fun foodie TV: He appeared in "Norbert et Jean Le Défi" with Norbert Tarayre (another former candidate of season 3's Top Chef) then in "Pékin Express." In 2013, he animated the "Recipe de Fou" sequence on M6 TV 100% Mag with Alexandra Rosenfeld, the TV presenter and previously Miss France 2006.
Fast forward to August 2017, when he presented Season 4 of "Who Will Be The Next Great Pastry Chef?" And, by 2018, he was off to the USA, cheffing at the new Miami restaurant Swan and Bar Bevy run by his bestie, the über rapper Pharrell Williams, and nightlife mogul David Grutman.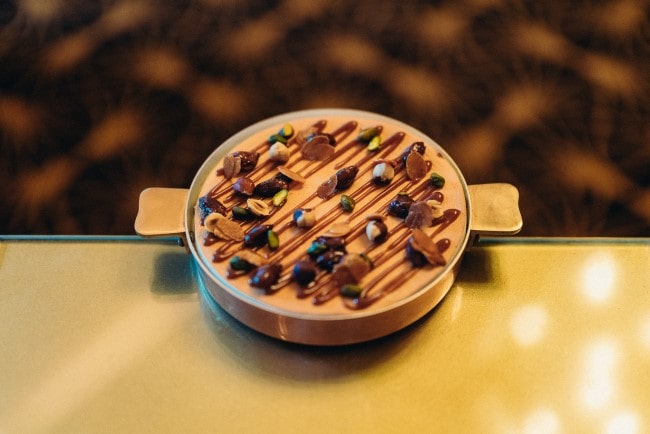 In November 2018, he was playing to packed tables at Encore restaurant, NYC, in the Meatpacking District, the farm-to-table menu committed to using only local and seasonal produce.
Back in France for the Summer of 2020, mixing cuisine and show biz, Imbert took the helm of canteen ToShare, another project by Pharrell Williams, located at Place des Lices, Saint-Tropez. Add La Case at Cheval Blanc St-Barth (LVMH group) and rumors that he'll direct the Dior Restaurant when the transformed maison reopens next year, and you wonder when he sleeps.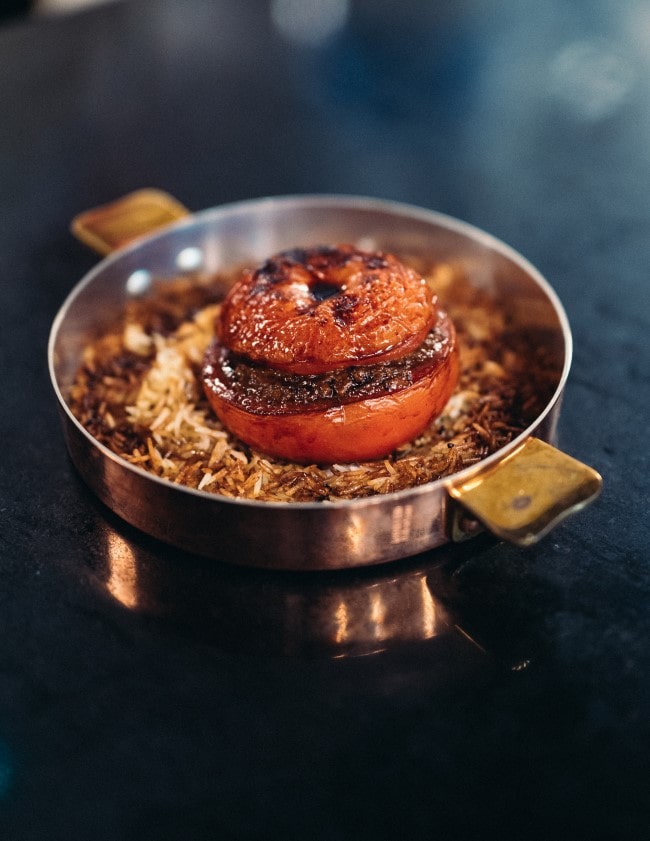 Then on July 1, 2021 came the hot news that Jean Imbert was to succeed Alain Ducasse as head honcho in the kitchens of the posh Parisian palace Plaza Athénée. Wow!
The announced change of style caused havoc within the fooderati, spilling rivers of ink and indignation – Imbert's like Marmite, you love him or… To the nasty naysayers he responded with an elegant Instagram post. "I know I have dreams that are much too big for me – but how lucky I am to be able to live them! Of course, some doubt my abilities for this prestigious post but, before saying, and writing, that I'm not going to be up to the task, maybe we could all wait and see – taste my project – give me a chance, right?" Right!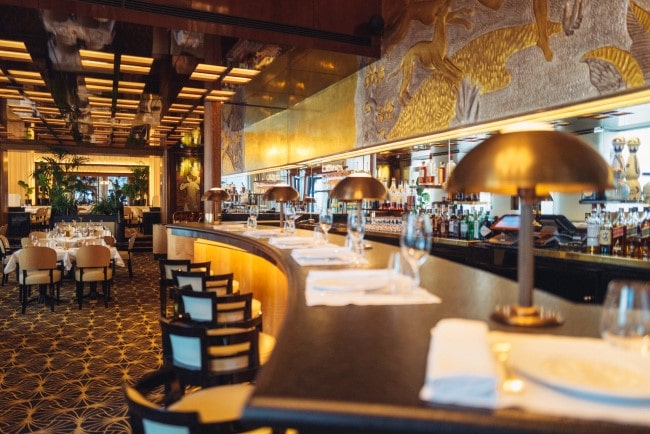 Like a warm hug receiving the support of his illustrious predecessor, Imbert said: "I'll never forget taking breakfast with Alain Ducasse that morning. He assured me that I'm the best choice and he's happy it's me. I thank him heartily for his support in my new adventure."
So what's cooking at Le Relais Plaza?
Reopened on the 8th September with nips and tucks by Bruno Moinard and Claire Betaille (you'll find lots of lush greenery and new carpet), the listed Art Deco room buzzes 7/7 at lunch and dinner.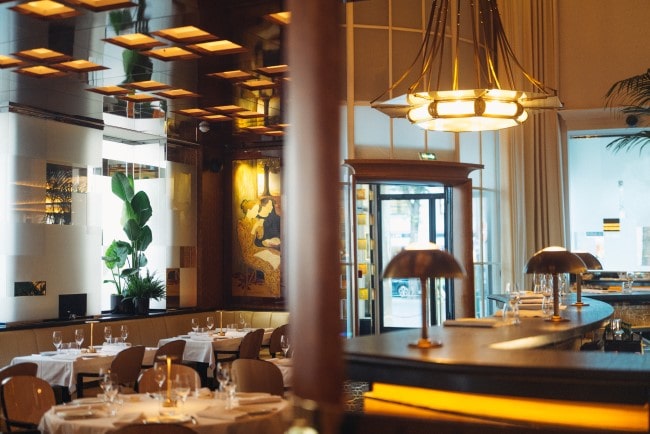 Imbert, in collaboration with Plaza Athenée's Executive Chef Jocelyn Herland, presents Memories of Mamie, featuring, "pâté de ma grand-mère 1951" (€26), to share or not. Or try the Tourteau (crab) de Saint Malo (€27) or Goat cheese and beetroot tartine (€19). "The dishes are generous so don't order too many" advises the server. Among the mains, try the Le Gratin de Daurade 1962 (€29); the sublime giant stuffed tomato (from Jacky Mercier) and rice pilaf (€28); La Quiche au Beaufort and baby Spinach (€27)l; Salads from Une Ferme du Perche; Whole organic roast chicken and purée, carved at table (€84). There's always a plat du jour: Saturday it's Le Filet de Boeuf pepper and potatoes "coin de rue" (€48). For the fromage, there's Saint Nectaire cheese and quince paté (€16). Desserts are by Angelo Musa and Elisabeth Hot. Imbert's favorite? L'Ile Flottante Minute (for 2) (€26) – perfect with a coupe of Champagne Rothschild Extra Brut (€26).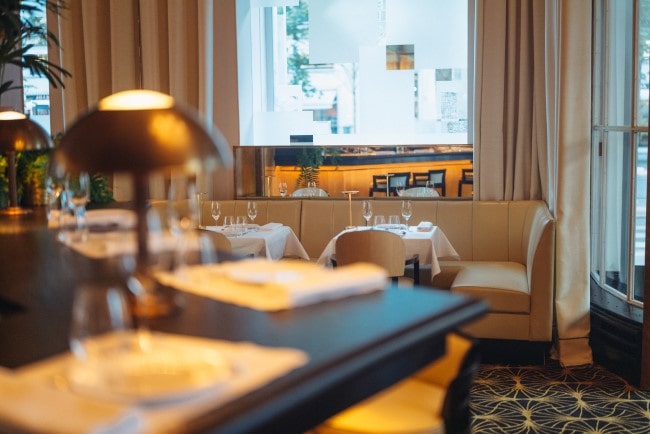 Stay tuned for the reopening of the former Alain Ducasse restaurant – early 2022. See you there?
Le Relais Plaza
21 avenue Montaigne, 8th
Metro: Franklin Roosevelt/Alma Marceau
Tel: +33 (0)1 53 67 64 00
Lead photo credit : Chef Jean Imbert. (C) BOBYALLIN
More in chef, food, gastronomy, Jean Imbert, Le Relais Plaza, News
---
---