David Toutain : Table Rond : Pierre Herme & Akrame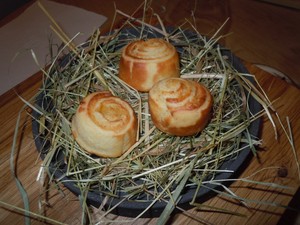 So, David Toutain's back in town! A little heavier, but lighter of heart and attitude. Since leaving Agape Substance the boy's done a bit of travelling, married, fathered a child, all of which really turned him on, wired him into new ideas, techniques.
Just before Christmas Normandy- born Toutain, Chef of the Year in Pudlowski Guide 2013, moved into his eponymous, two-story minimal, wood, concrete,  glass, left-bank restaurant. No open kitchen this time ! « It's better to keep a bit of mystery, n'est ce pas ? » he grins.
« Each part of my maison (formerly Clarisse Restaurant) is inspired by somewhere I've worked, people I've met », he explained. « I try to speak English every day ». So hurry there and help him out.
From the tiny compact kitchen space come dishes that can only be described as new, new wave, incredible plates that makes you wonder what goes on inside the head of a 30-something to create, say : cauliflower/white chocolate (yes, to start !) chips de lard/mousseline of potatoes, followed by a simple plump poached oyster, yuzu/kiwi. Tiny brioches sit on a nest of grilled hay, to nibble, nibble, nibble. Then Black sesame/smoked fish. Fera, the exquisite fish from Lac Leman : poetic.
A slice of rare lamb, hides under an outsize crispy kale leaf. « Choose your weapon » invites restaurant director Alejandro Chauvarro, offering a rack of re-cycled knives made to order by Belgium Master Cutler Antoine Van Looke.
Desserts could be the deep and interesting dish of Œuf et mousse de maïs : Jerusalem artichokes au pralin : his schtick is to start the meal with sweet, end with savoury ! Drink white 100% Chardonnay from Domaine Olivier Santenay « Coteaux Sous La Roche » 2009 (62€). Red Domaine Le Conte de Floris, Coteaux de Languedoc Carbonifere 2010 (58€)
How often do you leave a resto feeling healthy and high ? There's a great future for this talented young man. Here's the plan Dave : buy the building, add a few chic hotel rooms/suites/spa/atelier de cuisine, and spread the wonderful word according to Toutain.
29 rue Surcouf, 7th
M: Invalides
T: 01 45 51 11 10
Email
Shut Sat-Sun
Menus: Lunch 42€
Polypode 68€ : 118€ with winepairing
Reine des Près : 98€ : 158€ with winepairing
Menu Truffe: 158€ : 210 with wine
Website
Forget love – I'd rather fall in chocolate !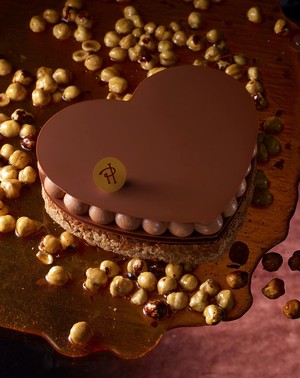 Pierre Hermé knows how to work the dark stuff. For his Valentine he's planning the Cœur Plaisir Sucrée. Hazlenut dacquoise biscuit, flaky hazlenut pralaine, thin layers of milk chocolate, milk chocolate ganache and cream chantilly. From 33€
Available from 11-16 February from 72 rue Bonaparte, 6th and on :
Lots of love :
Pierre Herme
Paris Supper Club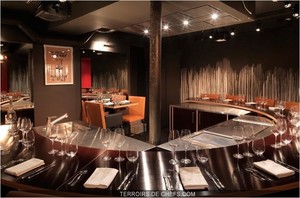 Located in the middle of the Marais, Table Ronde was created by Nicolas Chatenier and designed by architect Bruno Borrione.  Dedicated to contemporary cuisine, Table Ronde's concept through its programme of events, is to present a snapshot of contemporary cuisine by inviting chefs and producers who are taking cuisine forward on a daily basis.
Inspired by American supper clubs, Table Ronde caters for up to 16 guests and puts them up close and personal with the visiting chefs who have included Jean-François Piège, Michel Roth, Alexander Bourdas, William Ledeuil, Naoelle D'Hainout, Amandine Chaignot & Simone Zanoni.
"The aim of Table Ronde is to remove distances, make cuisine more accessible, encourage discussion, bring the chef closer to the guests", explains Nicolas Chatenier.
"Table Ronde serves a dual purpose, responding to chefs, who want to cook unique and completely new meals for an exclusive audience, as the mood takes them; and that of food lovers who want to gain a better understanding of how contemporary cuisine works and to talk with chefs, in their new role as fully-fledged creative artists",  he adds.
February 14th, Valentine's and night of the full moon. The incredibly talented 23 year old Alexandre Morin (ex- Le Galopin, Ledeuil etc.) creates his take on "diner des amoureux". Book now, there's only space for 16.
58 rue de Saintonge, 3rd
M: Filles de Calvaire
Valentine Night Dinner – 150€ (with a bottle of champagne rosé)
Starts at 20.30
Website
Club Akrame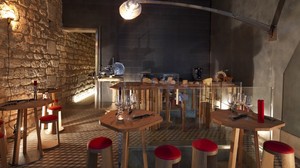 Is Benallal taking over rue Lauriston? His third achingly chic 16-seater, must visit design address just launched.
Sip a glass of organic wine/some charcuteries, sliced on a vintage Berkel/excellent cheese, while waiting for your table at "Akrame" or the temple of beef Vivanda.
Leave a reply
Your email address will not be published. Required fields are marked *