Bocuse, Eclipses, Le Faham and More Great Paris Restaurants
"Cooking will never be good if it isn't made with love for the person it's being made for." –Paul Bocuse
Brasserie du Louvre – Bocuse
Wearing traditional black livery and long starched white aprons, the wait staff are scurrying around the recently opened Brasserie Bocuse, skillfully balancing silver salvers on shoulders, as they have since 1855 when the first Grand Hotel opened opposite the
Louvre
. Slide into a banquette; the occasion merits a flute of Veuve Cliquot champagne (€25). Chef Dennis Bellon's menu seamlessly transports Mr. Paul's Lyon to Paris with the likes of soothing onion soup (€13), warm sausage brioche (€14), Pike Quenelles with sauce Nantua (€31), Pan fried Lyon style calf's liver (€29) – selection du sommelier – Saint Joseph "Le Grand Pompée" from Paul Jaboulet Ainé 2016 (€11.40, €57.50), Bresse chicken "Mieral," cream and mushrooms (€32), Limousin beef tartare and chips (€22). Don't miss the perfectly ripe Saint Marcellin from La Mère Richard and wonderful waffles Grandmere with chantilly (€12) and Rum Baba – perfection ! Hôtel du Louvre, 1, place André Malraux, 1st Metro: Palais Royal Musée du Louvre Tel: +33 (0)1 44 58 37 21 Open 7/7. All day service Get a Room – from €450
Le Faham
A love story. Cheffe Kelly Rangama (Ferrandi, former Top Chef 2017 candidate, Michel Portos & L'Arôme) and her husband pastry chef Jérôme Devreese (Prince des Galles, La Réserve, Le Bristol). It's their passion to showcase the finest products, from Kelly's La Réunion home and Jérome's Burgundy, that led to the recent launch of Le Faham (named for a type of orchid). It's an airy, contemporary, 32-seater space, with open kitchen, zen attitude, fabulous wines and convivial sharing table for 8. Dishes are market driven. Sublime signatures include "Sarcives de la Réunion" marinated pork, taro mousseline, coriander (Kelly's dad's recipe); Légine (sea-bass type of white fish) sweet/sour carrots and ginger, tomatoes; and tatin, cinnamon, sweet potato dessert. Wines by the glass cost €6; we enjoyed Pinot Gris 2015 from Cyril Houzé de Champvallon. "I'm really happy we discovered that on a recent trip," smiles Jérôme suggesting a parting glass of Rum infused with Faham flowers – for the road. 108 rue Cardinet, 17th Metro: La Fourche/Wagram Tel: +33 (0)1 53 81 48 18 Lunch €32-€69 Tasting Menu €69 + A La Carte Closed Sunday-Monday
Le Jules Verne
"I was at Jamin with Monsieur Robuchon for seven years on rue de Longchamp. I took my breaks in the Trocadéro Gardens and admired
Eiffel's Tower
, musing as to the possibility of working up there on the second floor! Now I'm Jules Verne's executive chef, heading a staff of 130, ah destiny!," sighs Frédéric Anton (MOF) who hails from Contrexéville, in the Vosges region. So, not only a new chef at Le Jules Verne, but new decor, by architect Aline Asmar d'Amman, showcasing the works of author Jules Verne (Around the World in Eighty Days) in many intricate ways. Discover all in one of the three spaces, "Trocadéro," "Champs de Mars", "Paris." (Don't tell; the best table's No. 26, dubbed "the King's Table.") Open 7/7 for lunch, dinner and soon serving the most romantic breakfasts in town. And yes, chef Anton still helms the *** Michelin
Le Pré Catalan
; he nips between them both. "I can see Pre Catalan's roof from here – and from there I see the Eiffel Tower, fabulous n'est ce pas!?" A La Carte menu, 3 courses, €105 + wine Extraordinary Voyages, tasting menus from €190-€230 + wine Head in the stars dinner from 6pm-7pm-9pm Le Jules Verne, 2nd floor of the Eiffel Tower, Relais & Chateaux Avenue Gustave Eiffel, 7th Metro: Bir Hakeim – Valet Parking. Access by VIP lift from the South Piller
Plaza Athénée – Brunch Bien-Etre
The hotel's breakfasts are legendary; not a lot of people know there's a dedicated team, headed by "Breakfast Director" Antoine Lair. Now Antoine and Co. present "Well Being Brunch," a fresh, wholesome and nutritious concept served in the sumptuous Patrick Jouin/Sanjit Manku dining room every Saturday from 12-1:15pm (€110 per person) with dishes by chefs Angelo Musa, Philippe Marc and Guillaume Cabrol. Begin on the right note with cucumber, mint, lime and ginger detox water. The menu includes a healthy selection of Atelier Nubo organic drinks, baker Guillaume Cabrol's freshly-baked breads, house made plant butters, Rocamadour goat cheese from Ferme de la Coste, egg white omelettes, mile high kuglof cake, poke bowls, oats, acai bowls and salads. To, finish seasonal fruits, chia puddings and quinoa desserts. By the way Antoine Lair never forgets his first service at the Plaza A. "42 years ago and who was in? "David Bowie!" Oh la la! And consider: Healthy Brunch and 60-minute treatment (€320) at the Dior Institute Spa. Because you're worth it! 27 Avenue Montaigne, 8th Tel: +33 (0)1 53 67 66 65 Metro: Alma Marceau Valet Parking
Eclipses
"I never asked for extra sauce in a restaurant ever," declared the fashionista on the next table at this recently opened, left bank, definite-destination address. Cyril Choisne has a definite signature, having honed his craft with the likes of chefs Christian…
SUBSCRIBE
ALREADY SUBSCRIBED?
BECOME A BONJOUR PARIS MEMBER

Gain full access to our collection of over 5,000 articles and bring the City of Light into your life. Just $60 a year.

Find out why you should become a member here.

Sign in

Fill in your credentials below.
"Cooking will never be good if it isn't made with love for the person it's being made for." –Paul Bocuse
Wearing traditional black livery and long starched white aprons, the wait staff are scurrying around the recently opened Brasserie Bocuse, skillfully balancing silver salvers on shoulders, as they have since 1855 when the first Grand Hotel opened opposite the Louvre.
Slide into a banquette; the occasion merits a flute of Veuve Cliquot champagne (€25). Chef Dennis Bellon's menu seamlessly transports Mr. Paul's Lyon to Paris with the likes of soothing onion soup (€13), warm sausage brioche (€14), Pike Quenelles with sauce Nantua (€31), Pan fried Lyon style calf's liver (€29) – selection du sommelier – Saint Joseph "Le Grand Pompée" from Paul Jaboulet Ainé 2016 (€11.40, €57.50), Bresse chicken "Mieral," cream and mushrooms (€32), Limousin beef tartare and chips (€22).
Don't miss the perfectly ripe Saint Marcellin from La Mère Richard and wonderful waffles Grandmere with chantilly (€12) and Rum Baba – perfection !
Hôtel du Louvre, 1, place André Malraux, 1st
Metro: Palais Royal Musée du Louvre
Tel: +33 (0)1 44 58 37 21
Open 7/7. All day service
Get a Room – from €450
A love story. Cheffe Kelly Rangama (Ferrandi, former Top Chef 2017 candidate, Michel Portos & L'Arôme) and her husband pastry chef Jérôme Devreese (Prince des Galles, La Réserve, Le Bristol).
It's their passion to showcase the finest products, from Kelly's La Réunion home and Jérome's Burgundy, that led to the recent launch of Le Faham (named for a type of orchid). It's an airy, contemporary, 32-seater space, with open kitchen, zen attitude, fabulous wines and convivial sharing table for 8.
Dishes are market driven. Sublime signatures include "Sarcives de la Réunion" marinated pork, taro mousseline, coriander (Kelly's dad's recipe); Légine (sea-bass type of white fish) sweet/sour carrots and ginger, tomatoes; and tatin, cinnamon, sweet potato dessert. Wines by the glass cost €6; we enjoyed Pinot Gris 2015 from Cyril Houzé de Champvallon. "I'm really happy we discovered that on a recent trip," smiles Jérôme suggesting a parting glass of Rum infused with Faham flowers – for the road.
108 rue Cardinet, 17th
Metro: La Fourche/Wagram
Tel: +33 (0)1 53 81 48 18
Lunch €32-€69 Tasting Menu €69 + A La Carte
Closed Sunday-Monday
"I was at Jamin with Monsieur Robuchon for seven years on rue de Longchamp. I took my breaks in the Trocadéro Gardens and admired Eiffel's Tower, musing as to the possibility of working up there on the second floor! Now I'm Jules Verne's executive chef, heading a staff of 130, ah destiny!," sighs Frédéric Anton (MOF) who hails from Contrexéville, in the Vosges region.
So, not only a new chef at Le Jules Verne, but new decor, by architect Aline Asmar d'Amman, showcasing the works of author Jules Verne (Around the World in Eighty Days) in many intricate ways.
Discover all in one of the three spaces, "Trocadéro," "Champs de Mars", "Paris." (Don't tell; the best table's No. 26, dubbed "the King's Table.")
Open 7/7 for lunch, dinner and soon serving the most romantic breakfasts in town. And yes, chef Anton still helms the *** Michelin Le Pré Catalan; he nips between them both. "I can see Pre Catalan's roof from here – and from there I see the Eiffel Tower, fabulous n'est ce pas!?"
A La Carte menu, 3 courses, €105 + wine
Extraordinary Voyages, tasting menus from €190-€230 + wine
Head in the stars dinner from 6pm-7pm-9pm
Le Jules Verne, 2nd floor of the Eiffel Tower,
Relais & Chateaux
Avenue Gustave Eiffel, 7th
Metro: Bir Hakeim – Valet Parking. Access by VIP lift from the South Piller
The hotel's breakfasts are legendary; not a lot of people know there's a dedicated team, headed by "Breakfast Director" Antoine Lair. Now Antoine and Co. present "Well Being Brunch," a fresh, wholesome and nutritious concept served in the sumptuous Patrick Jouin/Sanjit Manku dining room every Saturday from 12-1:15pm (€110 per person) with dishes by chefs Angelo Musa, Philippe Marc and Guillaume Cabrol.
Begin on the right note with cucumber, mint, lime and ginger detox water. The menu includes a healthy selection of Atelier Nubo organic drinks, baker Guillaume Cabrol's freshly-baked breads, house made plant butters, Rocamadour goat cheese from Ferme de la Coste, egg white omelettes, mile high kuglof cake, poke bowls, oats, acai bowls and salads. To, finish seasonal fruits, chia puddings and quinoa desserts.
By the way Antoine Lair never forgets his first service at the Plaza A. "42 years ago and who was in? "David Bowie!" Oh la la!
And consider: Healthy Brunch and 60-minute treatment (€320) at the Dior Institute Spa. Because you're worth it!
27 Avenue Montaigne, 8th
Tel: +33 (0)1 53 67 66 65
Metro: Alma Marceau
Valet Parking
"I never asked for extra sauce in a restaurant ever," declared the fashionista on the next table at this recently opened, left bank, definite-destination address.
Cyril Choisne has a definite signature, having honed his craft with the likes of chefs Christian Le Squer, Jean-Francois Piège, Jean Pierre Vigato and Guy Martin. You probably remember him at "Le Cottage Marcadet", Montmartre.
The fashionista and her two friends were tucking into carrots, courgettes and cucumber presented under glass domes in a cloud of steam; truffled duck foie gras beetroot confit; braised Breton lobster and mango; line caught sea bass, flavoured with hazelnuts, on a bed of leeks, a touch of tonka, a drizzle of jus; braised Breton lobster /fregola sarda; Landes "royal" pigeon with baby carrots and turnip– mopping it all up with six types of warm housemade breads. Finishing with cheeses and the astringent dessert, "all about apples/iced thyme."
Wine's a delight. The underground cellar/cave holds 1900 bottles and can be privatized as an event space. Coming soon, chef Choisne and his associate Nicolas Casal have plans to create an upscale epicerie.
And here's a neat idea, add ivory spoonfuls of Caviar "Kristal de Kaviari" (€34) or forkfuls of Jamon de Bellota Cinco Jotas hams (€19) to your dishes – just as the fashionista and friends did!
27 rue de Beaune, 7th
Metro: rue du Bac
Closed : Saturday-Sunday
Lunch formula – €36 – Menu Eclipses €89 – Menu Quintessence €69 or A La Carte
Tel: +33 (0)1 40 13 96 42
Opposite Palais Brogniart, Gustave Gallopin's iconic brasserie rebooted and suited for 2019, by Mathieu Bucher, with a magnificent rôtisserie. Choose your dish, say, succulent black feet de Maine poulet fermier, from Grandvillain Farm (€15), order a Gallopin Negroni (€9) and enjoy on the "open to the sky" patio.
For the ladies who lunch, try Salade Caesar/roast chicken (€16); Niçoise (€14); Cocotte of Île de France vegetables from Laurent Béurier (€15). Prefer poisson? Sea bream (rôtisserie, bien sûr) tian of organic vegetables (€21). Finish with rôtisserie spice spiked pineapple (€7). Sunday Brunch 11.30-15.30 €39 – €19 for under tens.
40 rue Notre-Dame des Victoires, 2nd
Metro: Bourse
Tel: +33 (0)1 42 36 45 38
Open 7/7
Lunch formula (not Sunday): €19
If your balance is good, book table 301 (a swing!) at this funky take (by Garry Dorr) on a NYC meets Paris cafeteria/trattoria/brasserie – le tout Auteuil/Neuilly/Passy order their Italian/French/American favorites.
Generous portions, served on chunky outsize designer dishes + the best value in town make this a definite all-day/night destination.
Order a cocktail/mocktail/beer (€8) sit back and enjoy: sharing (or not) plates including Fucking Good Onion Rings (€9); Avocado Toast; Truffles and Sausages. Then, for the Birkin bag bearing ladies who lunch: Crazy salads "Healthy Body" (€15); Vitello Tonnato XXL (€18); "Caesar tells us about his salad" (€14). Mac n' cheese with crunchy topping and gooey cheddar (€13); Giant pizzas (New York Pepperoni (€12) Burratissima (€16) etc and pastas (from about €14). And, NY Big Fat Cheesecake (€8) – worth the calories.
Walk/jog home!
10, Chausée de la Muette
Metro: La Muette,
Open 7/7
Tel: +33 (0)1 45 03 14 84
It's the official champagne chosen to celebrate the 2019 Michelin Awards at Salle Pleyel last February. So, it's a favorite with the likes of superchefs Guy Savoy, Cyril Lignac, Mathieu Pacaud etc. Sip it at L'Hotel de Crillon's buzzy Les Ambassadeurs bar.
Order online or collect from the vineyard, located at Avize – in the Champagne region – a UNESCO heritage site since 2015.
The producers, three beau brothers, Guillaume, Rodolphe and Richard Frerèjean Taittinger, are of the fabled Taittinger family – the Frerèjeans were "by appointment" canon makers to Napoleon.
Priced from €39 to €189 for limited edition Cuvée des Hussards 2012 – nod and wink to Napoleon's cavalry – who invented sabrage, slashing open champagne with a sabre to celebrate victory. Don't try this at home !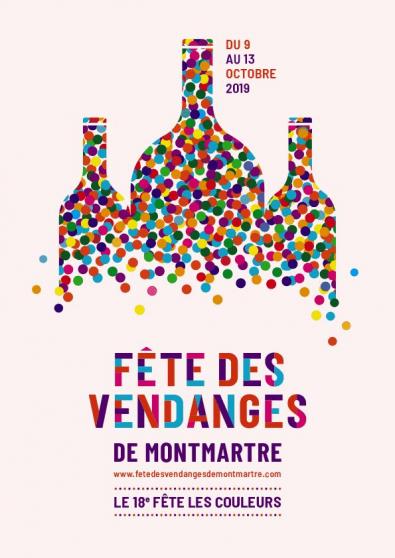 86th Fête des Véndanges – Wine Harvest Festival
Note: There will be tastings of "Cuvée des Couleurs" at place Jean Marais, opposite Saint-Pierre de Montmartre Church
9-13th October, 2019
Lead photo credit : courtesy of Brasserie du Louvre- Bocuse.
---
---
Comments