Top Chef at Alcazar, Caviar Chez Prunier & My Boutique Hotel Buzz
L' Alcazar restaurant and bar is located in a building that, in the 17th century, housed a real tennis court. In the 18th century it was a print factory, then became the famous cabaret of "king of the night" Jean-Marie Rivière until 1998 when it was relaunched by Sir Terence Conran who created a left-bank destination that ticked all the boxes. Amazing décor, great food, bar, warm welcome. Walk into Alcazar to-day, it's still the same, a cross between the best of NYC and London, not very French, apart from genial chef Guillaume Lutard (ex-Prunier & Taillevent).
Under the glass roof, there's always something hip and happening The Mezzanine, with big comfy sofas and club archairs, is wherer DJ's play 'til late from Wednesday to Saturday. Until the end of the month, hurry there to taste dishes created by the stars of Top-Chef, M6 TV's programme with Jean-Franҫois Piège, Ghislaine Arabian, Christian Constant and Thierry Marx as jury.
Obviously there could be only one Top-Chef victor, but the other competitors get a chance to strut their stuff at Alcazar, nice idea eh? The place is buzzing with parents bringing their children, who've obviously followed the series, who clutch the specially printed menus with great excitement as they watch their food being prepared in the open kitchen.
The menu changes every 15 days to give each finalist a chance. This week, at lunch, Tabata Bonard's Asperges vertes/ coulis de tomates et piquillos/jambon de boeuf espagnol and winner Jean Imbert's Oeuf mollet/mousse chorizo/ condiment au poivrons rouges were tasty starters with a glass of Pessac-Léognan, Lagrave Martillac 2010 6€.
Cyrille Zen's Rougets méditerranean cuits au four/beurre carotte/marjolaine/fenouil braisé or Imbert's delightful fresh Salade de tomates multicolores à l'avocat/poulet aux épices/copeaux de parmesan were the mains. Blaye-Côtes-de-Bordeaux, Chateau Pinet la Roquette (5€).
Jean Imbert's Vacherin vanille-fraise/chantilly vanille. Zen's Rocher coulant au chocolat et à la framboise and Tabata's Blancs d'oeufs montés au citron vert/rafraichis au fruit de la passion for dessert.
Overwhelmed with his Top-Chef award Jean Imbert, who's restaurant L'Acajou is located in the 16th arrondissment at 35bis rue Jean-de-La Fontaine is a friendly, intense young man, happily having his photo taken with admiring Alcazar clients. A graduate of Bocuse Culinary Institiute, Imbert worked chez Michel Rostang, Eric Briffard at George V and Antoine Westermann, Strasbourg, says his phone has not stopped ringing since the results were announced. Ditto for runner-up Cyrille Zen at www.labergeriedesarpoil.com in the Auvergne region. It's the Top-Chef effect.
"You know there's lots of Michelin stars handed out every year but there's only one Top Chef winner", he grins.
And what did you enjoy most during the competition? "Working with the Top-Chefs of course!"
And the cheque for 100,000€ what will you do with it? "Invest it in my future and the future of my restaurant". Nice one Jean!
62 rue Mazarine, 6th
T: 01 53 10 19 99
Metro: Odeon
Blog
Top Chef Menu
Top Chef Menu Lunch 29-35€ + wine
Top Chef Menu Dinner 34-45€
Or, A La Carte Alcazar about 50€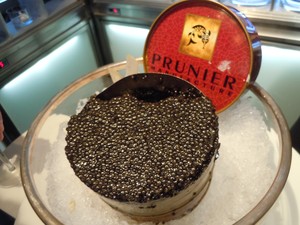 "Launched at the opening of Restaurant Prunier, Saint James's Street, London, in 1932 Caviar Le Saint-James is produced using traditional Iranian methods", explains Alexandre Fauchet, "caviarologue" giving tastings in the temperature controlled cold room of Prunier, Place Madeleine.
"Note the low, Iranien, salt content", he says spooning a black blob onto the back of my hand. "Le Saint-James was originally produced to satisfy the tastes of wealthy customers, royalty and heads of state, who frequented Prunier Saint James's, London", says Monsieur Fauchet.
"Roll the caviar around in your mouth then pop to release the flavor. It should leave a faint aroma of the ocean on your hand. If the caviar tastes muddy or smells fishy, it's not quality caviar and is past it's prime", adds Monsieur Fauchet.
In 1925 Emile Prunier opened Prunier, Avenue Victor Hugo, Paris and the handsome art-déco brasserie soon became the place to eat caviar in Paris for the likes of Salvador Dali, Picasso and The Windsors.
Then, after the First World War, it became difficult to buy Russian caviar in Europe. Through a chance meeting with Alexander Scott, a white Russian caviar expert, Emile Prunier discovered sturgeon was farmed successfully in France's Gironde region, he immediately decided that the future was in his own backyard: Prunier caviar is still produced according to Scott's methods to-day.
On the banks of the Dordogne river, near Bordeaux, Prunier experts select the best sturgeon, Acipenser Baeri, originating from Siberia, which can reach up to 3 metres and weigh several hundred kilos. This sturgeon grows well in captivity, produces its caviar after 8 years. From the spawning period to becoming small fish, the experts nurse the sturgeon which are kept in natural water from the Isle river, a tributary of the Dordogne.
Once the Caviar Master estimates the ideal fishing date, he uses salting techniques developed over 86 years ago, to obtain exceptional caviar. Prunier guarantees a constant quality of caviar by managing each step of the production process, from fishing the sturgeon to tasting.
To-day chef Eric Coisel wears the whites at Prunier Victor Hugo and Renata Dominik is at Café Prunier, place Madeleine, where she creates a natural cuisine using the best of "la terre et la mer" to make, say, savoury cupcakes topped with trout, eel, saumon balik and poutargue (mullet eggs). Caviar St. James makes delicious Clubs, sandwiched with blinis. Haddock tartare is sprinkled with Prunier Saint- James caviar as are tender médaillons de homard. There's Renata's spin on fish and chips and souffle au Stilton. To finish cherry pudding and strawberries, chantilly and meringues à l'anglaise – Eton Mess with attitude. Sip chilled champagne Caviar House Brut by the glass 14€ or bottle 69€.
15 place Madeline, 8th
Metro: Madeleine.
T: 01 47 42 98 91
Shut Sunday
Valet parking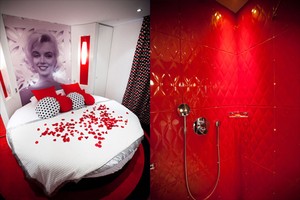 If, like Xavier Bentes, you're tired of ending up in bad hotels, make a note of Boutique Hotel.  Bentes travelled the world, was often frustrated, and created a cutting edge site for, guess what? Ask Jean-Paul Gaultier, LVMH, Dior, Alexander McQueen, the suits at Dior where they book their hotels.
Recently additions include the Paris W, Jules et Jim and Platine Hotels (dedicated to Marilyn and Hollywood). Not just France but Rome, London, Milan, Berlin, NYC, Peking, Buenos Aires, Mexico City and Bali. On-line booking never looked so exciting.
Want to be inspired by more French foodie experiences and enjoy classic French food, wine and recipes? Head to our sister website, Taste of France, here.
More in celebrity chef, French chefs, Margaret Kemp, Paris restaurants, Restaurant reviews
---
---