Top 10 Restaurant Terraces in Paris
At the beginning of Spring, sun-starved Parisians head for cafe and restaurant terrasses. Here are some of our favourites.
The elegant courtyard garden restaurant of the Plaza Athénée, headed by chef Alain Ducasse, has been given a design makeover by Bruno Moinard. This is the perfect spot to relax before or after shopping or gallery gazing on Avenue Montaigne. On the menu, you'll find both classic favourites– Chilled Blue Lobster with Caponata and Coral Vinaigrette, Mediterranean red mullet, tender new potatoes, courgettes, bouillabaisse jus– and new ideas from young Japanese talent Fumiko Kono via her chic "Bento Box Cour Jardin". Spectacular summer fruit desserts, some are sugar-free, by chef-pâtissiers Christophe Michalak and Jean-Marie Hiblot.
Hotel Plaza Athénée, 25, avenue Montaigne, 8th. Tel: 01 53 67 66 02. Metro: Alma Marceau. Open 7/7 Lunch & Dinner until mid September. Average spend 110€ + wine
Yes, that's a blackbird singing in the shady green and white garden flanked by two elegant camelia bushes. Head chef Thierry Marx's brasserie is a zen-style haven of peace deep in the heart of retail therapy land. Signature dishes include Calamari Risoni, with squid ink, ginger and lemongrass emulsion. Char-grilled Charolais beef filet, buffalo mozzarella and Daikon crab wrap, shrimp and green tea jelly as well as his "Daily Marx" suggestions and chef's spin on Saint-Honoré, the delicious dessert that honours the patron saint of pâtisserie. Which table ? Book the sexy three-tier birdcage; they should call it Fifty Shades of Shade. And, finally, choose some designer pastries from the cake boutique, then leaving will not be so difficult, you'll take a little taste of Camélia with you.
251, rue Saint-Honoré, 1st, Metro: Concorde. Tel: 01 70 98 78 88. Open 7/7. Average Spend Lunch 60€ Dinner (+wine). Sunday Brunch from 12.30 – 3.30 88€
Les Climats is a unique project by Carole Colin and Denis Jamet, to showcase the bounty of Burgundy wines. Located in a handsome left-bank listed 1905 building that once housed the Telephone Exchange. Beyond the bar area, for wine tastings and light snacks, is a winter garden/ orangerie and then the secret country garden, open for lunch only. Décor throughout is by Bambi Sloan, read William Morris meets Sarah Bernhardt. Young chef Julien Boscus, awarded a Michelin Star in the 2015 Guide says. "We are a team and I work with sommelier Franck-Emmanuel Mondésir to match wines with my food, there are 1,500 references".
Need to know:
In Burgundy vineyards "climat" describes the 'terroir': a parcel of land with its' own characteristic soil and microclimate. Each winegrowing community in Burgundy has a great number of "climats", which may be classified as Premier Cru: Grand Cru: or be unclassified. Use of "climat" names are strictly regulated and listed in Le Journal Official de la République Française, produced by the French Government."
41 rue de Lille, 7th, Metro: rue de Bac. Tel: 01 58 62 10 08. Closed Sunday-Monday. Average Spend Lunch 36-42€ Dinner 86-150€ (+ wine)
Poised on the roof of the historic Théatre des Champs Elysées, a favourite address for the likes of Mick Jagger, Sharon Stone, Nicole Kidman and Catherine Deneuve, read « le tout Paris » They love the food and picture-postcard views from MB's two terraces. You want to be seen? Book the Eiffel Tower side, otherwise hide on the other overlooking the Church on Avenue Marceau and the George V. There's a nod and a wink to the Mediterranean coming from the kitchens of La Ciotat born chef Fabrice Giraud. Wines are by glass or bottle, the sommeliers present their daily picks in chic metal baskets, you can copy this at home. Add the charming welcome from General Manager Bruno Franck, he takes care of everything, even lends Ray Bans, provides sun block, theatre tickets!
15 avenue Montaigne, 8th, Metro: Alma Marceau. Tel: 01 47 23 55 99. Closed Saturday & Sunday lunch. Average spend Lunch 48-58€ Dinner 69-145€ (+ wine)
The Swiss style chalet, built by Napoleon 111 as a gift for Empress Eugénie in 1857, is accessed, in two minutes, by free ferry boat, no passport required. Chef Cedric Poncet says, "We're on an island, so I create menus influenced from here and there, say, roulade of aubergine with fresh goat cheese, roquette and pistou. Sea-bass ceviché, coconut milk, chopped seaweed." There's also his spin on Chalet Burger with chips, then Cheesecake, Sablé Breton, Mont Blanc du Chalet for dessert. Owner Raphael de Montremy, motorbike champion, all round sportsman and restaurateur explains, "We are very keen on conserving the flora and fauna of the island, including the peacocks and ducks". So, post lunch/ dinner, take a Chalet rowboat or explore this fragrant space on foot. In just five minutes from the centre of Paris, you're in the heart of the countryside.
14 Chemin de Ceinture du Lac Inférieur, 16th, Bois de Boulogne, Metro: Porte Maillot. Tel: 01 42 88 04 69. Open 7/7. Average spend Menu Chalet 25-35€. Children 15€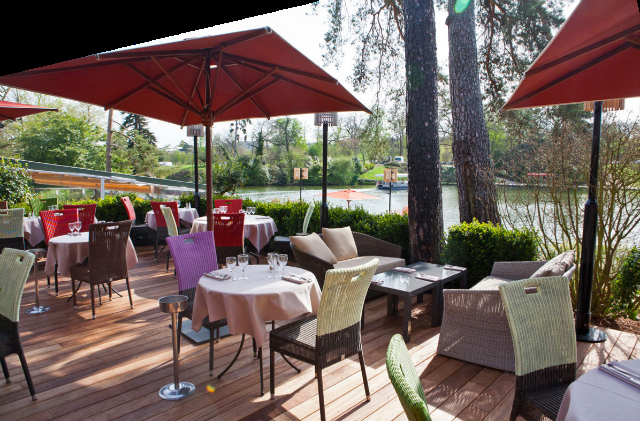 From this romantic pavilion, built for the 1900 Universal Exhibition, you can almost see into the gardens of the Elysée Palace, home to Monsieur Le President ! A perfect address for light lunches, afternoon tea and exquisite cakes and pastries. There's a boutique selling Lenôtre logo aprons and excellent, original table accessories. Sit back, under a shady parasol, read the newspapers and enjoy chilled tomato gazpacho, chicken or salmon Caesar salad, roasted black tiger prawns with lemongrass sauce, followed by something sweet from the dessert cart. The Pavillon's famous Lenôtre Cookery School has its state-of-the-art kitchens here so you may want to check out the schedule before leaving. (I learned to make marvelous macarons guided by Guy Krenzer.)
10 av des Champs Elysées, 8th, Metro: Champs Elysées Clemenceau. Tel: 01 42 65 85 10. Average Spend from 15€. Closed Sunday night
Just off Boulevard Saint-Germain, opposite Mabillon Market, lunch or dinner in a bucolic setting where, Hemingway, Stein, Pound, Fitzgerald and James Joyce were regular visitors. Rue Mabillon is named for Dom Jean Mabillon (as is the nearby metro station) Benedictine Monk and history wiz, who lived at Abbaye de Saint-Germain-des-Prés, where he lies to rest. Chef's starters include: Marinated sea bream and rocket salad: Organic herb salad, lemon vinaigrette:  Tête de veau on warm truffled toast, a glass of Viré-Clessé from A Bichot. And note the Romanée Conti collection, of which owner Jean François Larpin is very proud (2009 Richebourg 1630€ anyone?).
8 rue Mabillon, 6th, Metro: Mabillon. Tel: 01 43 26 52 26. Open 7/7. Average Spend : Lunch 29-39€ Dinner 30-65€ + wine. Sunday Lunch 51€ includes glass of wine, water, coffee
The handsome restored Napoleon 111 château, once home to the students of Fondation Thiers, is now a hôtel/ Michelin starred restaurant/ Guerlain spa and private club. The exclusive and very chic Saint James opens to non-members for dinner, from 7pm, on reservation. In summer, relax in the tranquil country garden, under a multi-coloured silk Montgolfière, designed by interior architect Bambi Sloane, commemorating that, from this garden, the first hot-air balloon flight took place. Sip Le  Simone de Beauvoir and Le Marguerite Duras, the signature cocktails by chef barman Judicaël Noel, and choose from a menu created by Michelin-starred chef Virginie Basselot who recently received the prestigious blue and red collar of Meilleur Ouvrier de France (MOF). Ms Basselot's Summer Menu pairs "food and wine by women" with dishes such as La Mère Brasier's signature truffled chicken followed by cheese from Marie Quatrehomme (MOF) and the legendary apple dessert created by the Tatin sisters.
43 avenue Bugeaud, 16th, Metro: Porte Dauphine. Tel: 01 44 05 81 81. Dinner only except for Sunday Brunch. Closed Sunday night. Average Spend 76-135€
A marshmallow pink mansion just off the Champs Elysées, the terrace garden is the favourite address of the Sarkozy clan, Johnny Hallyday, politicians, and captains of industry. From a choice of ten starters, begin with chef Alain Pegouret's signature Palette de Légumes made with organic vegetable grown by Joël Thiébault. Radish, carrot, beetroot, root vegetables, potatoes are drizzled with aromatic oils, matched with a flute of beetroot sorbet topped with celery cream. Drink crisp Pouilly Fuisée Domaine Jeandeau (75€). Market driven mains include the southern inspired roasted fish dish, Rouget Grondin, with bouillabaisse consommé: Plump Saint-Jacques, truffled and grilled, cauliflower chips. Or, a beefeater's banquet, perfectly pink, sliced, jus and puffy pommes soufflées. Try red Château Ame de Musset, Lalande de Pomerol (65€). The handsome Christofle cheese wagon is the perfect showcase for Madame Quatrehomme's fromage. Desserts by Rémi Sendin, include a generous plate of warm flaky palmiers.
41 Avenue Gabriel, 8th, Metro: Champs Elysées Clemenceau. Tel: 01 42 25 00 39. Closed Saturday lunch & Sunday. Average spend Lunch 95-180€ Dinner 165-250€
And also: Brasserie Barbès. Located near the discount Tati stores, the legendary Cinema Le Louxor has become an industrial chic café/bar/brasserie. Four floors with roof terrace, deckchairs, views, dancing, and excellent food all day and all night.
2 boulevard Barbès, 18th, Metro: Barbès. Tel: 01 42 64 52 23. Open 7/7 from 8am. Average Spend lunch/dinner/snack/breakfast from 5€
Want to be inspired by more French foodie experiences and enjoy classic French food, wine and recipes? Head to our sister website, Taste of France, here.
Lead photo credit : Le Cour Jardin/ Frederic Ducout
---
---