A French Tradition: The Magic of Escargots
A Poster in Burgundy: Please don't molest our snails. We eat them. What comes to mind when you think of snails? Slimy? Yes, they are mucus-generating mollusks. Slow? Oui. The only animals slower are coral and sloths. Pests that nibble tiny holes in garden lettuce and leave a trail of who knows what? Certainly a common complaint. Can this creature be transformed into a gourmet delicacy? Credit © Craig Carlson But if you're French, a lover of traditional French food, or, even better, a Burgundian at heart, you're more likely to think of that gourmet delicacy—escargots. France is the proud consumer of nearly 60,000 tons of snails a year. National Escargot Day (May 24) slipped by this year with less fanfare because of the more challenging issues of the time. But have no fear. We can honor escargots any time. In fact, escargots have been celebrated for thousands of years. Evidence of shells has been found in prehistoric sites, and snails have been recorded as an elite privilege in Greek and Roman times (with a recipe found in the oldest surviving Roman cookbook from the 1st century). A typical kitchen in Burgundy during snail season. Credit © Françoise Deberdt-Meunier Let Them Eat Snails I was reminded of the agony and ecstasy of escargots in a chapter of Craig Carlson's new book Let Them Eat Pancakes. (Carlson is the owner of two "Breakfast in America" restaurants in Paris.) He describes a snail experience with his belle maman (mother-in-law) a Burgundy native, that takes place during the escargot hunting season. Yes, there is a snail hunting season in Burgundy—from July 1 through March 31. If you find Burgundy snails (also known as Helix Pomatia) in their usual haunts during that time—vineyards, gardens, and forests—you can harvest them for your personal consumption as long as they are larger than 3 cm. In Burgundy, you can only harvest snails larger than 3 cm. Some of these will have to go. Credit © Françoise Deberdt-Meunier
This particular day in Carlson's book also happened to be snail mating season, so there were hundreds of escargots for the taking. The Transformation After the harvest, the transformation of slimy snail into savory escargot is not an easy process—for the preparer or for the snail. The snail is already a somewhat disadvantaged being. Not only is it slow (snails are so easy to catch that cavemen didn't know whether to assign "hunters" or "gatherers" to the project), but it is also hard of hearing and mostly blind. Not an ideal life. Then, if caught for an escargot party, it is tortured in stages. (Spoiler alert: if you're sensitive to animal torture, stop reading here.)
SUBSCRIBE
ALREADY SUBSCRIBED?
BECOME A BONJOUR PARIS MEMBER

Gain full access to our collection of over 5,000 articles and bring the City of Light into your life. Just 60 USD per year.

Find out why you should become a member here.

Sign in

Fill in your credentials below.
A Poster in Burgundy:
Please don't molest our snails. We eat them.
What comes to mind when you think of snails? Slimy? Yes, they are mucus-generating mollusks. Slow? Oui. The only animals slower are coral and sloths. Pests that nibble tiny holes in garden lettuce and leave a trail of who knows what? Certainly a common complaint.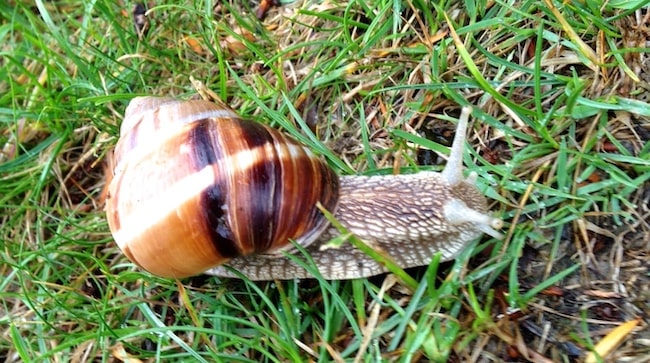 But if you're French, a lover of traditional French food, or, even better, a Burgundian at heart, you're more likely to think of that gourmet delicacy—escargots. France is the proud consumer of nearly 60,000 tons of snails a year.
National Escargot Day (May 24) slipped by this year with less fanfare because of the more challenging issues of the time. But have no fear. We can honor escargots any time.
In fact, escargots have been celebrated for thousands of years. Evidence of shells has been found in prehistoric sites, and snails have been recorded as an elite privilege in Greek and Roman times (with a recipe found in the oldest surviving Roman cookbook from the 1st century).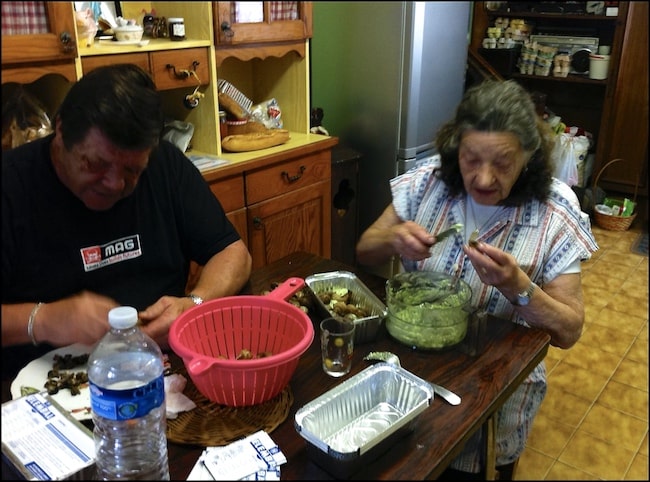 Let Them Eat Snails
I was reminded of the agony and ecstasy of escargots in a chapter of Craig Carlson's new book Let Them Eat Pancakes. (Carlson is the owner of two "Breakfast in America" restaurants in Paris.)
He describes a snail experience with his belle maman (mother-in-law) a Burgundy native, that takes place during the escargot hunting season.
Yes, there is a snail hunting season in Burgundy—from July 1 through March 31. If you find Burgundy snails (also known as Helix Pomatia) in their usual haunts during that time—vineyards, gardens, and forests—you can harvest them for your personal consumption as long as they are larger than 3 cm.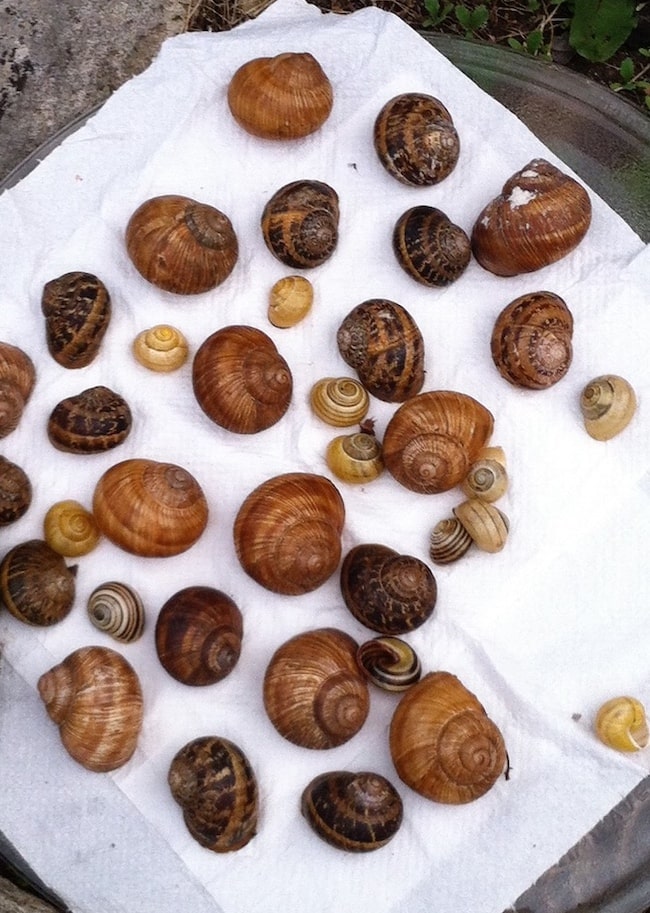 This particular day in Carlson's book also happened to be snail mating season, so there were hundreds of escargots for the taking.
The Transformation
After the harvest, the transformation of slimy snail into savory escargot is not an easy process—for the preparer or for the snail.
The snail is already a somewhat disadvantaged being. Not only is it slow (snails are so easy to catch that cavemen didn't know whether to assign "hunters" or "gatherers" to the project), but it is also hard of hearing and mostly blind. Not an ideal life. Then, if caught for an escargot party, it is tortured in stages. (Spoiler alert: if you're sensitive to animal torture, stop reading here.)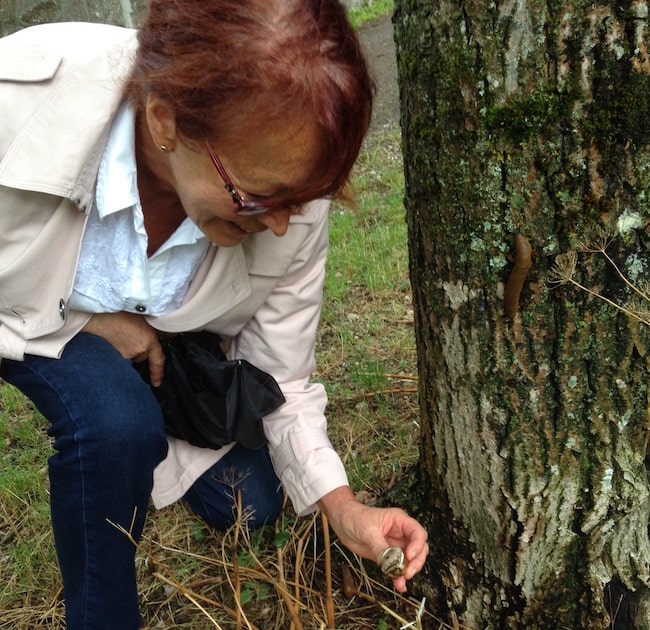 The snails are fattened first. After that, their systems must be cleansed. They go on a week- long fast, with occasional roughage to cleanse their innards. After that, they are rinsed and placed in salt so that they drool. They are rinsed again and given the final death knell—a tumble into boiling water. (Tip: Don't try this process at home unless you know what you're doing, as snails can carry dangerous parasites.)
For more details of this process, you're invited to read Carlson's book (including some international intrigue as the belle maman's snails are smuggled into the U.S.), but, suffice it to say, that after the preparation steps, the mushy mollusks are ready for the cooking part of the process.
Carlson and his belle maman show you how in their latest video revealing the secrets of escargot cooking.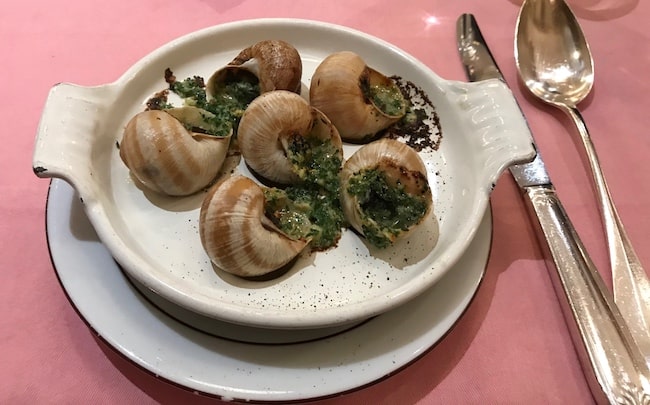 An Easier Way
If this complex process of hunting and preparation is too much, there is an easier way. Now, there are hundreds of snail farms in France and even more in other countries around the world (from the U.S. to Ukraine). These snails make it to market and to our favorite French restaurants around the world.
Of course, the easiest way to enjoy snails is to have them served to you in a traditional French restaurant, along with other French favorites like bone marrow and frogs legs.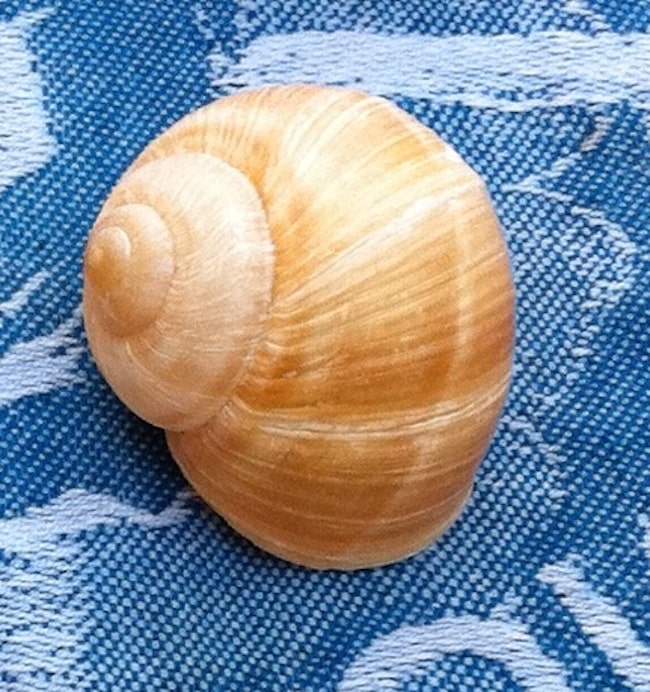 A Tantalizing Trend Toward Escargots
Aside from the torture issue, what's not to like about escargots? They come with their own container—an artistically decorated shell.
They are nutritious—high in protein, rich in magnesium and calcium, and low in fat (although watch out for the butter in most of the cooking processes).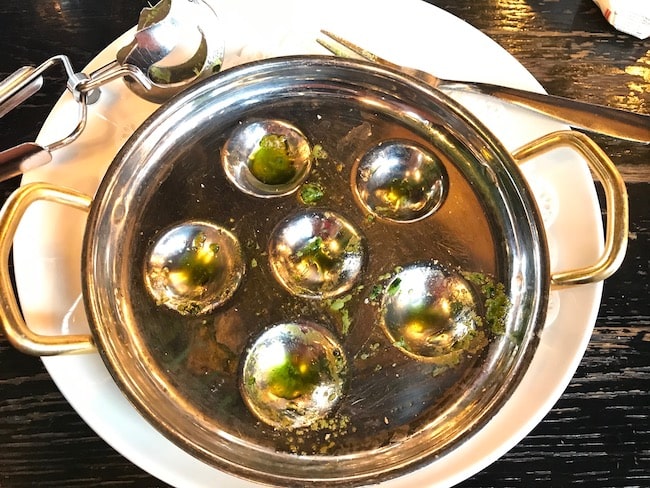 They are fun to excavate out of their hiding place deep within the shell with a snail fork or toothpick. And who doesn't look sophisticated with snail tongs in hand (although you must practice to prevent that embarrassing moment of launching a snail shell across the room).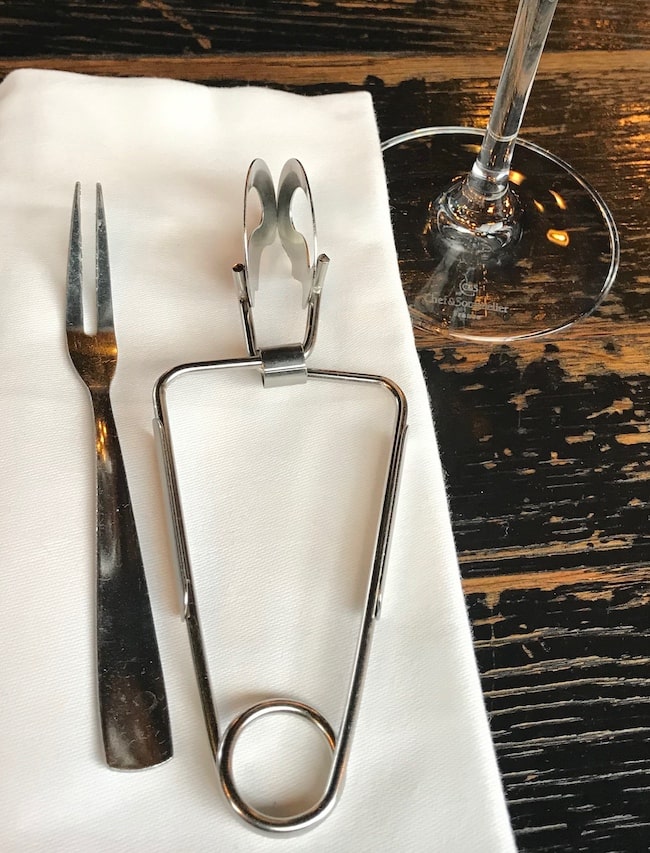 And, they're delicious.
The best part—reliving the finer gourmet elements—butter, garlic, and herbs—as you mask up after dinner and breathe in on your way home.
Try some of the restaurants listed below and be sure to let us know where you have had great escargots.
Restaurants:
The most legendary escargot restaurant is L'Escargot at 38 rue Montorgueil—featuring the delicacy since 1832 in a stunning old-world setting and including additional escargot preparations such as curry, truffle, foie gras, and Roquefort.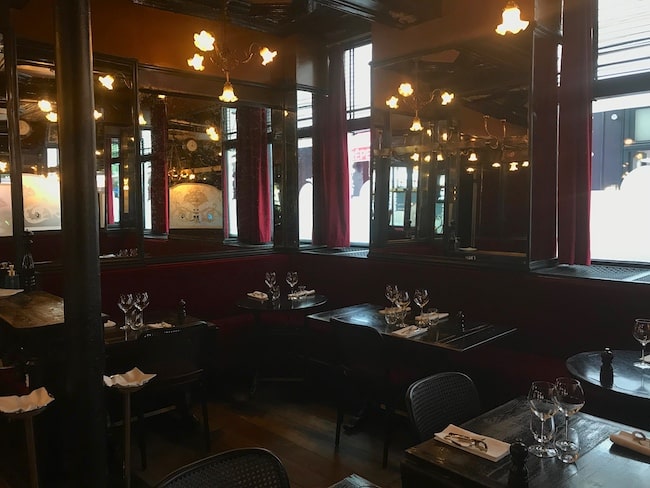 Our friend and food critic extraordinaire, Alec Lobrano, recommends Alain Ducasse's Allard and Jean-Francois Piege's La Poule au Pot,  each with its own creative escargot take on garlic and herbs.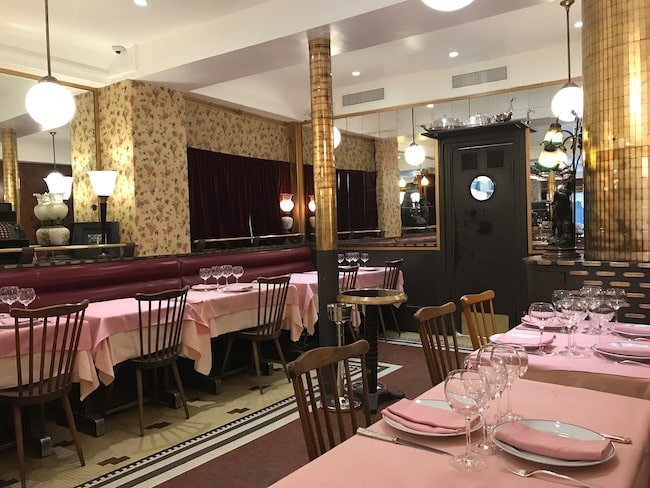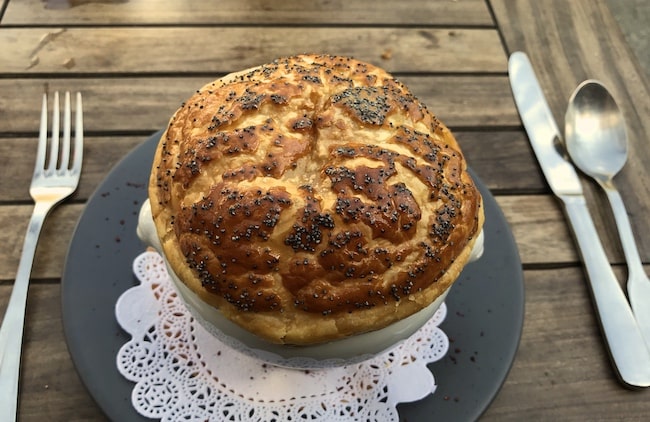 Craig Carlson's Let Them Eat Pancakes can be found at English language bookstores in Paris or on Amazon through this link. You're invited to a virtual reading on September 9 with Shakespeare and Company in New York and a physical event, if you're in Paris, at the Abbey Bookstore on September 18 at 18h30.
Read the Bonjour Paris book review here.
Want to be inspired by more French foodie experiences and enjoy classic French food, wine and recipes? Head to our sister website on Taste of France here.
Lead photo credit : Dreaming of escargots. Credit © Meredith Mullins
More in escargots, escargots in Paris, gourmet cuisine
---
---
Comments