Chef Christian Constant and His Paris Restaurants
[Editor's note: Café Constant closed on October 1, 2021 as the chef segues into retirement. The address will soon be taken over by Cyril Lignac, reopening as Café Lignac in November.]
Ask Paris-based foodies for a valeur sûre restaurant that ticks all the boxes, the answer will probably be: Chez Christian Constant.
The former Executive chef at L'Hôtel de Crillon and The Ritz went solo in 1996 and created Le Violon d'Ingres (now sold) for which he won a Michelin star. There followed Café Constant and the innovative Les Cocottes. (Note: The rue Saint Dominique Cocottes is no longer owned by Christian Constant.)
However, located on a tranquil street on the Right Bank, two minutes from the Arc-de-Triomphe, Les Cocottes de Christian Constant brings a super relaxed style of restaurant to the city. The elegant contemporary space, with bar and sharing tables, accessed by high stools, serves cuisine inspired by the chef's southwestern France roots as well as the real Caesar Ritz Salad. "Cocottes is definitely a cult concept," observes restaurant critic and author Gilles Pudlowski.  J'adore!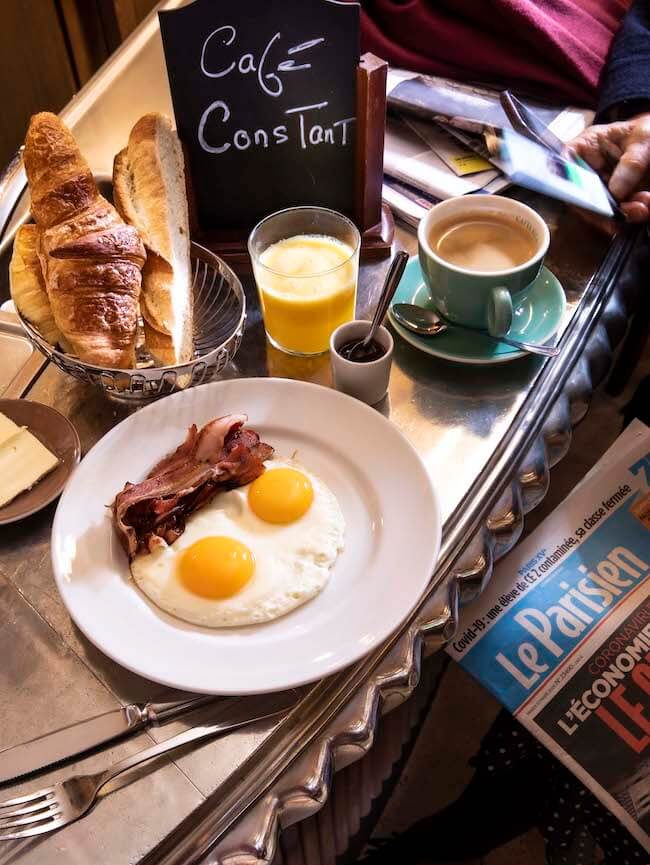 And, at the Café Constant on the Left Bank (open 7/7 from 9hrs-22.30hrs) check out the bright, light neo-tradi bistro décor by Yannick Brunel, the walls decorated with Generation Constant chefs and precious memories. For breakfast, it's A La Carte and/or Le Parisien (€8.50) or Le Français (€16) served from 9-11am with eggs (as you like) and crispy bacon. Grain and plain beautiful breads and buttery croissants are by Boulangerie Laurent B. (Situated at 112 rue Saint Dominique, the bakery is a listed historical monument worth your attention.)
"Your gigot is perfect," enthuses a regular client, starched linen napkin tucked under his chin, who pops in for lunch frequently, read every day. (The price is €22 for two courses, €28 for three courses.) Modest as ever, chef Christian Constant smiles. "Everything's fresh daily, the menu changes all the time according to season and our culinary whims."
Seasonal suggestions might include starters of perfectly cooked white and green asparagus with love me tender Burgundy snails (€18); My Country Paté (€11); French Onion soup (€12); and Terrine of Foie Gras, warm country bread (€19). For your main, choose succulent seabass, cooked in papillote with olive oil and lemon (€25); Gigot d'agneau (fresh thyme herbed leg of lamb, €26); or, for the ladies who lunch, Artichoke heart salad, button mushrooms, vinaigrette (€14). Domaine de la Janasse (€36/€6 per glass) goes down well as does white 2018 Bourgogne Aligoté Dubois (€33/€5.50) and, from the southwest, Madiran 2016 Domaine Saint Jean (€36/€6).
"We only have one cheese, but it's the best. Today it's creamy Saint Nectaire, from the Auvergne region, an excellent all season cheese from Marie-Anne Cantin. Soon it'll be Camembert time," chef licks his lips and grins.
Desserts (about €9) may be Tiramisu; Christian Constant's delicious signature Chocolate Tart; Floating Island drizzled with caramel; or profiteroles. Bring it on.
Sit upstairs, downstairs, at the bar or on the tiny terrace and watch the world go by.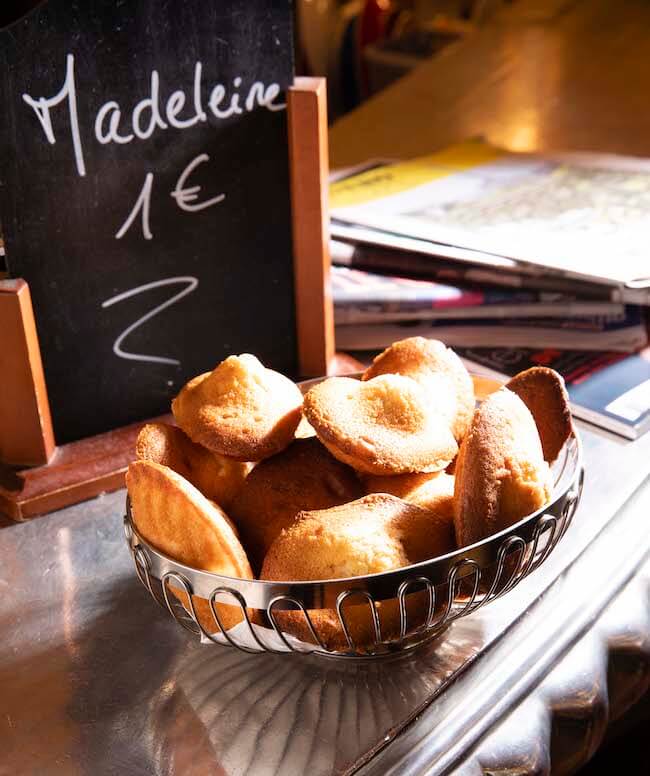 Stock up with Christine Ferber jams (€9), the chef's cookery books, and don't leave without a giant warm madeleine – just out of the oven. And that's Philip Cadeau and the brigade in the newly transformed first floor kitchen alongside Christian Constant.
Born near Toulouse, Christian Constant, awarded the Légion d'Honneur for services to gastronomy by Nicolas Sarkozy in 2010, has trained so many successful chefs, his protégés call themselves Generation Constant. Among them: Eric Frechon (Le Bristol), Alain Pegouret (Le Sergent Recruteur), Yves Camdeborde (Le Comptoir de l'Odeon), Thierry Breton (Chez Michel), Christian Echtebest (Le Troquet), Jean François Piège (Clover, Clover Green, L'Epi d'Or, Le Grand Restaurant), Yannick Franques (La Tour d'Argent)… The list goes on.
Chef Pierre Sang Boyer recalls: "Ten years ago, I was competing on M6 TV's Top Chef. One of the judges was chef Christian Constant and before lockdown I cooked a 4-handed menu with him. What pride and what a journey!"
Left bank address location: 139, rue Saint-Dominique, 7th
Metro: Ecole Militaire
Telephone: 01 47 53 73 34
Open 7 days a week
Address location on the right bank: Les Cocottes Arc de Triomphe (2, avenue Bertie Albrecht, 8th)
Metro: Charles de Gaulle Etoile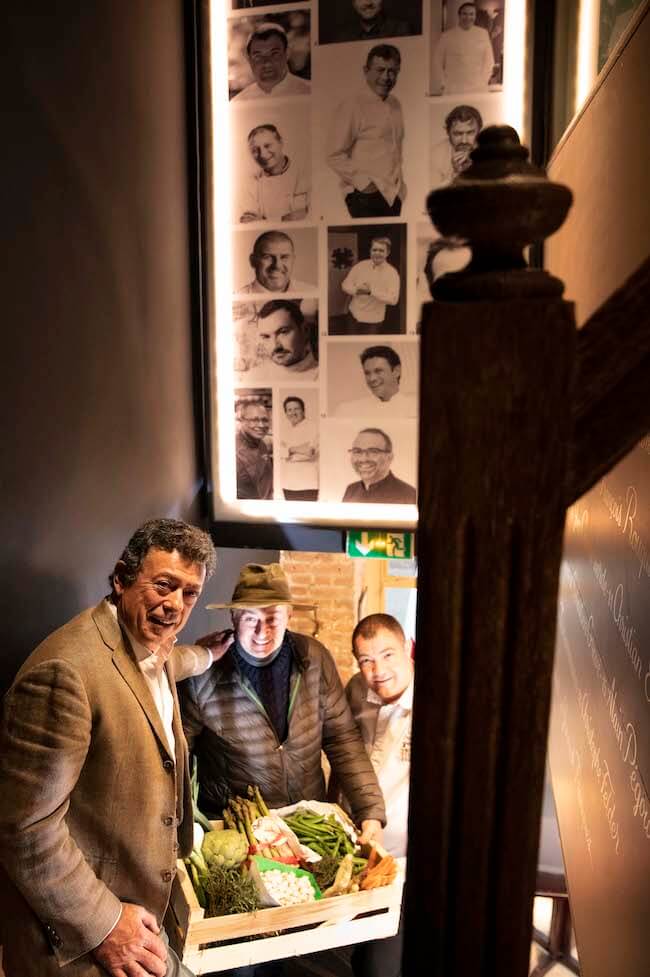 Lead photo credit : Café Constant. Photo © ch bielsa et julioandco bd
More in food, restaurant
---
---
Comments