The Best Terraces in Paris: Our Experts Share Recommendations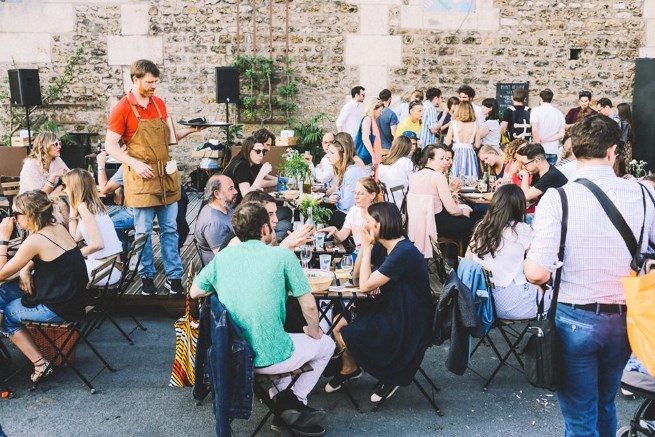 It's no secret that Parisians have a thing for terrasses. And who can blame them? There's nothing better than staking a claim to a seat at a sidewalk café and lingering for hours, watching the world go by. Readers often ask about top spots in Paris for eating and drinking en plein air. So we asked our expert contributors to share their favorite insider addresses. Enjoy!
Café Crème, 4 rue Depetit-Thouars, 75003
"Recently refurbished Café Crème in the heart of the Haut Marais has long boasted an inviting terrasse at which you can linger over lunch or sip a glass of rosé while people watching in this convivial quartier. Positioned on a traffic-free corner, the only sounds you'll hear are animated conversations between locals and chirping birds in overhead trees. If you can score a seat, that is. Neighboring restaurant Season, by the same owner, is equally enticing with a health-food twist."
— Kasia Dietz is a handbag designer and freelance writer from New York.
"Hurray for the picture-perfect Paris cliché!" is what I always say, especially on the terrace at the Café de la Paix. This place has everything you need to shake the mean reds or the jet lag blues: catbird seats for people-watching, complimentary trail mix, and icy (even if a tad pricey) brews with a view of the Palais Opéra—where creative lightning strikes every time the gilded sculptures, Harmony and Poetry, move. Especially at sunset! Take the time to splurge on your posse because life grooves pretty darn fast.
— Theadora Brack is a Paris-based writer who has a regular column, called "My Life in Paris," in France Today magazine.
Café de l'Homme, 17 Place du Trocadéro et du 11 Novembre, 75016
"The view from there defies words. If I had one last meal…" To learn more about this terrific restaurant overlooking the Eiffel Tower, click here.
— Margaret Kemp is a regular contributor to Bonjour Paris and Financial Times How to Spend It.
Hotel Particulier Montmartre, Pavillon D, 23 Avenue Junot, 75018
"I don't think you'd know about this place unless someone told you, and even when I did I struggled to find it, that's how hidden away the Hotel Particulier Montmartre is. With a peaceful and quiet garden at the front of the hotel and a fantastic cocktail bar and terrace downstairs, it's my secret spot for enjoying a balmy summer evening."
— Nicola Leigh Stewart is a lifestyle journalist who after living in London and Madrid has finally settled in Paris.
À La Pomponette, 42 Rue Lepic, 75018
"One of my favorite restaurant terrasses in Paris is the small terrasse outside of À La Pomponette​ in the 18th. It's the perfect spot to sit in the sun​ and enjoy a latte or a glass of rose as you watch people ​filter through the street on ​Rue Lepic."
—
Anne McCarthy
is a freelancer writer who regularly contributes to Bonjour Paris.
Le Bonaparte, 42 Rue Bonaparte, 75006
"For a year, I lived a block from some of Paris's most legendary cafés. Rather than Café de Flore and Le Deux Magot, my terrace of choice was Le Bonaparte. There's not much traffic noise, plenty of sunlight, and a nice view of Abbey of Saint-Germain-des-Prés. Now that I live in the 7th, my go-to terrace is Café Tourville. It's right by École Militaire and Champ de Mars, so there's a mix of locals and visitors. I like it because of the huge terrace, which gets long afternoon sun, and the people watching."
— Leah Walker is a luxury travel and food writer.
L'Entracte, 44 rue Orsel, 75018
"The terrace of L'Entracte (44 rue Orsel) offers a little taste of old Montmartre on a secluded but still busy side street. It's only a stone's throw from the bustling tourist areas, but you'd never know it. The small restaurant faces a leafy plaza and the théatre de l'Atelier. The low-key but charming postcard view is livened by funky locals going about their business, and theatre-goers pouring out during intermission (the "entracte") trading comments on the wonderful or worthless play they're in the middle of attending."
— Dimitri Keramitas is a writer (film critic, fiction) and the director of the creative writing program at WICE, a Paris-based organization.
Le Relais Odéon, 132 Boulevard Saint-Germain, 75006
"I feel like cheating as choosing one favorite café terrace in Paris is almost impossible. But for sentimental reasons, and it being my beloved café since 1967, it has to be Le Relais Odéon on the corner of Blvd St Germain and the rue de l'Ancienne-Comédie. The terrace wraps itself around the corner of the two streets and is perfect for breakfast, lunch or dinner– better still for a coffee or an apéritif combined with an orgy of people watching. (The downstairs bar isn't bad either!)
And (I told you I would cheat!) the cheapest place for a coffee and croissant in the morning has to be the Boulangerie St Michel at 31, Rue de la Huchette around the corner from Notre Dame. The terrace is tiny, you have to carry your coffee to the tables yourself, but the bread and pastries are fabulous and there is an endless stream of passersby to keep your eyes occupied."
— Marilyn Brouwer is an established freelance writer and regular contributor to Bonjour Paris.
Maison, Maison, 16 Quai du Louvre, 75001
"Newly opened on a Right Bank quay in the new Rives de Seine park, this hot spot is great for drinks and locavore cuisine. There's also a weekend brunch. Check the Facebook page in advance as sometimes it's booked for private parties, but they also have a beer stand for take-away pints as you stroll the riverbank."
— Mary Winston Nicklin is the Editor of Bonjour Paris.
Musée Nissim de Camondo, 63 Rue de Monceau, 75008
"I haven't been yet, but I've been hearing wonderful things about the just-opened terrace at the Nissim de Camondo museum at the edge of the Park Monceau. In the leafy courtyard, a new restaurant has teak benches and umbrellas to provide shade amidst the potted palm trees."
— Mary Winston Nicklin is the Editor of Bonjour Paris.
Sunset Boulevard Bar, 26 Boulevard Poissonnière, 75009
"Halfway along Boulevard Poissonnière, crammed into a stuffy little gap next to Théâtre des Nouveautés is the Sunset Boulevard bar. In the evenings the terrace of this raucous little establishment is jam packed with all the misfits employed by the numerous local theatres, from comedians to ticket collectors. Overflowing beers are passed over your head, and you'll almost certainly have to share your table with someone you don't know, but isn't that what Paris is all about?"
— Theo Gittens is a freelance writer/editor for Bonjour Paris and France Today.
Petit Palais (the café), Avenue Winston Churchill, 75008
"So secret it doesn't even show up on Google Maps, the café of the Petit Palais is hidden beneath the painted ceilings of a covered passage from 1900. Its outdoor tables face a serene private garden, surrounded on all sides by ornate Belle Epoque architecture. Enter the Petit Palais (admission is free) and use the big glass doors on either side of the lobby to access the café. A place so special you may not want to tell your friends about it!"
— Corey Frye is an editor/writer and a sought-after Paris tour guide.
Lead photo credit : photo: © Margaux Gayet
Leave a reply
Your email address will not be published. Required fields are marked *
Comments