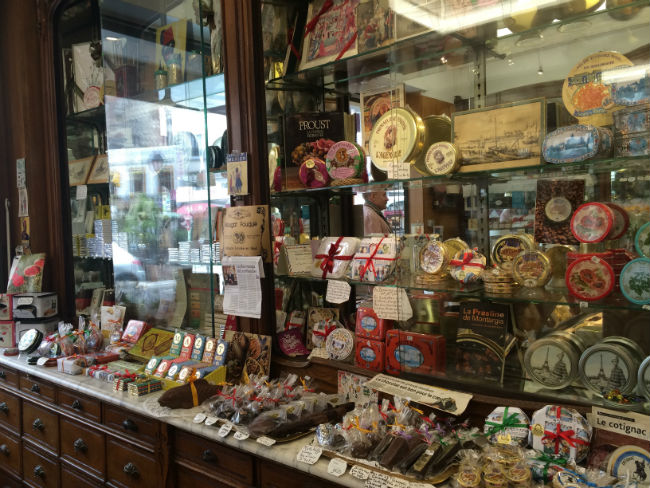 It's easy to get dazzled by Sacré-Cœur and the charms of Montmartre, but just across a grand boulevard (Clichy or Rochechouart, take your pick) are the delights of South Pigalle. While you wouldn't go amiss stocking up on stylish vintage clothes, or nabbing a ridiculously cool item of clothing at Stephane Ashpool's boutique, Pigalle (as written up in The New York Times and with a high, high amount of international cool factor), my recommendation is to follow your sweet tooth. Because you're in Paris: why not?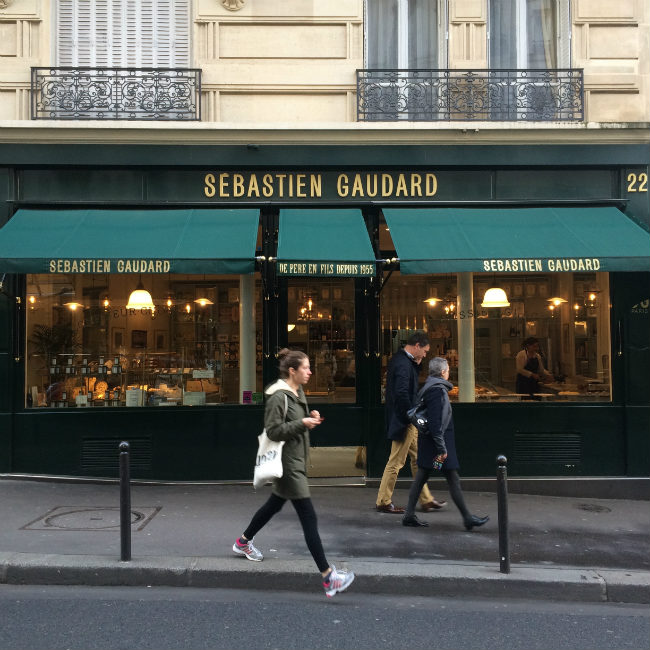 Rue des Martyrs will put a spring in the step of any foodie or lover of sweets. Parisians make the bakery the first stop of the day, and so should you. I was chasing down a recommendation of one of Paris's best croissants. And yes, the one we tried from Sebastian Gaudard was crazy good: shiny and sweet from a sugar glaze, but also salt. A very crisp pastry and a complex chewiness inside. It tasted to me high quality, and special indeed.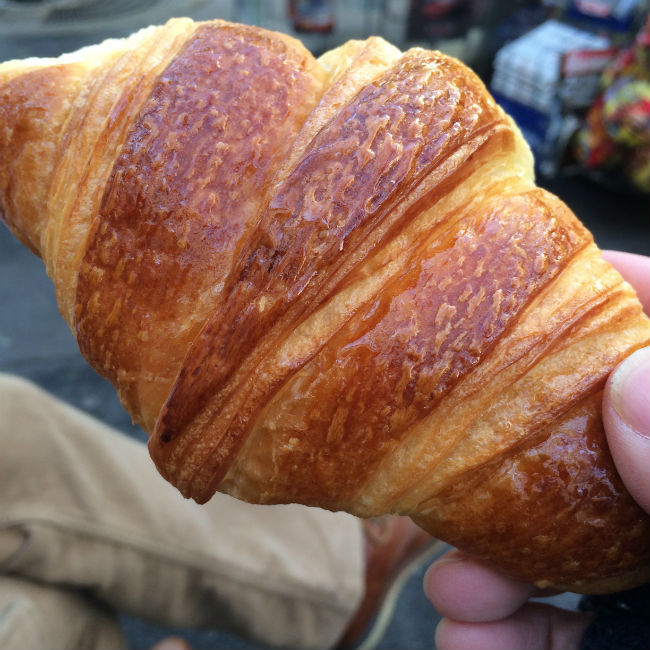 But my revelation were chouquettes, the tiny chou pastries covered in rock sugar, that are common enough in Paris bakeries, though I'd never tried one. These looked too good to pass up. I asked for two; the server started putting together a bag of a dozen (the minimum order) and there I was thinking: it's Paris, there goes 10 euros. But it was only 3 euros… and man, these are perfect, light, crispy bits of air, pastry and sugar. Yum.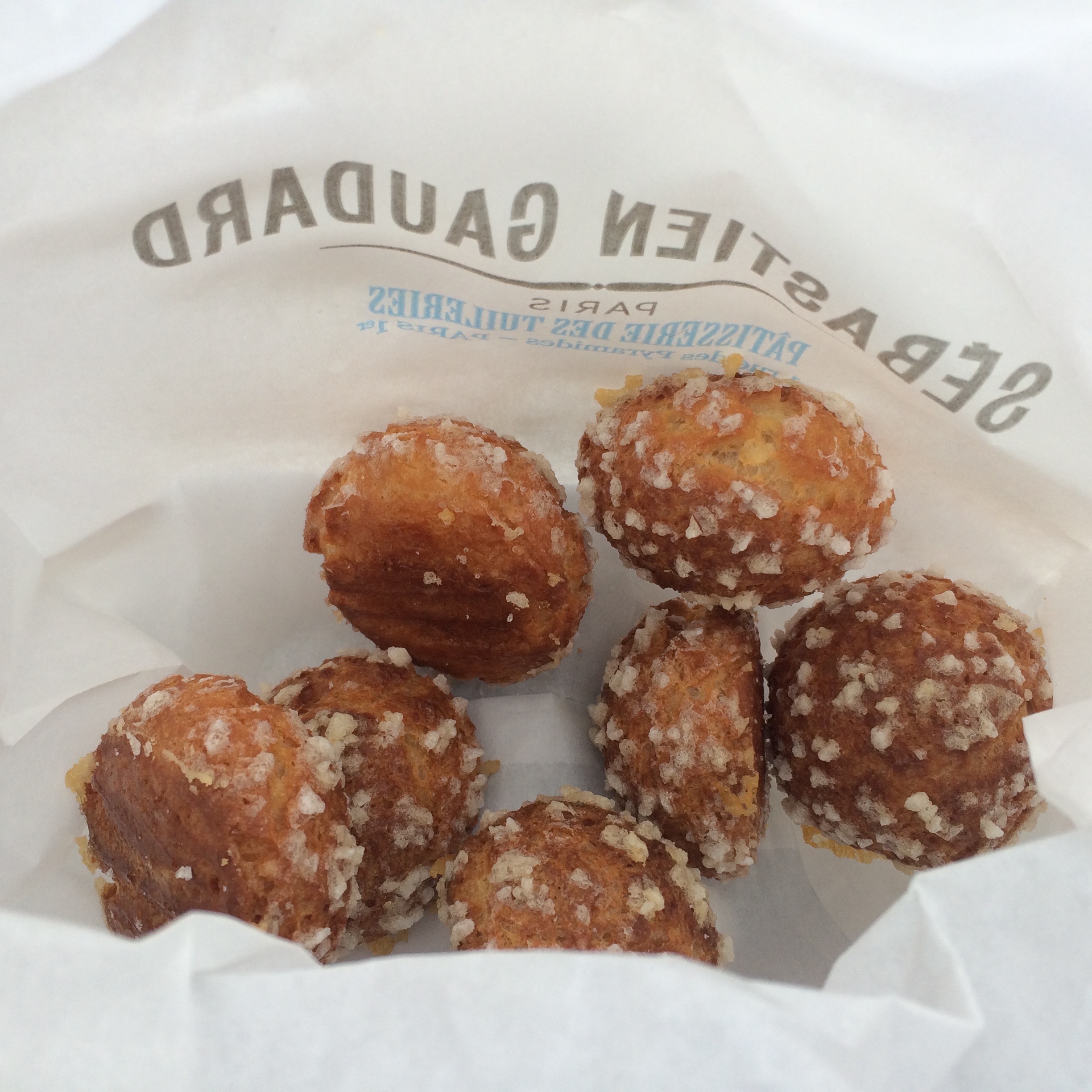 Sébastian Gaudard at 22 Rue des Martyrs, 75009 Paris
A few blocks away, there's a candy and chocolate shop called A l'Etoile d'Or which is both famous (among foodies and those in the know) and off the beaten track.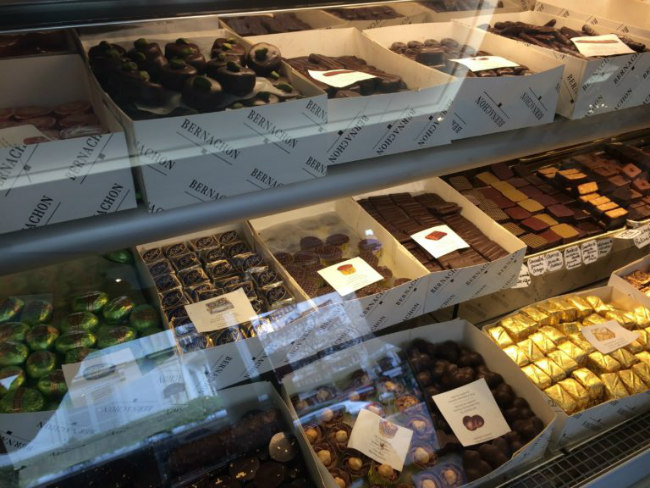 I couldn't decide what was sweeter, the proprietess, Madame Acabo, or any of the rather famed delicacies you can find at the shop, such as chocolate by Bernachon, celebrated as one of, if not, France's finest chocolate-maker.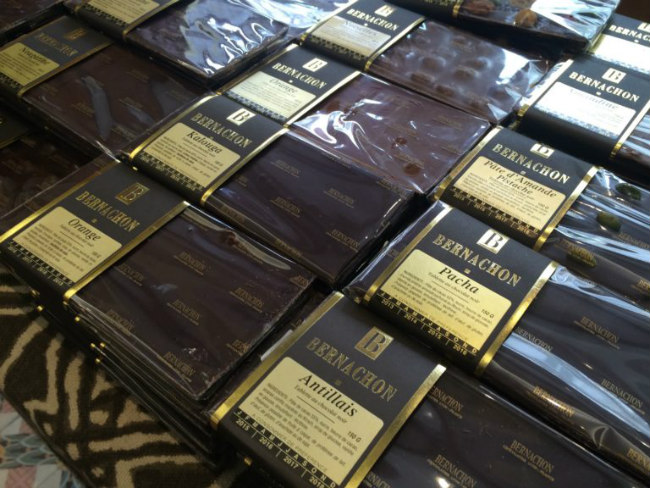 At the start of 2014, a gas explosion destroyed the store, leaving Madame Acabo in tears, as she told me, and her legion of fans on tenterhooks as to whether the shop would reopen. And now it has. We celebrated its survival with a small selection of different chocolates, wih a perfect explanation (in French) of each one.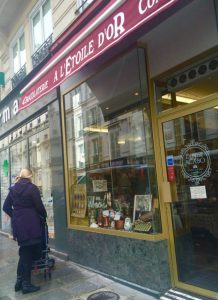 A L'Etoile d'Or: 30 Rue Pierre Fontaine, 75009 Paris, France
Now that you've stocked up on sweets to last you the day… or longer, wander back to Rue des Martyrs. The classic French madeleine is a sponge cake, usually with ground almonds as an essential ingredient. They originate from the northeast of France. I will never be able to rid my mind of the reference to the Spanish version, magdalenas, and Pedro Almodovar's 'What have I done to deserve this?' in which a feisty grandmother spends the entire film hiding her stash of magdalenas away from her family and strangers. These madeleines, would be another variety, and hiding away any of them, rather than eating them on the spot, would be a bad idea.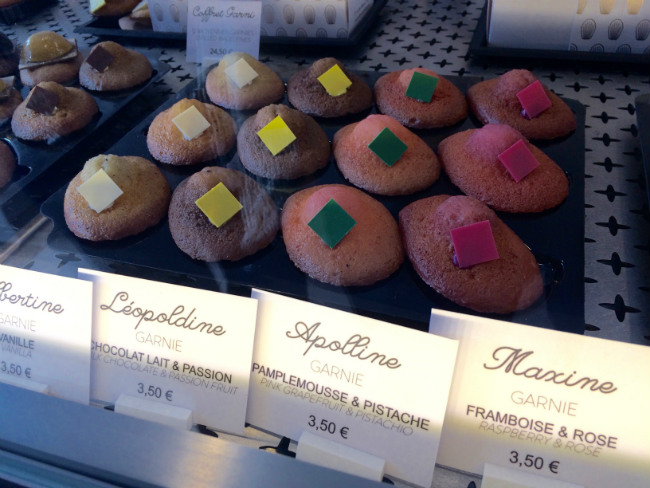 Mesdemoiselles Madeleines is creating gourmet versions of the classic French madeleine. They come in many varieties, even savoury ones.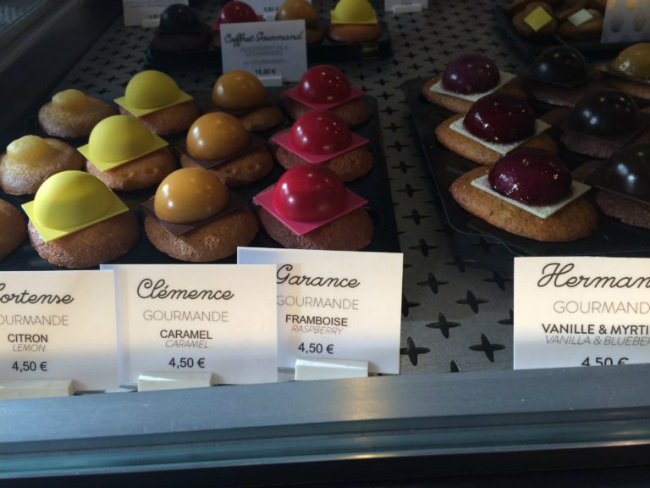 I love the glass shopfront, allowing you to be tempted by the colours and textures within. But luckily, these treats shouldn't fill you up too much.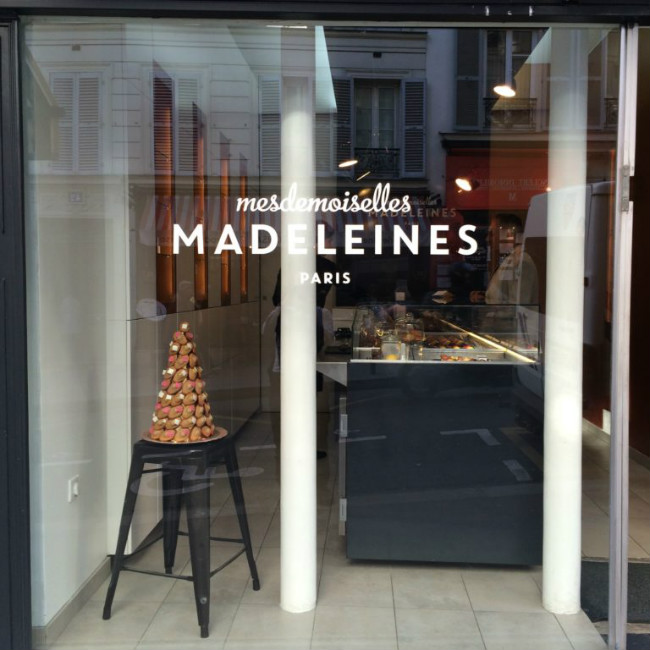 Just one (such as this lemon-flavored) madeleine should be enough.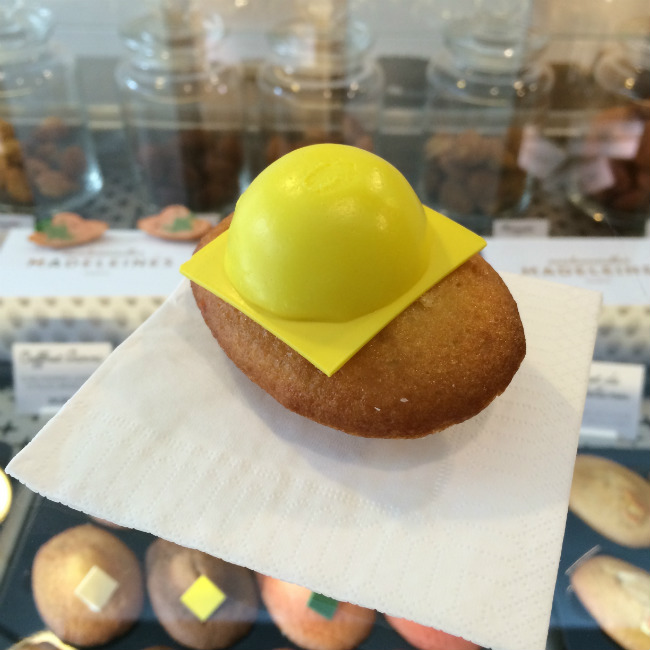 Mesdemoiselles Madeleines, 37 Rue des Martyrs, 75009 Paris, France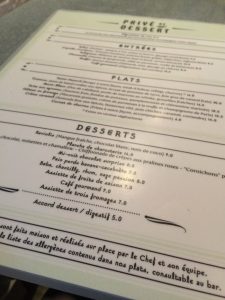 Have I saved the best for last? Or perhaps the most apropo of today's theme. Privé de Dessert is pioneering a fun concept: all of the savoury dishes are designed to look like sweet French pastries, and two of the desserts are designed to look like savoury dishes.
Some of the tricks were less tempting than others. I loved the sound of the macaroni and cheese with truffles, but would it be that hard to pretend that it's a cheesecake? In any case, we decided it was basically fun, and because everything was delicious, it was acceptable fun!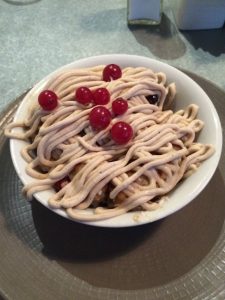 For the main, perhaps you'd like to try the Mont Blanc, a savoury imitation of the classic chestnut pastry. Here it's chestnut-flavored mash potatoes imitating the icing, covering up some crisp, nicely cooked fish. My better half had Tiramisu, actually beef cheeks with mashed potatoes, and yup, it looked like a gigantic serving of Tiramisu. With gravy.
For dessert, this platter was probably the most amusing imitation of the night – orange-colored crepes arranged like cold cuts of meat, a tasty chocolate marshmallow log that looked like a salami or dried sausage, and tiny green madeleines that were to recall pickles. Although I'd suggest splitting this, rather than trying to make a go of it by oneself. It was nice, but simply too much food!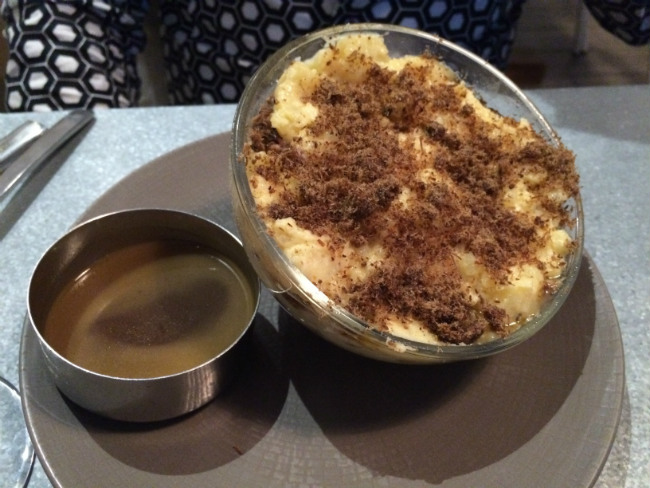 But that was our fault for ordering too much. What a fun, creative concept.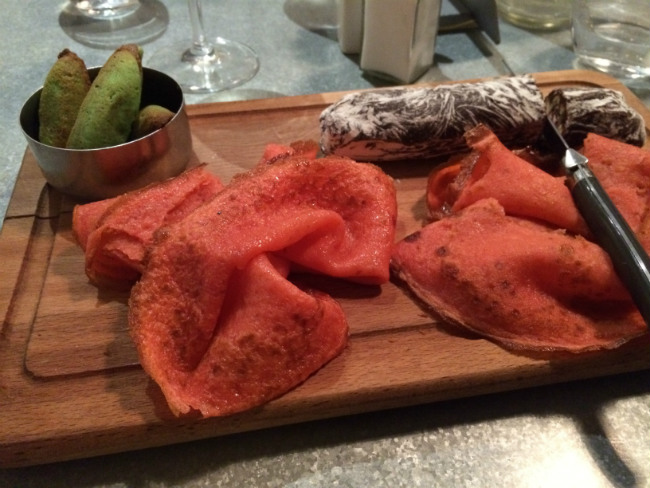 Privé de Dessert, 4 rue Lallier, 75009 Paris, France
And now friends, after so many sweets, will you have to stick with cheese for a few days? Or are you inspired to find a similar trail of sweets in one of Paris's other amazing arrondissements? Why not leave a comment telling us your favorite Parisian sweet?