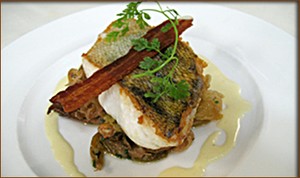 With a name like Lassauce how could Eric have been anything but a chef ?
« Correct ! », he confirmed one day last week in his cute contemporary canteen near the Folie Bergere.
From his tiny kitchen come dishes that may remind you of someone ? Alain Senderens ? Correct ! Lassauce was second to the Master until he set up his own bistro, punctuated with artwork and enough wacky lamps to keep Aladdin in business for ever.
Lassauce's menu changes more or less daily, look for starters of : Os à moelle, oxtail tartine : Boudin Noir, pain d'épices aux pommes : Tarte Tatin d'endives, quenelle fromage de brousse : Order wine by Jean Louis Trintignant (yes, the actor, Un Homme et Une Femme).  Côtes de Rhone « Blanc de Garance » Domaine Rouge Garance 2012 (28€). Or a glass of Vin de Jura (the chef's region) about 6€.
Mains could be roasted Supreme de Pintade aux herbes, gratin de blettes : Dos de Cabillaud poêlé, endives braisée. Pavé de maigre (a bit like plaice), squid risotto : Noix de Ris de Veau doré au sautoir, snow peas.
A seasonal cheese from chez Tabert, rue Cadet, and desserts galore, say, Cake moelleux `a l'ananas confit, marmelade aux fruits confits : « La Cerise sur Le Gateaux », pistachio ice cream.  And you'll realise why chef's fetish film is Le Festin de Babette !
Eric Lassauce,
Maitre Restauranteur,
Les Diables Au Thym,
35 rue Bergere, 9th
T : 01 47 70 77 09
M : Grands Boulevards
Open Mon-Friday, lunch & dinner
Saturday night : Shut Sunday
Lunch 30€-37€
Sweet Food Cuisine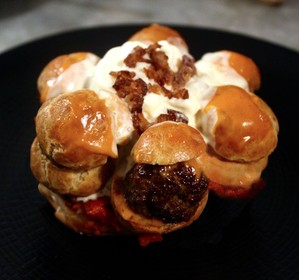 Sephora Nahon's (ex-Ecole Ferrandi/the world) concept is based on the idea that every dish is a dessert ! Since last September Ms Nahon has intrigued clients at Privé de Dessert, near Place Pigalle, with starters such as Religieuse, Fraisier & Paris-Brest, normally noshed in a pâtisserie.  Read, sweet savoury dishes, yin and yang, lots of umami.
Mains include : Saint-Honoré, an astonishing work of art 'burger, presented as the legendary gateau, decked with chou buns, chantilly and onion confit : version meat or veggie. Tarte Au Citron : Saumon d'Ecosse, pois gourmands, carottes, saboyon acidulé. Nougatine : Filet de bar – aubergine confite, caramel, ail aux mendiants savoury crumble topping : Truffled Boccolotti pasta, cream, parmesan. Go for Spag Bol dessert (lemon tart, meringue) Pavlova, Cafe ou thé gourmand.
Interpreting Nahon's fantasies is François Cresp. « We're creating a new spin on French Traditional cuisine », he says. You bet
Privé de Dessert,
4 rue Lallier, 9th
M : Pigalle
Dinner only
Sunday Brunch 21-28€
Shut Monday – Shut lunch –
« Dors Jusqu'à ce que tu aies faim,
Mange jusqua ce que tu aies sommeil »
Leffology :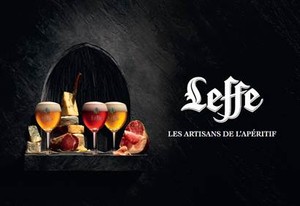 « For a long time I ignored beer », admitted blonde chef Héléne Darroze in her eponymous Paris restaurant, one evening last week. (Her other address is The Connaught, London). «But then I sipped a glass of Ruby by Leffe, tasted all the savoir-faire of a brand brewing since 1240 ! I was hooked. It's the Dom Pérignon of beer », admitted Darroze as she nibbled Jambon Noir de Bigorre, sipped the Ruby.
Presenting a few close personals to her fetish beers last week, Ms Darroze said. «Beer has a softness that wine lacks ; it brings freshness to a dish ».
The blonde then matched Leffe Blonde and Leffe Royale with Velouté du petit pois : Herb stuffed Ravioli : Beetroot, poutargue, Brocciu. Then Riz noir `a l'encre de seiche, chipiron chorizo, emulsion de parmesan Reggiano.
« Leffe Blonde », perfect with seasonal Brocciu from Corsica : Leffe Nectar with Fourme d'Ambert, cheeses from chef's favourite fromager Claire Griffon.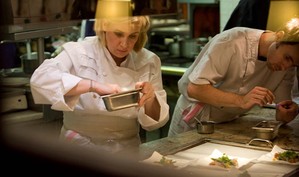 Chocolate macaron and panacotta with strawberries paired with Ruby & Leffe Nectar. « Cooking is life – life is cooking », grinned Ms Darroze.
Hélène Darroze & Leffe,
4 rue d'Assas, 6th
M : Sevres Babylon
T : 01 42 22 00 11
Open lunch & dinner from Tues-Sat
And in London
Shut Sunday
Get a Room :
Located in Le Marais near Place des Vosges and Opéra Bastille, a hip hotel in Mediterranean garden setting, 262 rooms and suites overlook a zen courtyard, punctuated with greenery and sculptures. There's seven handsome, recently renovated, 1930's style buildings, bright contemporary decor and modern technology. Reception and concierge service 24/7 – limousine service.
See you there ?
Jardins du Marais,
Summit Hotels & Resorts,
74 rue Amelot, 11th
M : Saint Sebastien Froissart (Line 8)
T : 01 40 21 20 00
Restaurant – Terrace – Spa
Free wi-fi
Bottega Romana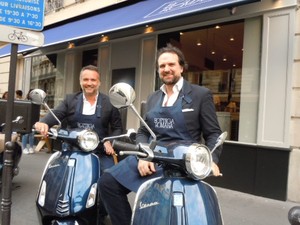 «Gregory Marciano, he's a visionary », said Emanuele Cont Vecchi one night this week at the opening of Bottega Romana's first Paris cantina. Cont Vecchi was, naturalmente, referring to the dynamic entrepreneur and founder of Sushi Shops.
Not content with the incredible success of the Sushi Shop brand, Marciano got to thinking that Paris pizzas were looking a bit tired, needed to be revised and corrected, served Roman style in generous rectangular or square portions.
The result can be tasted, without moderation, in the chic Isabelle Stanislas designed space. Delivered, on blue Vespas to your door, or, « to go » from rue de la Boetie. Read, Haute Couture Pizzas, made with summer tartufo : jambon San Daniele : Burrata from Puglia : Add salads : dolci : sorbets by Pierre Geronimi and top Italian products.
« It's 100% Italiano, all that's missing is Sophia Loren, and, who knows she may pass by soon ! » grins the delightful Marciano.
60 rue de la Boetie, 8th
M : Miromesnil
T : 0826 59 49 49
Open 7/7
From mid-June